Your style is warm, inviting, earthy and exotic. You like earth tones with popls of beautiful color, lots of pattern and texture and a slightly more rustic look. You like your space to be simple, soft and relaxing.  
Turkey is a place where the land has inspired much of their art and culture, is a place with ancient roots, and Turkish elements are often used in Bohemian inspired design
Here are some design elements typical of this style which you can add to your decor to get this look.
Color-  
Design elements-
Accessories– A
Fabrics–
Architectural elements–
Flooring-
Furniture–
Your Custom Turkish Interior Design Style Pinterest Board
For daily inspiration, check out your custom Pinterest board on this beautiful style, Turkish Interior Design. I update it weekly with new ideas.
Get the Look- Turkish Style Interior Design
To get the look, you could go all out and incorporate all the elements of Turkish Interior Design, or you can add some key elements to your existing decor.   Here are some products you might like. Some contain affiliate links, meaning they give me a small commission but it does not increase your price.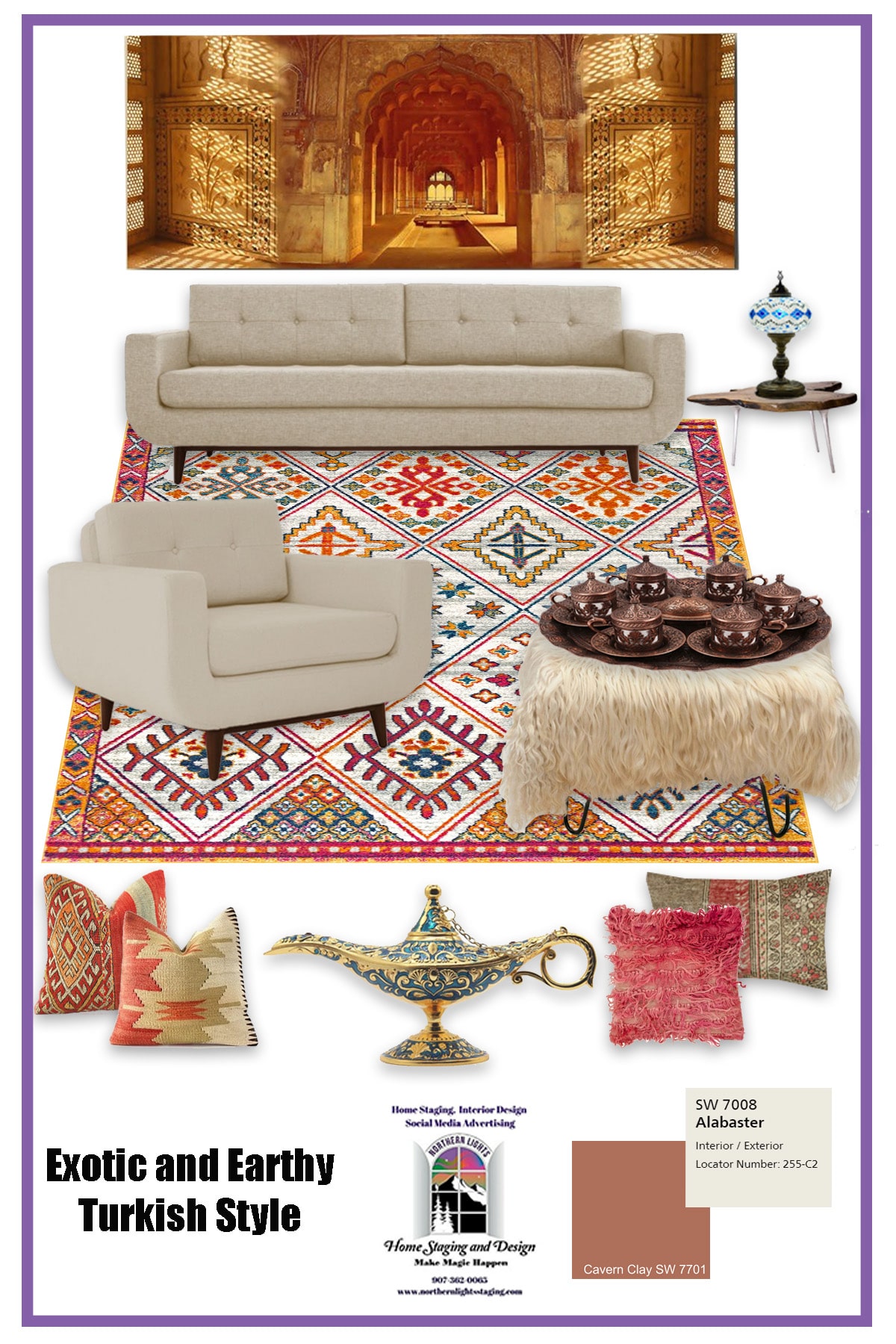 I found this great rug at Rugs USA which contains the Cavern Clay color, and inspired much of the rest of the design.
For the following items at Kilim.com, my favorite source for Turkish style products, get 5% off at check out using the discount code NLS2019. Love the colors, textures and unique traditional elements of these pieces, mixed with a modern twist.
Red Tulu pillow, Kilim pillow, Angora goat hide ottoman, Walnut slab table
To add a modern touch to the design, I used furniture from Joybird using the Nova Sunflower fabric.
At Amazon.com I found some traditional accents such as the Turkish coffee set and the Turkish lamps. Plus, who does not need a magic Aladdin lamp to make your wishes come true😉
Traditional Turkish coffee set, Aladdin Magic Lamp, Turkish Lamp
At Etsy I found the most wonderful modern Turkish art and loved the fact you could get them in large murals. Make a statement! Also, Etsy had some beautiful Kilim pillows as well that looked beautiful with the rug I selected.
Art Mural, Kilim pillow, Kilim pillow
These are just a few ideas of how to capture this beautiful style in your home. For help in putting it all together, other options to create this beautiful style, or help with your Interior Design or color needs, call 907-362-0065 today for a design consultation. Find out more about our services.
Call 907-362-0065 today
 info@northernlightsstaging.com