I got a call from Empire Radio Now in New York to do a live interview on their online radio station for the "Professionals Roundtable".  Exciting!! Here is a transcript of the broadcast, I hope you enjoy it.  You can hear the broadcast here.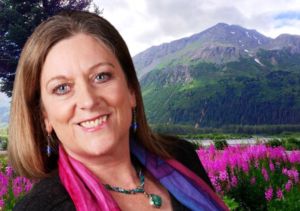 Please give a description of your company and the products/services you offer.
Company: Northern Lights Home Staging and Design provides Home Staging, Interior Design and Social Media Advertising for homes and vacation rental properties. We serve south-central Alaska but also do virtual consultations nation-wide.
We offer:
Home Staging for homes and vacation rentals-Decorating for sale homes to appeal to buyers and help sellers sell their house faster and for more. I also offer this for vacation rental properties to help owners attract their ideal clients and increase their bookings and income.
Interior Design and Redesign-Whether you are starting fresh in a new home or working with what you already have, I love helping the average home owner make their space something special that they love and works with their lifestyle.
Color Consulting for Interior Design as well as home staging projects. Whether it is paint, furniture or finishes, I can help you pull it all together.
Social Media Advertising- Once I have staged a for sale home or vacation rental, I help advertise the property by creating Facebook pages, video and ads to get the word out on what makes the property special.
Tell us about your background of your business and yourself.
My Background
Many years ago I received a BA in Interior Design in Washington DC. While I did some design work and enjoyed it, I was young and wanted to travel and explore the world and other options.
I worked a variety of jobs as a fire fighter and fire lookout for many years in Arizona. Then I took another path and followed my love of animals, and got a second degree in wildlife biology.
In 2001, I came to Alaska to work as a Wildlife Biologist.
In 2002, I also started a bed and breakfast, Arctic Paradise B&B.
I have always been an artist and create Jewelry, stained glass and do performing arts such as dance and music.
Business Background
I started Northern Lights Home Staging and Design 3 years ago.
I took the name Northern Lights because I want to inspire that feeling of awe and sense of magic that people experience when they see northern lights in my Interior Design.
What inspired you to pursue your profession?
Childhood love of design
I always loved the idea of transforming a space and making it beautiful. I dreamed of designing and building my own house even as a kid and used to endlessly sketch my dream house.
Over the years even though I was working in another field, I still loved Interior Design and indulged my passion for it in my own home and for friends and family.
A Facebook Quiz- "What is your true profession", changed everything. The answer was "Designer".
I considered the path not taken and wondered what life would have been like if I had taken my first path.
Then I decided I can just do it now! Why not? It did not have to be one or the other.
In researching how to start an Interior Design firm, I discovered home staging which seemed really fun. I took a home staging training program and then started my Home Staging/Design business.
What advice do you have for people considering starting their own business? 
Just do it. Follow your passion. It is never too late to start. Starting a business is easy; it just takes time and hard work to make it successful. Dont give up. Your turning point could be tomorrow!
Where do you see yourself in the near future?
I plan to highlight some new exciting additions to my business including:
Vacation Rental Staging– I realized by experimenting on myself and my Bed and Breakfast, that home staging and design can have a dramatic impact on increasing bookings and income and attracting ideal clients. I have started offering consultations and social media advertising for vacation rental property owners.
Color Consulting– I have always loved color and the magic it brings to a space. Recently, I went through training and became a certified color expert. I look forward to helping home sellers and home owners pick paint colors as well as use color to pull their design projects together.
I will also be promoting my services for nation-wide virtual consultations for staging, design, and color. So wherever you are, I would love to help you. Just visit my website, give me a call or send me an email and let's get going on your project!
Call 907-362-0065 today
 info@northernlightsstaging.com