Aligned Design
Aligning Art, Science, and Energy
to Make Magic Happen in your Home and Life.
When your space is better, you are better.
When you are better, the world is better. 
Home owners, are you feeling frustrated with how your home looks and feels, trying to pull it all together and worried about making expensive mistakes? Does your space feel like the sanctuary you want to come home to?
Business owners, is your business attracting your ideal customers and making the income you know you deserve?
Home Sellers, are you selling your home and worried that instead of selling fast and for more, it may sit on the market while you keep taking price reductions while dealing with endless showings?
Time is not your friend. Bring joy to your home, more money to your business and sell your home fast and for more now.  
My Unique Aligned Design System
Individually, art, science and energy provide key things to consider in creating the perfect space for you. Most designers focus on the "art" or what makes a space "Look Great"  when designing your home.  I also consider color science and energy as well, so that your space "Feels Great" and supports you to "Be Great". My unique Aligned Design system brings the three together in a holistic way to create  the secret sauce that makes the magic happen. Whether you are creating the perfect space for yourself, your business or to attract buyers when it is time to sell, Aligned Design can create extraordinary results for you.
Alone, each aspect of art, science or energy can improve the way your home looks and feels. Using two of the elements is even better, but without the third there is always something missing. The holistic approach of all three creates the perfect alignment between you, yourself, your home, and your environment to create your best life.
When your space is better, you are better.
When you are better, the world is better. 
How will I know if my space is better?
You will know because it looks more beautiful, reflects your style, tells your story, feels bigger, flows easier, your colors inspire emotion and stop you in your tracks with their beauty.    You feel healthier while also caring for the environment.
How will I know if I am better?
You feel more relaxed, get better sleep, feel more positive, productive, and connected to nature. You are inspired to create your dream life and have space for learning, silence, reading, working out and doing the things that only you in all the world can offer.  You see, hear, feel the positive changes and it gives you a sense of well-being and inspiration to be your best.
How will I know if the world is better?
When your space looks and feels great, you are happier and contribute to making the world a better place. You are unique and there are things that only you can offer. Your space helps support you to create your unique offering. The world needs you.
Step 1- Aligned Design Consultation
We start with an Aligned Design Consultation. This is a 6 hour Interior Design and Color Consultation that gives you overall guidance for your whole house or business or more detailed focus on particular spaces. This consultation considers art, science and energy to create the most comprehensive guidance tailored to you.
There are a variety of things we can do with the time, and more time can bet you want to do. We can do some  added as needed based on the size of your space and whaof the following:
Brainstorm how to work with what you already have
Determine what to keep, what to replace  
Consider how to rearrange your existing furniture
Determine new paint colors
Select finishes such as countertops and flooring
Shopping to select furniture and other decor.
Updating specific spaces, using what you already have by re-arranging.
Styling bookshelves and tables and hanging art.
The consultation takes a holistic approach that considers the interior and exterior, as well as the energy of you and your home.  We can work together in person or online based on your location and preferences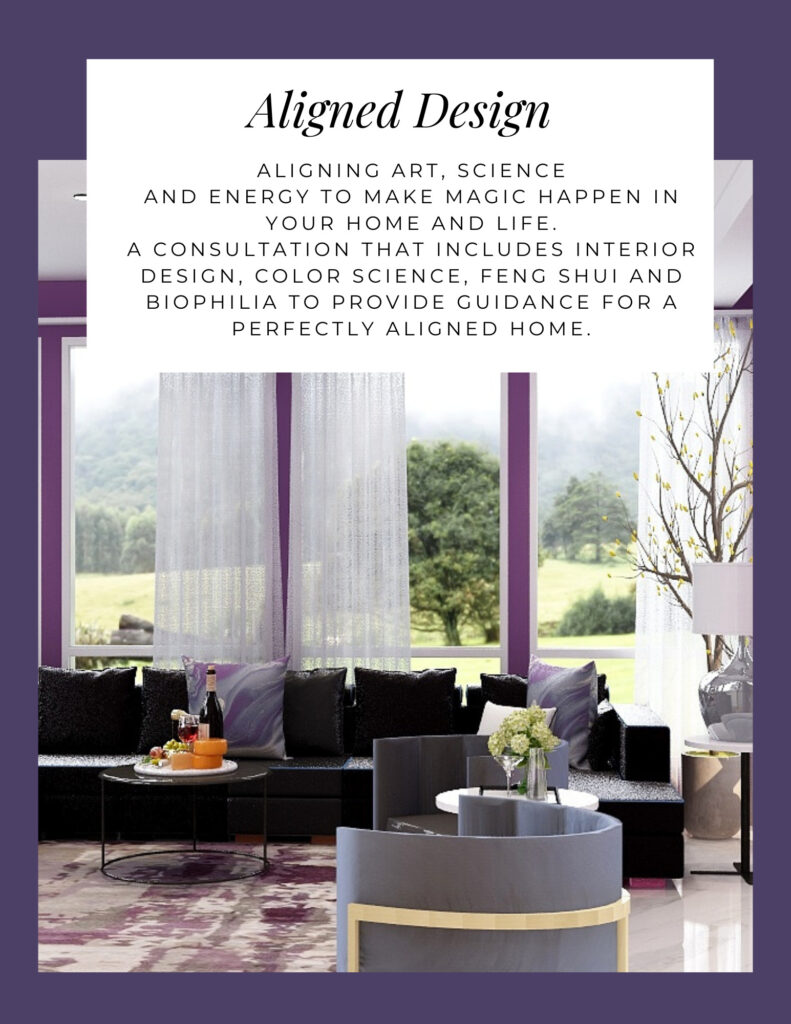 Step 2- Add New Items if Needed.
Once we have a game plan, you may be good to go to complete your design yourself. Or, you may need help selecting new furnishings or accessories or would like to see drawings or renderings to show you how your design will look. If so, you can select from several of my Edesign services to give you just what you need to complete your design.
Full service Edesign will give you a floor plan, concept board, shopping list and a render for a room so you can see what the finished room will look like.
If we will be working with mainly with what you already have  but just need a few new items, and do not need a render to visualize it, try the Refresh Edesign service.
My floor plan service can help you with space planning if you do not need to purchase any items.
Designer on call allows you to add on time if needed or just chat with me and ask questions for up to 2 hours.
Implementation of your design plan can be done on your own, of if in my service area I can come and help you in person with my Designer on Call service.