Greek Interior Design is simple and elegant, inspired by nature, and looks light, bright, airy and clean.  Imagine lots of white with beautiful vivid blue, green, fuchsia and gold accents, and a clean, de-cluttered, rustic look, Designs tend to be simple, symmetrical, classical, and relaxing. Less is more.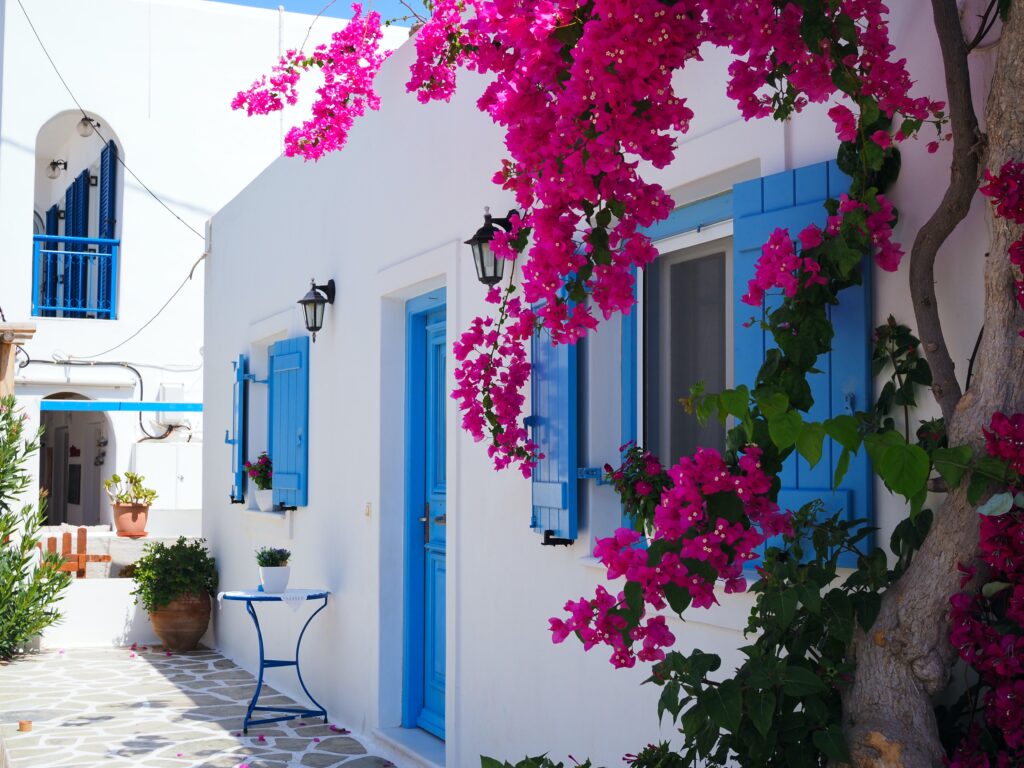 Greek style is an example of global style Interior Design. Global Style Interior Design is all about telling the story of your life and adventures through your decor. Each piece has a story and becomes a conversation starter.  Treasures, old and new are displayed from various parts of the world and layered in a rich tapestry of color, texture, art and history.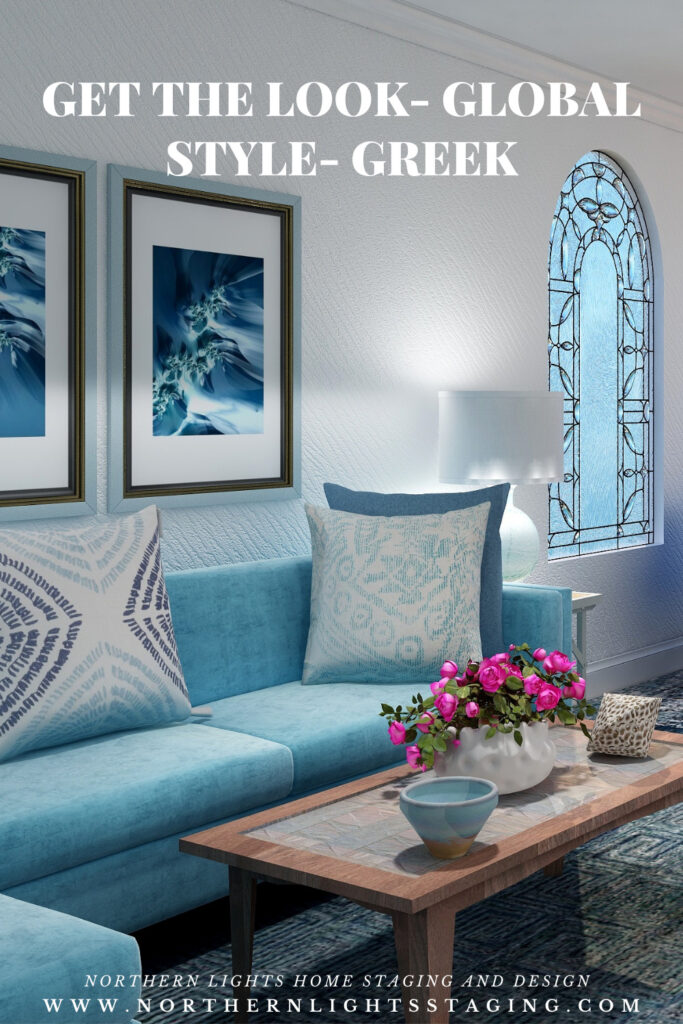 Color- Lots of white with beautiful vivid blue, green, fuchsia and gold accents.
Design elements- whitewashed or exposed stone walls, blue shutters, Greek key pattern, columns (Ionic, Corinthian or Doric designs) incorporated into architecture, furniture or accessories. Moldings with classical details.
Accessories– Antique oil jars, glazed pottery, colorful glass. Greek columns holding sculptures or statues, plants or framing architectural elements.
Fabrics– Lightweight, sheer and white or neutral colors. Hang sheer white curtains on the windows or use sheer white fabric as a canopy over a bed. Varying shades of blue, often incorporating the Greek key pattern or stripes.
Architectural elements– exposed  wooden beams, stone walls, columns, and arches.
Flooring- stone, marble or limestone, ceramic tile, stained concrete. Area rugs with stripes, flowers or the Greek key patterns are common.
Furniture-wooden furniture with carvings and soft simple lines. Modern furniture often incorporates the Greek key pattern.
Here is an example of an Edesign I created using the typical Greek color palette of whites and blues with fuscia accents. The design highlights the Greek key pattern in the rug, arched windows, white washed walls, columns, colorful glass lamps and simple furniture. It highlights my unique fractal art, the "Sea" collection which works wonderfully with Greek design because of the color and connection with nature and the sea which is also prevalent in Greek design.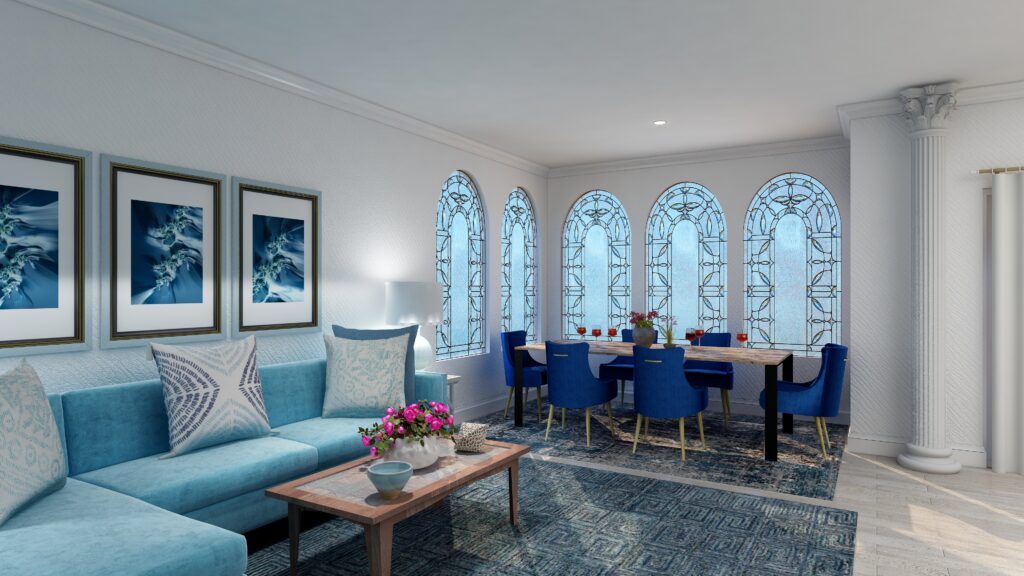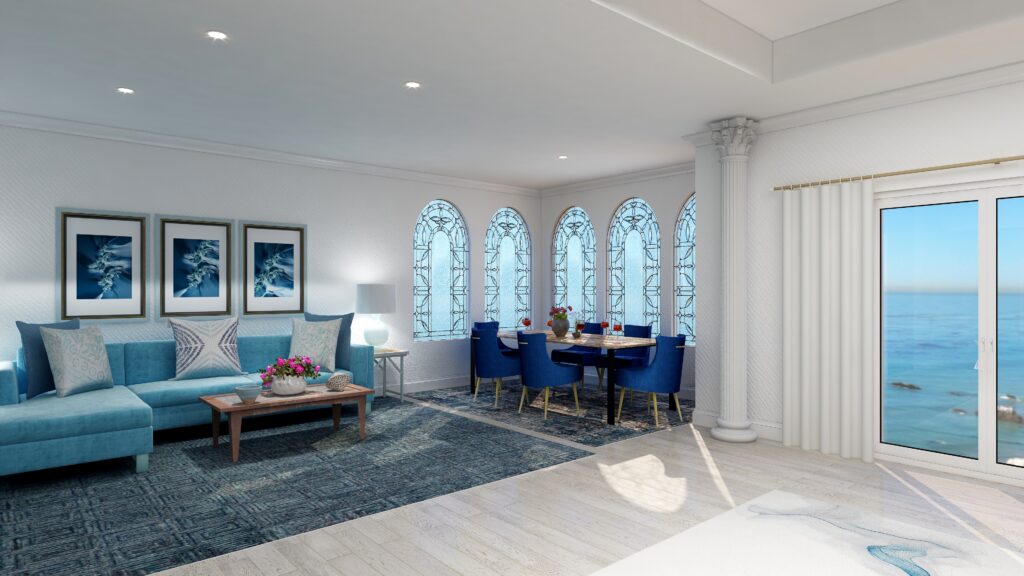 To get the look, you could go all out and incorporate all the elements of Greek Interior Design, or you can add some key elements to your existing decor.
Try  lamps, pillows or rugs incorporating varying shades of blue reflecting the colors of the sea and the sky typically used in this style. Incorporate art using shades of blue that have natural elements related to plants or the sea. Try furniture, accessories or rugs with the Greek key pattern. 
 Here are some of the products or similar ones I used in my design.   Some contain affiliate links, which means if you purchase, they give me a small commission but it does not change your price. This allows me to take time to curate these products for you for free.
Let's Create Your Global Style Design
Are you ready for your house to go to the next level where your house looks great, feels great and supports you to be great? Imagine that. 
What's it like when you are living in the perfect space for you?
My philosophy of great Interior Design, which I call Aligned Design, considers three key factors; art, science and energy. The intersection of the three is where the magic happens.
Creating a space that envelops you in your vision of beauty and  color, while fine tuning the energy of your space to promote wealth, health, love and perfect self-expression aligns you with the universe, allowing you to live your best life so you can make a positive impact on the world. 
Global style Interior Design is part of the art of great design and one of things you are really going to love about creating the perfect space for you.
Curious about your Interior Design style? Take the quiz and find out.