Greek Interior Design is simple and elegant, inspired by nature, and looks light, bright, airy and clean.  Imagine lots of white with beautiful vivid blue, green, fuchsia and gold accents, and a clean, de-cluttered, rustic look, Designs tend to be simple, symmetrical, classical, and relaxing. Less is more.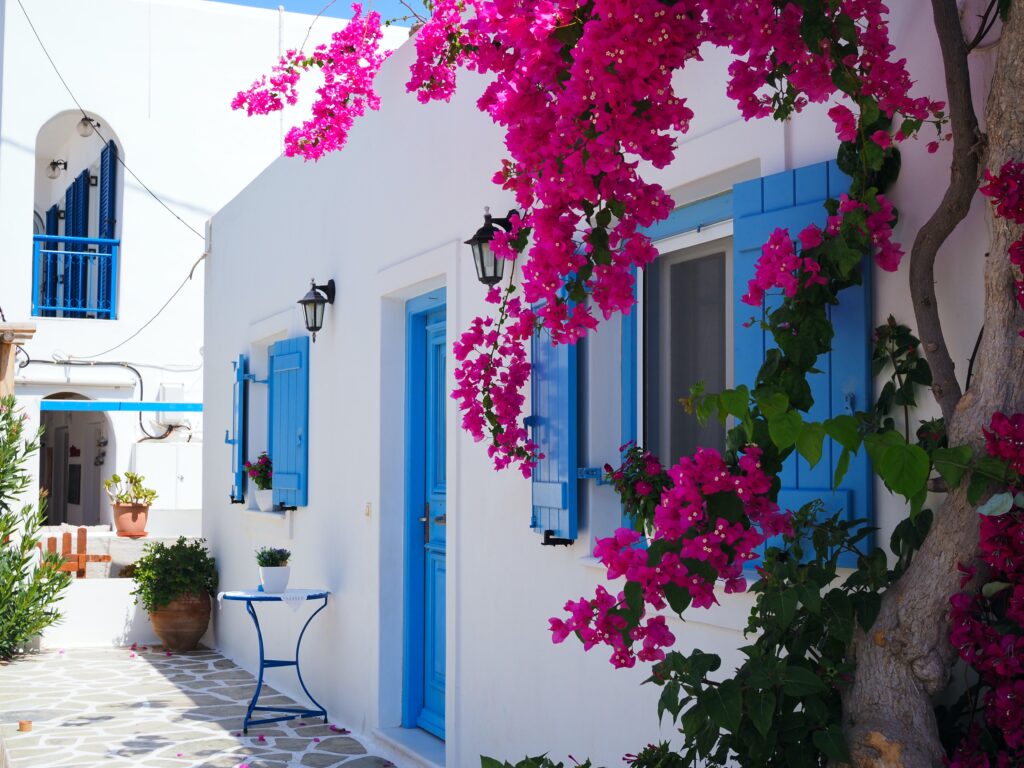 Greek style is an example of global style Interior Design. Global Style Interior Design is all about telling the story of your life and adventures through your decor. Each piece has a story and becomes a conversation starter.  Treasures, old and new are displayed from various parts of the world and layered in a rich tapestry of color, texture, art and history.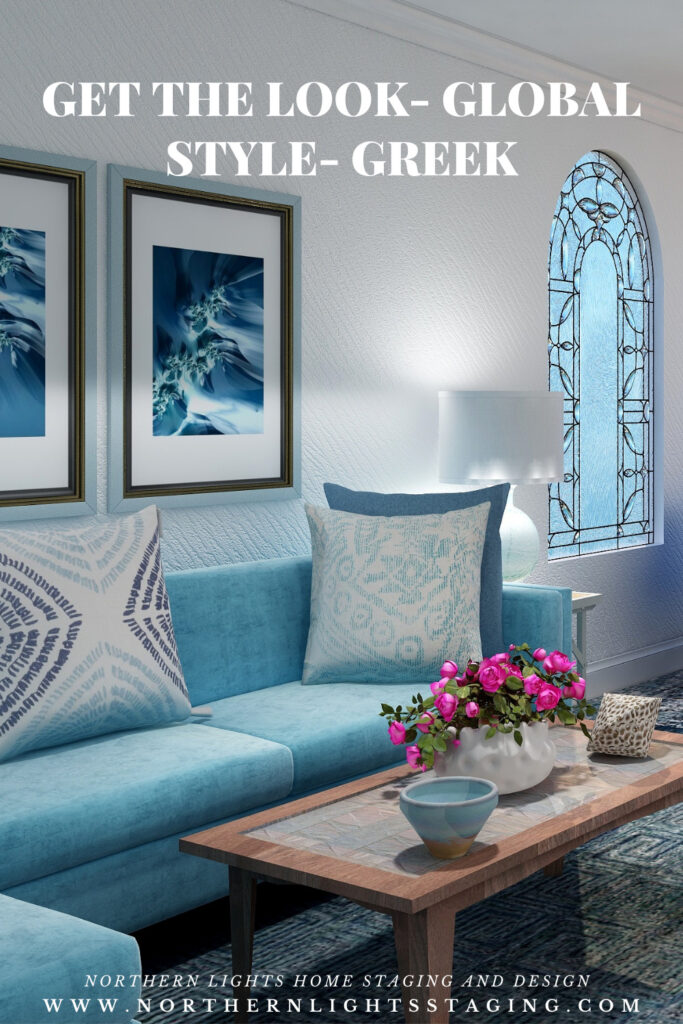 Color- Lots of white with beautiful vivid blue, green, fuchsia and gold accents.
Design elements- whitewashed or exposed stone walls, blue shutters, Greek key pattern, columns (Ionic, Corinthian or Doric designs) incorporated into architecture, furniture or accessories. Moldings with classical details.
Accessories– Antique oil jars, glazed pottery, colorful glass. Greek columns holding sculptures or statues, plants or framing architectural elements.
Fabrics– Lightweight, sheer and white or neutral colors. Hang sheer white curtains on the windows or use sheer white fabric as a canopy over a bed. Varying shades of blue, often incorporating the Greek key pattern or stripes.
Architectural elements– exposed  wooden beams, stone walls, columns, and arches.
Flooring- stone, marble or limestone, ceramic tile, stained concrete. Area rugs with stripes, flowers or the Greek key patterns are common.
Furniture-wooden furniture with carvings and soft simple lines. Modern furniture often incorporates the Greek key pattern.
Greek interior design is heavily influenced by the country's natural environment and its rich history. Many colors are used but these are prominent.
White: Reminiscent of the whitewashed buildings in the Cyclades islands, like Santorini, white is the most dominant color in Greek design. It evokes feelings of freshness, clarity, and simplicity.

Blue: Various shades, from turquoise to cobalt, represent the Aegean Sea, the Greek sky, and the famous blue-domed churches. Blue is a significant color in Greek culture, symbolizing protection and the evil eye.

Earthy tones: Terracotta, beiges, and browns evoke Greece's landscapes and ancient ruins. These colors ground the design and provide a warm base.

Olive Green: Inspired by the country's olive trees, this color adds a touch of nature and serenity to the interiors.

Gold and Bronze: Reminders of Greece's golden age and historical artistry, these metallic hues are often used in accents and decor items.

Pastels: Soft pinks, lavenders, and yellows, inspired by wildflowers and sunsets, are also found in more modern interpretations of Greek design
Energy of Greek Interior Design
The energy of Greek interior design is intricately tied to the nation's landscape, history, and spirit. At its core, the energy of Greek design embodies:
Tranquility: The predominant use of white, along with the serene blues, evokes feelings of calmness, much like the relaxed and tranquil vibe of the Mediterranean seaside.

Simplicity: Greek design is straightforward without unnecessary frills. This simplicity promotes a sense of clarity, focus, and grounding. It reflects the Greek love for the unadulterated beauty of life.

Connection to Nature: Through earthy tones, representations of olive branches, and the use of natural materials, Greek design maintains a strong connection with nature. This relationship reminds inhabitants of the cyclic nature of life and the beauty of organic growth and decay.

Historical Richness: Hints of bronze and design motifs may recall ancient Greek artifacts, symbolizing a deep respect for history, wisdom, and the stories of the past.

Spirituality: Elements of Greek design, such as the iconic blue domes, can elicit feelings of spiritual elevation. Additionally, the ample use of natural light in Greek interiors brings in warmth and spiritual enlightenment, connecting inhabitants to the divine.

Openness & Hospitality: Traditional Greek homes are designed to be open and welcoming, reflecting the country's renowned hospitality. This energy of openness fosters community, connection, and shared experiences.

Harmony: The balance between colors, textures, and space in Greek design symbolizes harmony. The interplay between indoor and outdoor living spaces represents a harmonious coexistence with nature.
In essence, the energy of Greek interior design is a blend of serenity, simplicity, reverence for history, and a deep connection to the natural world. It's an energy that invites introspection while also encouraging communal bonds.
Here is an example of several Edesigns. The first I created using the typical Greek color palette of whites and blues with fuscia accents. The second highlights some of the other colors used in Greek design. 
Both designs highlight the Greek key pattern in the rug, arched windows, white washed walls, columns, colorful glass lamps and simple furniture. 
The first uses my unique fractal art, the "Sea" collection which works wonderfully with Greek design because of the color and connection with nature and the sea which is also prevalent in Greek design.
The second uses my art that is a collage of AI and fractal energy art, infused with energy to help you stay aligned and live a path with heart.
Heart of Greece Energy Art by Mary Ann Benoit
To get the look, you could incorporate many elements of Greek Interior Design, or add some key elements to your existing decor.
Try  lamps, pillows or rugs incorporating varying shades of blue reflecting the colors of the sea and the sky typically used in this style. Incorporate art using shades of blue that have natural elements related to plants or the sea. Try furniture, accessories or rugs with the Greek key pattern. 
Try energy art from my Heart Of Greece Collection.
Let's Create Your Global Style Design
Are you ready to take your home to the next level, where it's not only aesthetically pleasing but also feels like a sanctuary that uplifts and supports you? Just imagine that.
Think about living in a space that perfectly resonates with who you are. What does it feel like?
My approach to outstanding interior design, which I call Aligned Design, revolves around three crucial elements: art, science, and energy. It's at the intersection of these three where the true magic unfolds.
Crafting a space that envelops you in your unique sense of beauty and color while harmonizing the energy to attract prosperity, well-being, love, and genuine self-expression, aligns you with the universe. This alignment empowers you to lead your best life, empowering you to make a positive impact on the world.
Global-style interior design, a facet of this artistic pursuit, is something you'll truly relish as you embark on the journey of creating a space that's perfectly suited to you.
Curious about your Interior Design style? Take the quiz and find out.