Moroccan design is filled with intricate carvings, arched doorways, beautiful tilework and vibrant colorful textured fabrics, baskets and accessories. Beautiful Intricate metal lanterns and pendant lights create amazing and magical patterns of light in your room. 
Moroccan homes use bright colors, such as red, blue, orange, turquoise, pale ocean blues and green mixed with gold. Interiors are filled with carved furniture pieces, poufs, floor cushions, textured vases, exotic figurines, Moroccan-inspired Berber, Kilim and Azilal tribal rugs, metallic details and natural elements, such as wood and stone.
Designs reflect the diverse culture of Arabs, Berbers, Europeans and African immigrants.
Moroccan style is an example of global style Interior Design. Global Style Interior Design is all about telling the story of your life and adventures through your decor. Each piece has a story and becomes a conversation starter.  Treasures, old and new are displayed from various parts of the world and layered in a rich tapestry of color, texture, art and history.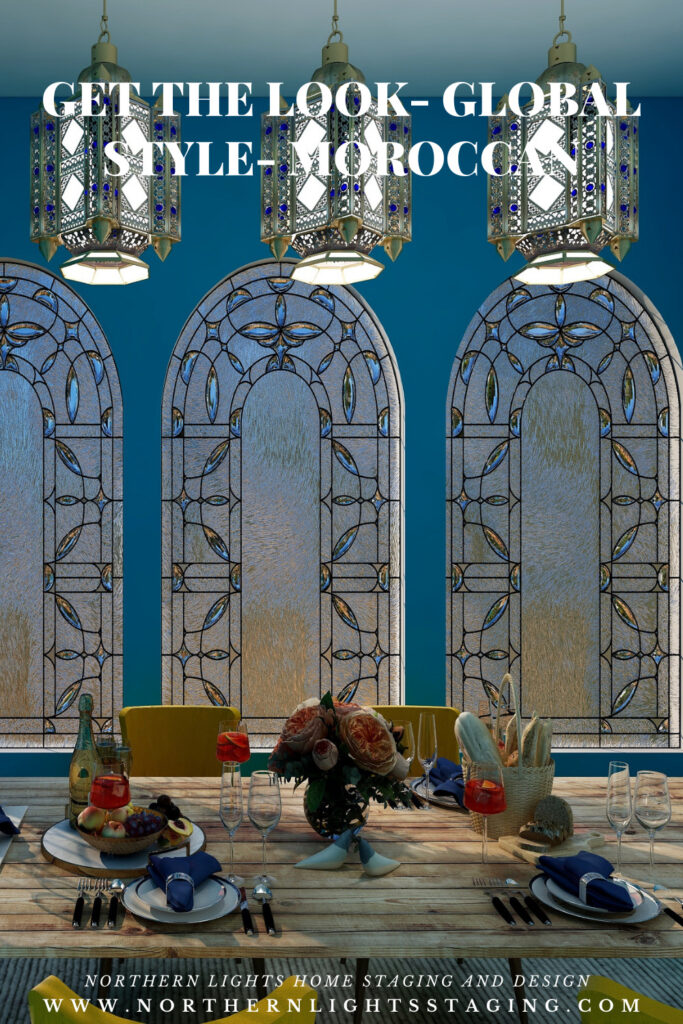 Moroccan style design is a melting pot of Andalusian, Berber, Persian, and many other cultural influences, resulting in a rich and distinct aesthetic. It's renowned for its vibrant colors, intricate patterns, and luxurious textures. Here's a deeper dive into the colors and design elements of Moroccan style:
Colors:
Rich and Vibrant Hues: Deep blues, fiery reds, emerald greens, and sunny yellows are prevalent.
Earth Tones: Warm terracotta, beige, and browns, reflecting the country's desert landscapes.
Cooler Tones: Reflecting the Mediterranean coast, you'll see aqua, teal, and turquoise.
Metallic Shades: Gold and silver accents often embellish decor and fixtures.
Design Elements:
Zellige Tiles: These are traditional hand-cut tiles used to create intricate mosaics. They are often used in flooring, walls, and tabletops. Their geometric and floral patterns are a hallmark of Moroccan design.

Archways: Moroccan architecture often features horseshoe and pointed arches. They can be found in doors, windows, and alcoves.

Tadelakt: This is a waterproof plaster used in Moroccan architecture, especially in baths and kitchens. It offers a smooth, luxurious finish.

Riads: Traditional Moroccan houses often feature an interior garden or courtyard, which serves as a private oasis and a focal point of the home.

Textiles: Rich, tactile fabrics like silk, wool, and velvet are common, often in intricate weaves and embroideries. Think of kilim rugs, plush cushions, and flowing curtains.

Lanterns: Often made of metal and glass, Moroccan lanterns can be hung or placed on surfaces. Their intricate patterns cast beautiful shadows when illuminated.

Furniture: Low-slung seating and carved wooden furniture are typical. Inlaid bone, metal, and mother-of-pearl often embellish these
Here is an Edesign I created using the art of a blue staircase in Chefchaouen, a blue city in the north of Morocco as the inspiration. The place is named after the mountain tops behind the village which look like two horns of a goat (chaoua). I loved the bold colors, interesting textures and peaceful feeling of this image which I tried to capture in my design.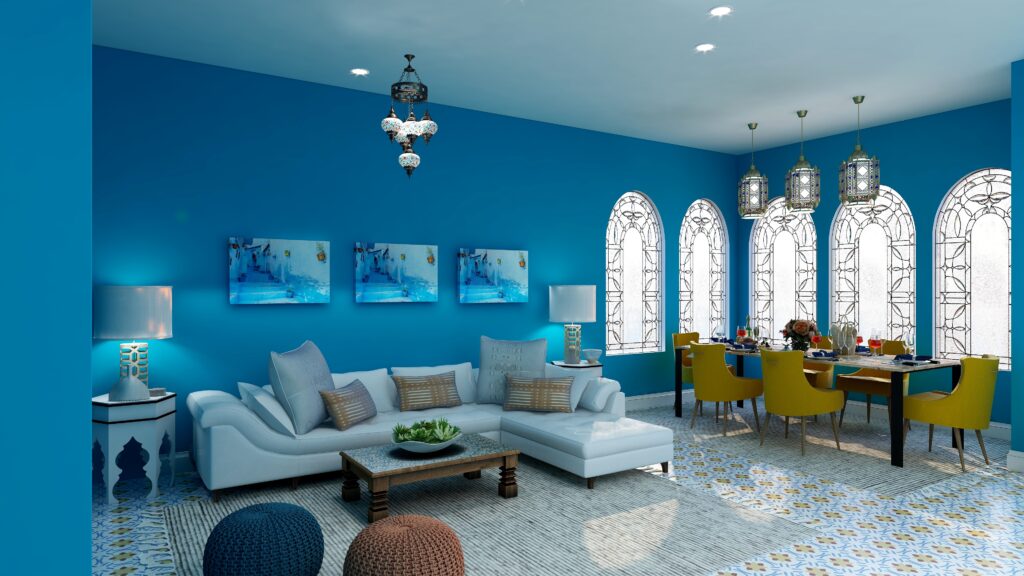 The design highlights Moroccan tiles on the floor, Moroccan lighting,  and a beautiful hand knotted wool rug from the Tullu region of Morocco. Arched windows, hand carved Moroccan tables and pottery add to the look.  Colorful Moroccan and global style pillows against a modern sofa create a nice contrast. 
Here is the same design using my energy art, designed to capture the artistry and feeling of Moroccan design with an overlay of fractal energy art to support you to be in alignment with who you truly are.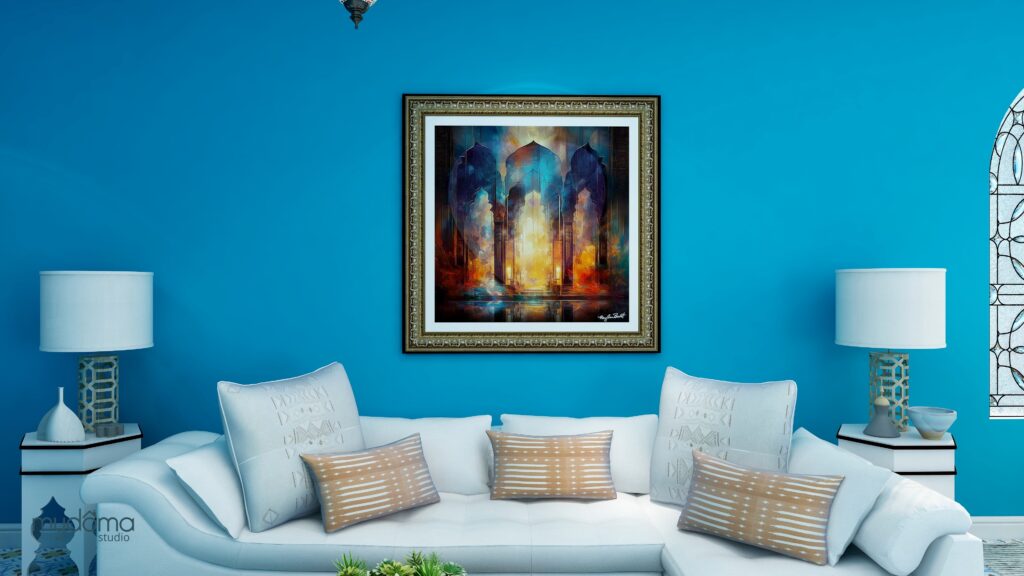 Here are some of my Heart of Morocco designs in my Globally Inspired and Soulfully Aligned collection.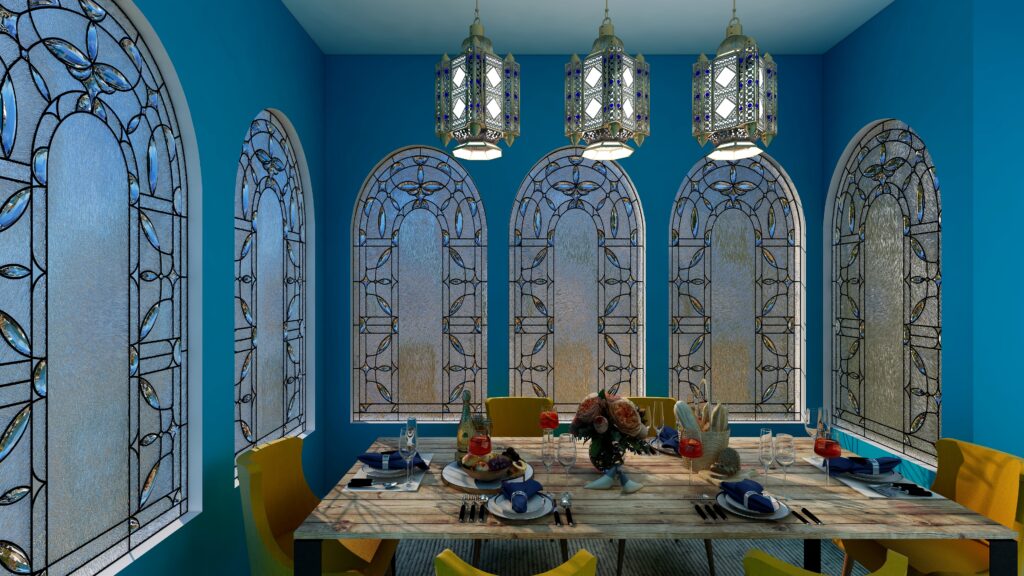 To get the look, you could go all out and incorporate all the elements or you can add some key elements to your existing decor.
The Energy of Moroccan Style
Moroccan style interior design, much like other global styles, has its distinct energy and essence. However, the particular nuances of its energy are shaped by its unique cultural, historical, and geographical context. Here's a comparison of the energy of Moroccan interior design to other global styles:
Historical Richness: Moroccan design is imbued with centuries of cross-cultural influences, including Berber, Spanish, French, and Arabian. This fusion creates an energy that feels both ancient and cosmopolitan.

Warmth & Comfort: The use of warm, earthy colors, plush textiles, and intricate carvings creates an ambiance of coziness and sanctuary. This contrasts with some minimalist or cooler global styles.

Sensory Depth: Moroccan interiors are known for engaging all senses, from the tactile experience of Zellige tiles and plush rugs to the visual feast of intricate patterns and the ambient glow of lantern light. This multi-sensory appeal may be less pronounced in other global styles that might focus predominantly on visual aesthetics.

Intricate Detailing: Moroccan design heavily features detailed geometric patterns, ornate carvings, and elaborate metalwork. While other global styles might also use detailed patterns, Moroccan patterns have a specific energy that speaks to Islamic art's avoidance of human and animal forms and instead focuses on abstract and geometric designs.

Connection to Nature: With its earthy palettes, natural materials, and the incorporation of indoor plants and water features, Moroccan design fosters a deep connection to nature. Some other global styles, like Japanese interior design, also emphasize this connection, but each does so with different elements and principles.

Spirituality: The presence of items like ornate lanterns and archways reminiscent of mosque architecture subtly hints at Morocco's deep-rooted Islamic traditions. This spiritual undertone might differ from other global styles which could have other religious or philosophical underpinnings.
In essence, while all global styles resonate with the energies of their origins, Moroccan interior design is characterized by its warm, inviting, and multi-sensory experience, layered with historical and spiritual depth. It's a style that doesn't just look good – it feels good, enveloping inhabitants in an ambiance that's both exotic and comforting.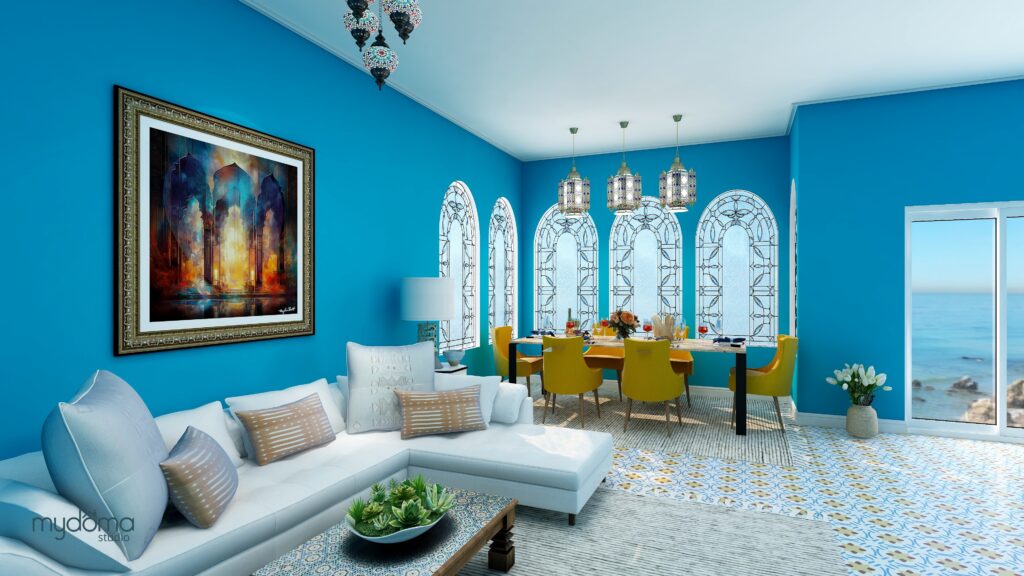 Let's Create Your Global Style Design
Are you ready to take your home to the next level, where it's not only aesthetically pleasing but also feels like a sanctuary that uplifts and supports you? Just imagine that.
Think about living in a space that perfectly resonates with who you are. What does it feel like?
My approach to outstanding interior design, which I call Aligned Design, revolves around three crucial elements: art, science, and energy. It's at the intersection of these three where the true magic unfolds.
Crafting a space that envelops you in your unique sense of beauty and color while harmonizing the energy to attract prosperity, well-being, love, and genuine self-expression, aligns you with the universe. This alignment empowers you to lead your best life, empowering you to make a positive impact on the world.
Global-style interior design, a facet of this artistic pursuit, is something you'll truly relish as you embark on the journey of creating a space that's perfectly suited to you.
Curious about your Interior Design style? Take the quiz and find out.