Moroccan design is filled with intricate carvings, arched doorways, beautiful tilework and vibrant colorful textured fabrics, baskets and accessories. Beautiful Intricate metal lanterns and pendant lights create amazing and magical patterns of light in your room. 
Moroccan homes use bright colors, such as red, blue, orange, turquoise, pale ocean blues and green mixed with gold. Interiors are filled with carved furniture pieces, poufs, floor cushions, textured vases, exotic figurines, Moroccan-inspired Berber, Kilim and Azilal tribal rugs, metallic details and natural elements, such as wood and stone.
Designs reflect the diverse culture of Arabs, Berbers, Europeans and African immigrants.
Moroccan style is an example of global style Interior Design. Global Style Interior Design is all about telling the story of your life and adventures through your decor. Each piece has a story and becomes a conversation starter.  Treasures, old and new are displayed from various parts of the world and layered in a rich tapestry of color, texture, art and history.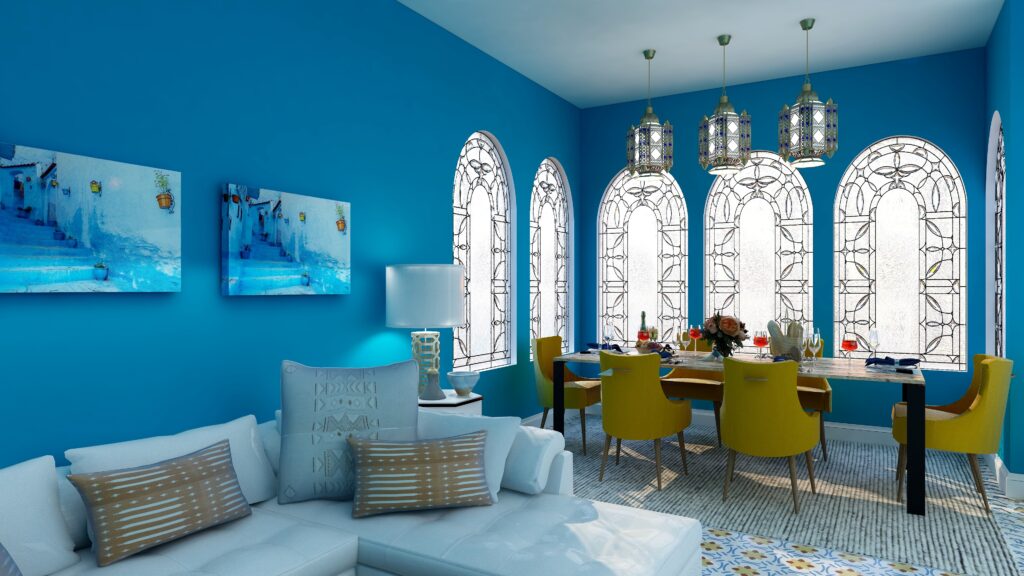 Above is an example of an Edesign I created using the art of a blue staircase in Chefchaouen, a blue city in the north of Morocco as the inspiration. The place is named after the mountain tops behind the village which look like two horns of a goat (chaoua). I loved the bold colors, interesting textures and peaceful feeling of this image which I tried to capture in my design.
The design highlights Moroccan tiles on the floor, Moroccan lighting,  and a beautiful hand knotted wool rug from the Tullu region of Morocco. Arched windows, hand carved Moroccan tables and pottery add to the look.  Colorful Moroccan and global style pillows against a modern sofa create a nice contrast.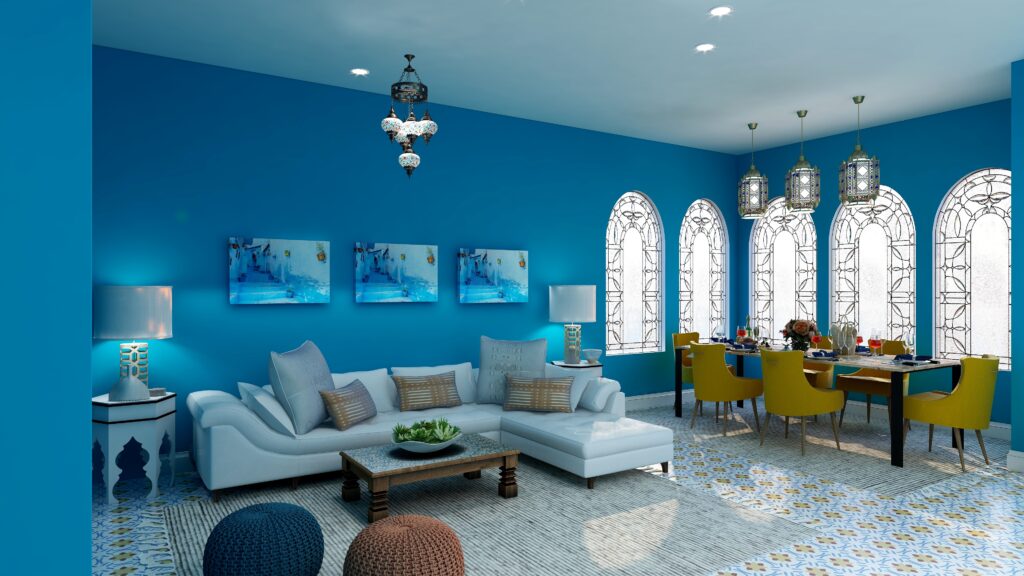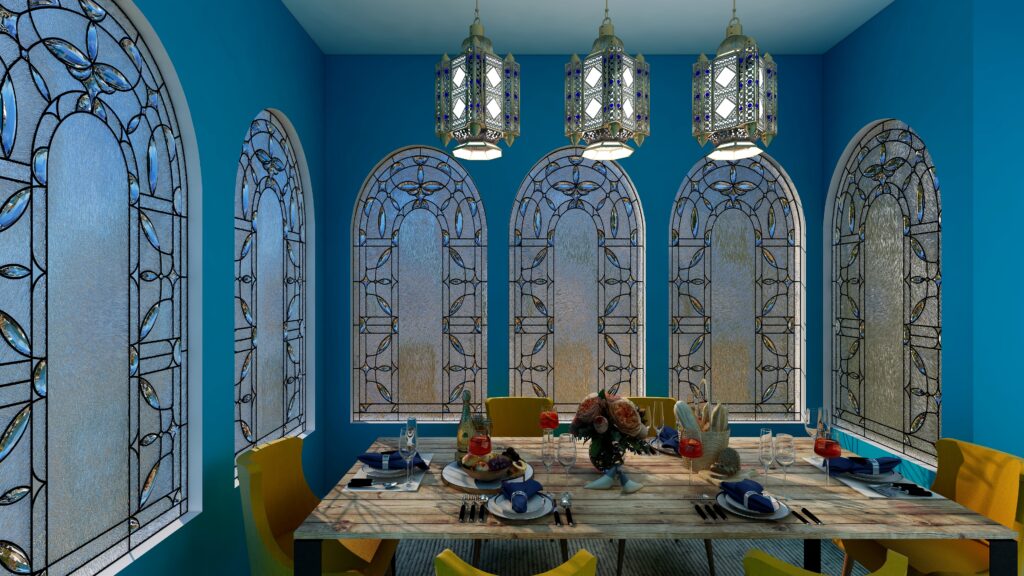 To get the look, you could go all out and incorporate all the elements or you can add some key elements to your existing decor.
 Here are some of the products or similar ones to what I used in my design.   Some contain affiliate links, which means if you purchase, they give me a small commission but it does not change your price. This allows me to take time to curate these products for you for free.
A great source for Moroccan Kilim rugs is from Atlas Weavers. Kilim Rugs are tapestry weaves that date back to the fourth century and have a flat weave as well as bold designs and colors. They are made with natural dyes. Usually made of wool, they are not only beautiful, they are eco-friendly. A great piece of art for your floor that can last a lifetime or more. And you can get 20% off  any  rug or non-sale item by using the code "Northern Lights" at check out!
Here are a couple beautiful examples that work with this design.
According to Roz of Atlas Weavers who designed the rug below, The symbolism of the Berber tradition is often referred to as the "Infinite Rapport", meaning the pattern and the spirit of the work extends beyond its physical borders. Many examples of Berber carpets show shifts in pattern, reflecting a change in life events, a different weaver taking over the rug, or spontaneous creative expression. As many Berber women believe the rugs are imbued with a spirit, either from the imprint of the artist or from the living nature of the wool, they resist monitoring the progression of their work, often revealing the entire rug only after it has been completed. Once the deeply laborious weaving process is completed, the finished rugs are considered part of the family and are the prized possession of the home. 
How is Moroccan Style Different?
How is Moroccan Style different from other global styles?  Learn more with me each week as we explore and compare a variety of global styles.
Last week I explored Greek Style. Notice the differences in colors, textures, lighting, art etc. between the two styles by comparing these designs done in the same room. Learn more in my blog article, Get the Look- Global Style, Greek.
 Your takeaway is that by changing some of the elements in your existing design, you can work towards creating a certain  global style. Or you can have a mix of elements for a more "Bohemian Style". More on that to come.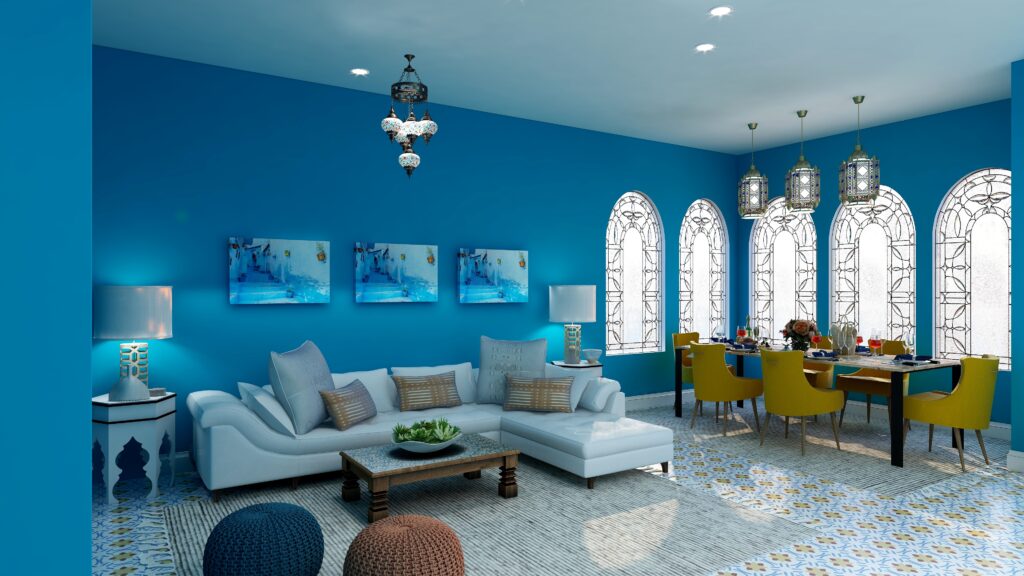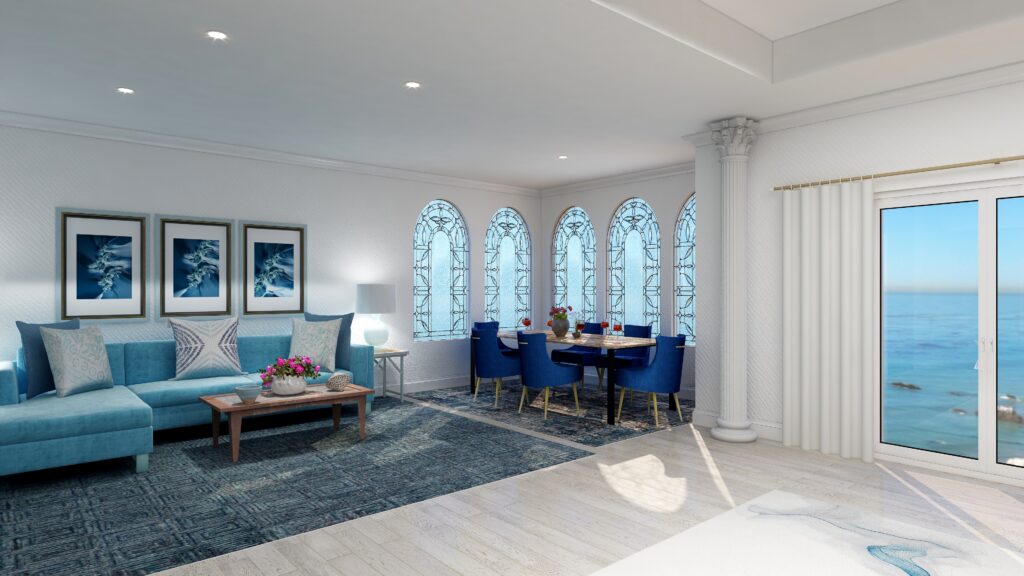 Let's Create Your Global Style Design
Are you ready for your house to go to the next level where your house looks great, feels great and supports you to be great? Imagine that. 
What's it like when you are living in the perfect space for you?
My philosophy of great Interior Design, which I call Aligned Design, considers three key factors; art, science and energy. The intersection of the three is where the magic happens.
Creating a space that envelops you in your vision of beauty and  color, while fine tuning the energy of your space to promote wealth, health, love and perfect self-expression aligns you with the universe, allowing you to live your best life so you can make a positive impact on the world. 
Global style Interior Design is part of the art of great design and one of things you are really going to love about creating the perfect space for you.
Curious about your Interior Design style? Take the quiz and find out.