Imagine. Buyers walk into your for-sale home and love it. They can picture themselves living there and say things like, "Wow, this would be a perfect place for my office or for the kids to play". They can visualize how their furniture will fit. It is clean and spacious and It is move in ready. Your beautifully staged home just made the sale quick and for top dollar. Get a professional home staging consultation today. Have you considered what this is going to cost you not to do it? 
Home staging is the art of decorating a home to sell fast and for top dollar. It works by highlighting the home's best features and creating an atmosphere that buyers make an emotional connection with, so they can visualize themselves living there. Each year statistics come out that talk about things like staged homes sell 78% faster and for up to 20% more. Of course, this all depends on how well you or the realtor markets the home and if it is priced competitively to start with. Home staging is all about the buyer! Home staging also works to market your vacation rental or other rental properties.
Just about every call I get starts with how much  does it cost, and how does it work? This video is for you!
You have Choices- Pick the the Best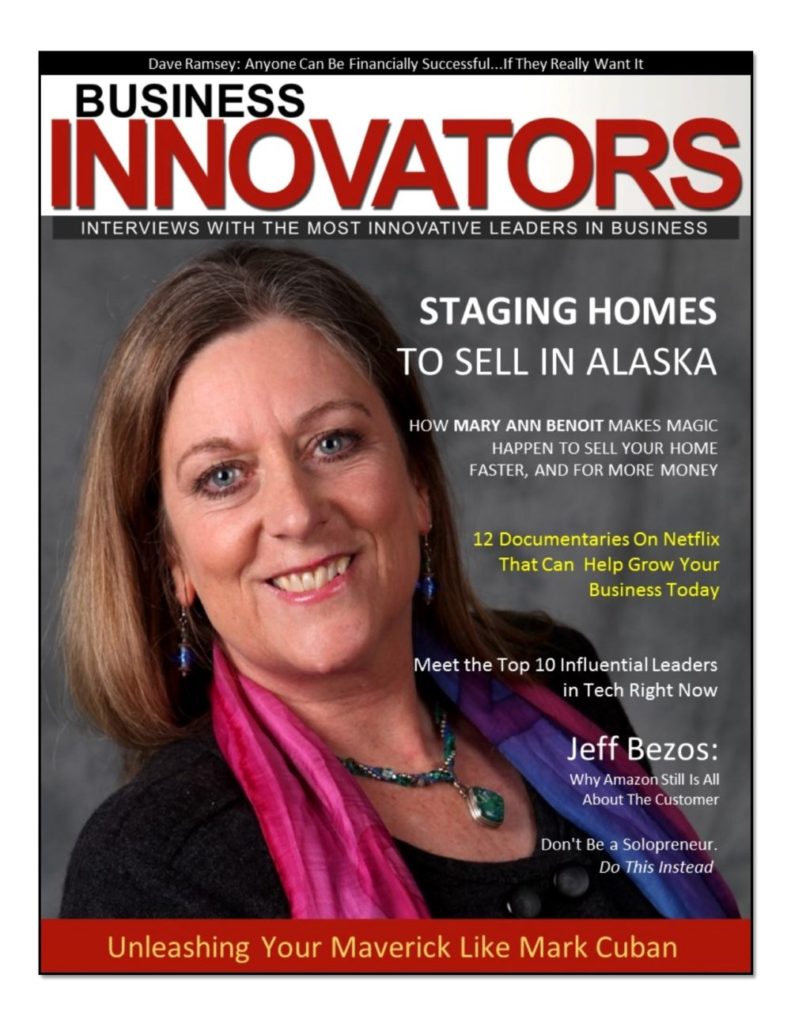 Mary Ann Benoit is the only professional home stager in Alaska that is also an Interior Designer. She is also the only Certified Color Strategist in Alaska and one of the few in the nation. If you are investing in home staging, why not get the best? Let's get the highest price for your property and save you money and stress by selling fast.  
Your investment will always cost less than your first price reduction if your home sits on the market because you went with a less experienced stager or didn't stage at all!
Call 907-362-0065 for a custom quote for your local staging project or book one of my online services now below.
For Builders and Real Estate Investors
I help your buyers visualize living in your new home by furnishing and decorating it so you can sell quickly. After all that hard work and investment, get your money back now and get the most for your investment.  
For Vacation Rental or Other Rental Property Owners
Let's update the look of your vacation rental property to get great advertising photos and increase your income and bookings while attracting your ideal customer with Vacation Rental Staging. I can assist you with a website  review and social media advertising for your listing.
All staging services start with a home staging consultation done in person or online.
Do you plan to live in your home while it's listed? Excellent, I can work primarily with what you already have and save you money on rental fees. Here are two examples. The first sold the first day on the market for full asking price! The second sold within 3 weeks.
If your home will be vacant, I can bring in everything.  Vacant homes are hard to sell because buyers do not make an emotional connection with them.  This vacant house had been on the market for several years and then sold in 7 weeks after staging. 
Ready to Sell Fast and For More?
Get your online  or in person home staging or vacation rental staging consultation or staging service today. Click on the pictures to learn more. For full staging services, call for a custom quote.