Struggling to concentrate while working from home? Overwhelmed by distractions or hesitant to show your workspace on Zoom calls with clients? Whether you're making do with the kitchen table, repurposing a spare room, or seeking a fresh revamp for your usual home office, it's time for a change.
Tips for Creating a Stress Free Office
There's loads of advice available on creating the ideal office space, from optimizing natural light to managing cords. While you're likely aware of the functional aspects like proper chair height or task lighting, aesthetics and ambiance are equally crucial.
It's not just about how the office looks, but how it feels. A workspace should inspire and invigorate you. Moreover, if you're hosting clients, the atmosphere should exude comfort and professionalism. Remember, a well-designed office is both efficient and evocative!
Design Ideas to Make your Office Serene and Calm
In designing this office, my aim was to create the energy of tranquility amidst the chaos. With today's challenges, a serene home workspace is essential. Here's how I infused serenity into this design:
Nature's Embrace: Merge your space with the great outdoors. Whether it's an inspiring outdoor view, nature-themed decor, or lush plants, let nature be a prominent guest. In this layout, my "Spring" fractal energy art from my collection infuses the essence of springtime greenery. Accentuating the theme, I've included plant motifs, florals, and bird-inspired art.
Palette of Peace: Opt for soothing hues like blues, greens, and gentle yellows. For this room, I drew inspiration from the woodland view outside, ensuring a harmonious and calming color flow.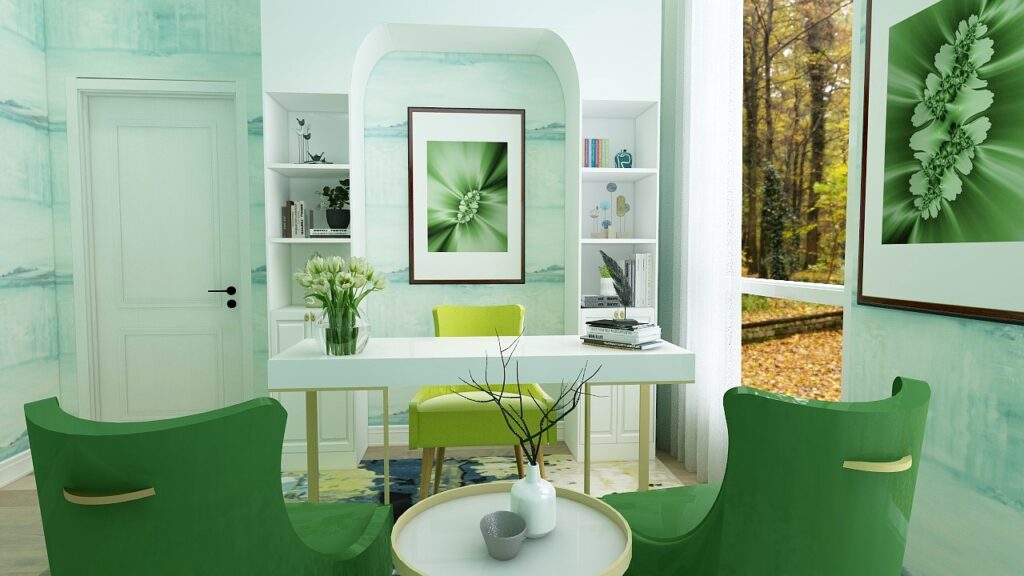 The wallpaper, reminiscent of water, embodies the essence of fluidity and "going with the flow."
Illuminate Naturally: Optimize natural light by choosing rooms with ample windows, complemented by window treatments that welcome sunlight. Here, textured semi-sheer draperies maintain a light, breezy feeling.
Streamline and Store: Minimize clutter by integrating concealed storage solutions. In this setup, bookshelf cabinets effortlessly stow away files, paperwork, and other essentials, ensuring a fresh, clean and organized energy for visiting clients. Clutter can block the flow of prosperity.
Embrace Comfort: Transition from the rigid aesthetics of conventional office furniture. Choose soft, inviting materials for seating; like the plush velvet-covered chairs in this design, which offer both comfort and color. A productive and comfortable workspace can help attract financial success. 
A Haven of Calm: Seek a secluded, noise-free zone or one where doors can seal off distractions. Should ambient noise or a sense of serenity be desired, incorporate a sound system for gentle melodies or calming nature sounds. The colors of nature such as blues and greens are also calming. 
Harness Energy Art to Magnetize Wealth and Prosperity.
Energy art seamlessly intertwines the abstract with the tangible, channeling spiritual energies through vibrant colors, patterns, symbols, and the artist's fervent intentions. It serves not only as a visual feast but as a beacon, attracting harmonious energies. The "Spring" piece in this design, painted in prosperous shades of green, symbolizes renewal, invigoration, and flourishing growth. Evoking the Wood Element from Chinese traditions and Feng Shui, it embodies strength, warmth, and idealism. Let such art be your muse, amplifying the energies you channel in your endeavors.
Are you trying to work at home and finding it hard to stay focused? Feeling stressed with everything going on around you? Are you uncomfortable connecting with clients online through Zoom because you don't want them to see the background of your office or workspace?
Right now, you may not have the perfect home office. You may be working from whatever space is available such as your kitchen table. Or maybe you have converted a spare room to make an office space. Maybe you normally work at home but you are ready for a change.
Would you like to create this look your home? Why not try some of my beautiful fractal energy art.
Need Help Designing Your Home Office?
Try my Aligned Design consultation to create the perfect office for you. Includes custom energy art to help you attract wealth and abundance.