Are you trying to work at home and finding it hard to stay focused? Feeling stressed with everything going on around you? Are you uncomfortable connecting with clients online through Zoom because you don't want them to see the background of your office or workspace?
Right now, you may not have the perfect home office. You may be working from whatever space is available such as your kitchen table. Or maybe you have converted a spare room to make an office space. Maybe you normally work at home but you are ready for a change.
Tips for Creating a Stress Free Office
There are lots of great articles out there on all the things you might want to consider to creating a great office space such as privacy, natural light, having enough storage space to hide all your office work or clutter, making sure your chair or keyboard is at the right height to work comfortably, having task lighting with the right amount of light placed just right for the tasks you need to do, keeping all those chords under control etc. You know what you need to have in your office to get your particular job done and how to place items to be most efficient for you. But does it look good? And more important, does it feel good!
How your office makes you feel and if it provides an atmosphere that enjoy working in is important! And your clients should feel comfortable there as well if you meet with them in your office.
Design Ideas to Make your Office Serene and Calm
I created this office Edesign to provide a serene and calming space to work. The last thing we all need right now with everything else going on is to feel stressed out while working at home. Here are some tips for a stress-free office that I used in this design.
Bring the Outside In
Bring the outside in and connect to nature with a great outside view, natural objects for décor or art and plants. In this design I used fractal art I designed from my collection called "Spring" to add a feeling of spring greenery in the art. I also selected plants, flowers, feather and bird art for accessories.
Use Calming Colors
Use calming colors such as blues and greens and pale yellows. I created the color palette for this room based on the colors in the scenery you can see from the woods through the window.
The wallpaper was selected because it represents water and a sense of "going with the flow".
Bring in Natural Light
Bring in as much natural light as possible by selecting a space with windows and window treatments that still let the light in. In this design I kept the room light and airy with white semi-sheer draperies with texture to add interest.
Reduce Clutter
Reduce the clutter and create storage that hide work products away when not in use or when clients come to visit. In this design, the lower cabinets in the bookshelf create storage with doors to hide away papers, files and more.
Use Soft, Cozy Materials
Use soft, cozy materials on your office chairs so it feels more like a comfortable sitting area than an office. I don't know about you, but I really dislike the utilitarian look of most office furniture. The chairs in this design are covered with colorful velvet.
Create a Quiet Space
Give yourself quiet space and privacy. If possible, find a space that is quiet or has doors that can be closed so you are not distracted by others in your home. If noise is an issue or just to add a relaxing atmosphere, add a sound system to that you can play soft music or ambient sounds.
Would you like to create this look your home? Here are a few items that could work. These items contain affiliate links, meaning I may receive a small commission for sharing them at no additional cost to you.
No Space for a new Home Office? No Worries
Are you limited on space for creating a home office and just wish you had the look in the background when collaborating online with clients or co-workers?  We can make that happen! When you sign up for a free Zoom account, you can upload a virtual background so it just looks like you are sitting in a beautiful office rather than your messy bedroom or wherever you are really working right now!
Try A Virtual Office Background
You can purchase this high resolution 1500 x 1000 pixel background for $10.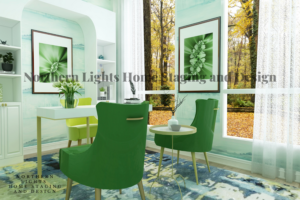 Purchase this virtual background for $10.00
Need Help Designing Your Home Office?
Check out my Edesign Services so I can help your create your perfect stress free office. The example in this article is of a Full Service Edesign project. Or try my Refresh Edesign service which includes everything but a render of the design.
Sign up for Seasonal Living Magazine Online