Bohemian style celebrates warm earthy colors, metals and jewel tones. Bohemian decor often uses deep browns, greens, grays or other neutral colors for base colors, then accessorizes with saturated purple, fiery orange, and electric blue and other jewel tones.
Bohemian style lovers are often carefree, dislike rules and want to follow their heart's desire!
Do you like vintage furniture and light fixtures, globally inspired textiles and rugs, and love displaying your collections of cool things found at markets. thrift stores and in your travels?
I bet you like glamorous fabrics, lighting and accessories with well-worn items, antiques or cool pieces from other styles. Anything goes if it makes you happy. More is more!
Bohemian style is a global design style. Global styles are all about your worldly adventures and telling your story! They are usually very colorful, rich in bold designs and natural textures, patterns, colors and arts and crafts of various cultures.
Each piece has a story and becomes a conversation starter. Treasures are displayed without rules or grouping by the part of the world each piece is from. Antiques mix with modern pieces, and natural objects such as animal horns, plants and rocks add to the charm.
While global design styles are eclectic and may mix and match items from a variety of countries, you may be drawn to the colors and cultural artifacts of some countries more than others.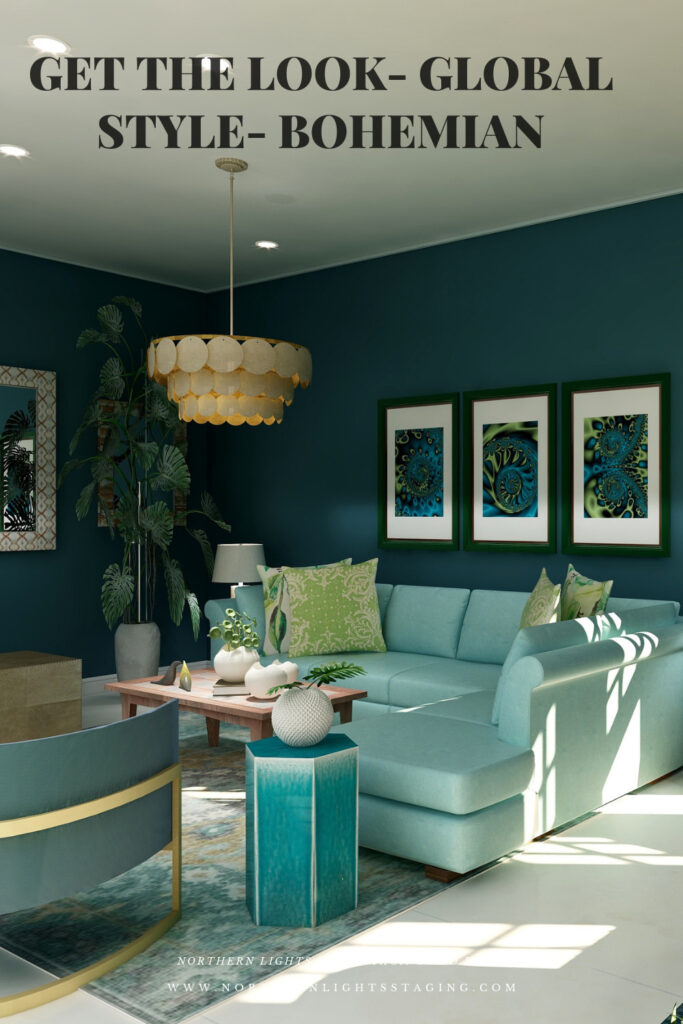 So how do you get this look and pull it all together?  You could go all out and incorporate all the elements of Bohemian Interior Design, or you can add some key elements to your existing decor.
Try  lamps, pillows or rugs or art incorporating jewel tones. Try furniture, accessories or rugs from various countries, incorporating different textures and patterns.  Include some soft and sumptuous fabrics like velvet. Incorporate various metals. Mix modern and vintage pieces. Show off your treasures and memories, so your decor tells stories of your travels, adventures and your life.
Think about the end result you want. Although Bohemian style often epitomizes "more is more" with interesting objects everywhere, the key to a great end result that does not look cluttered is to curate your results a bit and be a little selective, giving space around key objects so they have a chance to shine and really tell their story. A more curated and elegant look is often described as "Haute Bohemian". This is the look I personally prefer.
Below is an example of an Edesign I created for a Bohemian style living room.
For style elements, I used blue and green jewel tones in the hand knotted wool rugs, sofa, pillows, end table and dining chairs. I used tribal style lamps. soft fabrics for the sofa and side chair. I incorporated metals in the side chair and some accessories. I mixed different textures and styles with velvet, cotton, leather, wood, rattan, textured pottery and wool.
I mixed modern side chairs with a more rustic and ethnic coffee table and side tables. I mixed my modern computer fractal art with faux horn mirrors. The rug has a vintage look against the modern sofa and velvet side chair.
My design is more curated, and less is more. 
IMy fractal art is called Bioluminescence and is based on that beautiful glowing effect of bioluminescence in the ocean. The blues and greens as well as the concept help bring the outside in and work with the Bohemian jewel tone colors.
Bohemian Style Color Schemes
As mentioned earlier, Bohemian style celebrates warm earthy colors, metals and jewel tones.
Bohemian decor often uses deep browns, greens, grays or other neutral colors for base colors, then accessorizes with saturated colors. 
Here are some examples of the same Edesign using some earthy neutral creams, beige, and brown (Sherwin Williams Urbane Bronze) on the walls. Grays did not work well with the design.
To get the look, you could go all out and incorporate all the elements or you can add some key elements to your existing decor.
Here are some of the products or similar ones to what I used in my design.   Some contain affiliate links, which means if you purchase, they give me a small commission but it does not change your price. This allows me to take time to curate these products for you for free.
How is Bohemian Style Different?
How is Bohemian style different from other global styles?  Learn more with me each week as we explore and compare a variety of global styles.
So far we have explored Indian, Greek, Moroccan,  Turkish and Indian and Mexican styles. Notice the differences in colors, textures, lighting, art etc. between these styles done in the same room. Learn more in my blog articles, Get the Look, Global Style- Indian, Get the Look- Global Style, Greek and Get the Look- Global Style- Moroccan, and Get the Look- Global Style- Turkish. Get the Look-Global Style-Mexican.
 Your takeaway is that by changing some of the elements in your existing design, you can work towards creating a certain  global style. Or you can have a mix of elements for a more "Bohemian Style". More on that to come
For more ideas on Bohemian style see my blog article on Get the Look- Bohemian Style where I created an Edesign for a colorful and exotic living room.
Let's Create Your Global Style Design
Are you ready for your house to go to the next level where your house looks great, feels great and supports you to be great? Imagine that. 
What's it like when you are living in the perfect space for you?
My philosophy of great Interior Design, which I call Aligned Design, considers three key factors; art, science and energy. The intersection of the three is where the magic happens.
Creating a space that envelops you in your vision of beauty and  color, while fine tuning the energy of your space to promote wealth, health, love and perfect self-expression aligns you with the universe, allowing you to live your best life so you can make a positive impact on the world. 
Global style Interior Design is part of the art of great design and one of things you are really going to love about creating the perfect space for you.
Curious about your Interior Design style? Take the quiz and find out.