The Art of Indian Style Design
Indian design captures the heart with its warmth, vivacity, and intricate detailing. The essence of this style is a harmonious blend of relaxed elegance and vibrant energy.
Indian style interior design is renowned for its rich diversity, deep-rooted history, and vibrant colors. It reflects the country's multifaceted culture and has evolved over millennia. Here are some key design elements that characterize Indian interior design:
Rich Color Palette: As discussed, Indian interiors often showcase a warm and vibrant palette, with deep reds, saffron oranges, royal blues, bright yellows, and earthy browns.

Ornate Furniture: Traditional Indian furniture is handcrafted, often made from solid wood like teak or rosewood. These pieces are typically heavy, featuring intricate carvings, inlay work, and brass or iron embellishments.

Textiles and Fabrics: India is famous for its textiles. Rich silks, cottons, wool, and jute adorn Indian interiors in the form of drapes, upholstery, throw pillows, and rugs. Patterns range from paisleys, mandalas, and florals to intricate geometric designs.

Handmade Crafts: Indian homes often feature traditional crafts like pottery, brass and copperware, hand-woven baskets, and hand-blown glass items.

Traditional Patterns: Motifs like elephants, peacocks, and lotuses – symbols considered auspicious and regal – often feature prominently in various elements, from textiles to wall art.

Architectural Details: Features such as carved wooden pillars, intricate jaali (lattice) work, and arches (especially the multi-foiled arch) can often be seen in traditional Indian homes.

Flooring: While marble and stone are preferred in grander settings, many homes use handmade tiles or even clay tiles. Warm, wooden flooring is also commonly seen.

Spiritual Elements: India, with its deep spiritual roots, often features religious or spiritual symbols in its decor. This can be in the form of idols, paintings, wall hangings depicting deities, or even a dedicated prayer room with an altar.

Lighting: Traditional Indian lamps and lanterns, often made from metals like brass, create ambient lighting. Diyas, small oil lamps, are also popular, especially during festivals.

Rugs and Carpets: Handwoven Indian rugs, like the famous Persian-influenced Kashmiri carpets or the tribal dhurries, add warmth and luxury to Indian interiors.

Swing Seats: An interesting feature in some Indian homes, especially in the southern part, is the wooden swing seat, or 'oonjal'. Suspended from the ceiling, it adds a playful and relaxed element to the decor.

Greenery: Indian homes often incorporate indoor plants and open courtyards with plants, reflecting the country's tropical nature.

Use of Mirrors: Especially popular in states like Gujarat and Rajasthan, mirrors are often stitched into textiles or embedded in wall art, adding a shimmering quality to interiors.
The charm of Indian interior design lies in its ability to harmonize these diverse elements into a cohesive whole, creating spaces that exude warmth, luxury, and the timeless essence of India.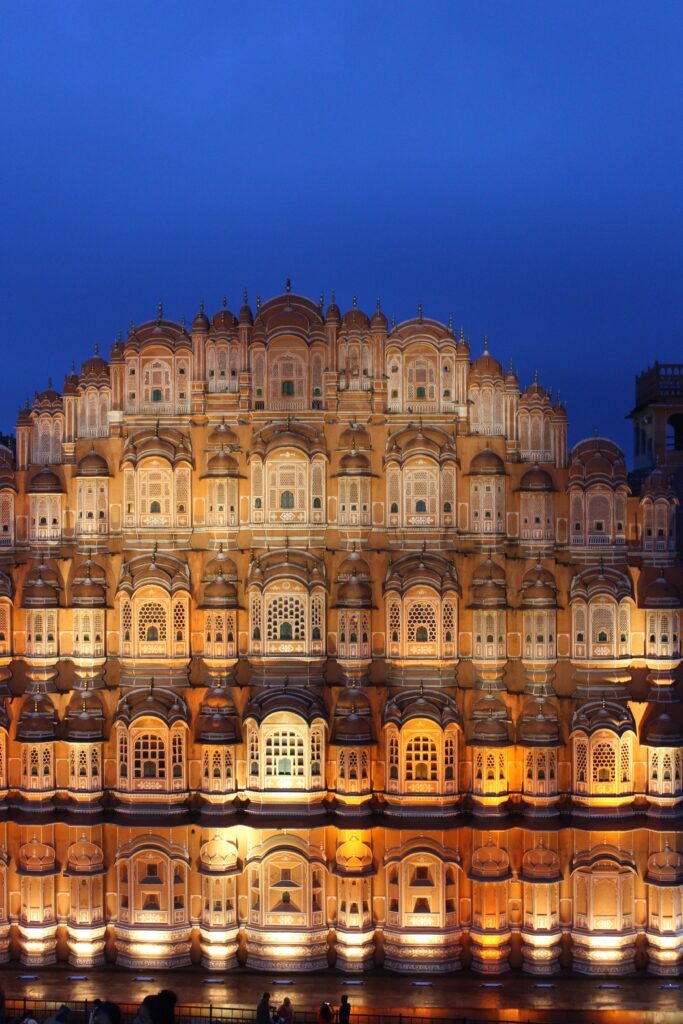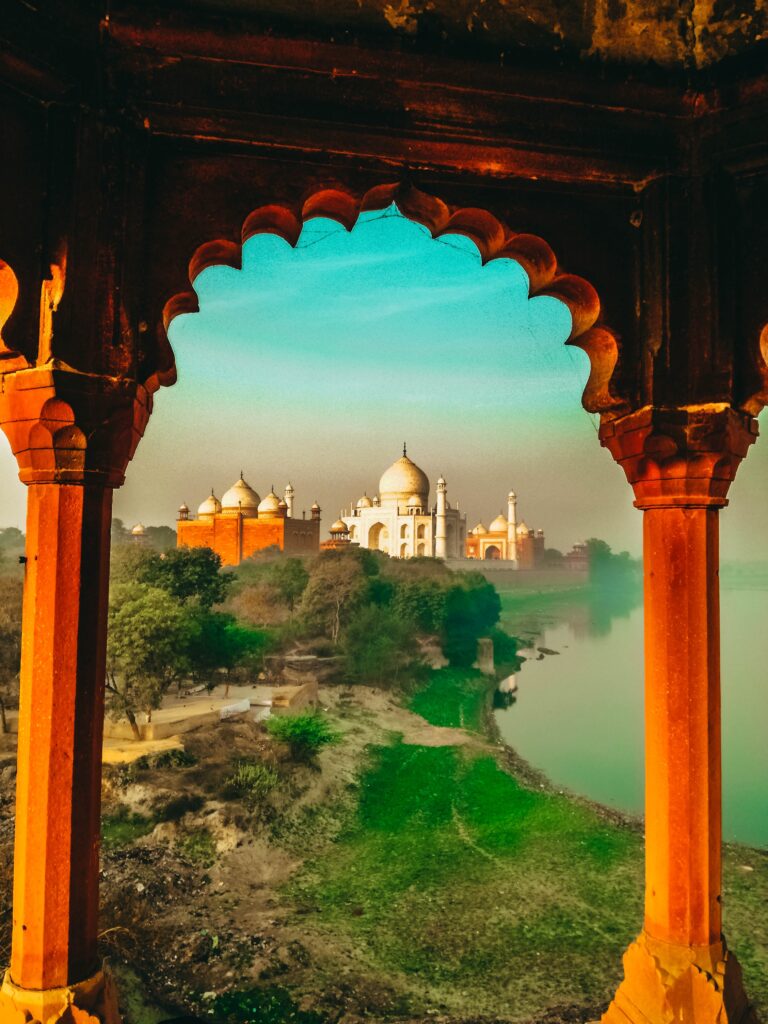 The Colors of Indian Style
The colors of India are deeply embedded in its rich cultural, spiritual, and geographical tapestry. Here's a breakdown of the colors that symbolize India, their significance, and where they prominently feature:
Saffron (Kesari): A vibrant shade of orange, saffron represents courage and sacrifice. It's one of the three colors in the Indian national flag, and also significant in Hindu religious rituals.

Green: Representing life and happiness, it's another color in the Indian flag, reflecting the nation's agricultural dominance and its green landscapes. Green is also significant in Islamic culture.

White: Symbolizing peace and purity, white is the central band of the Indian flag. It's also the color worn during Hindu mourning periods.

Blue: This color holds special importance primarily because of the navy blue Ashoka Chakra in the center of the Indian flag. Additionally, blue is often associated with Lord Krishna, a major deity in Hinduism.

Red: Signifying purity, fertility, love, and beauty, red is a dominant color in Indian weddings, where brides traditionally wear red saris. It's also the color of many important festivals and rituals.

Gold (Yellow): Representing wealth, prosperity, and knowledge. It's prominent in Indian jewelry, textiles, and religious ceremonies. Yellow also plays a crucial role during festivals like Basant Panchami and Diwali.

Turquoise and Indigo: Rooted in India's history of indigo farming, these colors are prominent in traditional Indian textiles and craft.

Pink: Often associated with celebrations and life in India. The city of Jaipur is nicknamed the 'Pink City' because of its distinctly colored buildings.

Earthy Tones: Given the diverse landscapes of India, from the Thar Desert to the Himalayan terrains, shades of brown, beige, and other earthy tones are an integral part of the Indian color palette.

Black: Although it's less predominant than other colors and often considered inauspicious in certain cultural contexts, black is used in some regional garments and arts.
India's festivals, rituals, seasons, and even daily life are a riot of colors, each holding symbolic significance. From the Holi festival, where a multitude of colors are thrown in celebration, to the varied landscapes that change hue with seasons, India is truly a country defined by a rich and diverse palette.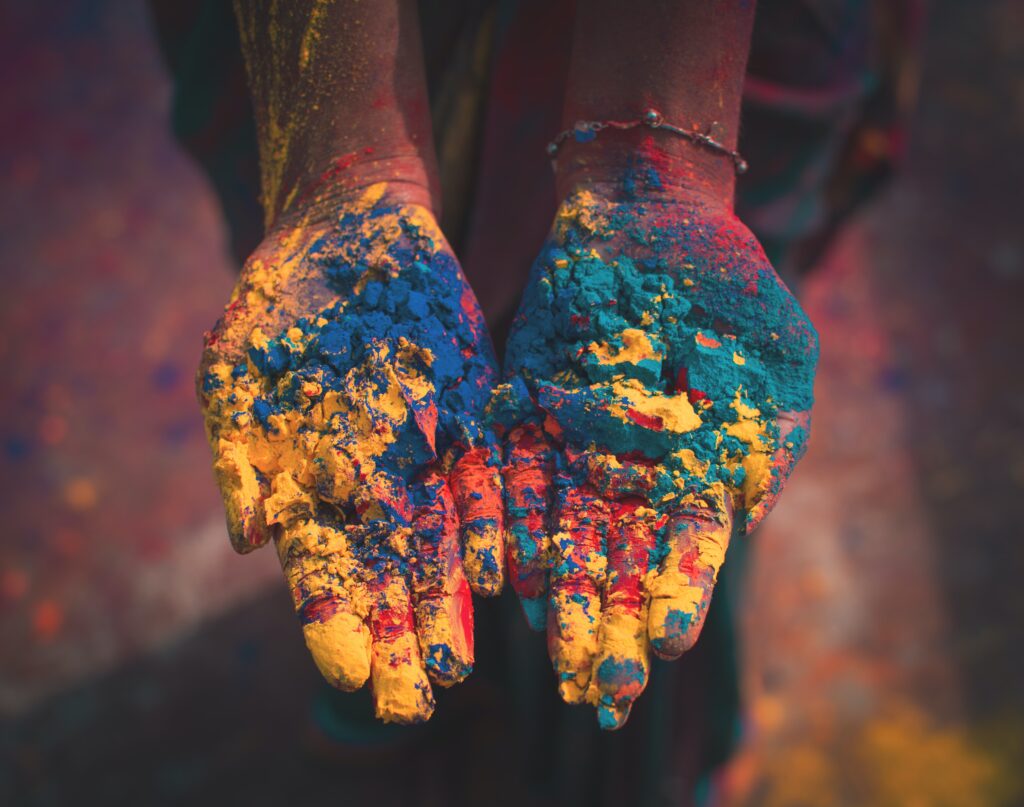 Some of the motifs you might find in Indian culture and design include Paisley, mandala, elephant motifs, lotus designs, peacock patterns, Mughal florals, intricate jaali work, Warli art, Kalamkari patterns, Tanjore art details, Rangoli designs, tribal Gond patterns, Rajasthani block prints, mirror work (shisha embroidery), mehendi (henna) patterns, chakra symbols, traditional temple motifs, Boteh design, Kundan artwork.
I have created a series of energy art designs for each chakra. They could work perfectly with Indian style.
Below is an example of an Edesign I created for an Indian style living room using the Indian flag for color inspiration. Often a nations flag depicts colors that you see used throughout many aspects of the culture and designs.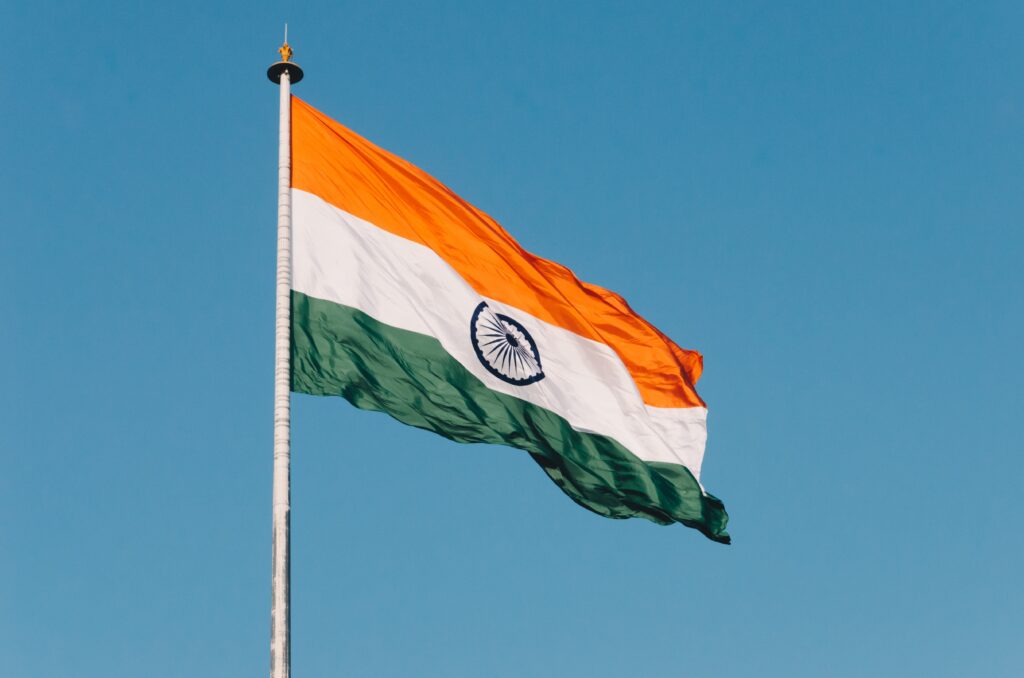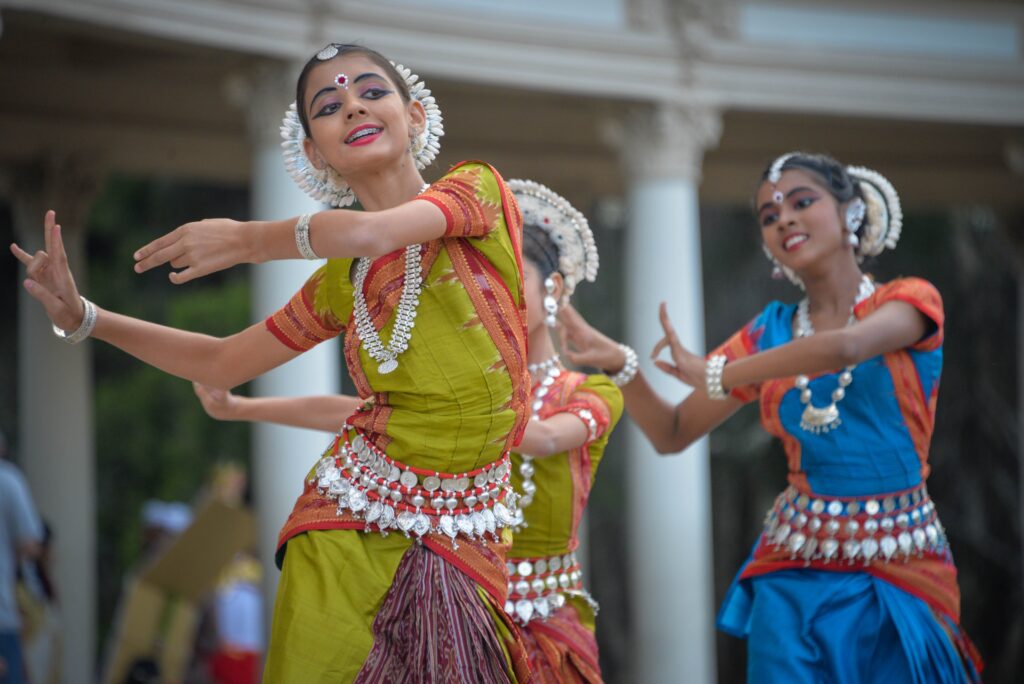 Putting it All Together- Indian Style Edesign
For style elements, I used floral and animal designs and a hand crafted Indian rug, and Indian Rosewood for the floors.  Some of the pillows have an animal motif with an elephant, often seen in Indian design. The rug is hand-knotted and made with hand-carded wool and viscose, by artisans in rural India.  
I used other modern elements that I would not call "Indian style" for variety such as the coffee and side tables, lighting and dining table and chairs.
I selected some of my fractal art with a floral element called "Spring" in the green color of the flag for the walls. 
Try my "Spring" fractal art series as you see on the wall in this design.
Here is a second Edesign of the same room highlighting some different colors and different AI/fractal art I created.
The Energy of Indian Style
The energy of Indian interior design radiates warmth and vibrancy through its rich colors and intricate patterns. It embodies peace and harmony through spiritual symbols, respect for history through traditional artifacts, and connection to nature via natural elements. The opulence is also evident in luxurious fabrics and metallic accents. In essence, this style is a blend of vibrancy, spirituality, cultural respect, natural connection, and luxury.
Your takeaway is that by changing some of the elements in your existing design, you can work towards creating a certain global style. Or you can have a mix of elements for a more "Bohemian Style". More on that to come.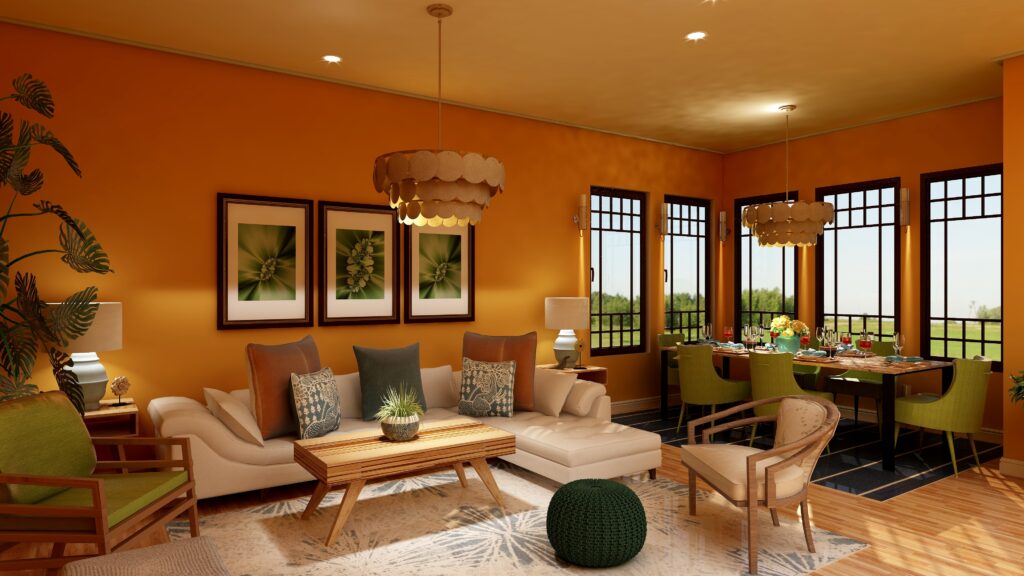 Let's Create Your Global Style Design
Are you ready for your house to go to the next level where your house looks great, feels great, and supports you to be great? Imagine that. 
Global style Interior Design is part of the art of great design and adds a beautiful vibrant energy filled with harmonious energy of natural materials.
Curious about your Interior Design style? Take the quiz and find out.