Indian style design creates inviting, informal, relaxed spaces filled with bright colored hand spun fabrics with paisley patterns, floor cushions around colorful rugs, intricate mandala motifs and nature-inspired themes with flowers, birds, animals.
Common, is arched wood furniture with curved armrests and legs, carvings and inlay work in metal, ivory, stones and mirrors. Fill your rooms with wooden chests, footstools, bird cages, masks, clay pottery, and boxes in sandalwood metal or marble. Add some metal accents such as brass lamps, pots and figurines and some beautiful Indian flowing window drapes, bed canopies or bedspreads.
Extend your design to the outside by creating  a sanctuary with an outdoor fountains and courtyard. Indian colors include vibrant bright blues, reds, saffron orange and golds and earthy tones like ochre yellows, browns and burnt oranges for walls and floors with brighter colors for accents and accessories.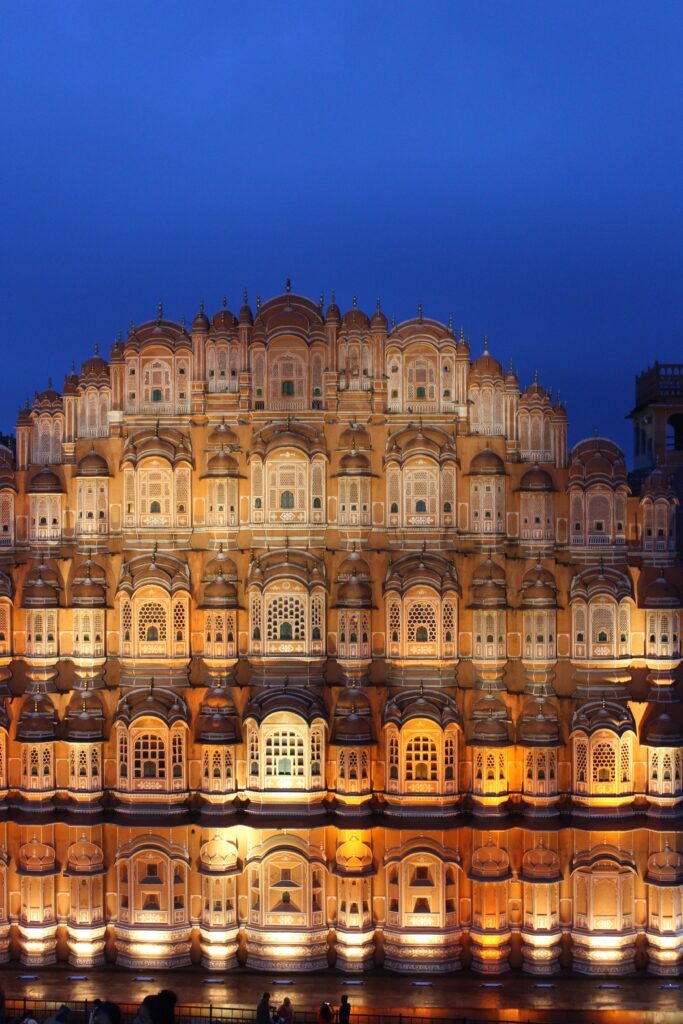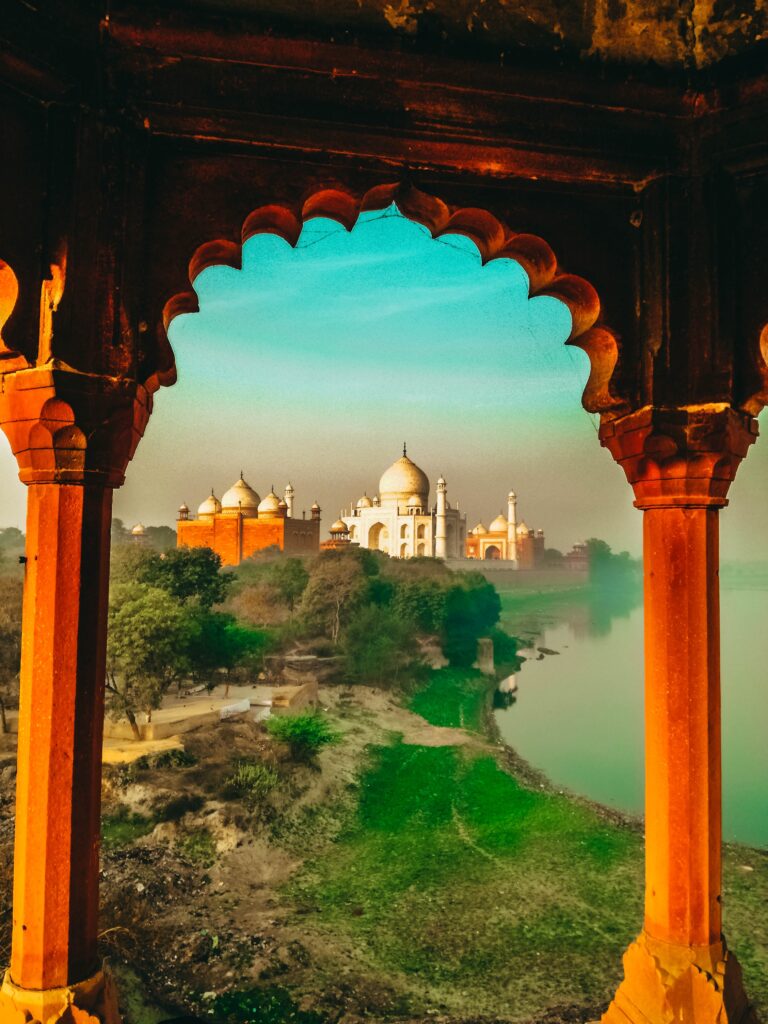 You can see that India is a country that loves to celebrate rich colors! You have a lot to choose from.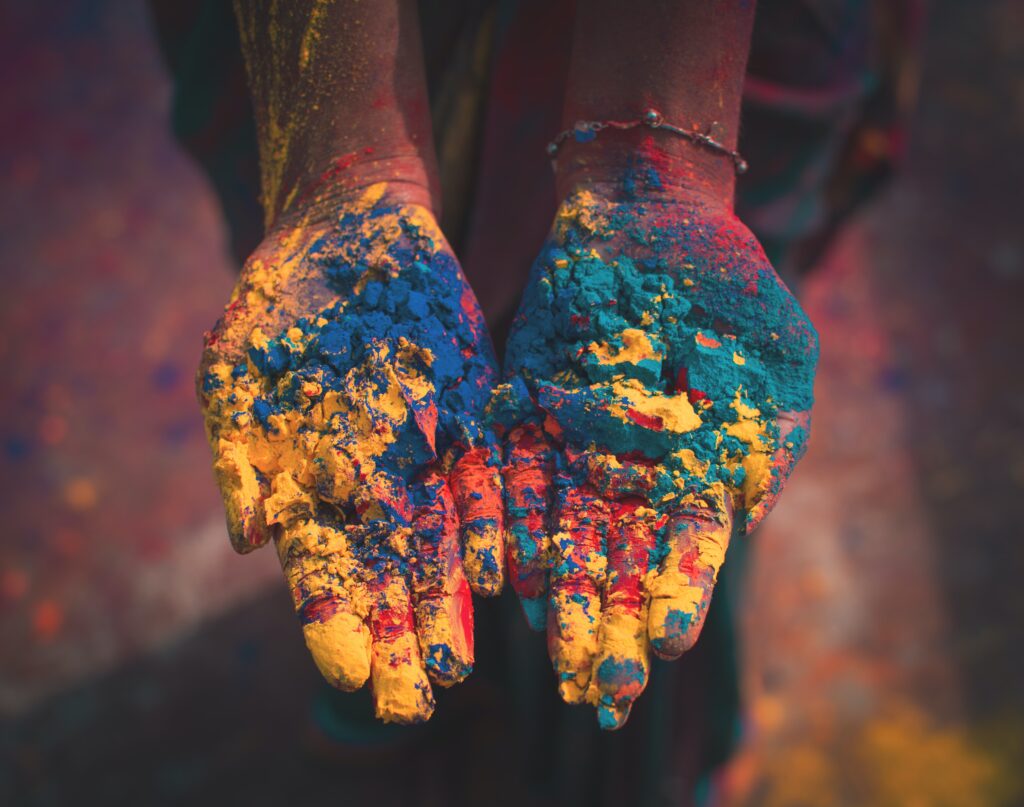 Below is an example of an Edesign I created for an Indian style living room using the Indian flag for color inspiration. Often a nations flag depicts colors that you see used throughout many aspects of the culture and designs.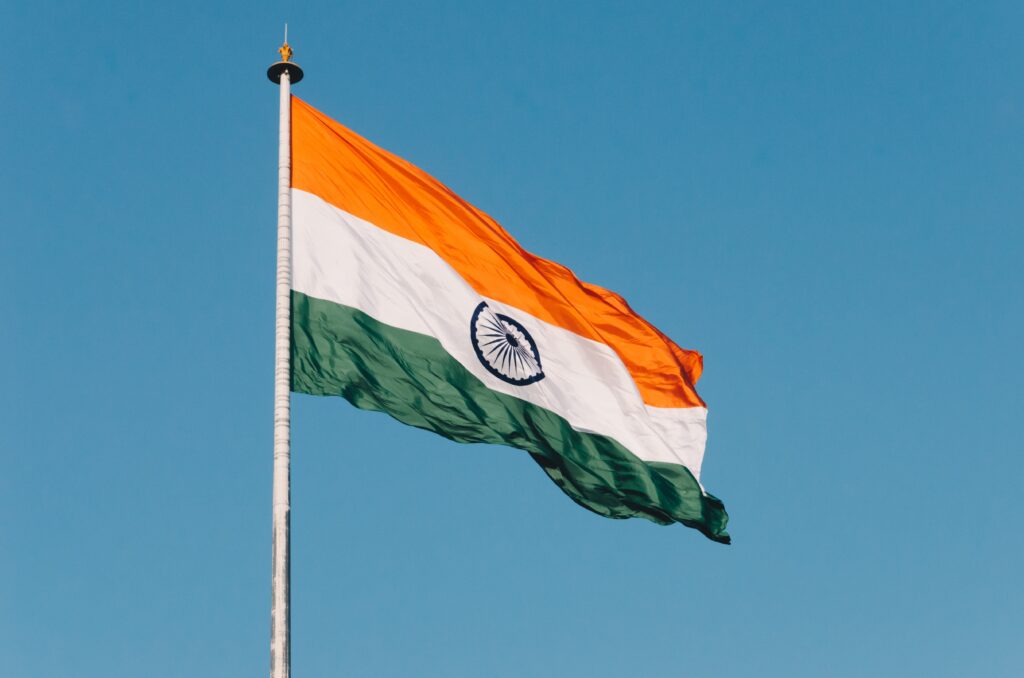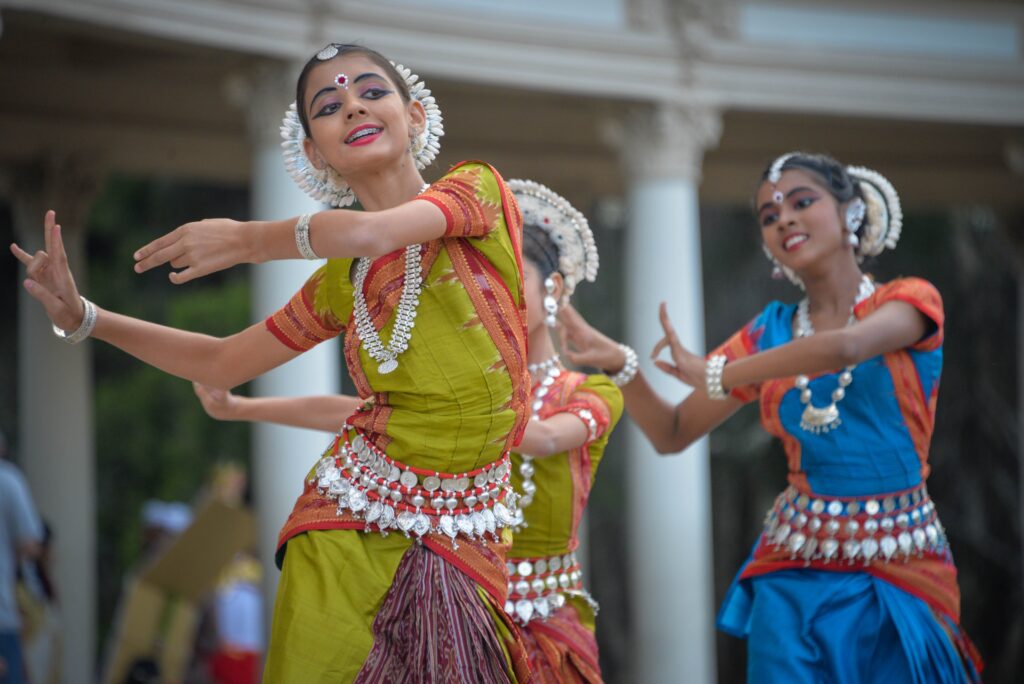 Indian style is an example of global style Interior Design. Global Style Interior Design is all about telling the story of your life and adventures through your decor. Each piece has a story and becomes a conversation starter.  Treasures, old and new are displayed from various parts of the world and layered in a rich tapestry of color, texture, art and history.
For style elements, I used floral and animal designs and a hand crafted Indian rug, and Indian Rosewood for the floors.  Some of the pillows have an animal motif with an elephant, often seen in Indian design. The rug is hand-knotted and made with hand-carded wool and viscose, by artisans in rural India.  
I used other modern elements that I would not call "Indian style" for variety such as the coffee and side tables, lighting and dining table and chairs.
I selected some of my fractal art with a floral element called "Spring" in the green color of the flag for the walls. 
I created a mini wine bar in the corner using the Plum Wine Dispenser which keeps 2 bottles perfectly chilled and preserved so you can have just a glass of wine whenever you like.
The Plum Wine Dispenser fits right on your countertop or wherever you choose to create your mini-bar.
It holds two bottles of wine and automatically preserves, chills, and serves any bottle by the glass.
I used the beautiful, dark rich Smith Rapids red oak hardwood flooring to create an earthy, grounded feeling to the room.
I used the Smith Rapids hardwood flooring in this design. It is part of the Revel Woods Skyways Collection.
This Revel Woods floor is a versatile earth tone color with dark knots and mineral streaks found in natural red oak.
To get the look, you could go all out and incorporate all the elements or you can add some key elements to your existing decor.
Here are some of the products or similar ones to what I used in my design.   Some contain affiliate links, which means if you purchase, they give me a small commission but it does not change your price. This allows me to take time to curate these products for you for free.
How is Indian Style Different?
How is Indian style different from other global styles?  Learn more with me each week as we explore and compare a variety of global styles.
So far we have explored Greek, Moroccan, and Turkish styles and Indian styles. Notice the differences in colors, textures, lighting, art etc. between these styles done in the same room. Learn more in my blog articles, Get the Look- Global Style, Greek and Get the Look- Global Style- Moroccan, and Get the Look- Global Style- Turkish.
 Your takeaway is that by changing some of the elements in your existing design, you can work towards creating a certain  global style. Or you can have a mix of elements for a more "Bohemian Style". More on that to come.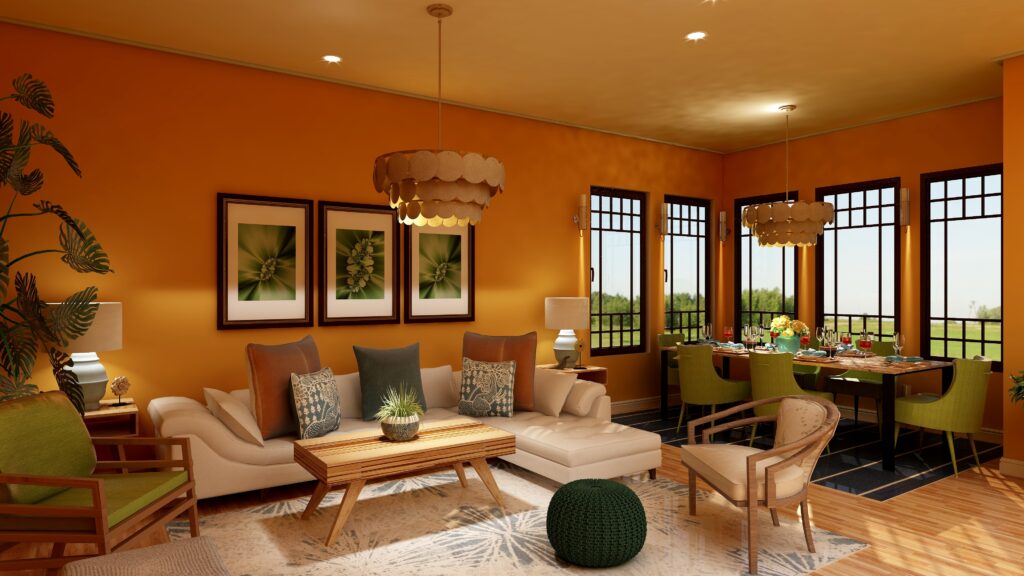 Vote for this Design in the Edesign Contest
Let's Create Your Global Style Design
Are you ready for your house to go to the next level where your house looks great, feels great and supports you to be great? Imagine that. 
What's it like when you are living in the perfect space for you?
My philosophy of great Interior Design, which I call Aligned Design, considers three key factors; art, science and energy. The intersection of the three is where the magic happens.
Creating a space that envelops you in your vision of beauty and  color, while fine tuning the energy of your space to promote wealth, health, love and perfect self-expression aligns you with the universe, allowing you to live your best life so you can make a positive impact on the world. 
Global style Interior Design is part of the art of great design and one of things you are really going to love about creating the perfect space for you.
Curious about your Interior Design style? Take the quiz and find out.