What is a Global Design Interior Design?
Global styles are all about your worldly adventures and telling your story! They are usually very colorful, rich in bold designs and natural textures, patterns, colors and arts and crafts of various cultures. Each piece has a story and becomes a conversation starter.  Treasures are displayed without rules or grouping by the part of the world each piece is from. Antiques mix with modern pieces, and natural objects such as animal horns, plants and rocks add to the charm. While global design styles are eclectic and may mix and match items from a variety of countries, you may be drawn to the colors and cultural artifacts of some countries more than others.
Examples of Global Style
Some of my favorite examples of global design styles are Bohemian, Turkish, Moroccan, Mexican, Greek and Indian. I love the rich colors, textures and interesting hand-crafted design elements of these beautiful styles. And, they are great for creating eco-friendly and sustainable designs in your home because they primarily use natural elements such as wool, silk, wood, bone, stone, glass and metals as design elements.
Here is some more detail about my favorite styles and some of the important design elements that give them their unique beauty. What global design style speaks to you?
Bohemian
Learn more about Bohemian Style in my blog article, Get the Look-Bohemian Style.
Turkish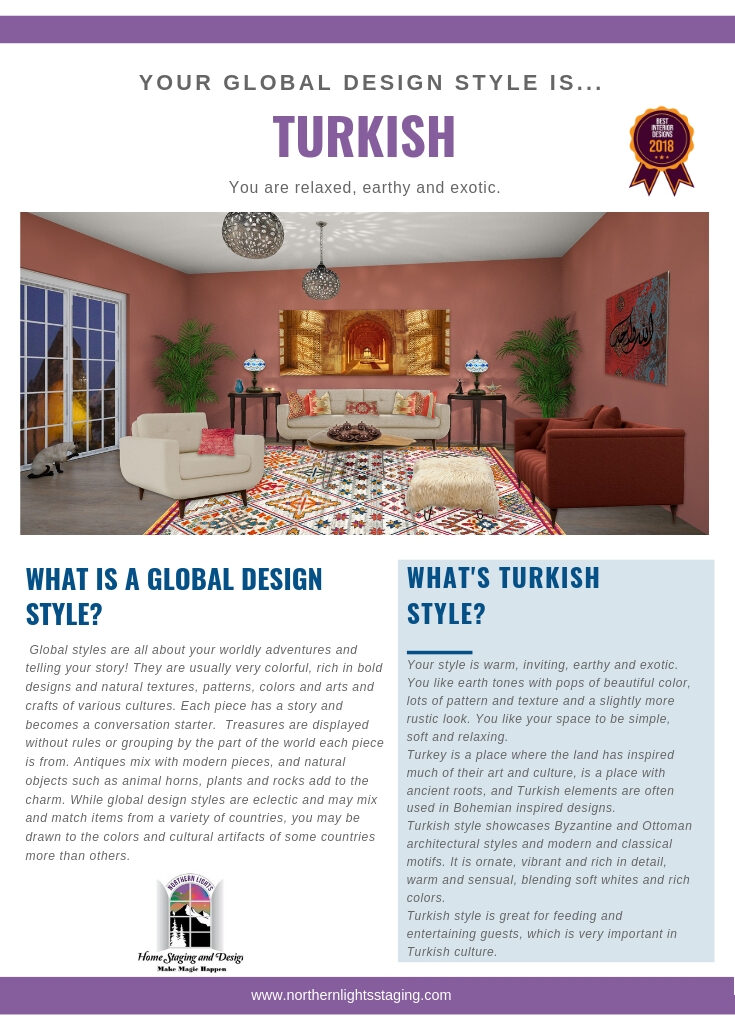 Learn more about Turkish Style in my blog article , Ways to use Sherwin Williams 2019 Color of the Year,  Cavern Clay.
Moroccan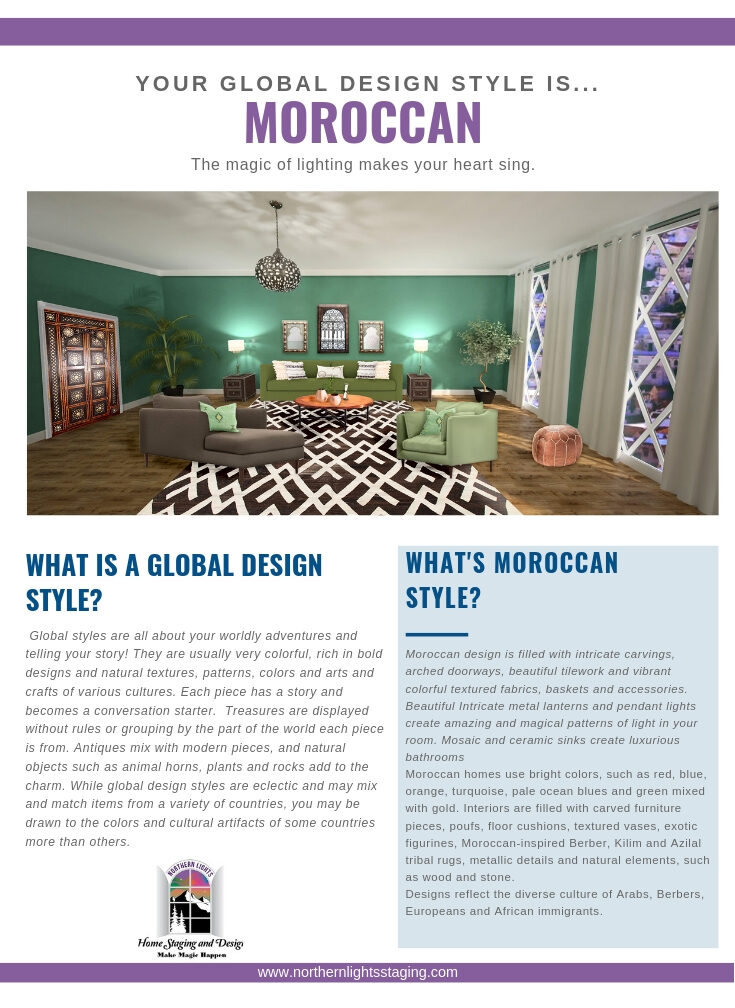 Learn more about elements of Moroccan Style in my blog article, The Magic of Moroccan Rugs.
Mexican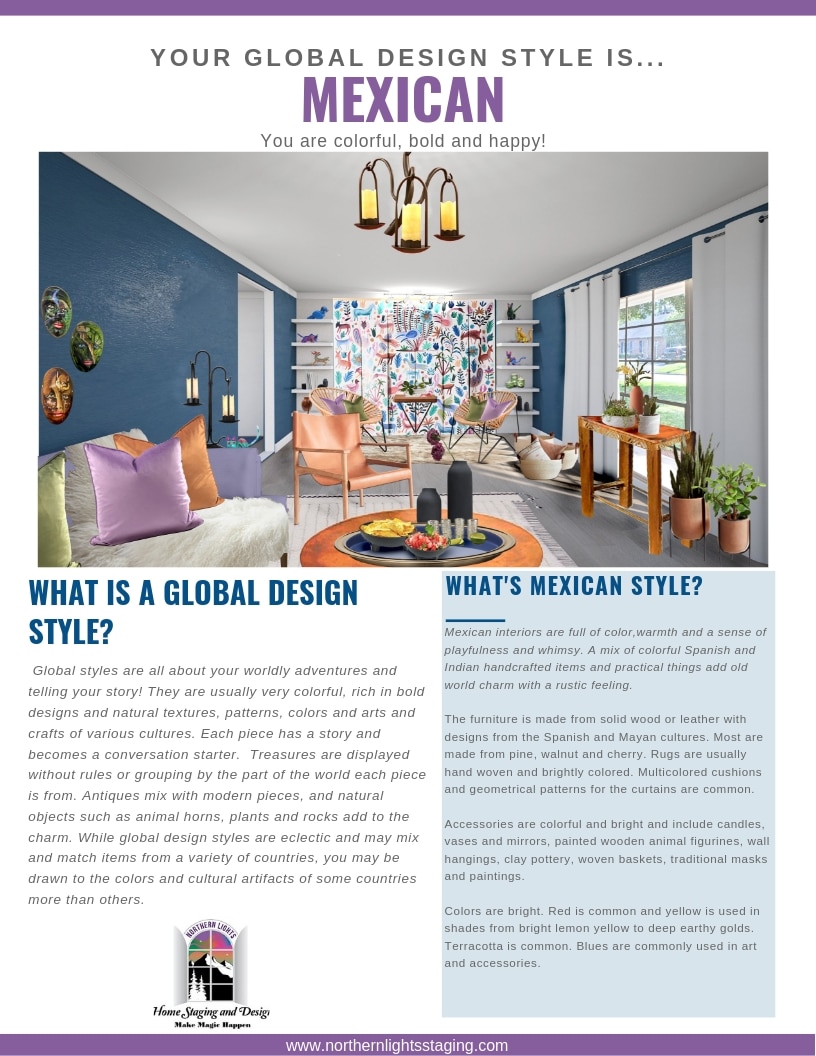 Learn more about Mexican Style in my blog article, Get the Look- Mexican Style.
Greek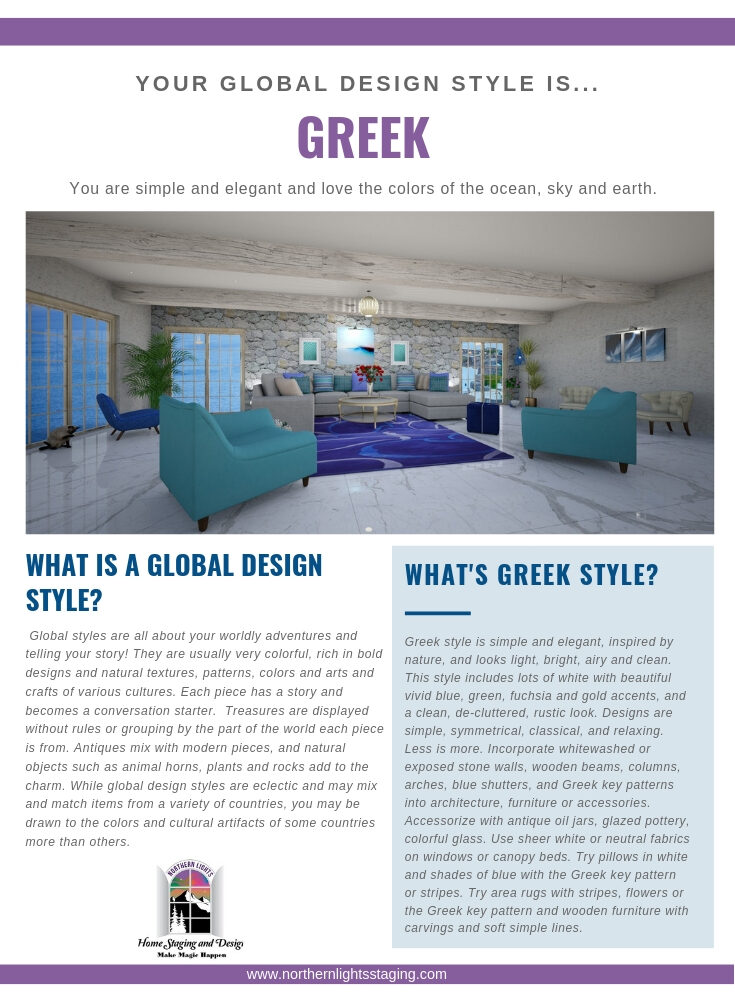 Learn more about Greek Style in my blog article, What's Your Global Design Style- Greek,
Indian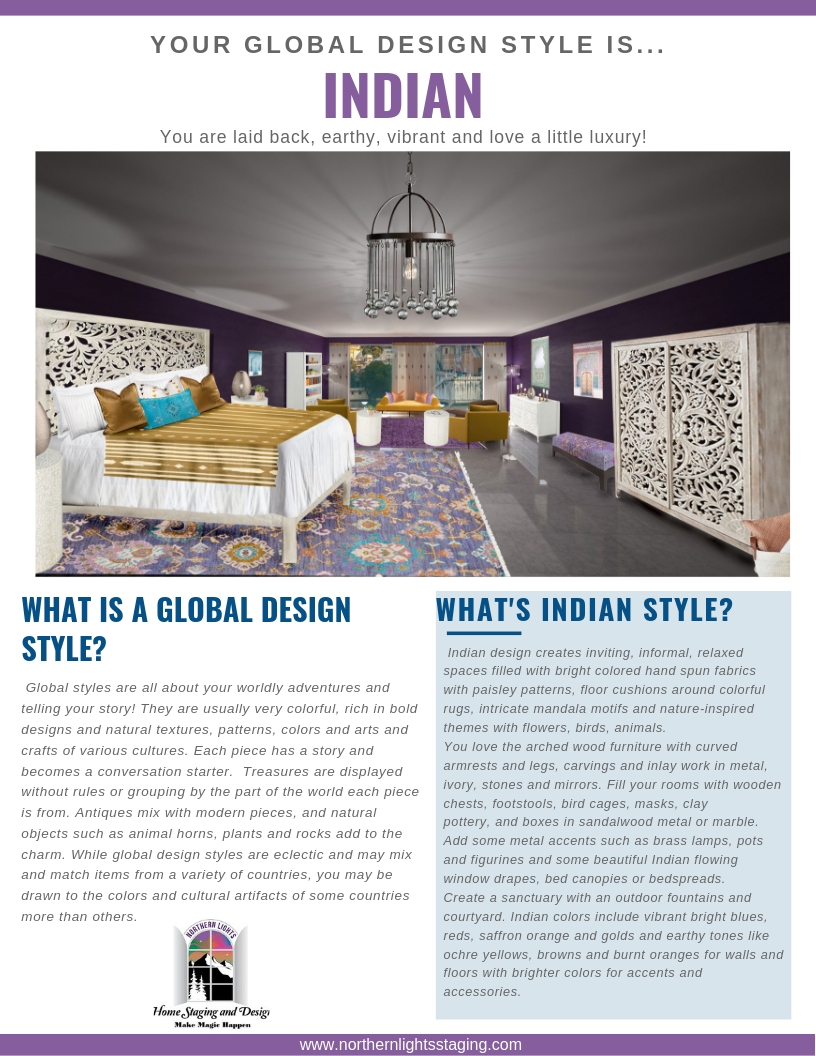 Learn more about Indian Style in my blog article, Get the Look- Indian Style (coming soon),
Wondering what your Global Design Style is? Take the quiz and find out.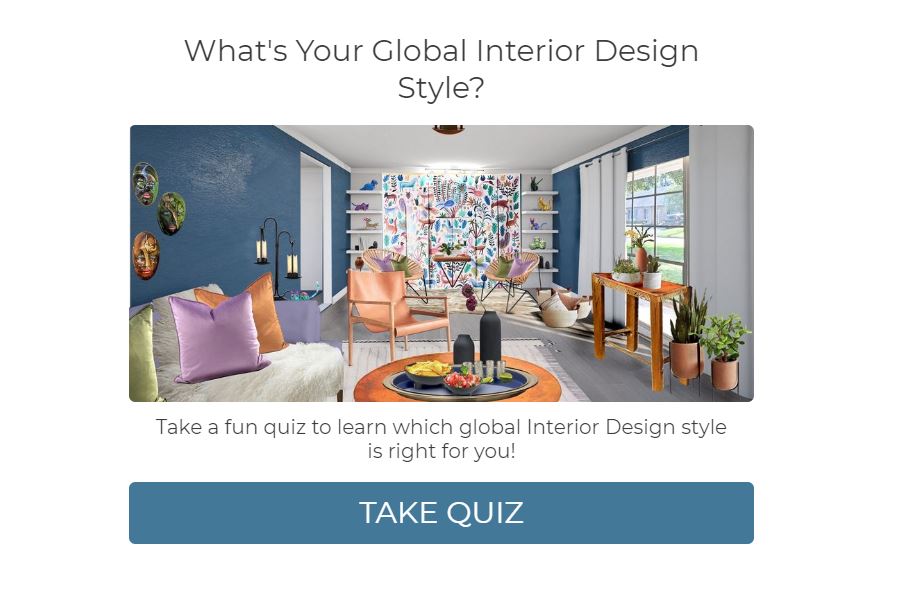 Ready to tell your story?
Once you know your style, why not get the look in your own home. Check out my Edesign and Online services to learn more. Let me know if I can help you.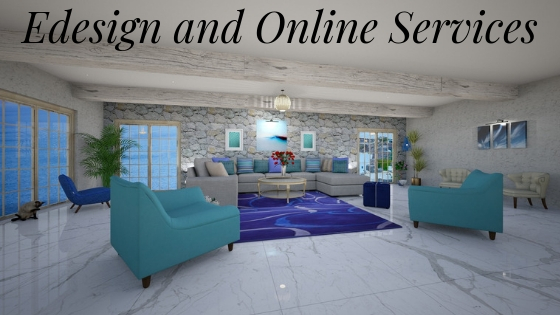 ---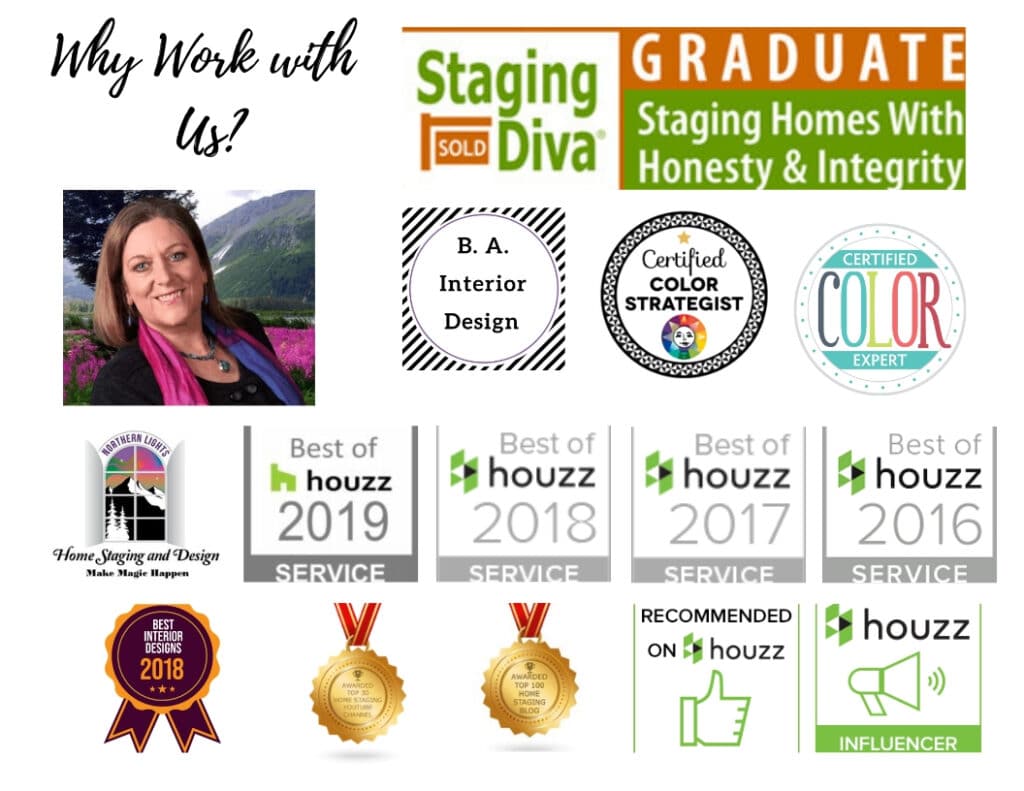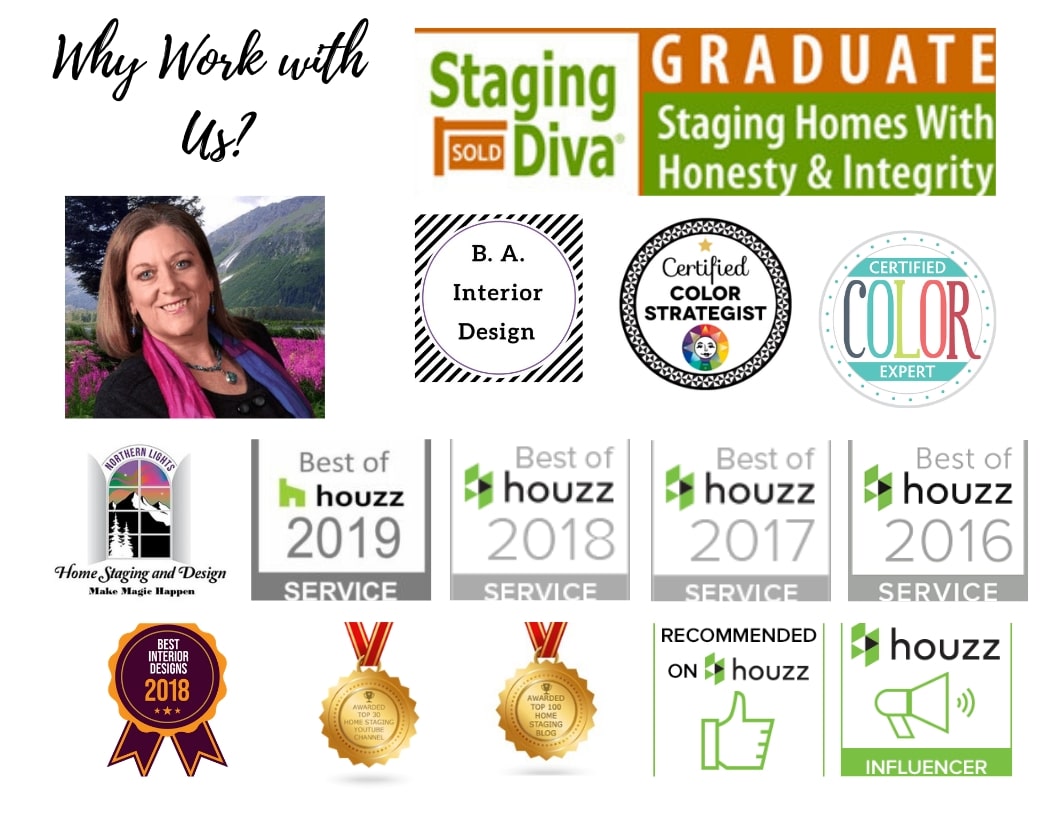 Call 907-362-0065 today
 info@northernlightsstaging.com
---
Follow me on Pinterest to learn more about your Design Style.