Art possesses a transformative power. Consider embracing symbols like the spiral, which energetically align with you. When curating art for your space, reflect on its significance. Why is it your choice? Beyond its hues, forms, and designs, does it resonate with a memory, emotion, journey, or a cherished individual? Dive deeper than aesthetics; connect with its essence and the personal narrative it brings into your space.
As an artist who creates the art for your space, the meaning behind what I create is important to me. I usually create abstract art that is not about a specific person, place or event but is more about the colors, shapes and feeling that it evokes. Some shapes are more meaningful than others and tend to draw you into creating more and more with the same shape. I find that much of my work revolves around spirals.
Spirals are prevalent in nature, in a beautiful sea shell, the unfolding of a new fern, the shape of a pine cones or the petals of a flower.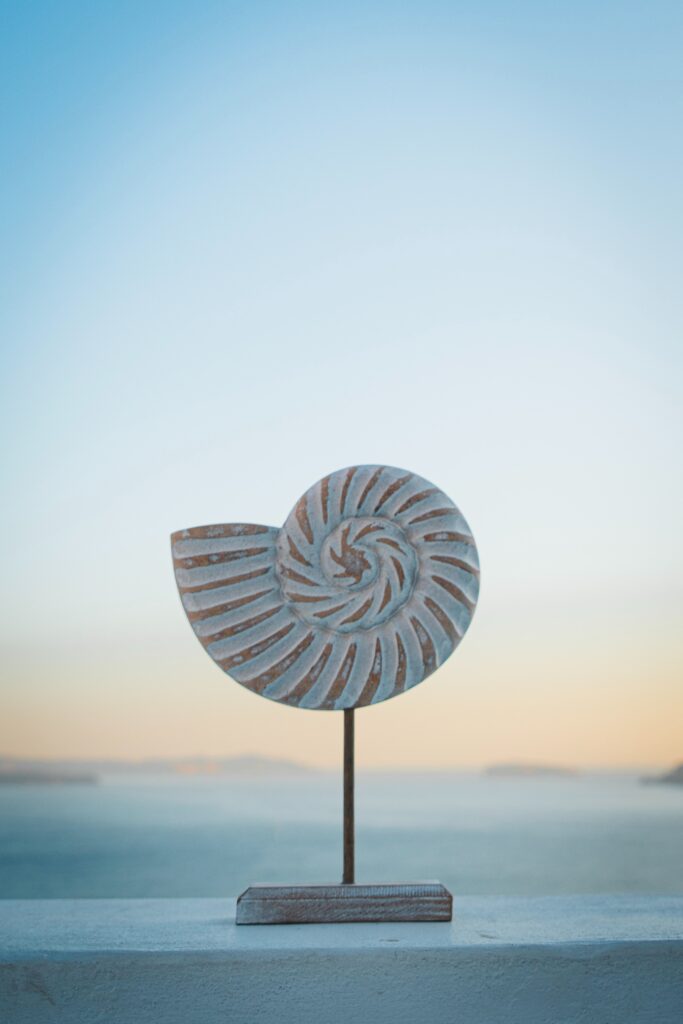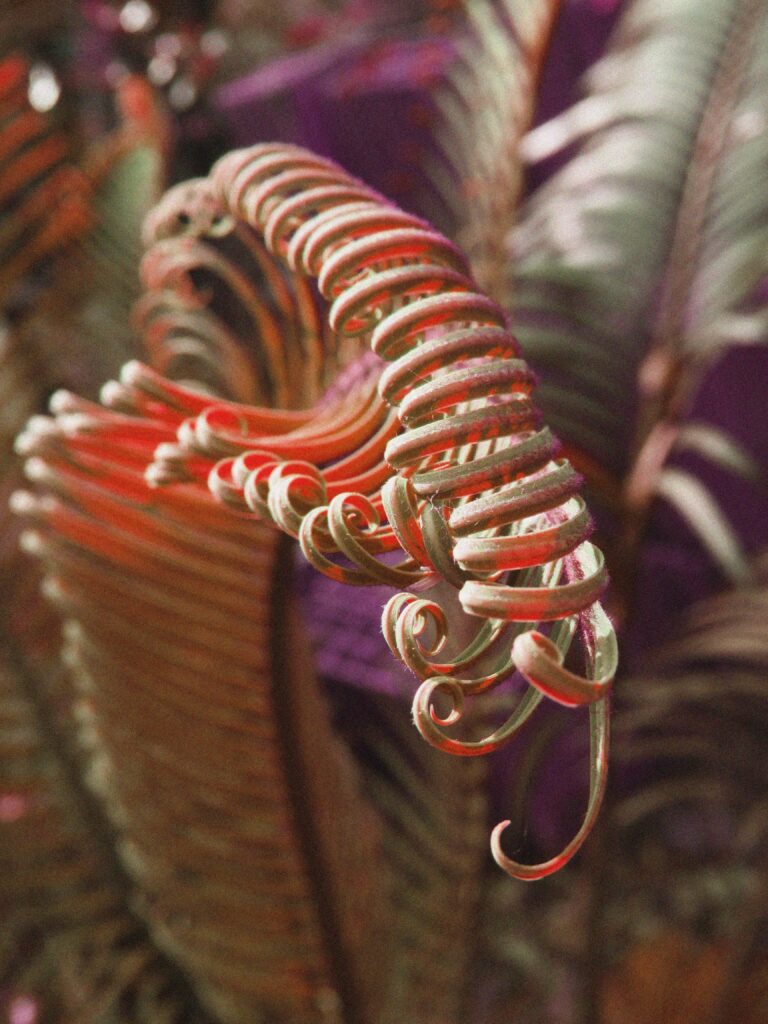 Spirals are meaningful cultural and religious symbols. They often symbolize connection to God and universal energy, and can represent harmony, beginnings, focus, a journey, direction, and progress. The spiral progression is symbolic of the route to a higher level of consciousness.
In some Native American cultures, the spiral is a sacred symbol of birth, rebirth and personal power, a metaphor for personal vision and enlightenment. They honor the grouse as a symbol of the sacred spiral, because the grouse does a spiral dance.
It can represent growth and evolution, eternity and continuity and is one of the most common symbols found among petroglyphs created by ancient or primitive peoples.
The whirling dervishes of some Sufi orders are masters of the spiral dance or whirling which they use to transcend to higher states of awareness and connect to God.
Spirals are important in great design, from the Mona Lisa to the Pyramids. The spiral is an example of the Golden Ratio which is a mathematical ratio. When used in a design, it fosters organic and natural-looking compositions that are aesthetically pleasing to the eye. The ratio is even used to create music masterpieces.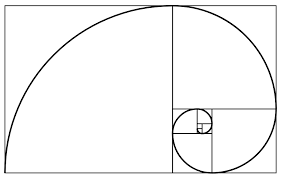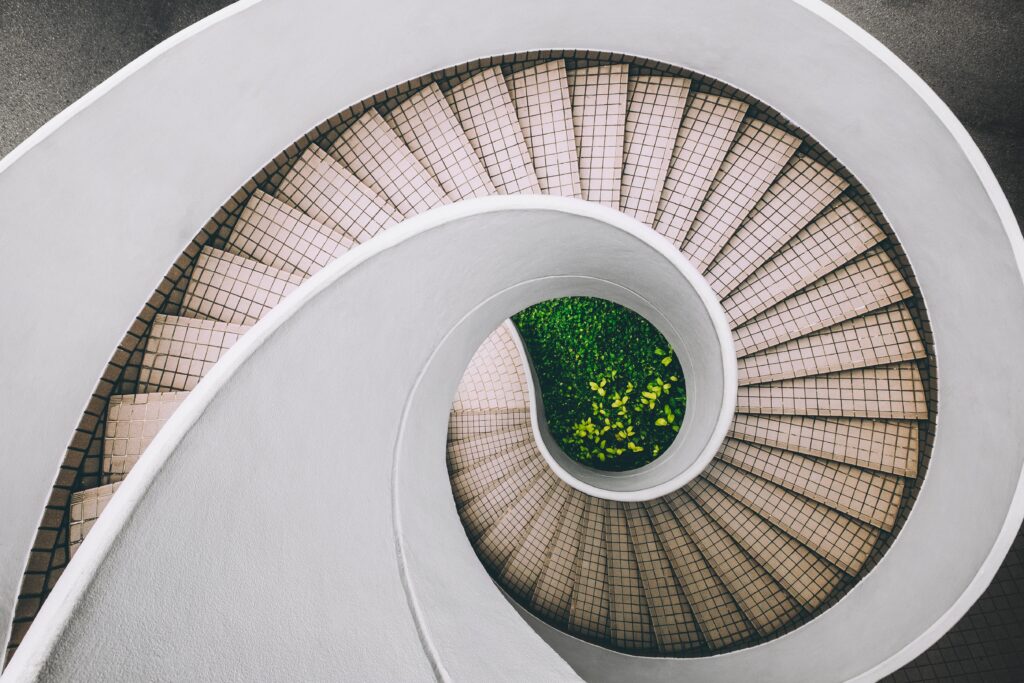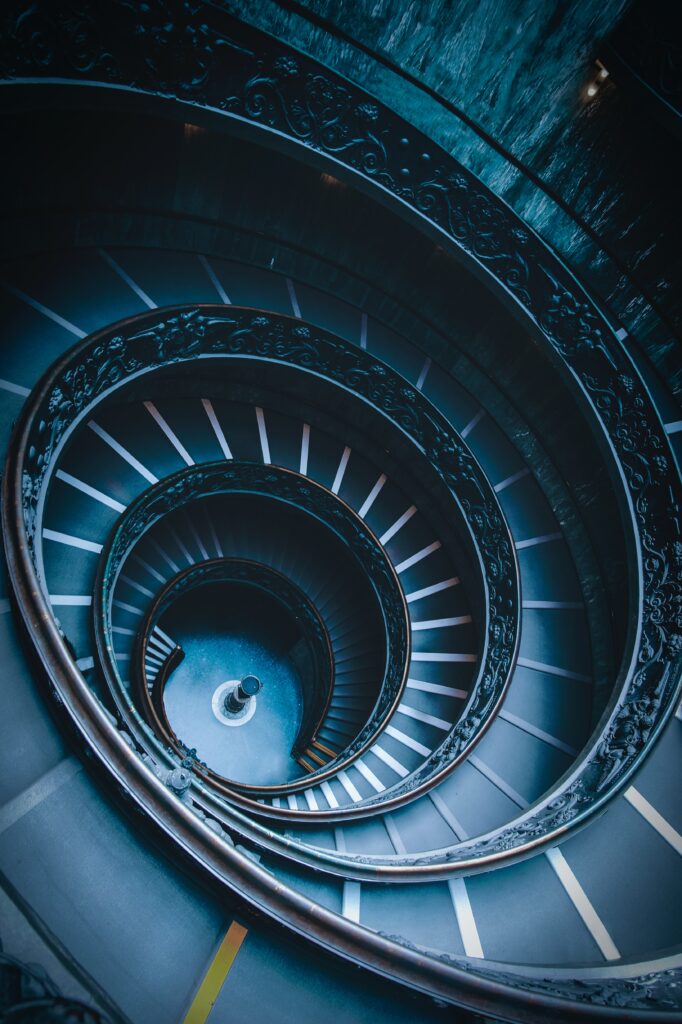 Even the Milky Way, the galaxy that includes Earth and our solar system – is an example of a spiral galaxy. We live in one big, beautiful spiral.
That's one powerful shape.
In summary, the spiral is a symbol that has been used in art across cultures and epochs. Its meaning can vary based on context, culture, and the artist's intention.  
Life Cycle & Growth: Spirals often represent life cycles, growth, and evolution. They can symbolize the journey of life from birth to death or the natural progression and transformation of life.

Connection to the Universe: In many ancient cultures, spirals symbolize the cosmos or a spiritual journey. They can represent the vastness of the universe or the interconnectedness of all life.

Eternal Life: Due to its never-ending pattern, the spiral can symbolize eternity and immortality.

Change & Development: Spirals can represent the idea of expansion, change, and development. It can be about personal growth or the evolution of a concept or idea.

Feminine Energy: In certain contexts, the spiral is symbolic of the womb and fertility, representing feminine energy and birth.

Natural Phenomena: The spiral is often seen in nature, such as in the patterns of shells, galaxies, or the way water whirls. As such, artists might use it to represent nature, mathematics, or the golden ratio.

Journey & Progression: Spirals can also symbolize a journey, be it a spiritual, personal, or physical one. It can denote progression, taking a path, and continuously moving forward.

Mysticism & Rituals: Spirals have been used in various rituals and religious symbols. They can indicate deeper knowledge, mysticism, or a connection to the divine.
In art, the meaning of the spiral can be personal to the artist and the energy they have infused into it, or the viewer.
When viewing spiral art, consider the context in which it was created to fully understand its intended significance.
As an energy artist creating spirals, my intention is that the spiral is a symbol of personal transformation for you. Each piece inspires and uplifts you to be in alignment with who you truly are.
Everything is Energy. The spiral represents the energy of evolution, life, consciousness, and creation. Since ancient times it has been a symbol of growth and transformation. The spiral in your space is a reminder and invitation to shed your old skin and become something new.
This "Spiral"series is dedicated to Jim Fortin, who inspires us to transform and be our best selves. See my Saturday Night Live Art Show on this series.
"Infinity" Spiral Energy Art
My "Infinity" collection is a reminder that everything is energy including every object in your home, and the people, animals, plants, furniture, etc. Is the energy harmonious like an orchestra playing together or chaotic like an orchestra tuning up? A home that feels great has harmonious energy. Your art plays a big part in that. How is your energy evolving and what is it creating?
See my Saturday Night Live Art Show highlighting my "Infinity" series.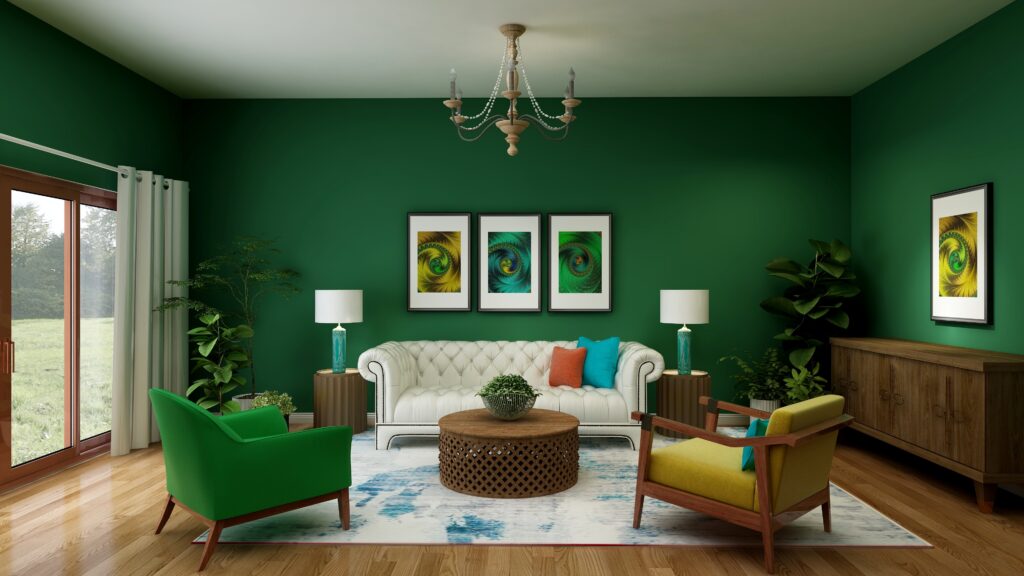 "Yin/Yang" Spiral Energy Art
This series inspires balance. Yin is female energy, and Yang is male energy. We all have, and need both, to get things done. Are you an over-doer of all the things? Try focusing less on masculine doing and more on feminine receiving. Yin receives ideas and inspiration. Yang puts the ideas into action. Yin receives the rewards of your actions. Yang takes the action and celebrates. Balance is the key to happiness. As above, so below. As within, so without. See my Yin/Yang collection here.  See my Saturday Night Live Art Show on this series below.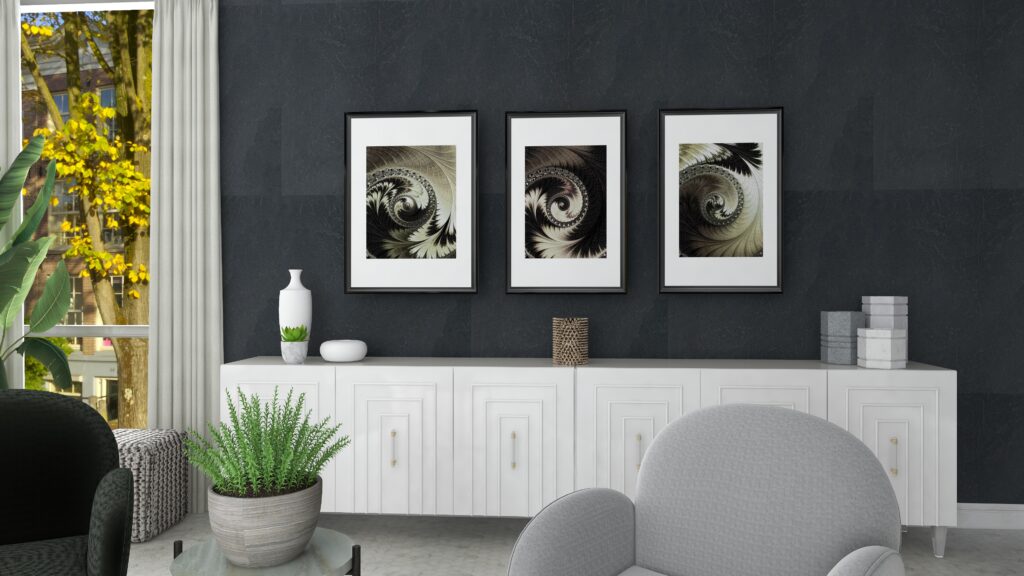 "Phoenix Rising" Spiral Energy Art
Step into the fire, burn away all your hurts and fears that define who you and rise from the ashes of all that does not serve you. This is part of my Fire Element collection. In Chinese healing arts, the fire element represents transformation, divinity, power, and passion. It can also represent destruction. The fire phase is a state of peak power and manifesting. Here you are in the maximum state of doing and activity. See my "Phoenix Rising" collection of spiral art here.  See my Saturday Night Live Art Show on this collection.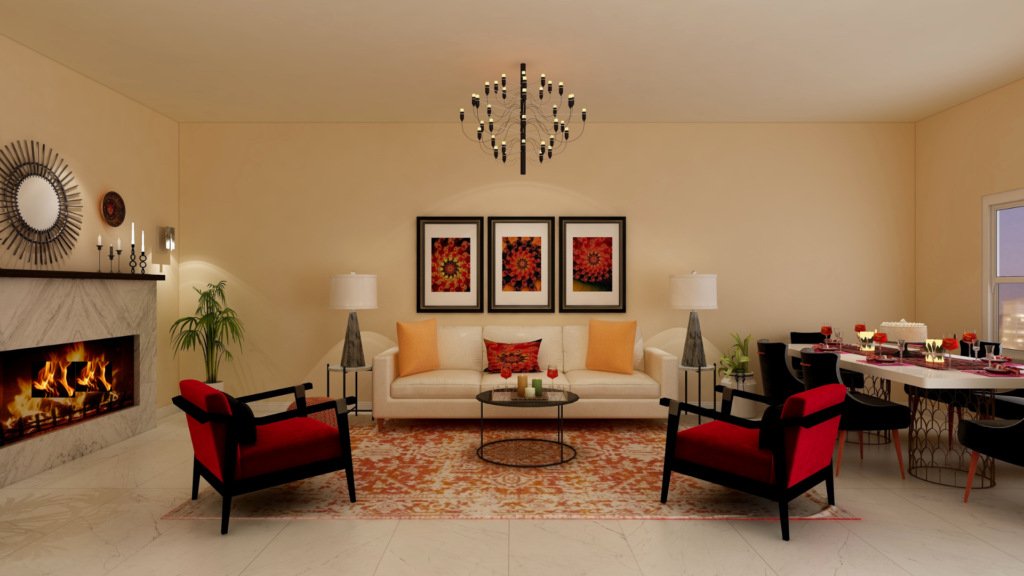 "Deep Purple" Spiral Energy Art
Deep purple embodies various energetic connotations:
Spirituality: Represents divine connection and higher consciousness.
Transformation: Signifies profound change and perspective shift.
Mysticism: Linked with magic and deeper mysteries.
Royalty: Historically associated with nobility and wealth.
Intuition: Resonates with inner wisdom and insight.
Protection: Seen as a shield against negative energies in spiritual practices.
Creativity: Encourages artistry and imagination.
Deep Emotion: Symbolizes introspective feelings and thoughts.
In essence, deep purple connects the material and spiritual, embodying upliftment, transformation, and contemplation.
"Bioluminesence" Spiral Energy Art
In essence, bioluminescence reflects nature's magic, adaptability, and the dance between fleeting beauty and profound depth. It is a reminder to appreciate or embody the following:
Mystical Wonder: Nature's magical display.
Inner Radiance: Shining from within amidst external darkness.
Adaptation: Nature's clever survival tool.
Nature's Rhythm: Representing balance and harmony.
Transient Beauty: Fleeting yet captivating.
Deep Exploration: Delving into mysteries, whether within or in the universe.
Learn more about the power of art in this video.
If you are interested in a spiral design to fit your color scheme and personal power journey, let me know and I will create something for you. They can be created on a wide variety of art and home decor products. See my Artist Studio at Society 6 to see more.
Create Your Own Spiral Magic
My Aligned Design consultation ties it all together, including custom energy art designed for you and what you need for your own alignment.