Yes you can make magic happen in your home with lighting! 
Lighting is magic. Lighting can make a huge difference in how your home looks and feels. You have probably heard that layering your lighting, and having three sources such as overhead lighting, table or floor lamps and task lighting is important. But what does that really mean and how does it look? And is that all you need to do to really get the look you are going for?  I find that lighting is a problem for many people when I do design consultations. For some reason, here in Alaska there are many homes that do not even have overhead lighting in the main living area. Many people do not have enough layered light sources. It can leave your room feeling uninspired, as well as make it difficult to do whatever tasks you want to do in your space.
Beautiful Lighting is Perfect for a Party
I recently created this Edesign which I thought would be a great example to show you what I mean when I say, "create magic with lighting".
I wanted to create a room that would be perfect for an elegant adult Birthday party that could be used as a virtual background for Zoom events. 
I created this room with a sideboard with the Birthday cake and other goodies as well as an area for wine and cocktails. The side tables are set with cocktail glasses and the coffee table with wine and cheese. Birthday presents are stacked on the floor near two of the chairs.
What do you want your light to highlight?
The design and colors were inspired by my fractal art, "Deep Purple" which I used over the sideboard. The paint color was selected to work with the art. I chose to create this room in a city and used modern furnishings. I would call this Modern Global Style.
My first render of the space was done in using natural day light.  Notice how the wall color looks, and how the accents for the party stand out, or should I say blend in, in the render.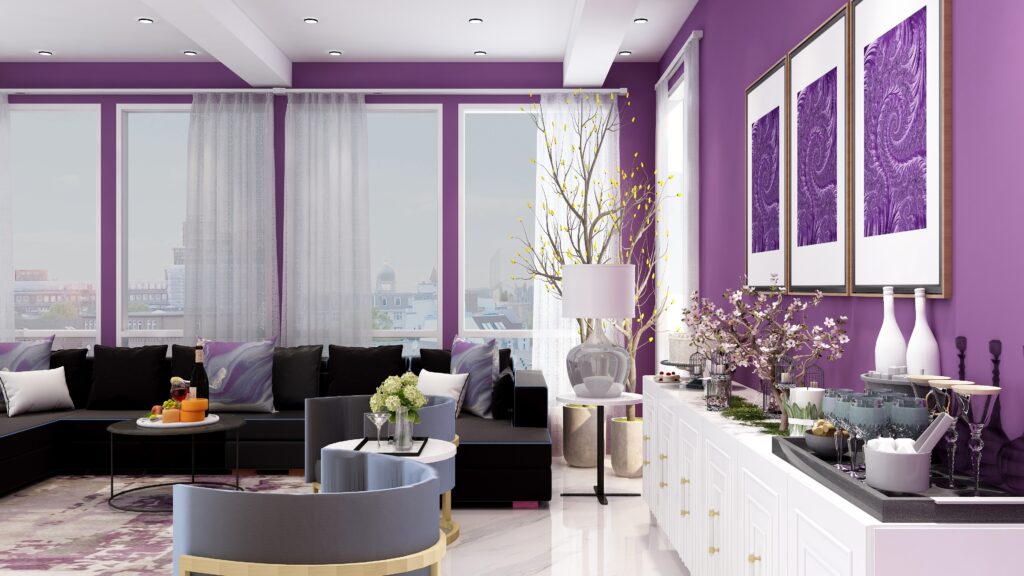 Night Lighting- One Layer
I decided to try a night scene and play with the lighting to create a more "magical" atmosphere.  In this render, I only used overhead lighting. Notice the change in how the paint color appears (a little washed out). The rug colors also appear dull. Still, the party accents do not really stand out.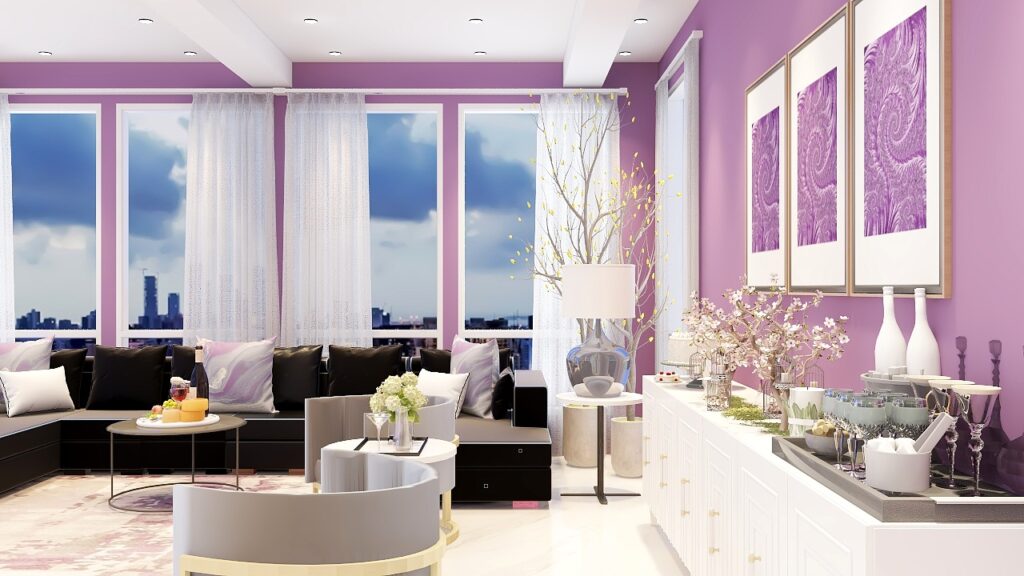 Next, I dimmed the overhead lights and I added light to the two lamps on the end tables so there was a second layer of light. This brought back a little of the richness of the paint color and a little more color to the rug. Still, the party accents do not really stand out.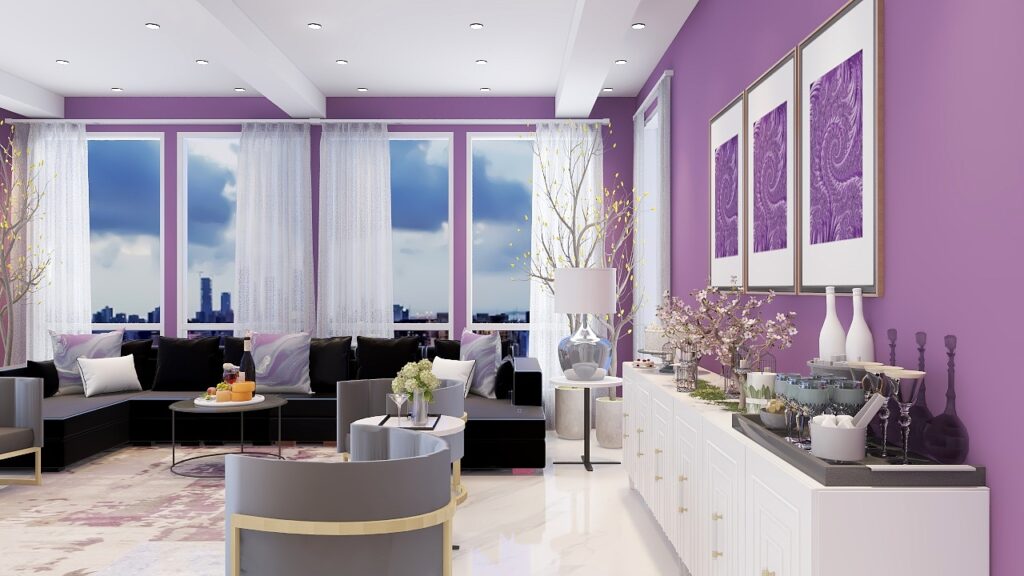 Finally, I turned off some of the overhead lights, and made other brighter over the end tables and coffee table to highlight the food and other goodies.  I added accent lights over the art and sideboard to make them really stand out.  I added up lighting under the trees so they would sparkle. The additional layers of controlled and directed light showed off all the different colors of the paint and really made it come alive. I changed the color of light in the lamps to make it warmer.  And voila, magic!!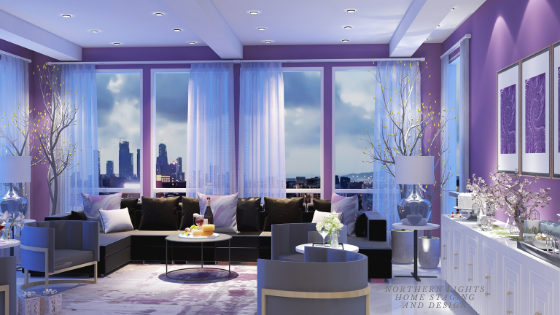 Here are some other views of the room. Notice how the lighting highlights different aspects of the party atmosphere.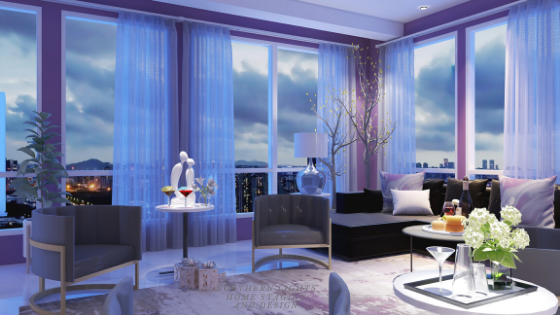 In summary, to create a beautiful lighting plan for your room,  layer your lighting, control the lighting brightness, direction and color and add lighting to highlight the aspects of your room that are important such as your focal points and art.
Need Help with Your Design?
Are you getting ready for a special event or need help creating a little magic in your home? Try one of my Edesign services.my Aligned Design consultation or my coaching call.