There are a lot of reasons to love Global Style Interior Design. One is that it is all about you, and telling the story of your life, adventures, the things you love  in your space. It is a total expression and celebration of you. Does that sound selfish? It's OK, it is your house. Of course it is about you!
Each piece tells your story. Celebrate your  treasures, old and new. modern and vintage, from various parts of the world.
Create a rich tapestry of color, texture, art and history. 
In a previous article, I talked about 10 reasons to love global style design.  Let's talk about my favorite reason, that it celebrates color, and how you can use it to spark some joy in your life.
Within global-style interior design, a captivating aspect that resonates with me is the vivacious spectrum of bold colors.
These hues are a direct reflection of the origins and cultures, drawing inspiration from the landscapes, flora, spices, national symbols, and even flags of various countries.
Although inherently vibrant, the world of global design also unveils remarkable instances where neutrals and whites harmoniously mingle with layers of textures and metallic accents.
To capture this essence, consider embracing bold choices—a striking wall color or an exquisite rug that becomes the palette's cornerstone. These handmade, eco-friendly rugs are veritable artworks for your floor, blending utility and aesthetics.
You might derive your color palette from the rug, letting it inspire choices for walls, pillows, accessories, and art. Alternatively, if a more subdued backdrop appeals to you, allow your rug's colors to shine as the focal point.
In essence, global-style design is a canvas of color that tells stories of distant lands and their distinctive identities. Whether bold or muted, these palettes are portals to culture, connecting your space with a world of history and beauty.
Here are some examples of some global style designs I have created using the color palettes of different countries, and often their rugs for inspiration.
Yellows, Golds and Orange
Yellows and golds are great colors to use in modern global style, Bohemian, Turkish,  Indian and Mexican style designs.
Above I created this beautiful Indian-style living room using a yellow/gold wall color. Learn more in my article Get the Look_ Global Style- Indian.
Below I created a modern global style Edesign for a living room using a a gorgeous handmade wool rug from Egypt as the centerpiece, and a gold wall color. The room would still have been beautiful with an off white wall color.
Blues and greens are wonderful for Greek Style, Moroccan, Modern Global and Bohemian. They really can be used in any global style design, but tend to be most prevalent in areas near the ocean.
Reds are very common in Turkish, Mexican, Bohemian and Modern Global styles. Pinks are often used in Turkish design. Purples are used in Indian, Moroccan, Bohemian and Modern Global styles. As an example, see my Edesign for a Modern Global Style bedroom below and some favorite rugs in these colors.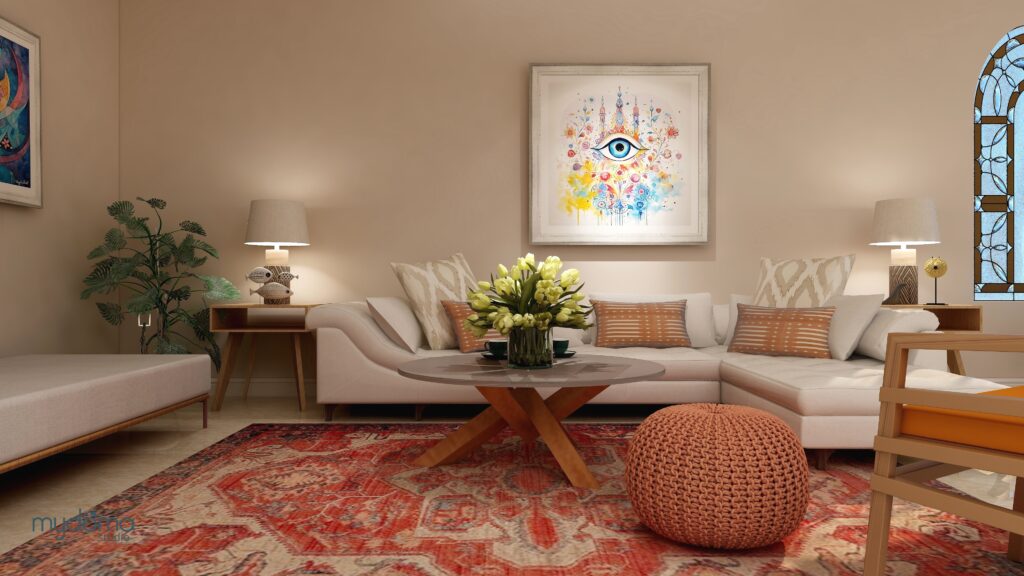 Try black, white or gray wall colors or area rugs to get the look of modern global style, Bohemian, Turkish, and Moroccan styles. As an example, see the Edesign I created above with light gray walls and a beautiful Moroccan rug.  Learn more in my article Great Paint Color Schemes- Black, White and Shades of Gray.
Below, I used a rich dark gray wall color and a beautiful Turkish rug. Learn more in my article  Do you Need an Alignment?
Black, white and neutrals can really be used with any style if you choose. Go neutral or add a color or two for high contrast.
Ready to Add Colorful and Exotic Design to Your Space?
 'Aligned Design,' my distinctive approach to interior design, anchored in three core tenets: the elegance of art, the science of color, and the foundation of energy. The magic truly unfolds where these three converge.
At the heart lies the power of color. As a certified color strategist, I delve deep into color's transformative science, infusing spaces with unparalleled vibrancy that also works perfectly with your homes fixed finishes.
Embark on a journey with the Aligned Design, a harmonious meld of art, science, and energy. Let's create your perfect space.