People often struggle with creating a great color scheme.  Often, we start the conversation by talking about the limitations, or the box of colors you need to play with based on your fixed finishes.
In my last article, Celebrate Your Favorite Color- Go Monochromatic, we talked about how you could take your favorite color and celebrate it in all it's glory with a monochromatic color scheme. Simple and easy!
What if you would like a little more color variety,  but still want something that is simple and easy to create?  Go analogous!
Analogous color schemes are based on three hues that are next to each other on the color wheel. They are friendly neighbors, they like each other and  play well together:)
Analogous colors are harmonious and often found in nature.
Why does it work? They go well together because one of the three colors is usually a combination of the other two as with the red, yellow and orange peppers above.
Analogous schemes offer more color variety than monochromatic schemes while still retaining that harmonious and often serene quality, although it can also be more dramatic too based on the hues you use. It is also a simple scheme to create by using your color wheel and picking three adjacent colors that you like.    
Which three adjacent colors are your favorites?
For example, in my last article, I created a monochromatic design using blues and blue/purples around the range of 250-270 on the color wheel.
If I wanted to take this monochromatic design, and create a more analogous scheme, I could go clockwise around the color wheel and add the neighbors of blue in including purple and red-purple.  Or, I could go counter-clockwise  and add blue-green and green. 
I could also pick neighbors on either side and add purple and blue green. Let's play.
Analogous Color Scheme #1
This design starts with our base blue as in the sofas and moves counter-clockwise along the color wheel to include blue greens and greens. I set the tone for this design with a new rug in blue green and then changed the paint color, lamps, side chairs and some of the accessories. I maintained the sofas and art as the anchor of the main blue color I wanted to harmonize with.
This design still maintains a calm, serene feeling similar to the original monochromatic scheme, but feels a little richer and warmer with the greens and blue greens.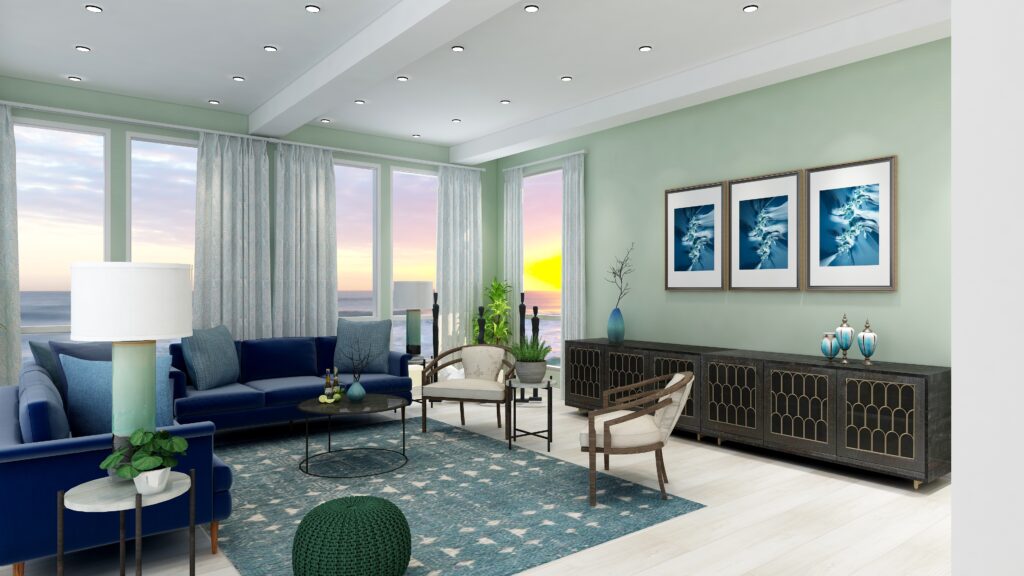 This design, as with the monochromatic design, incorporates some of my original fractal art in a collection called "The Sea", which reminded me of white caps on the ocean and also uses variety of blue shades.
Analogous Color Scheme #2
In this case, I again maintained the blue sofas as the base color from the previous design and went clockwise around the color wheel to include purple and red/purple.
I found a nice rug that contained the 3 main colors I wanted to work with to tie everything together. Then I switched the paint color, lamps, one accent pillow and some of the art to bring in some of the other colors.
This design is a little more dramatic due to the deep, rich moody wall color and the high contrast of colors against the white background of the rug. I still think it looks calm and relaxing too.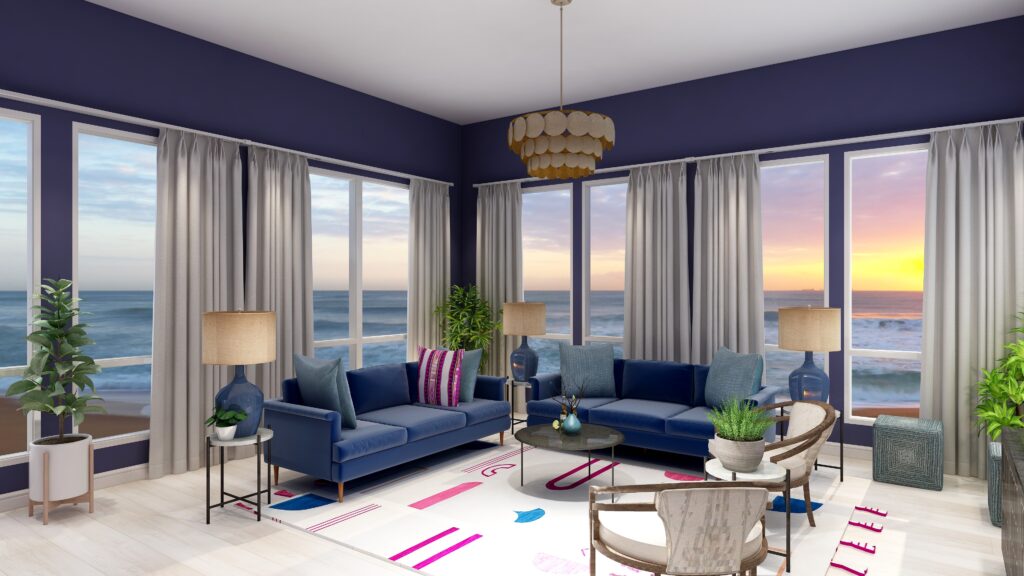 Here is some fractal art I designed that could be used in this design. My Forest Floor designs were inspired by colors in the boreal forest here in Alaska which have a lot of water in them (streams, ponds, rivers, lakes), thus the blues.  The purples represent many of our purple wildflowers. Mystery is a mystery…..use your imagination of what it means to you.
Benefits of an Analogous Color Scheme
An analogous color scheme is  easy to put together. Pick your favorite color and create a scheme with 2 of its closest neighbors.
Analogous color schemes in greens, blues and purples can be very calm and relaxing. These are really nice for living rooms, dining rooms and bedrooms.
Analogous color schemes can also be more dramatic based on the hues you select, placement of colors and how saturated they are.
An analogous color scheme can look richer and add more color diversity and interest than a monochromatic color scheme.
Celebrate Your Favorite Colors
Picture this. You walk into your space and love the colors. Everything is as it should be. You feel happy. It is a place to relax, recharge, and be inspired. When your home truly reflects you, everything is easier.
Why not experiment and bring your favorite colors into your home! Be brave.
Purchase an Interior Design and or Color Consultation today.
What is Your Global Design Style? Take the Quiz