Here are examples of some of my Edesign projects,  focused on modern global design styles, eco-friendly Interior Design and how to use the latest color trends. To get help with your Edesign project, check out my Edesign services or call today.
Call 907-362-0065 today
 info@northernlightsstaging.com
---
Turkish Style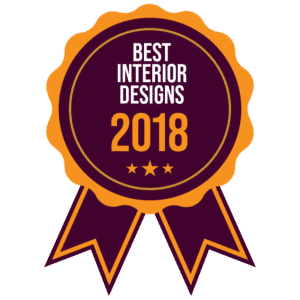 Awarded one of the best Interior Designs of 2018, this Turkish style Living room was one of my favorite designs because it embodies many of the design trends for 2019, including getting away from gray and celebrating color, mixing colors, patterns, and textures, mixing metals, and mixing vintage and modern styles. This design uses Sherwin Williams color of the year, "Cavern Clay" with modern art and furniture and a traditional rug, accents and lighting." See my blog article on this design as well as the my article on the design award.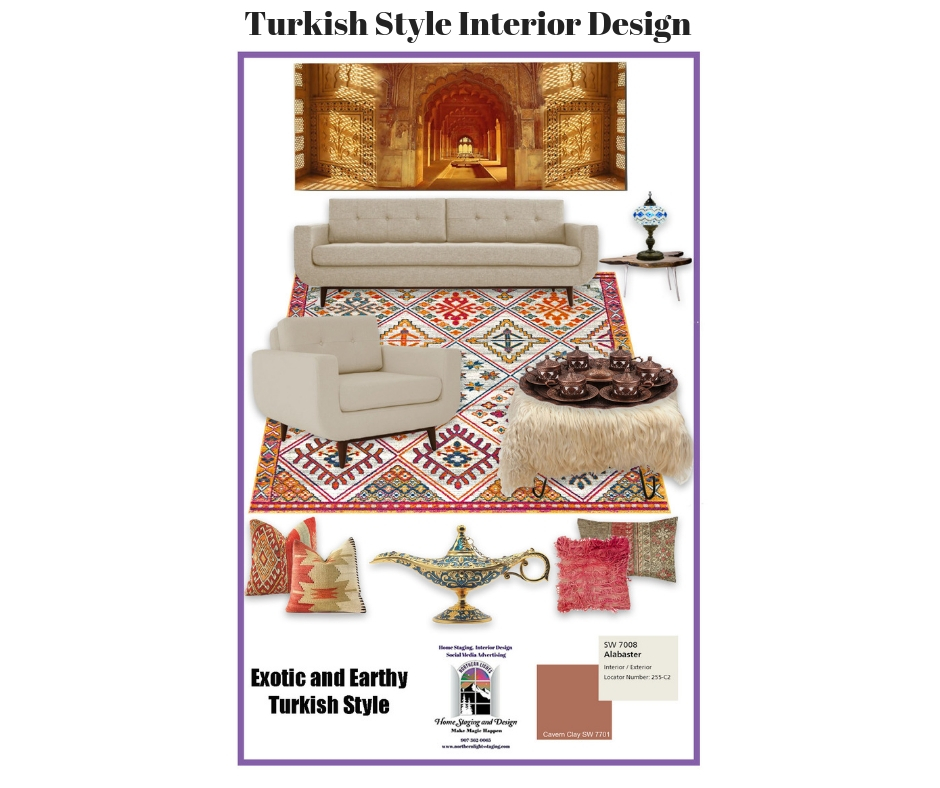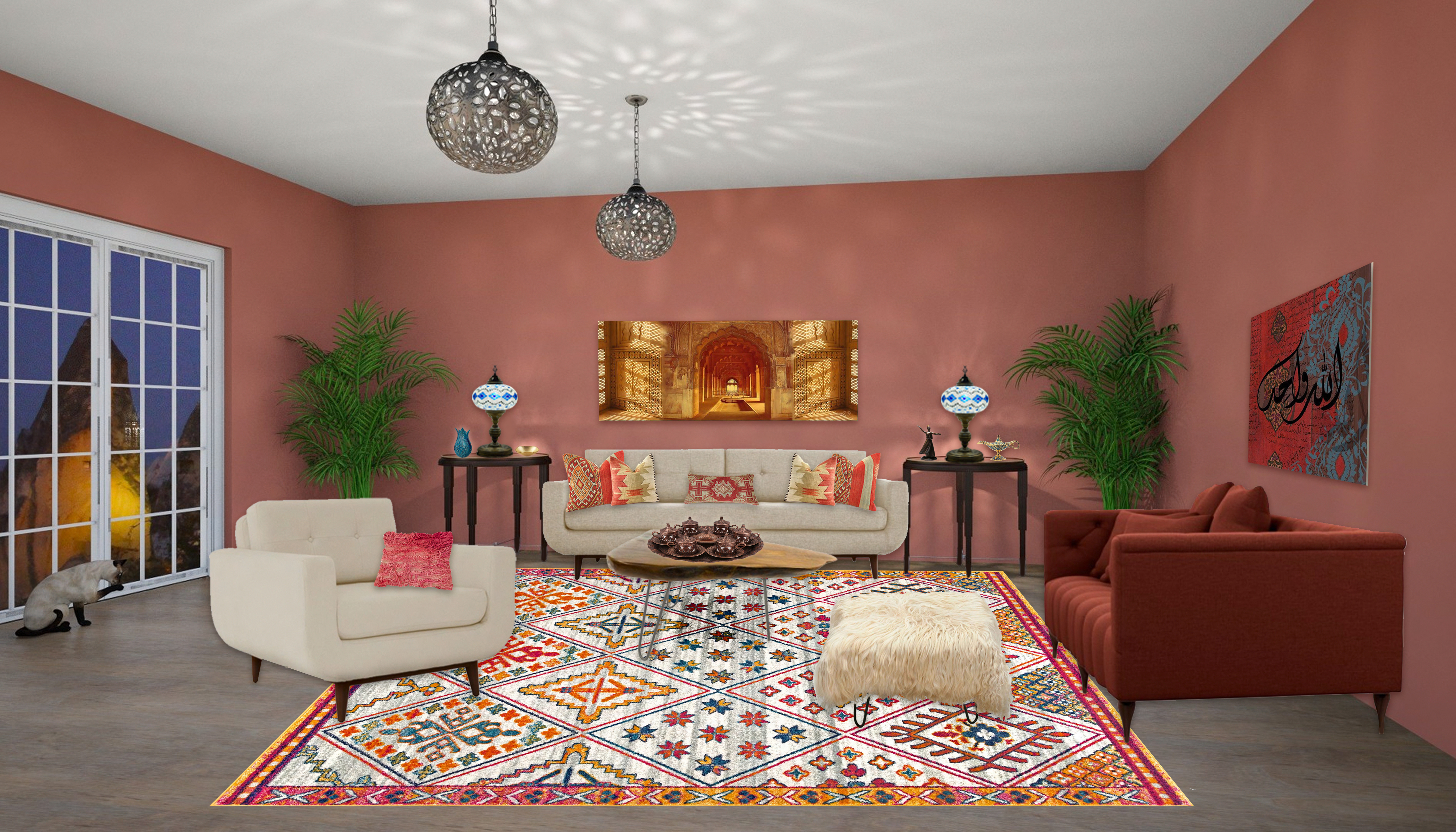 To see the products used in the this concept board, click on the board or see my blog article on this project.
---
Mexican Style
Sustainable and Eco-Friendly Living Room
Here is an example of an eco-friendly Edesign I did for a Mexican style living room. The clients were a retired couple that loved to travel and enjoyed collecting art and figurines from Mexico and other countries. They wanted a space rich in color where they could relax, read, watch TV, entertain and share their love of travel and ethnic art. They also wanted a space that was as eco-friendly as possible.
Before Photos
The clients had just moved into a new home. Here is what it looked like before their new design. They provided these photos and floor plan to create the design from and information on what they liked in term of style and color and how they wanted to use the room. The only things that would be staying in the room from the photos was the flooring, which was new.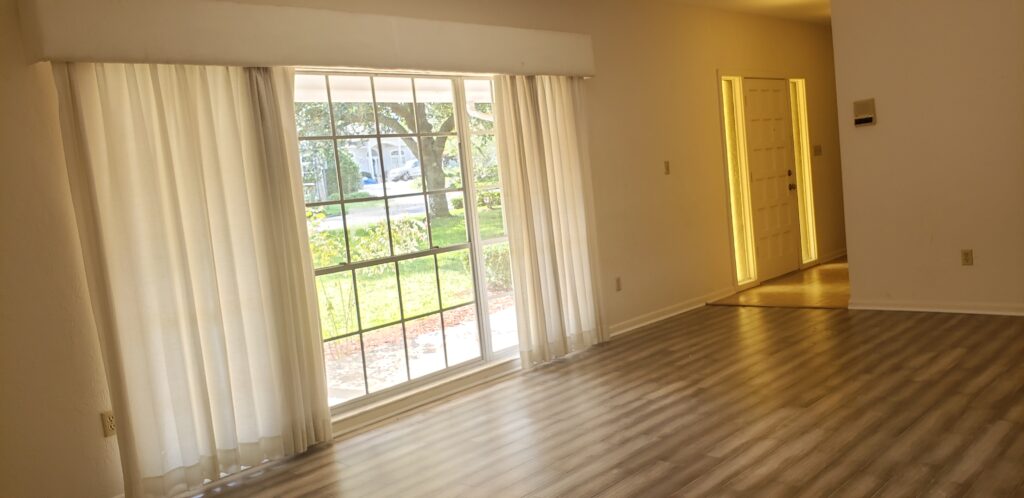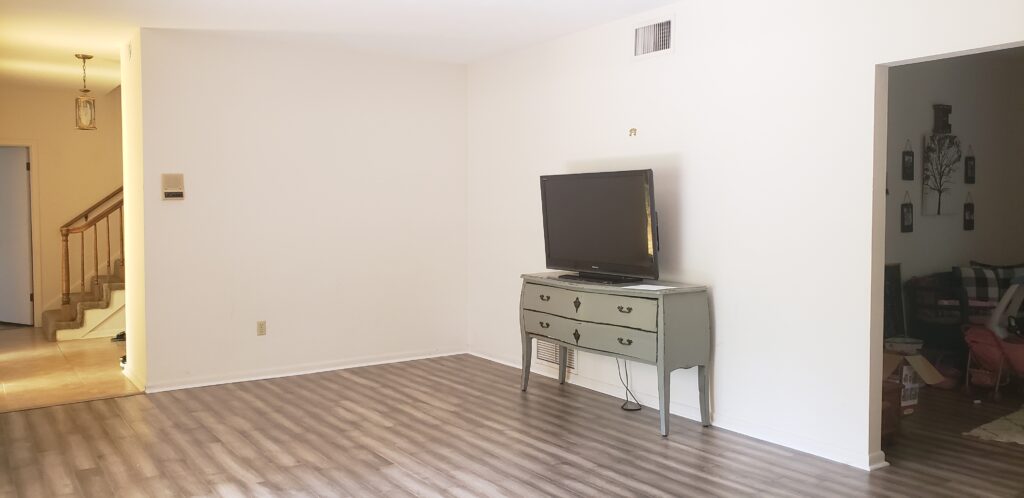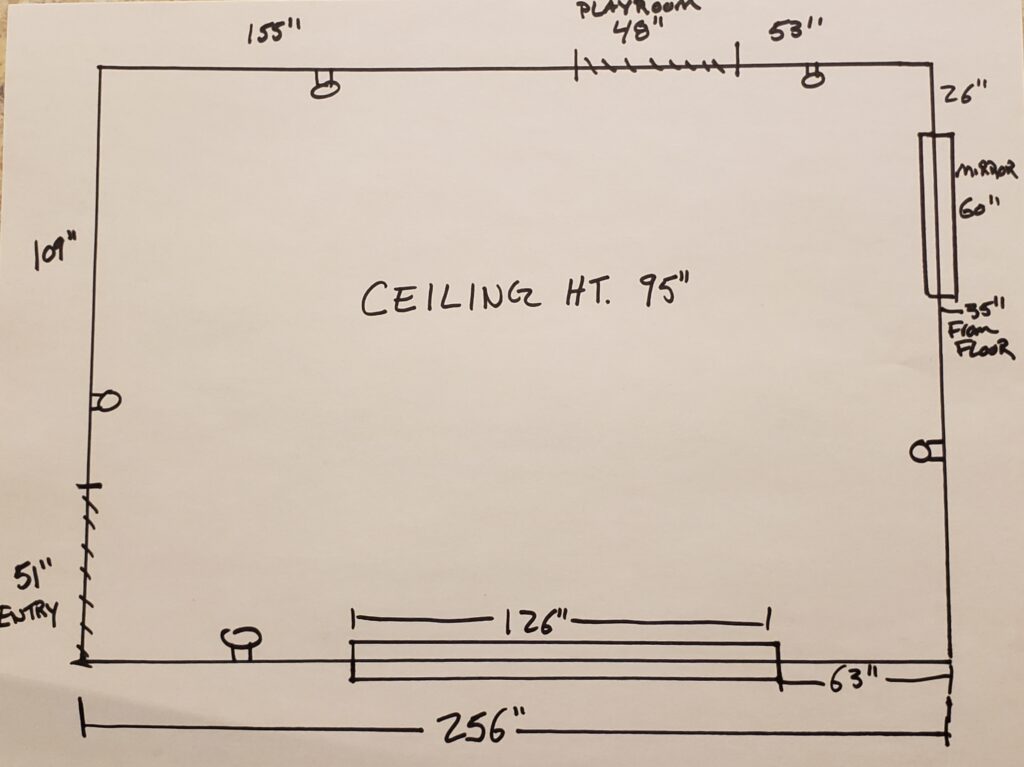 After
This project was a full service Edesign. These after pictures are 3D renders of the finished design which they received with a concept board, shopping list and set up instructions. As you can see, I changed the wall color, and used PPG's color of the year for 2020, Chinese Porcelain which I extended into the entry way to create a feeling of more space. I changed the front door, window treatments, lighting and furniture. The products I used are all sustainable and healthy for your indoor environment.  See my article on "Eco-Friendly Interior Design- Why You Should Care" on the Edesign Tribe blog.  All the items are made from natural materials such as wood, cotton, wool, copper, iron, sheepskin, clay, ceramic, palm and leather. Here is the concept board I created for the clients. Learn more about this project in my blog article, Get the Look-Mexican Style. ---
Indian Style
Here is an example of an Edesign I did for an Indian style bedroom. The design is for clients that love to travel and appreciate the beauty of Indian art and hand crafted design elements. It is rich in color and provides a space to relax, read, and spend time together. This design celebrates the color purple and was inspired by Pantone's new color, Love Symbol #2 created in honor of Prince for the walls. Read more about this project in my blog article, Get the Look-Indian Style (coming soon).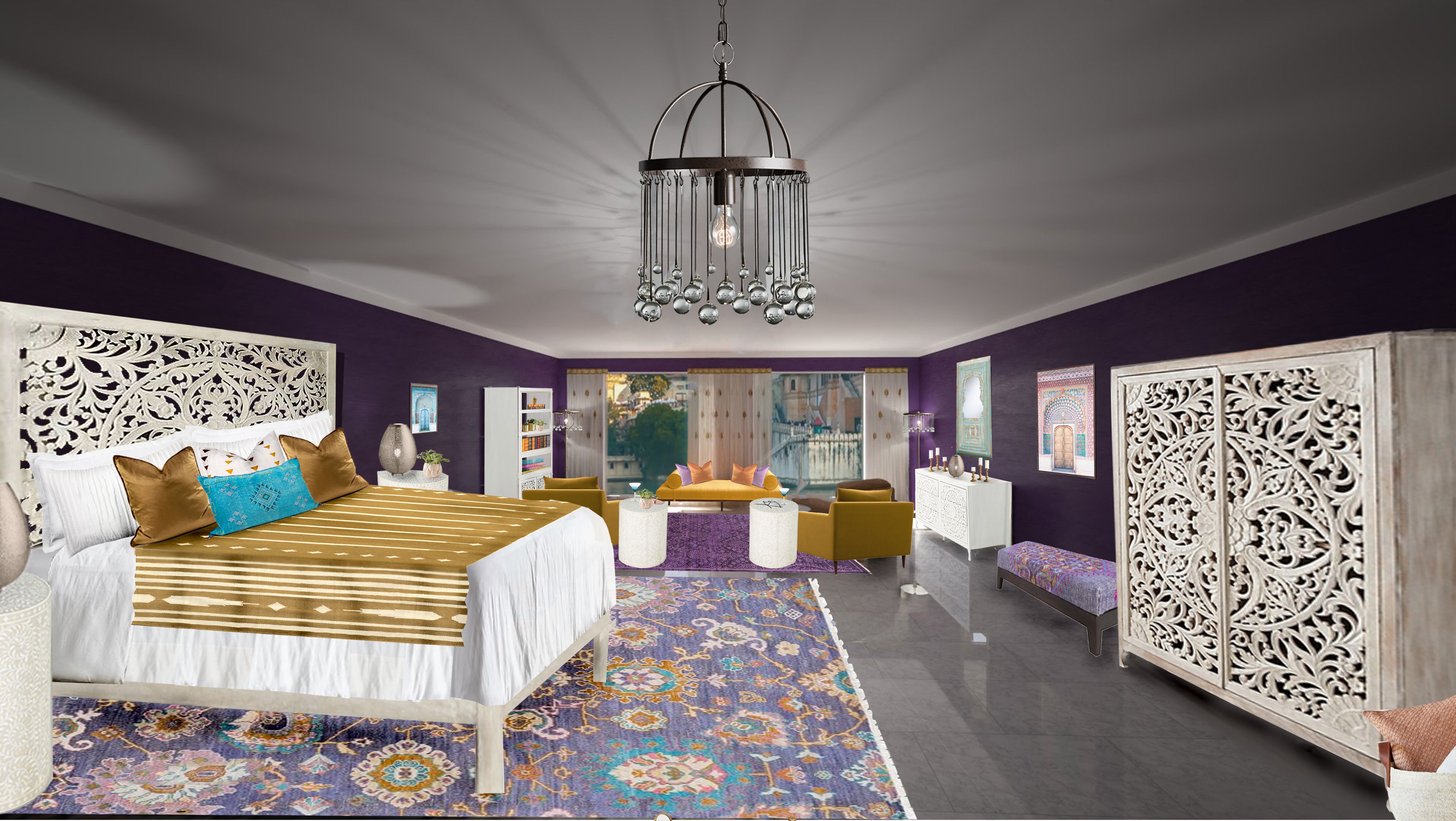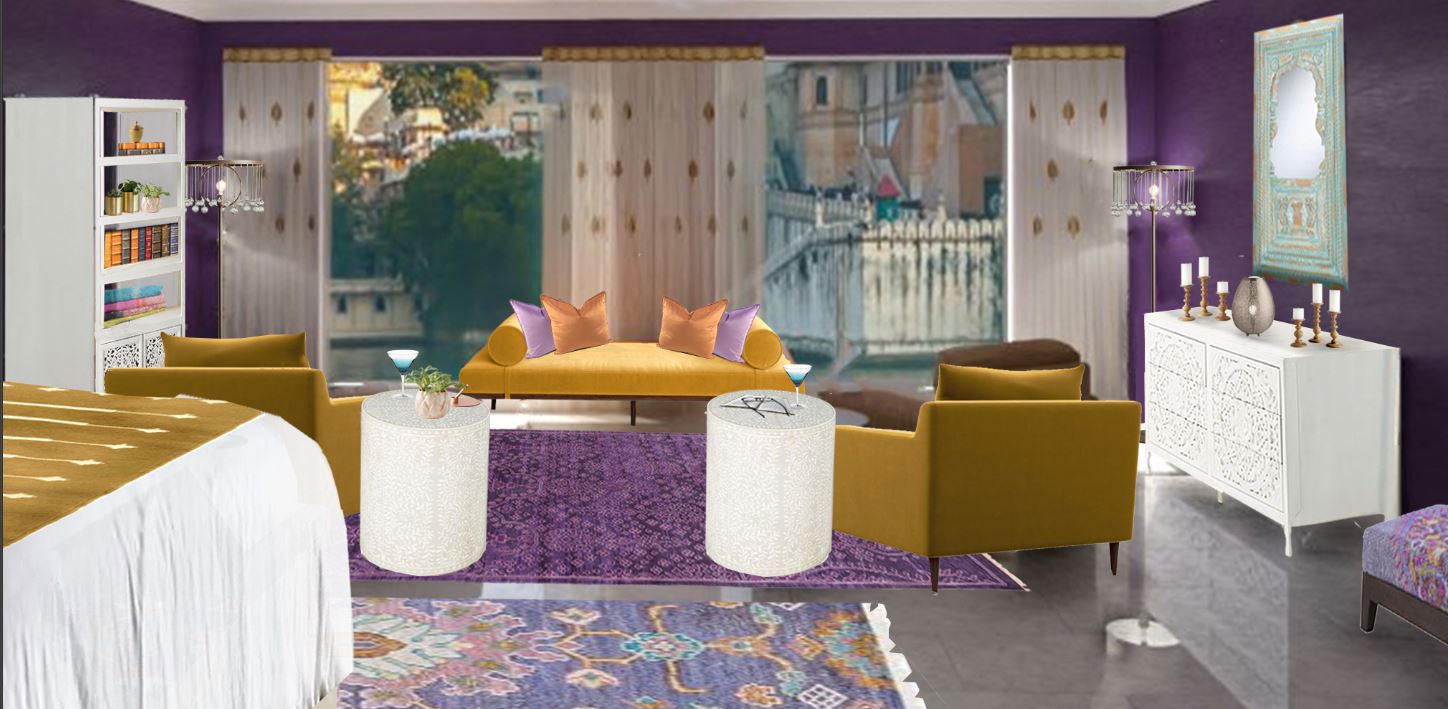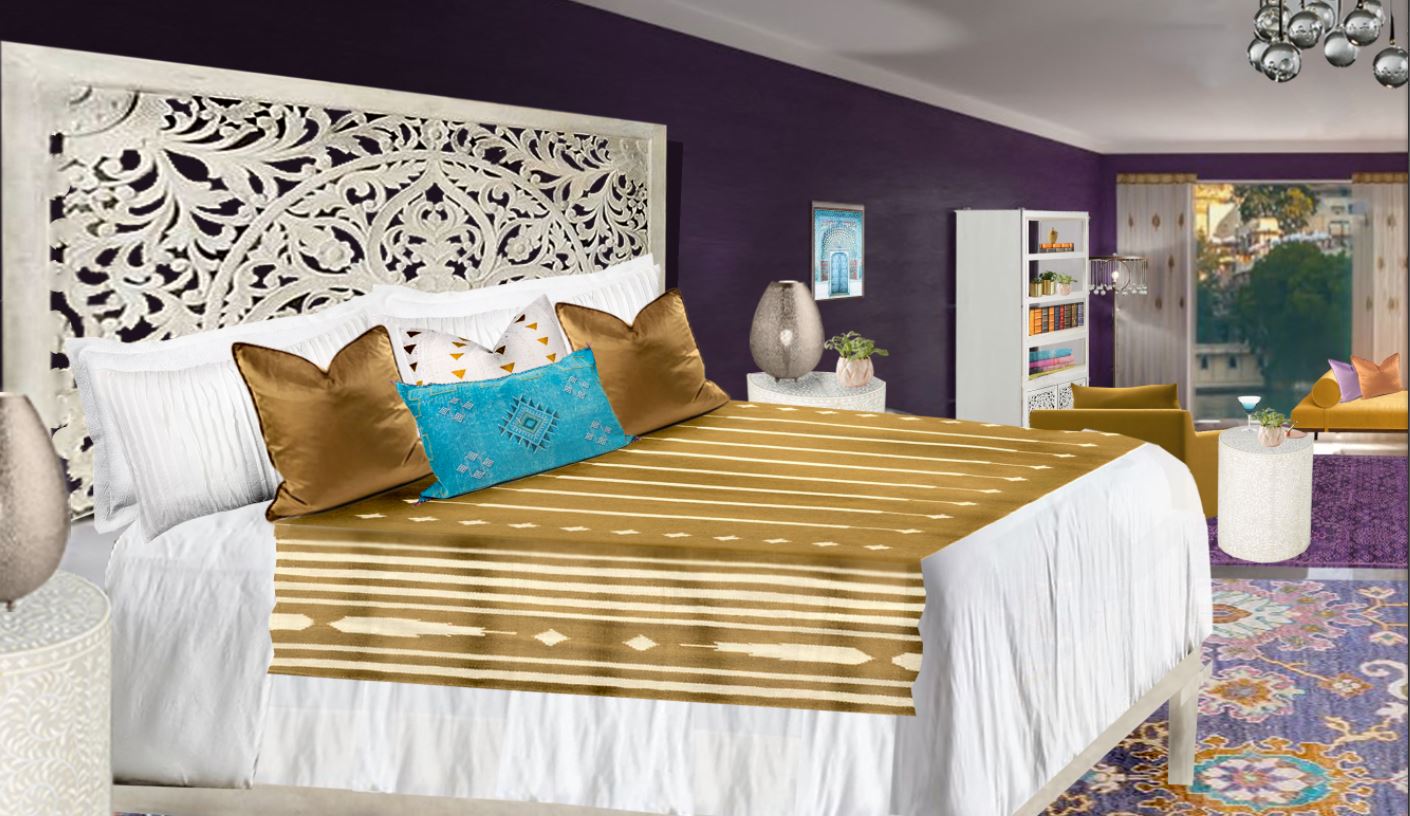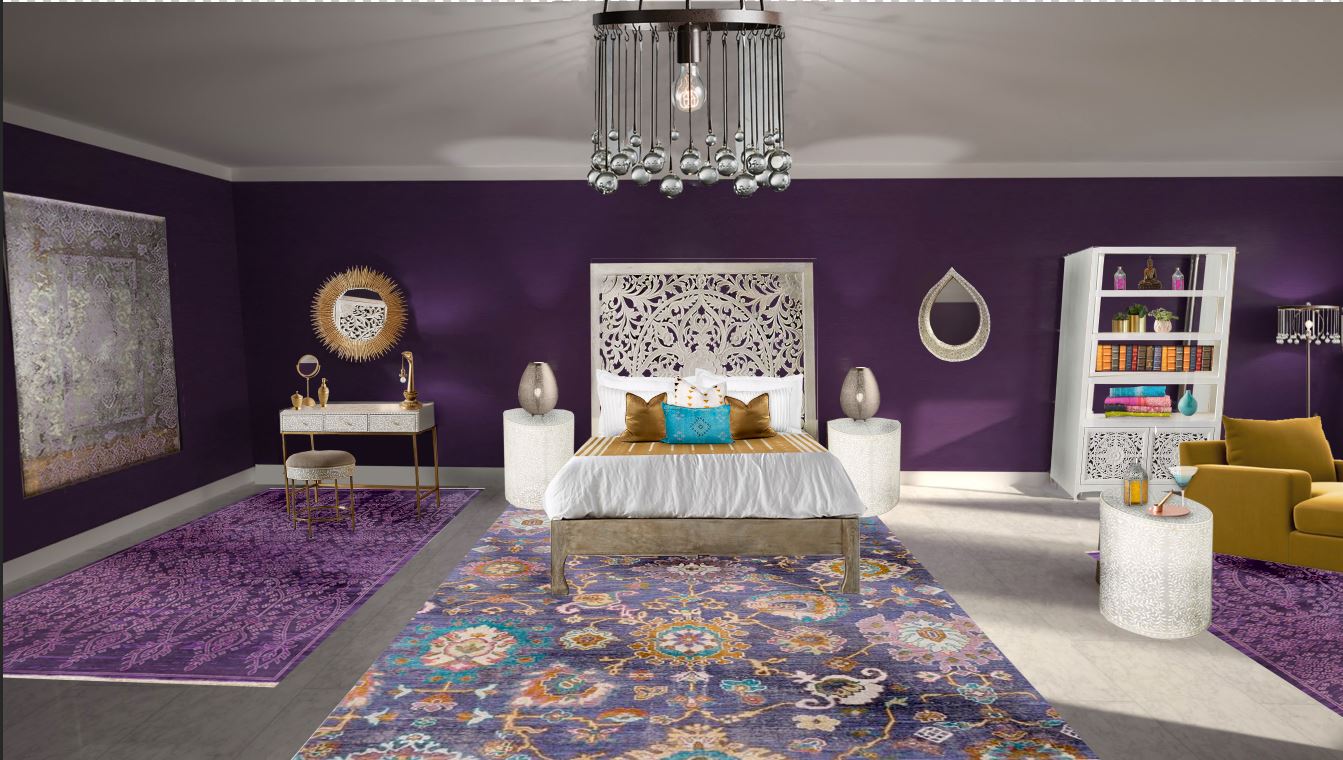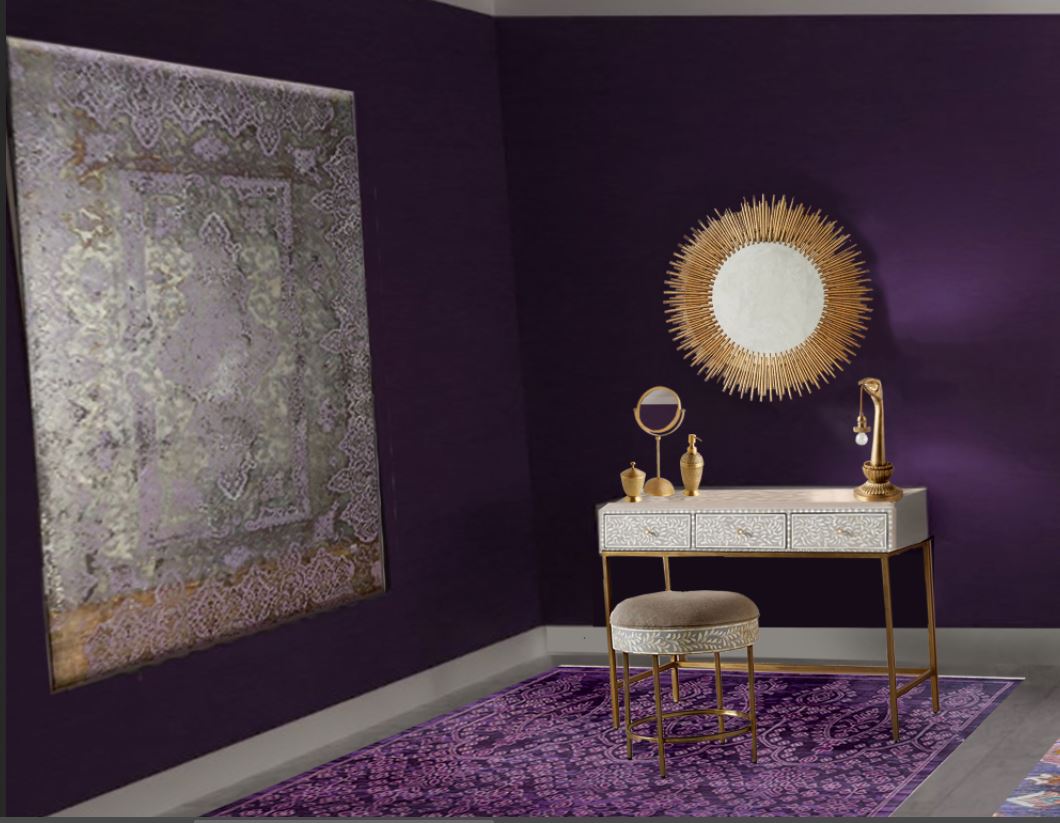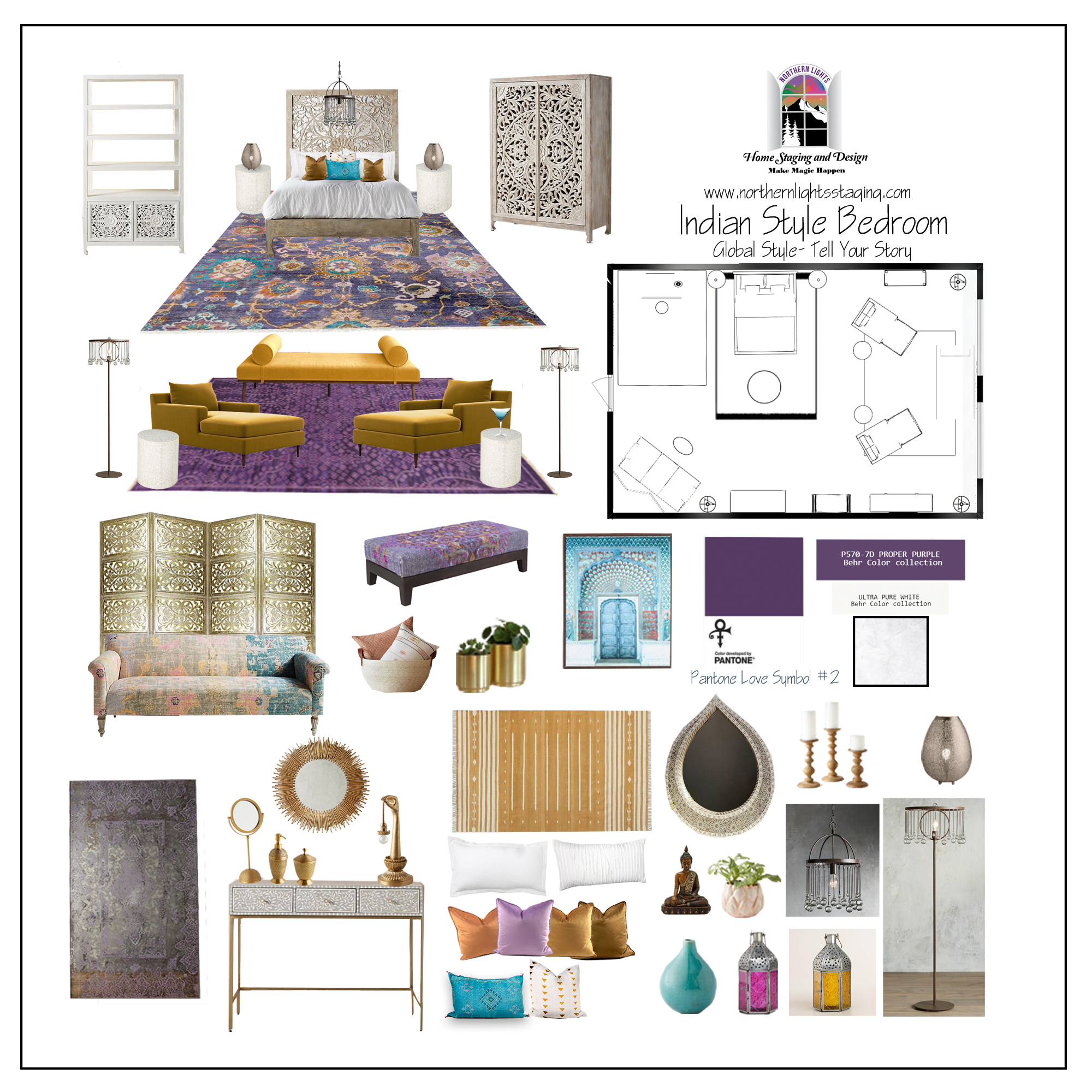 ---
Bohemian Style
Haute Bohemian living Room with Custom Designed Fractal Art
This example of Haute Bohemian or Elegant Bohemian Style is curated and uncluttered, celebrates color and pattern, incorporates eco-friendly elements, and every object tells a story.  The design uses one of a kind Fractal Art and decor items designed by Northern Lights Home Staging and Design, eco-friendly furniture and rugs, and design elements from India and Mexico. Click on the Concept Board to find out more about the specific design elements used in this project. Learn more about this project in my blog article, Get the Look-Bohemian Style.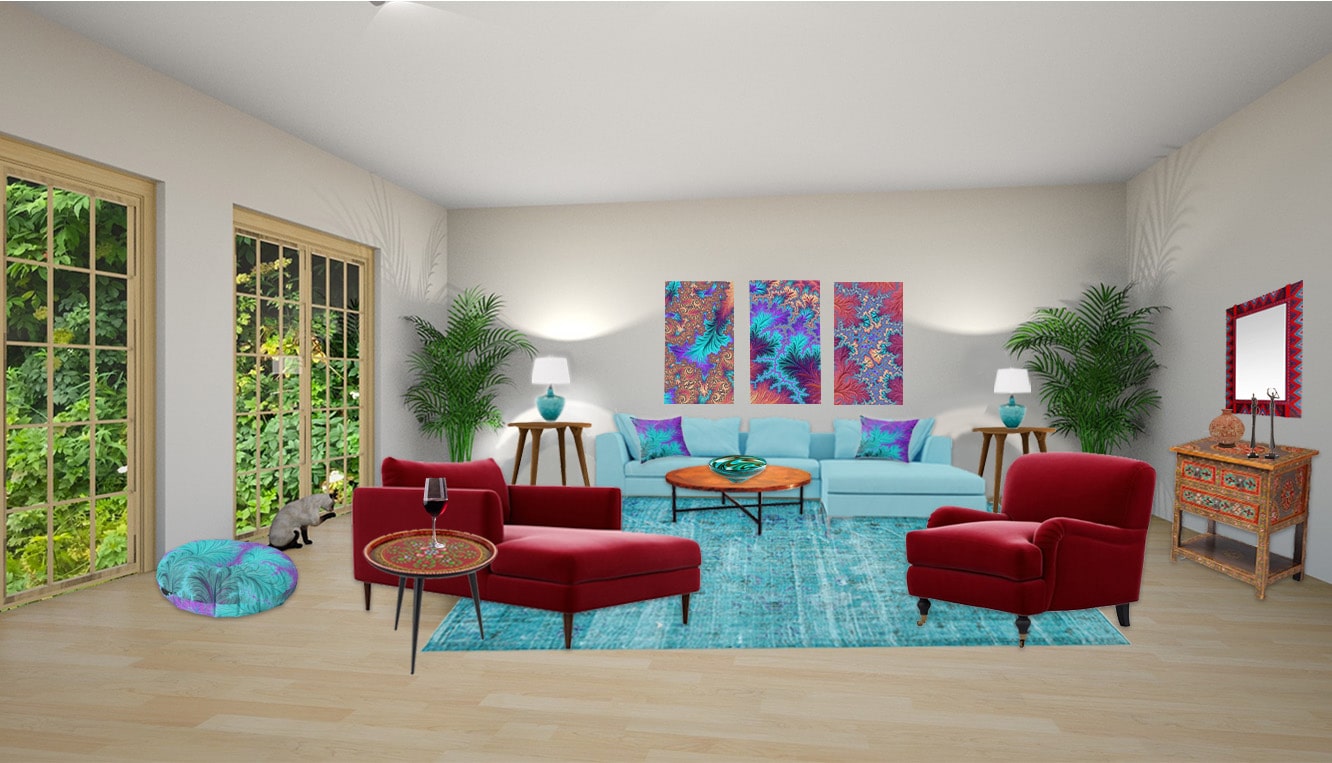 ---
Vintage Boho Office
This office was designed for a design contest for a client that loved color and had a vintage Bohemian style.  See the full description of this project in my blog article, Vintage Boho Office- How a Designer Thinks.
Before Photos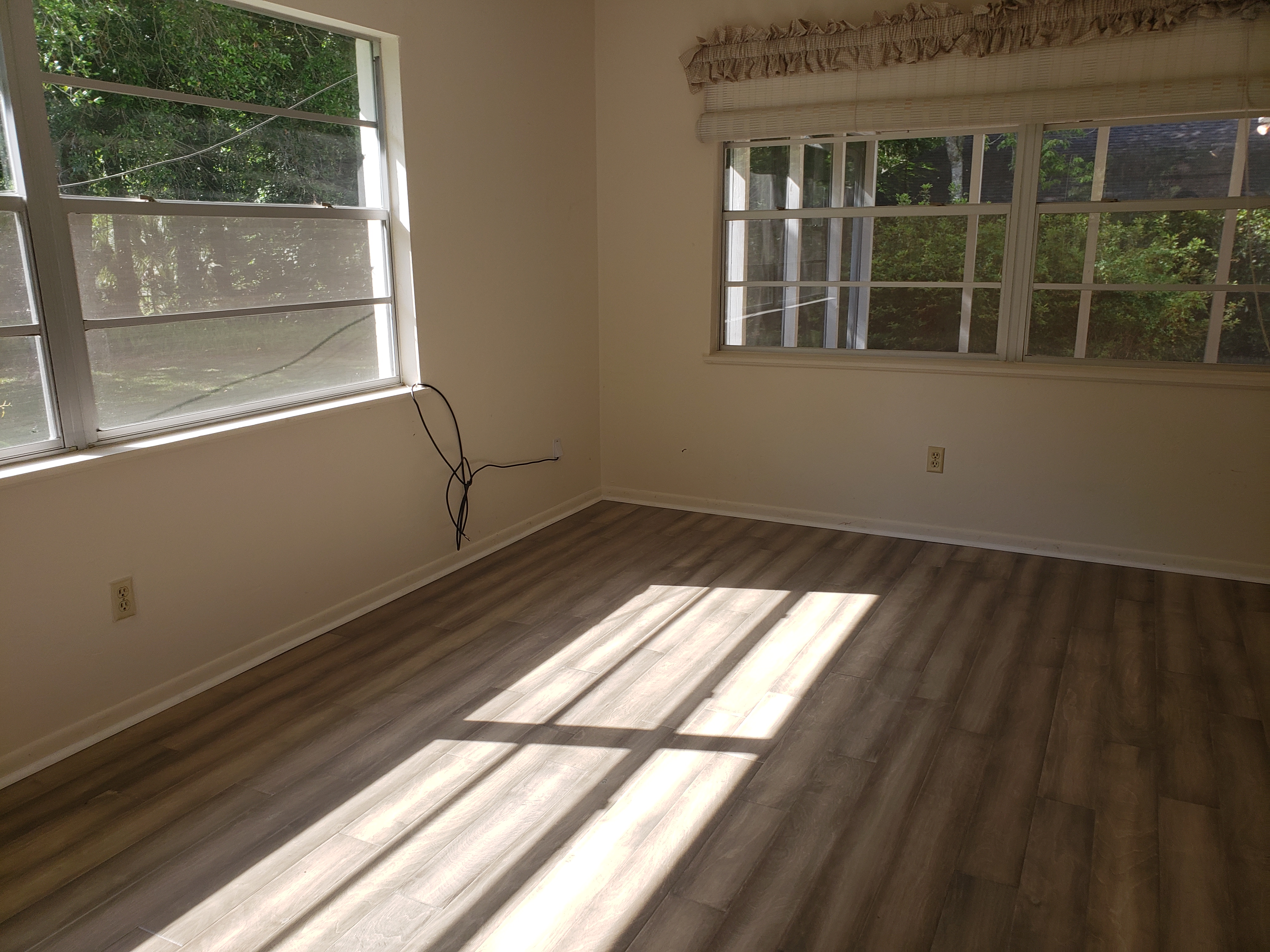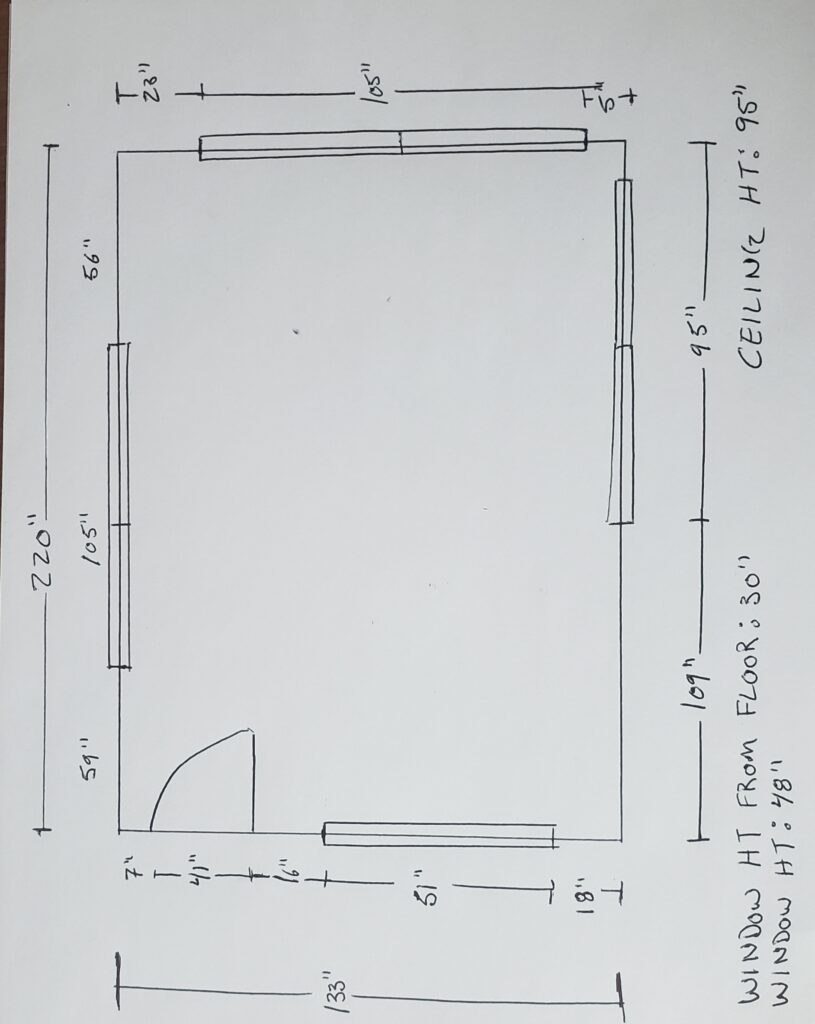 After Photos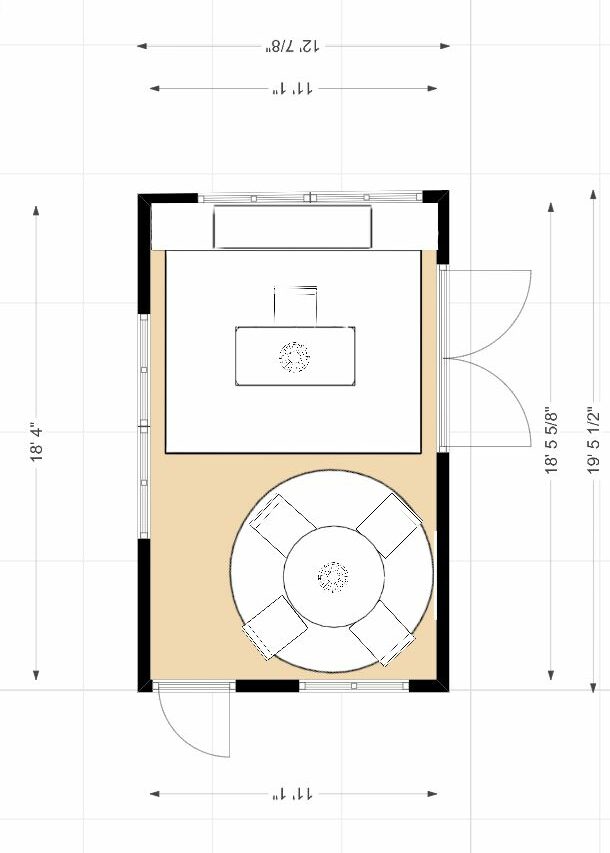 ---
Bohemian Style Living Room
This Bohemian style living room highlights Moroccan and Turkish design elements, focusing on the beauty and atmosphere created by Moroccan lighting.
---
Greek Style
Here is an example of Greek Interior Design, which is a coastal global style that is simple and elegant, inspired by nature, and looks light, bright, airy and clean.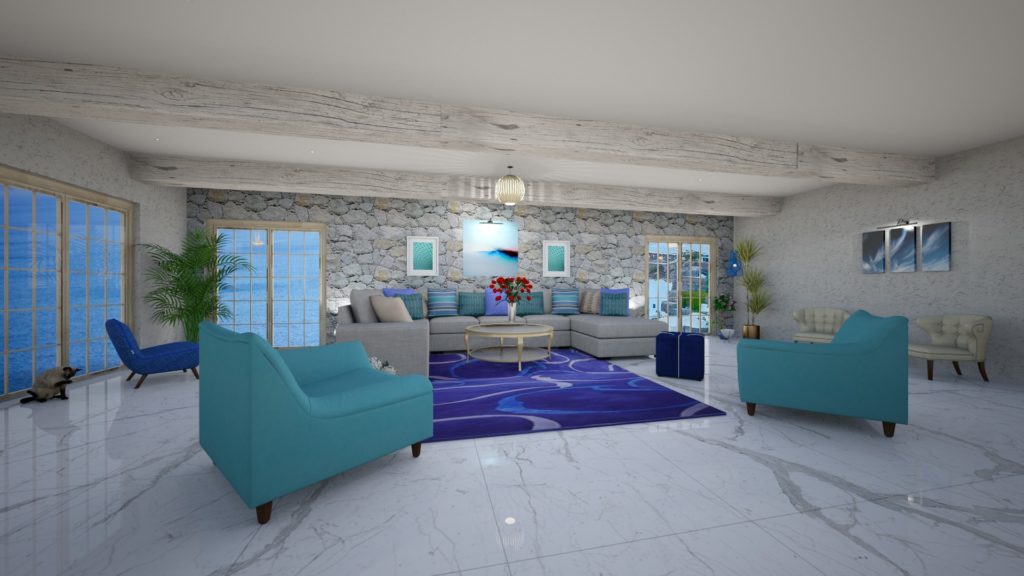 Here is an example of a Concept Board for another Greek Interior design living room. To find out more about these products, click on the picture and see my blog article on Greek style.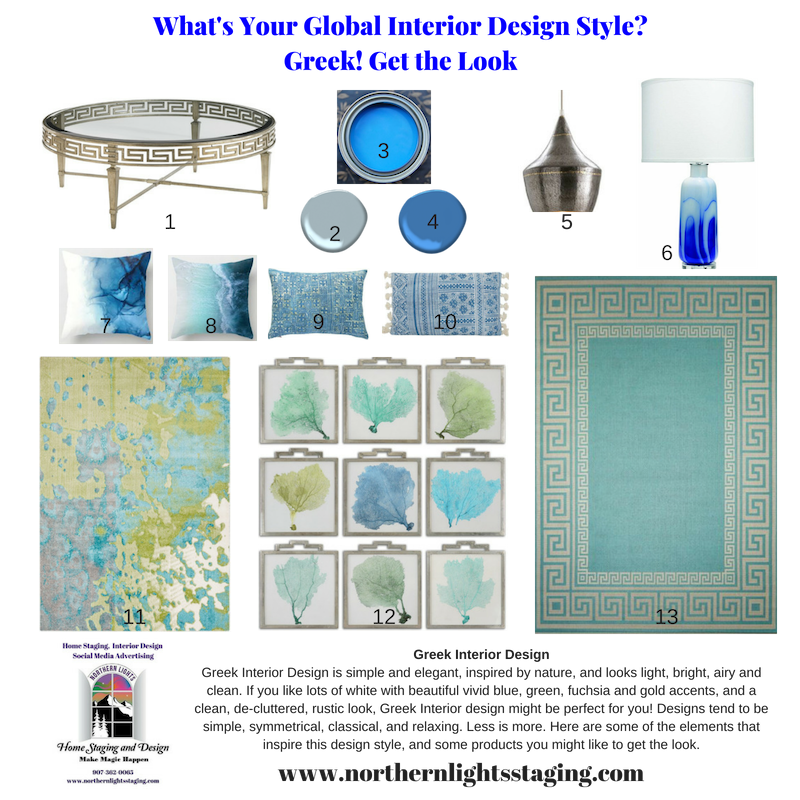 ---
Moroccan Style
This Moroccan style Living Room uses a traditional authentic Azilal tribal rug from Atlas Weavers, traditional lighting and accent pieces and an eco-friendly sofa from Medely.
This Moroccan style Living Room uses a traditional authentic Kilim  rug from Atlas Weavers, traditional lighting and accent pieces and an eco-friendly sofa and chairs from Medely. It also includes other eco-friendly materials such as the copper table, leather pouf and traditional Moroccan mirrors and door.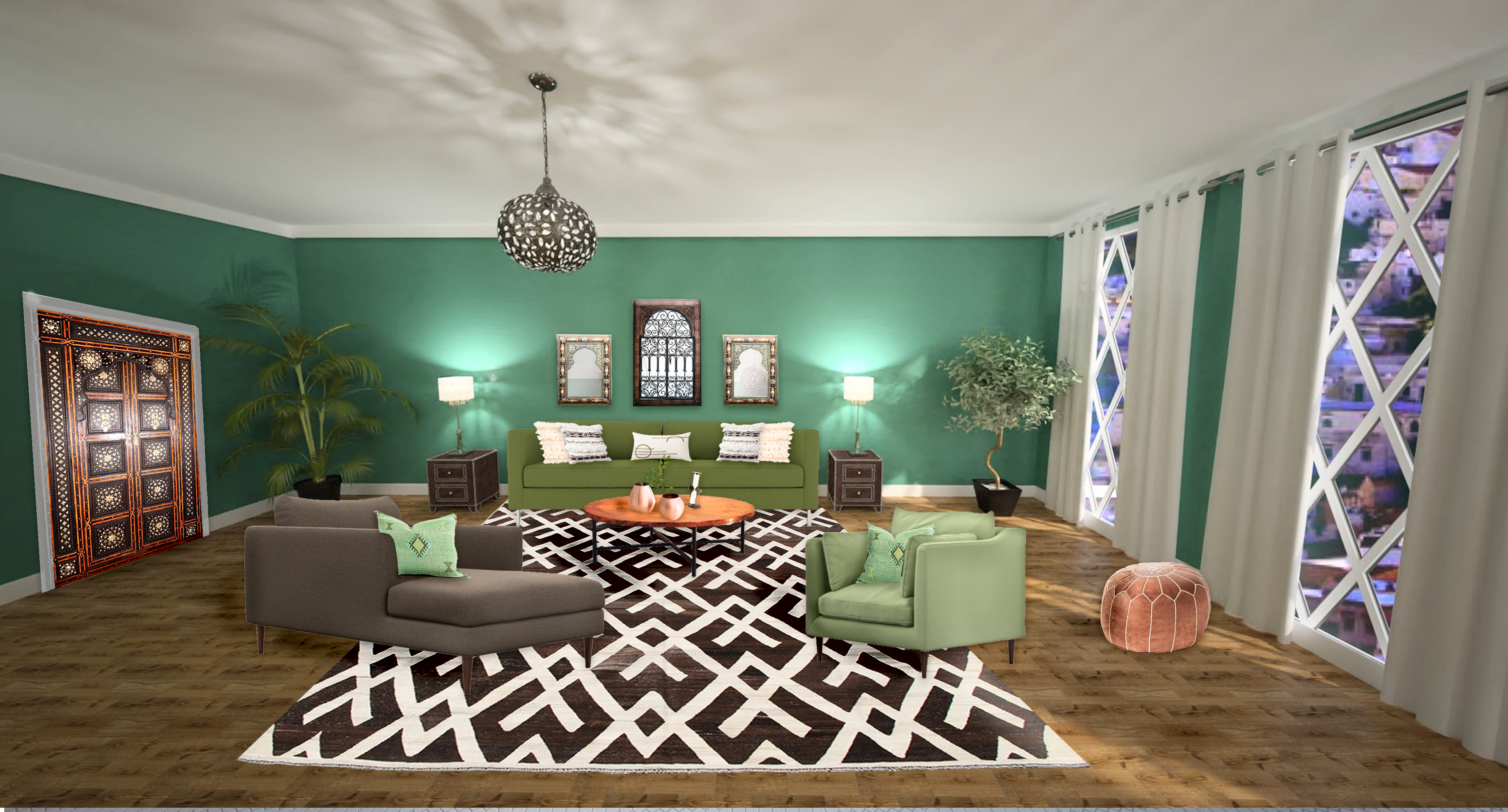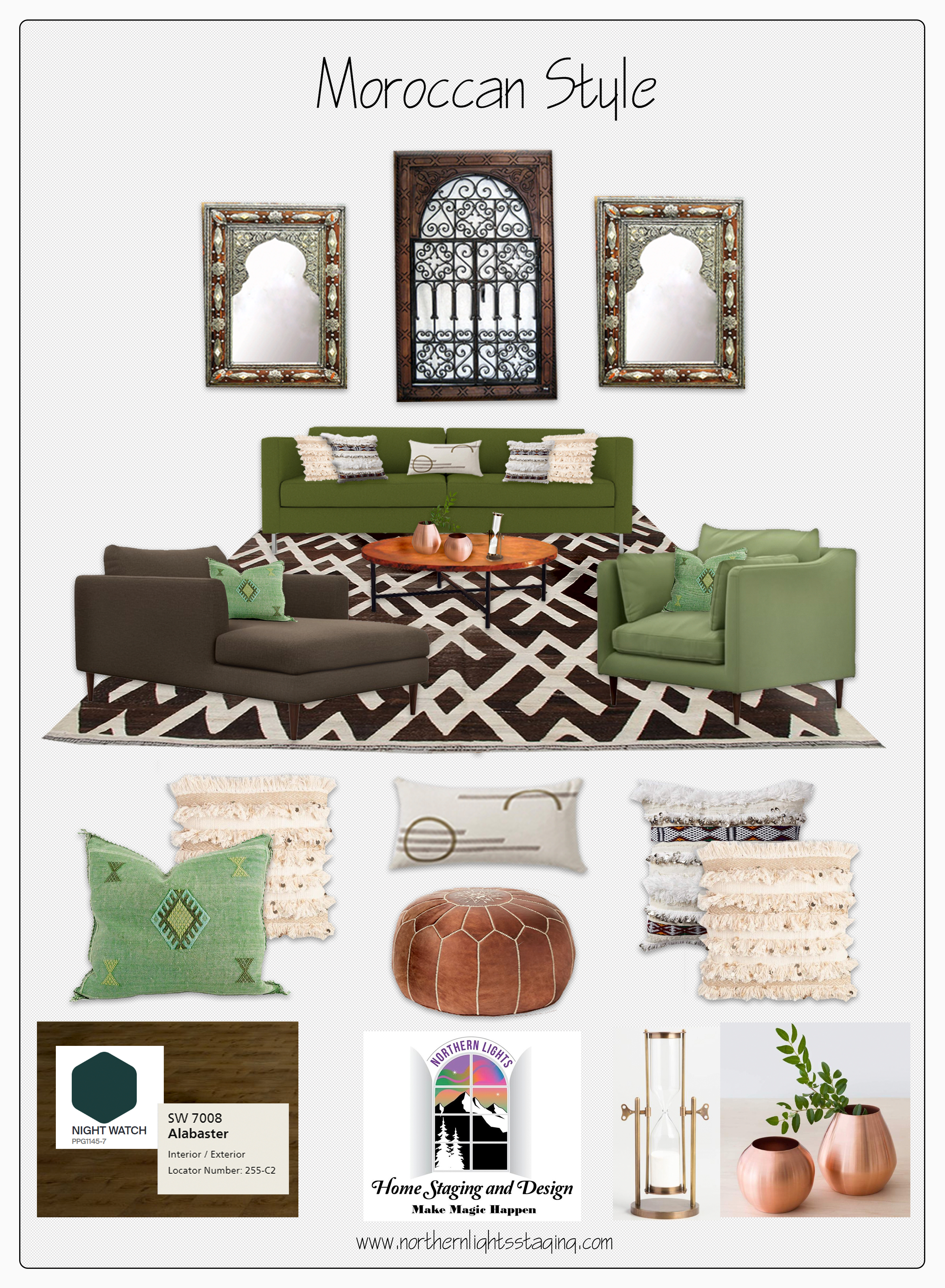 Modern Moroccan/Bohemian style Bedroom.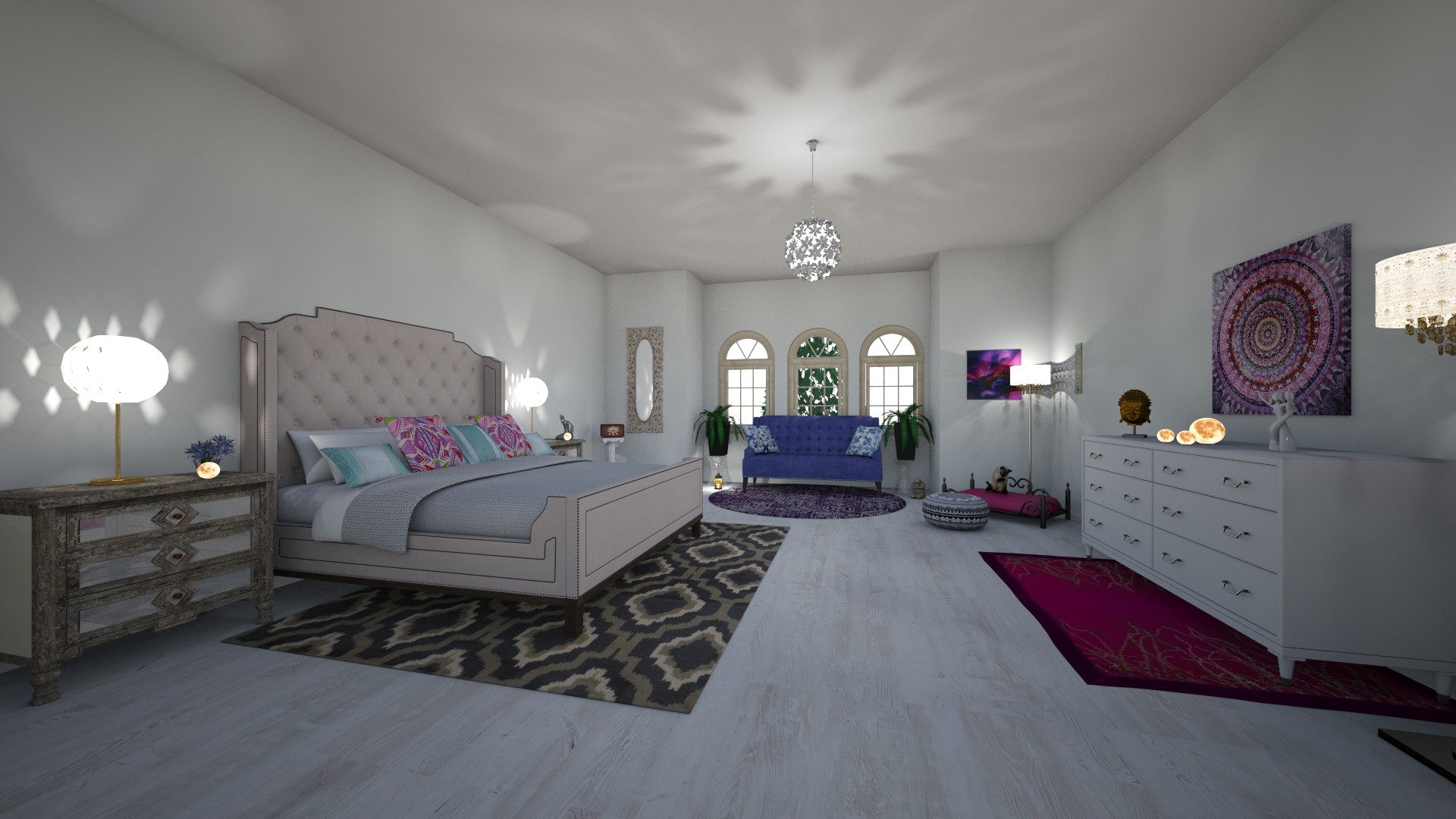 ---
Modern Global- Color Exploration
This project was an exploration of color and how it could change the look and feel of the same room, by changing wall color and some of the accents such as art or lighting.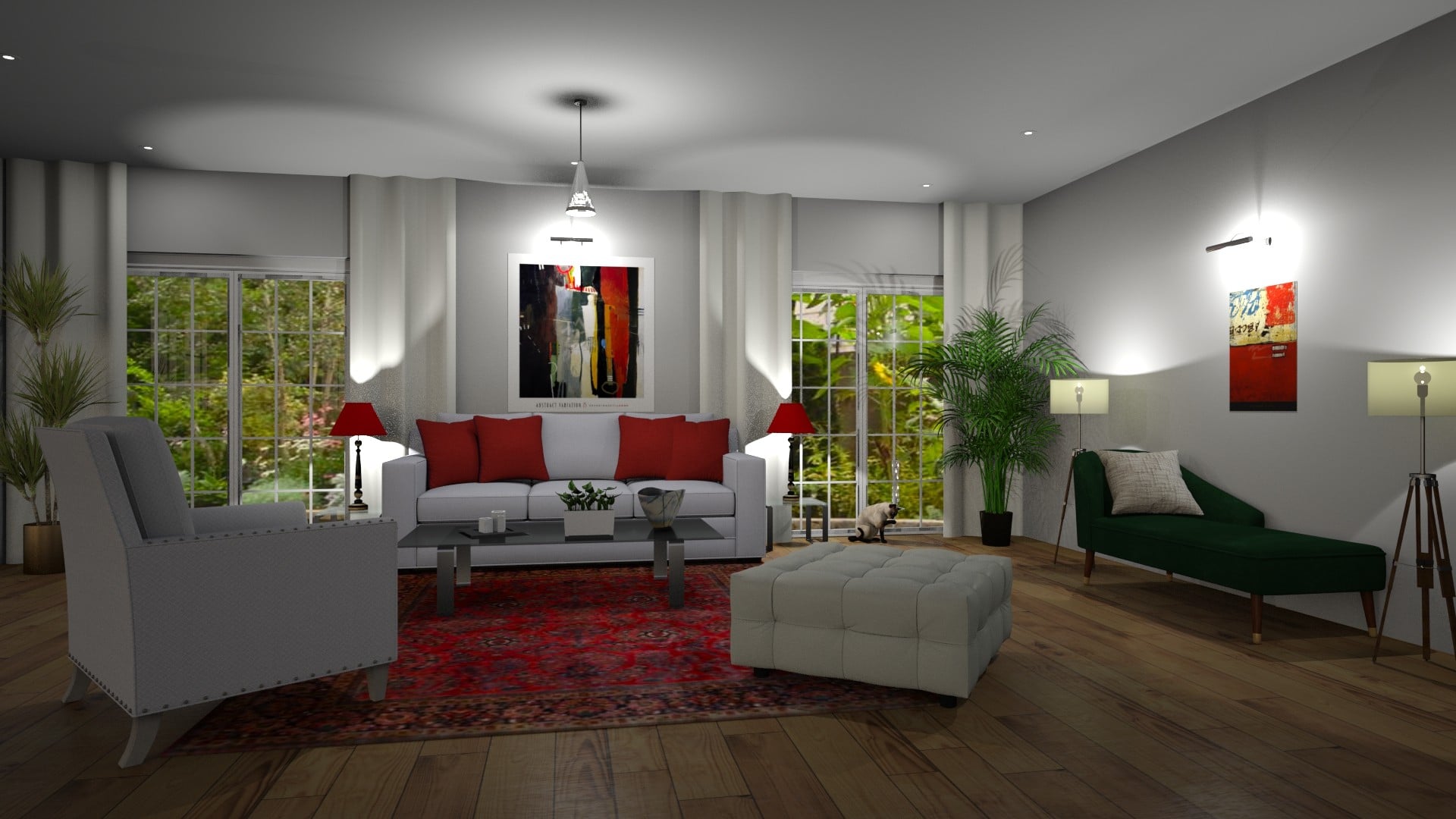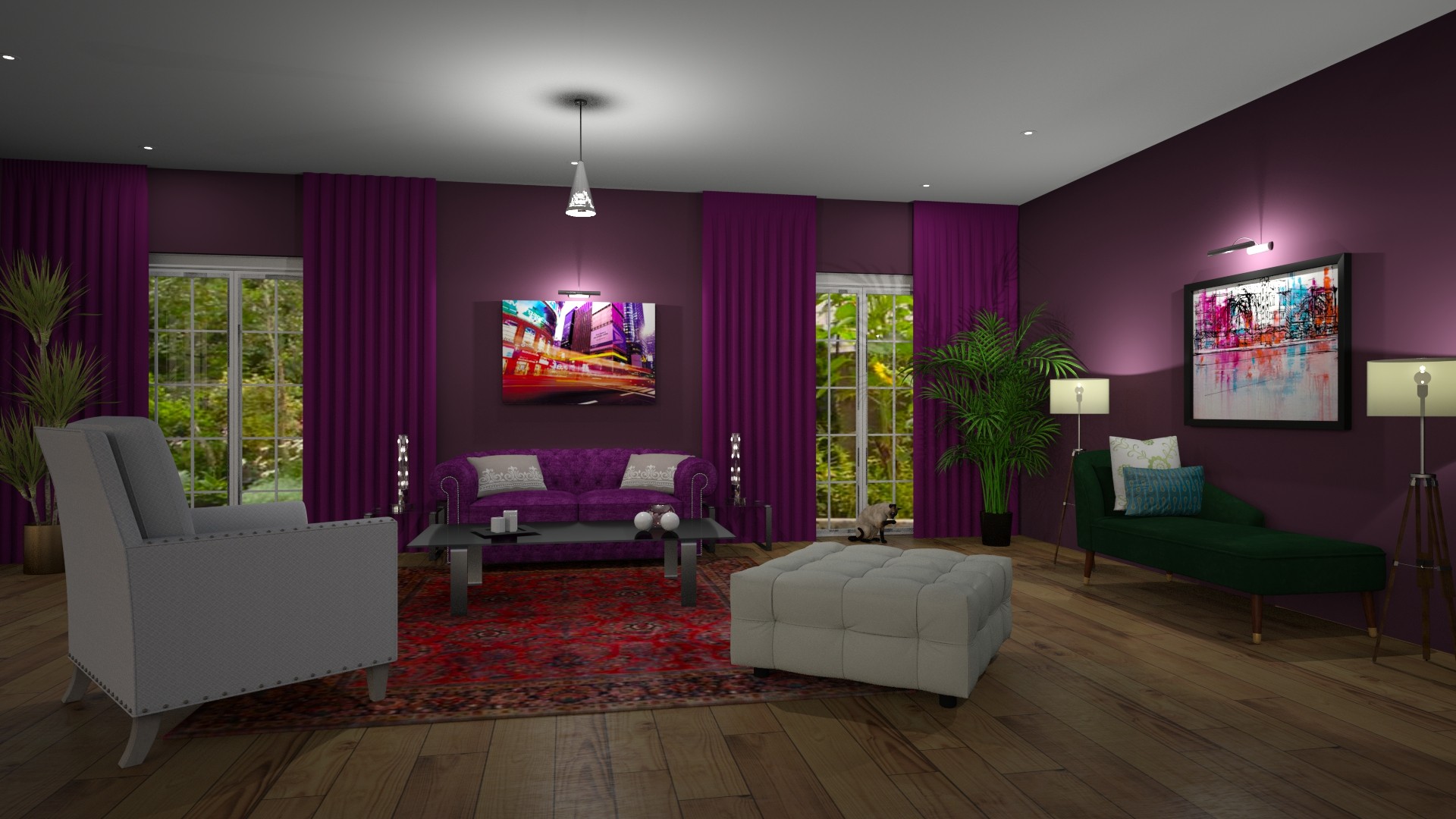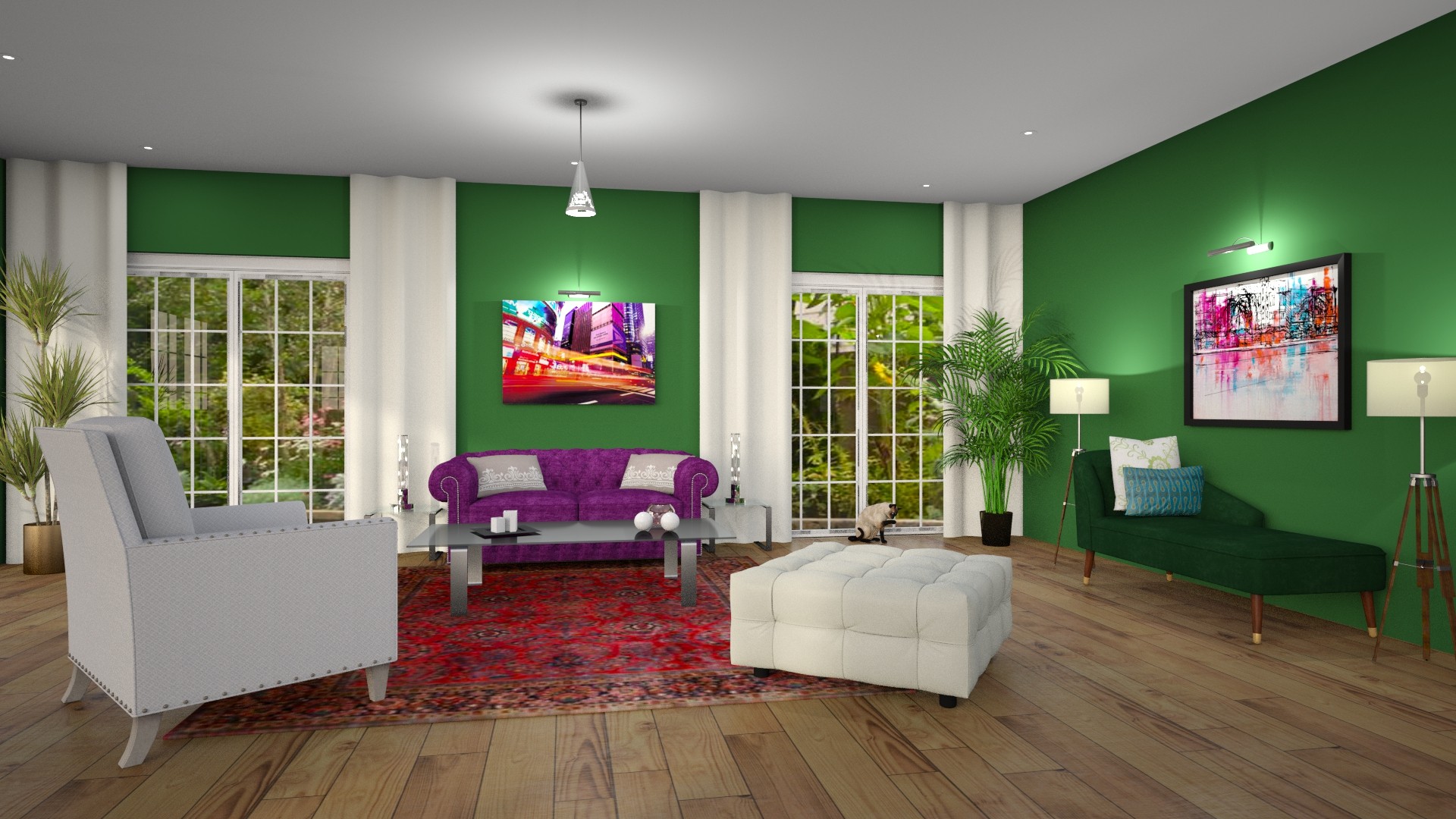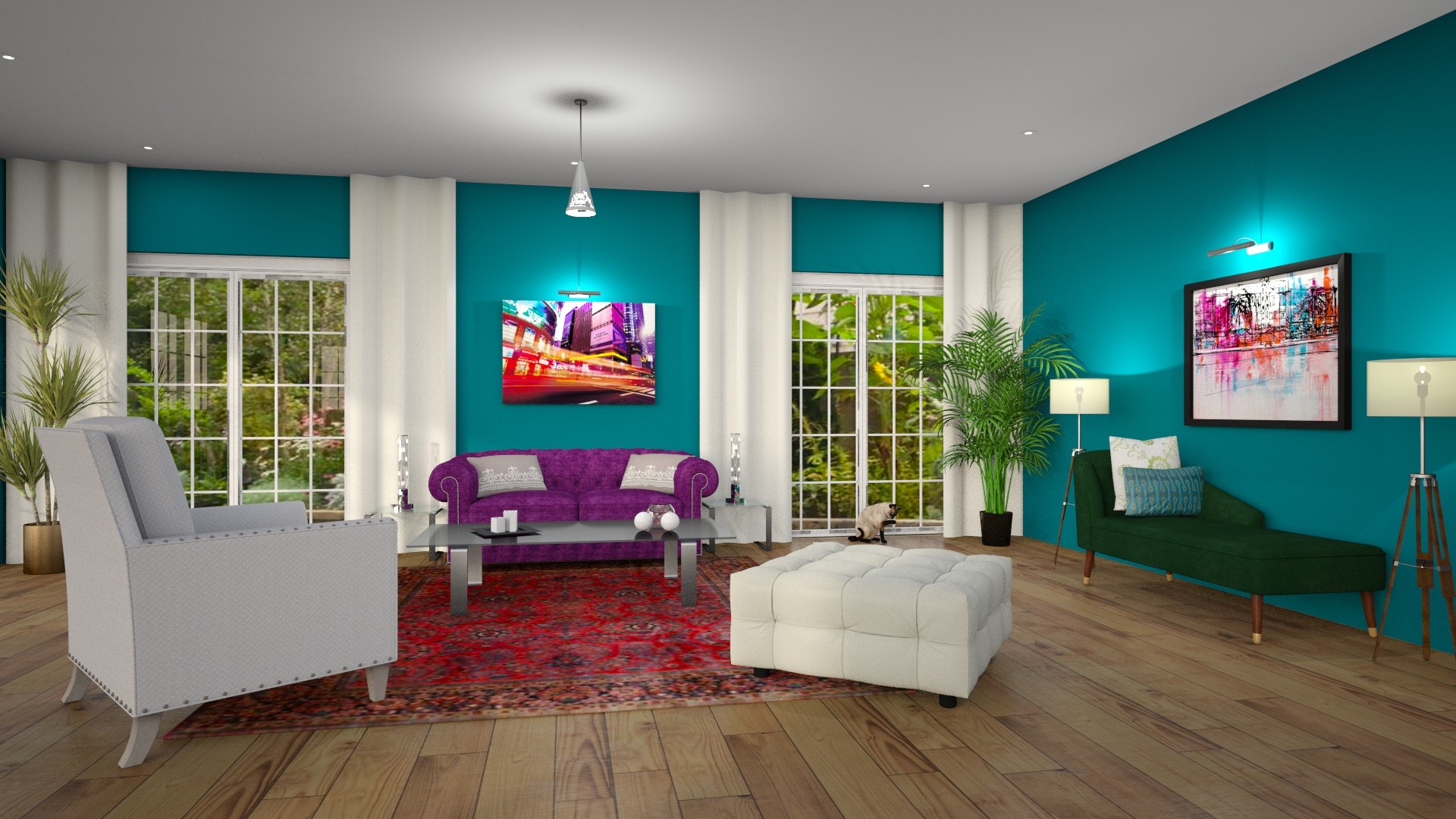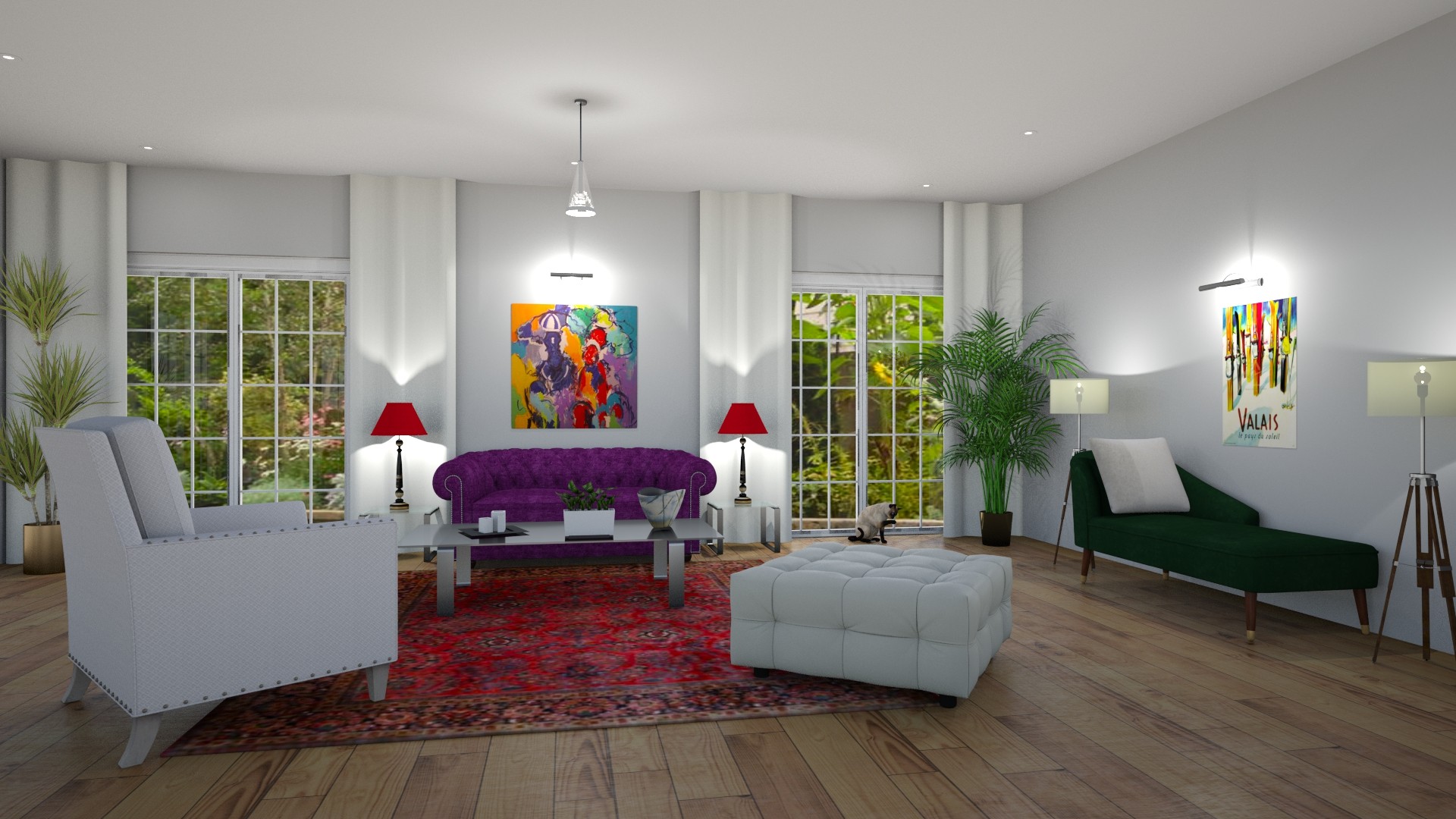 ---
Modern Global- Black and White
This project was an example of how to create drama in your Interior Design using black and white, with three examples of how to get the look. See my blog article, Get Dramatic with Black and White to find out more about this project.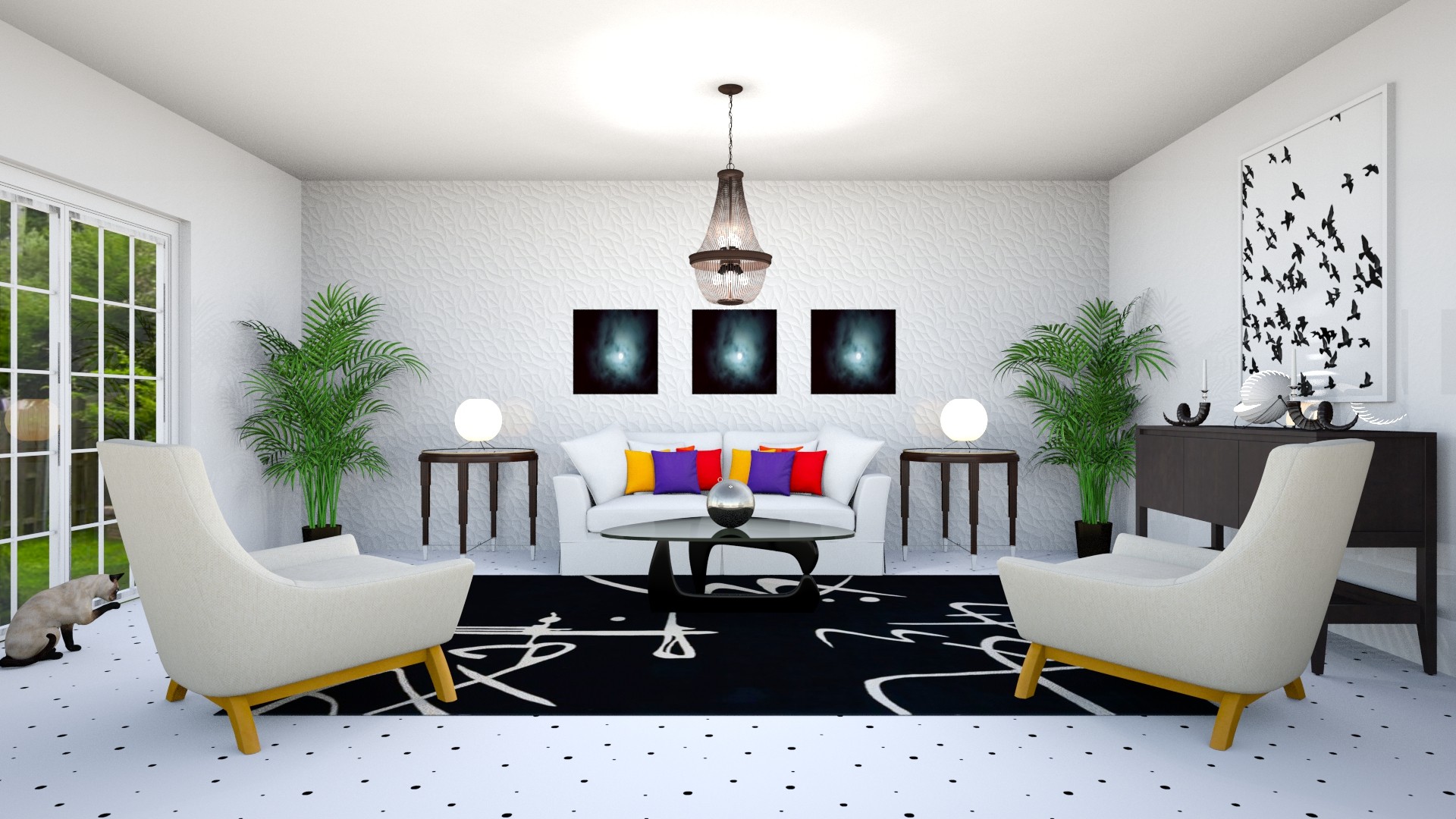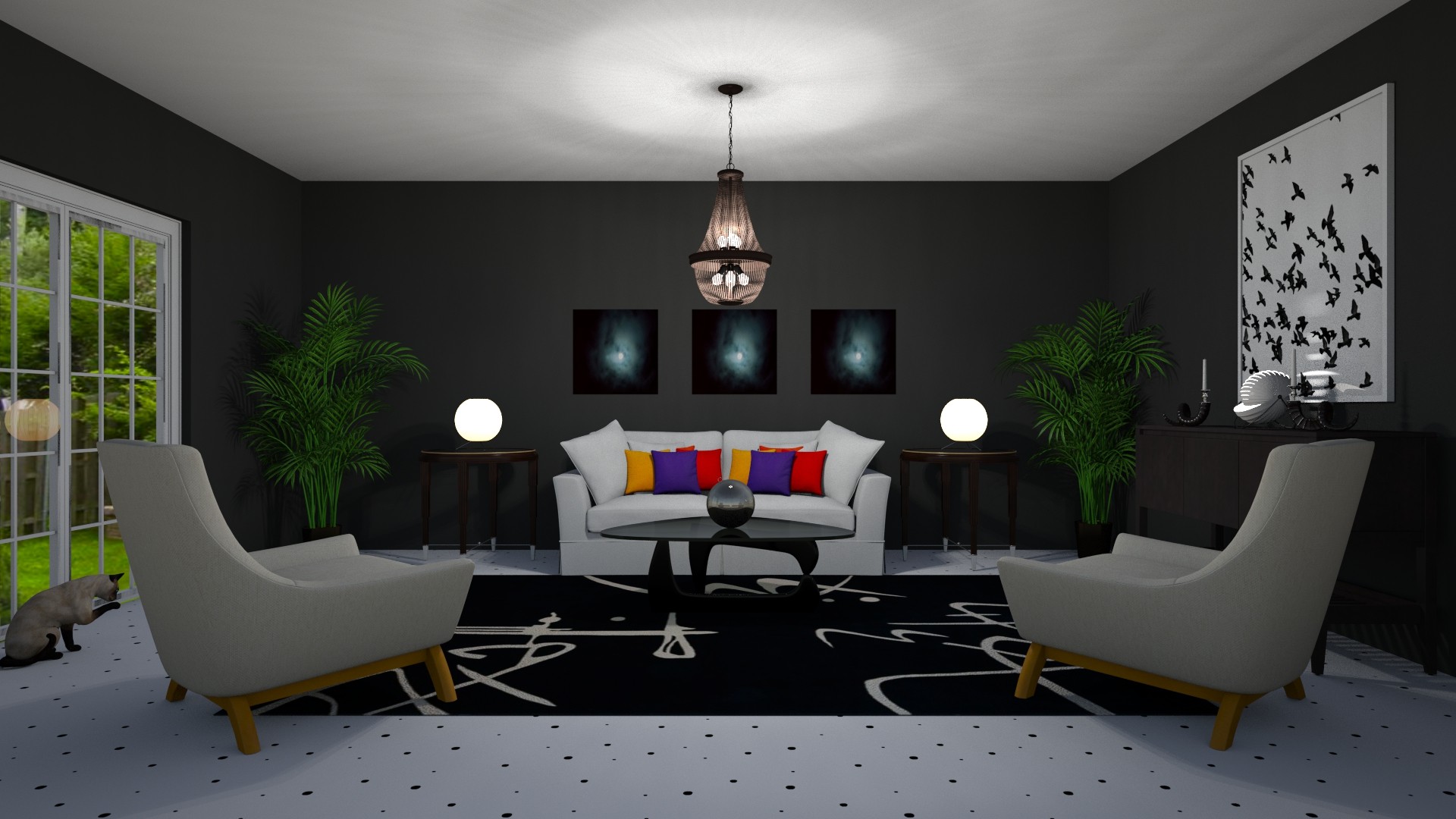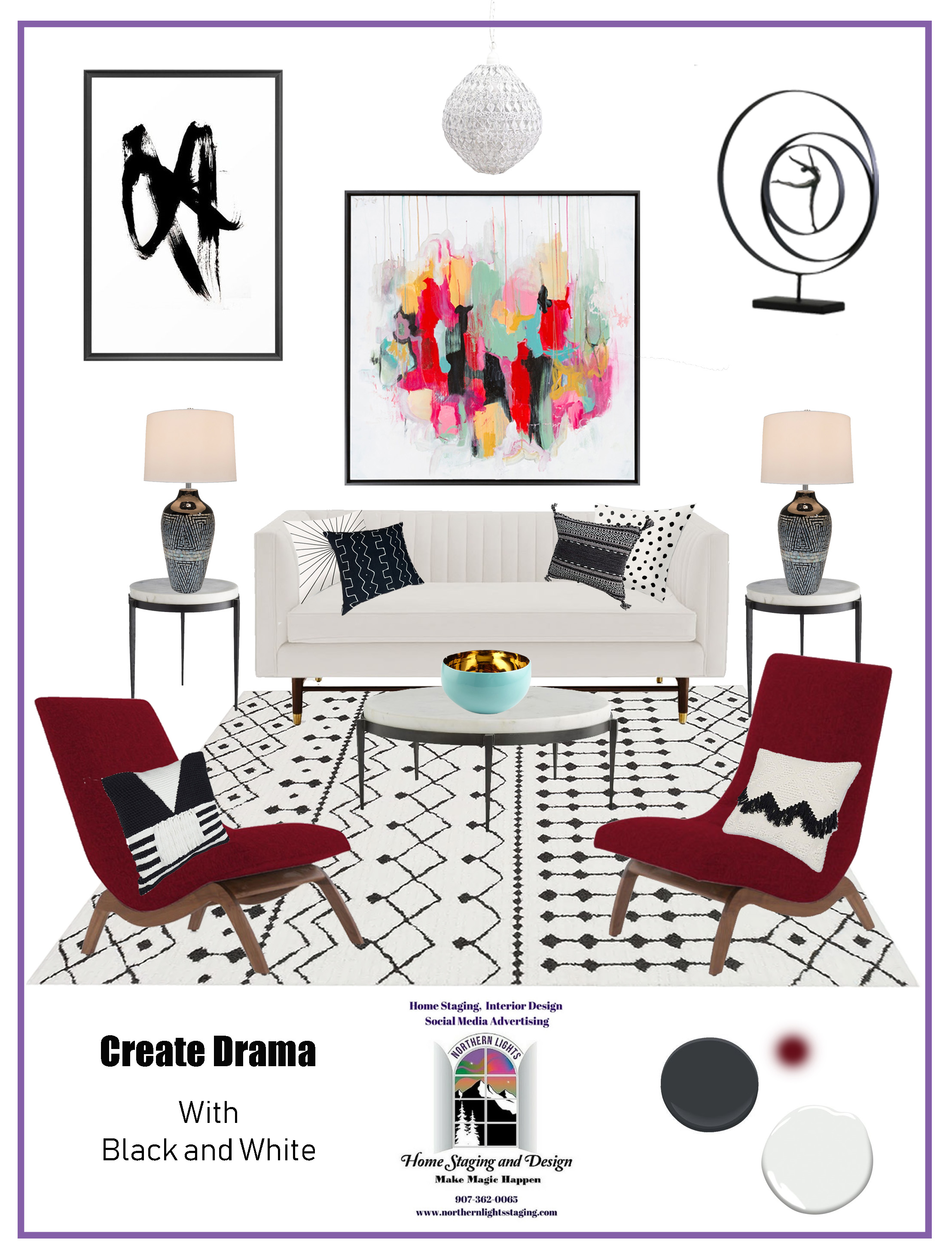 Modern Global Classical Living Room
This modern classic living room design was for a retired couple that loves to entertain and wanted a more classic design with a neutral color palette. It incorporates a beautiful mix of textures and shapes and a touch of color through a beautiful blue accent color in some of the furniture, art and accessories. Live edge furniture adds a rustic touch, and vintage inspired furniture mixed with modern art and lighting create a room anyone would love to relax in with friends.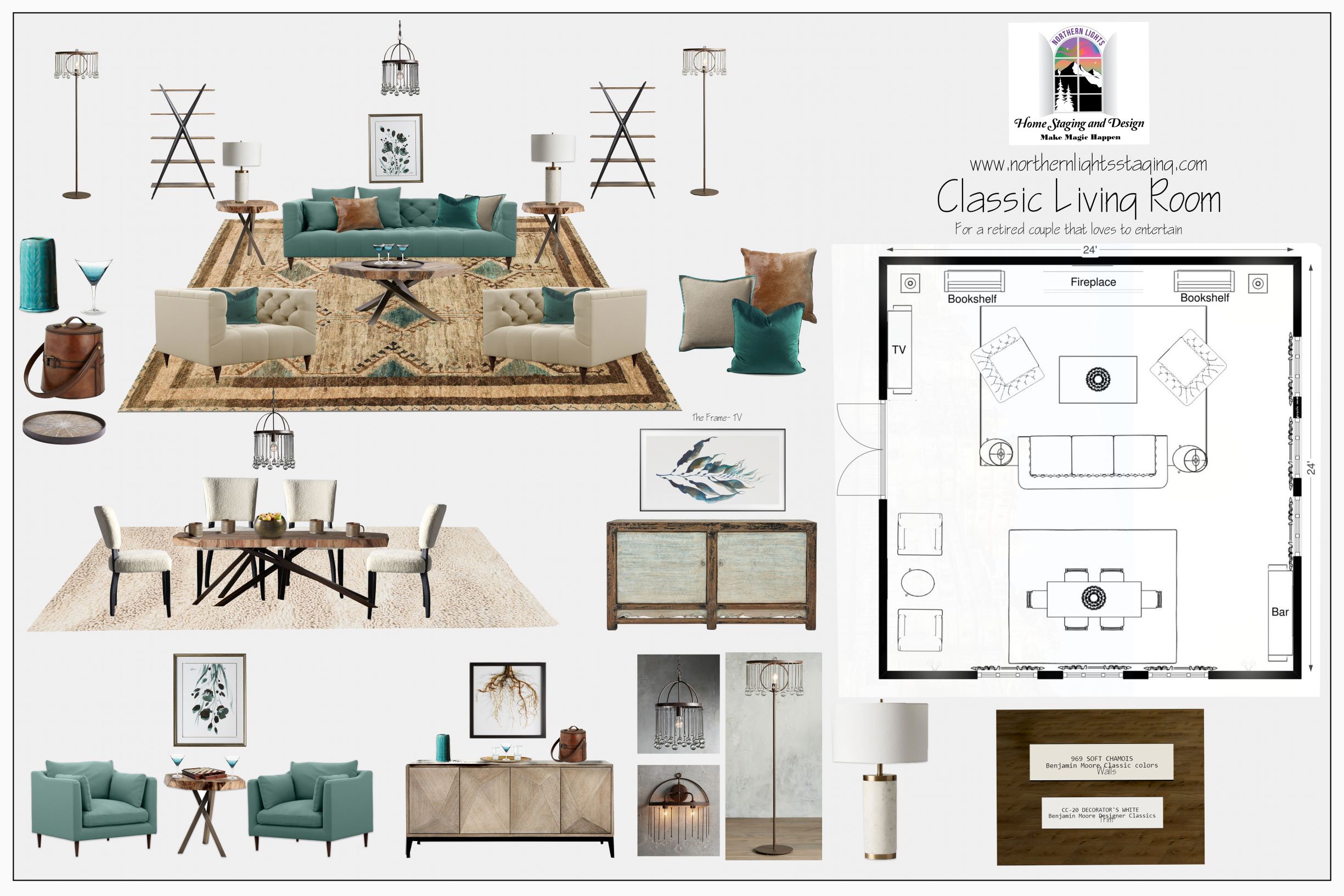 Modern Global Family Friendly Living Room/Play Room
This living room was designed to be family friendly for a couple with three children under 6 years old, to provide both a playroom and area for the family to gather and watch TV. The furniture is  selected to be easy to clean and withstand use. The rugs can be lifted off the backing and washed in the washing machine. The furniture in the play room is soft and easily moved, washable and scaled to fit kids under 6 years. There is an area to play, do homework, crafts, read and store toys to keep the space clutter free. The TV area also has a washable rug and furniture with rounded edges to be kid friendly. The design can still be used to look great and for adult entertaining. The Frame TV looks like art on the wall when not being used.
Colors of the Year
This Concept Board for a modern design with a Bohemian twist using Pantone's 2019 Color of the Year Living Coral. Click on the picture to access links to the design products.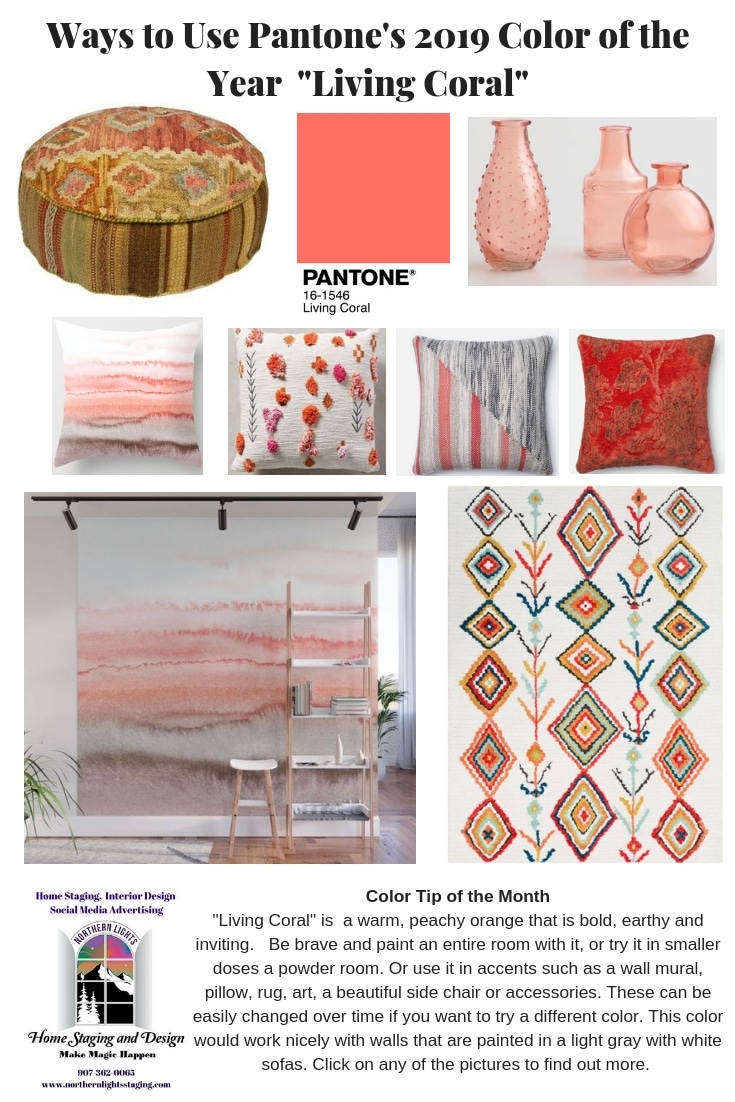 ---
This Turkish living room, as mentioned above under Turkish Style was focused on using Sherwin Williams 2019 Color of the Year, Cavern Clay. See my blog article on Ways to Use Sherwin Williams 2019 Color of the Year- Cavern Clay for your Interior Design project.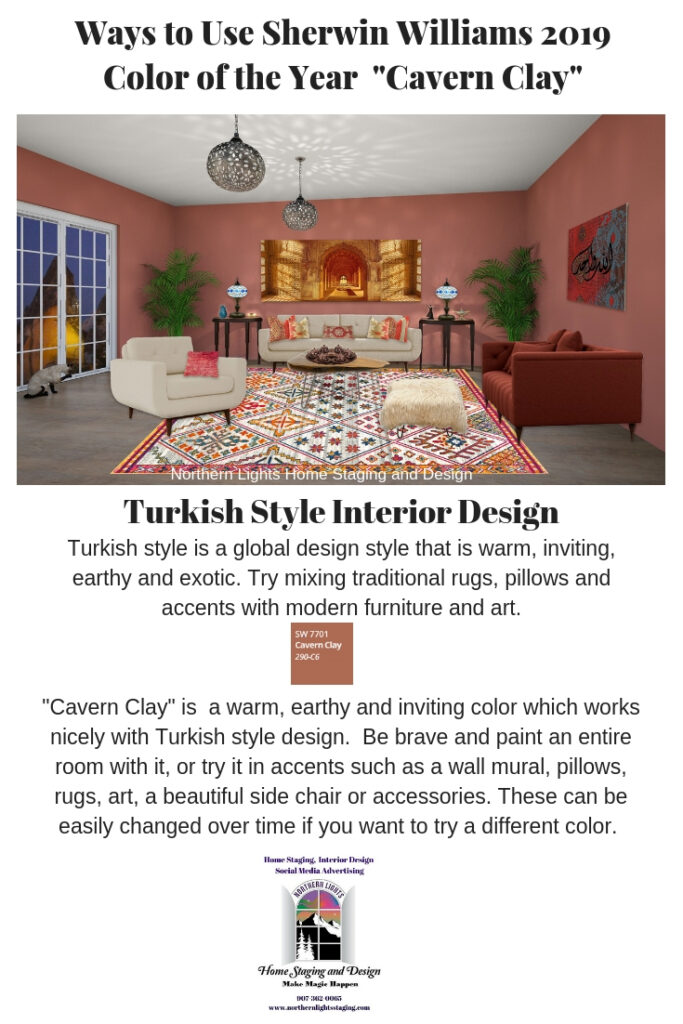 ---
Virtual Home Staging
This vacant home was for sale in Georgia.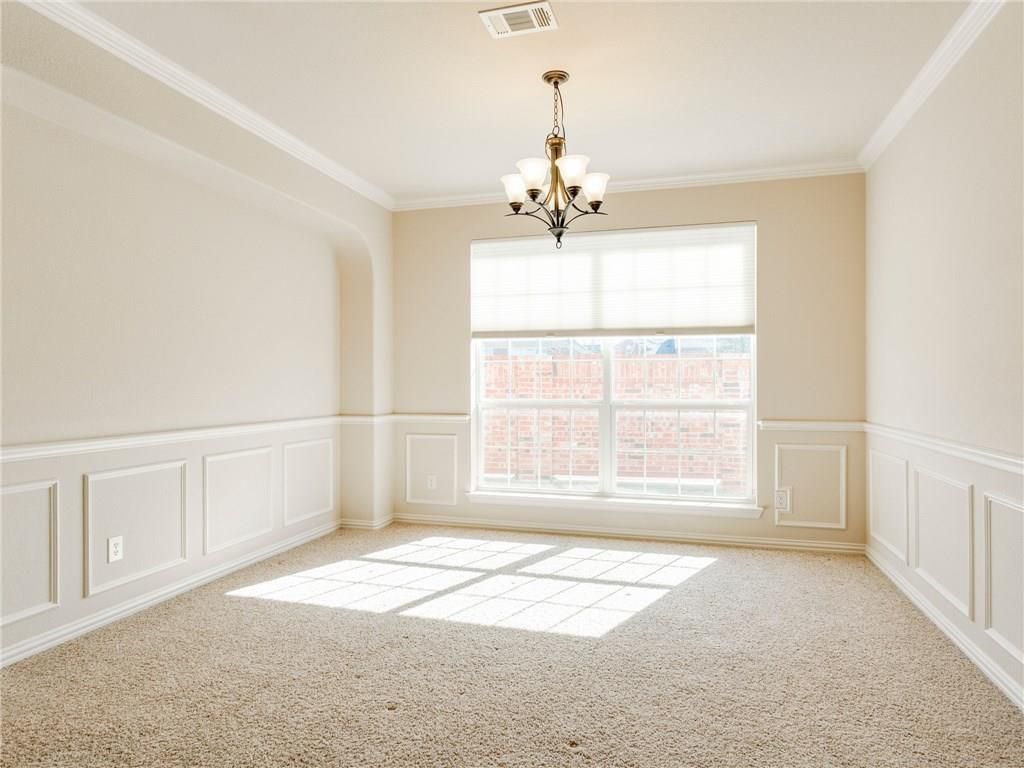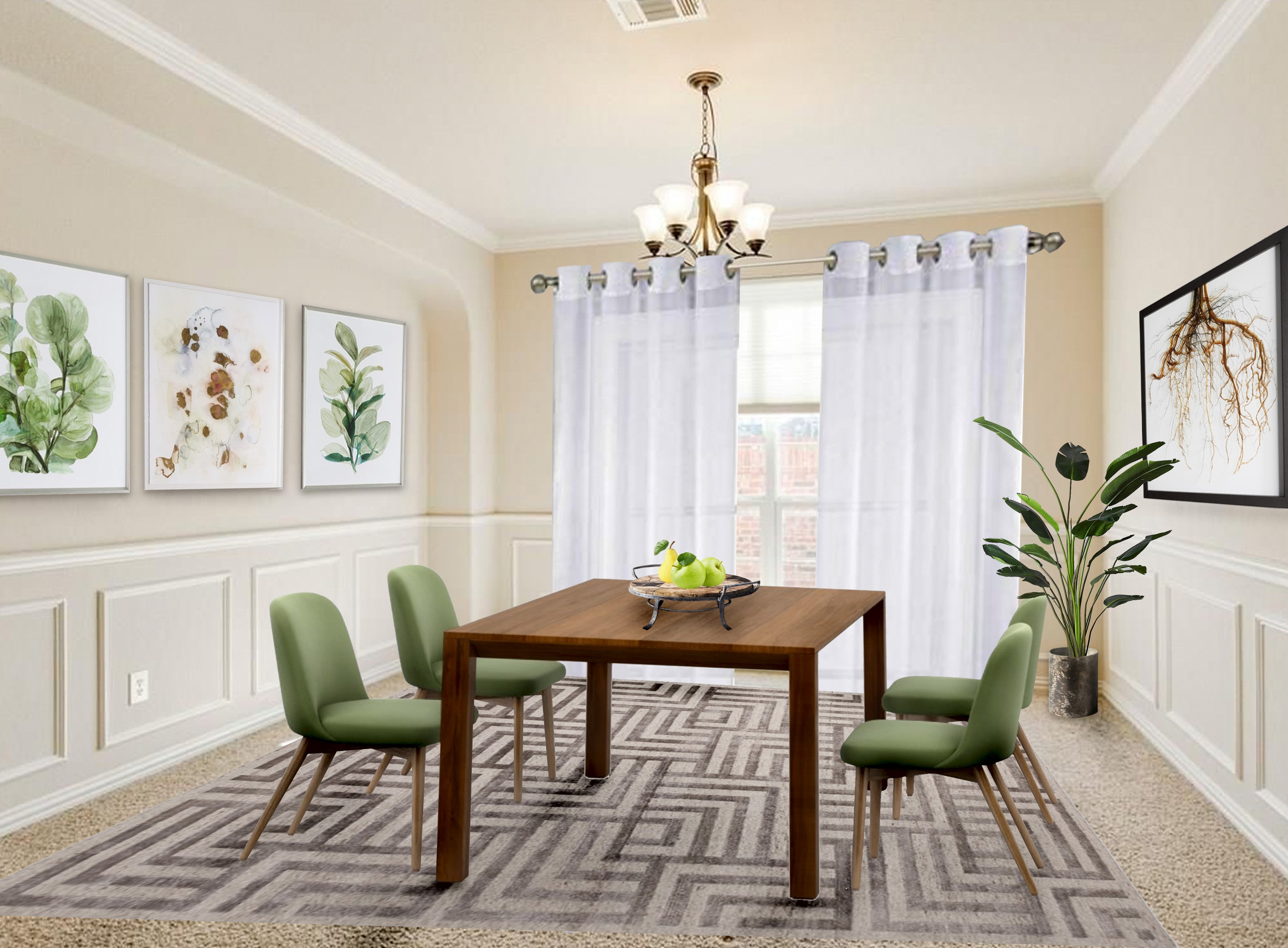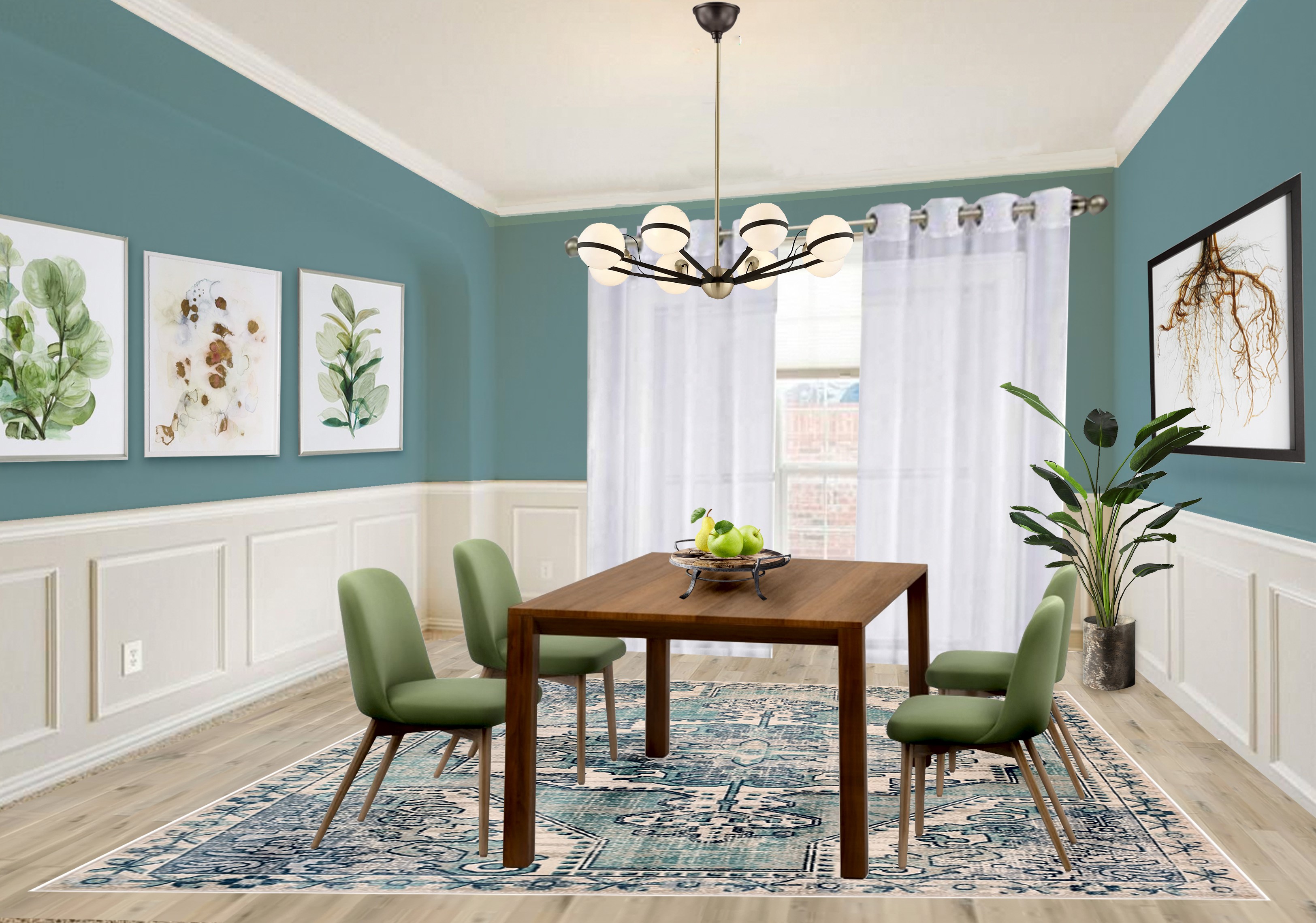 ---
What is Edesign? Try it Today
Interested in trying Edesign for your home? Find out more about Edesign in my blog article on How to Work With an Edesigner on a Budget and check out my Edesign and Online services.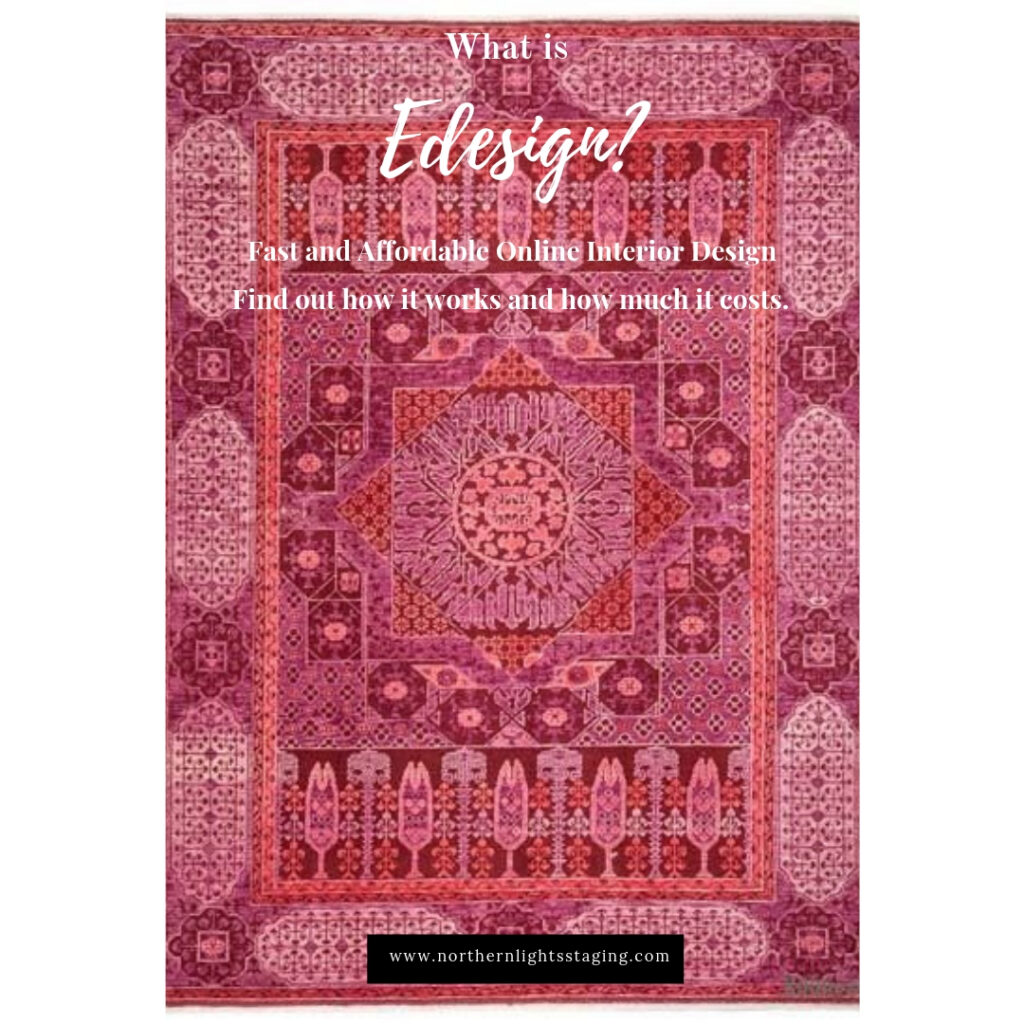 ---