Now that your home is ready to sell, you'll soon be receiving money as opposed to spending it, right? Well, to get your home in tip-top shape and really grab those buyers' attention, you'll need to spend a little to impress a lot. Before you start to panic, rest assured that there are many budget-friendly ways to get your home ready to sell that won't cost you a pretty penny.
Consider Small Renovations
There are definitely several simple ways to get your home ready to sell, but there are a few more extensive renovation projects you can take on first to really add the wow factor, all without spending a ton. For example, you can remodel your kitchen on a small, budget-friendly scale by painting cabinets, adding new hardware, or updating appliances. Another area of your home to look into is something you use every single day – the floor. Many buyers have hardwood floors on their list of things they are looking for in a home, but if your budget isn't flexible, replace the floors in public areas such as the kitchen and living room. Many major retailers like Home Depot have seasonal sales and promotions that can make flooring installation a definite possibility without your wallet taking a hit. Alternatively, you can seek out niche flooring distributors that offer daily specials and a more customized shopping experience.
 Make It Clean and Clutter-Free
When a buyer views your home, they'll be looking at everything, so it might be hard for them to imagine the space for what it truly is if the coffee table is covered in trinkets and closets are packed full. De-clutter the home to create the illusion of space and give buyers a chance to picture their life there, not yours. It won't cost a thing, and it can speed up the sale. You'll also get a head start on packing.
Once you've de-cluttered, you'll need to complete a thorough house cleaning. That even means getting down to the nitty gritty like wiping down baseboards and giving your blinds a solid dusting. You'll also want to make vacuuming a daily chore, preferably with a HEPA-filtered vacuum so you're picking up pet dander and allergens. If you're in the market for a new vacuum, look for deals on easily stored cordless models to help make this chore a breeze.
Stage on a Smaller Level
Hiring a professional to stage your home can be pricey, but there's no need to dish out the dough when you can stage on a smaller level. Simple changes, such as adding a ceiling fan, updating window treatments, placing cheap throw pillows on furniture, or replacing your decorative bath towels with ones that are crisp white, can make a huge difference. The best part is that many of the changes can be made for under $100 if you shop around for deals at retailers like Bed Bath & Beyond. Just use Bed Bath & Beyond coupons and promo codes to find discounts online.
If you choose to do the staging yourself, every home can benefit from a home staging consultation with a pro to give you a great checklist of everything you can do yourself to get your home ready for the market.
Welcome Them In
The front door doesn't seem too important at first glance, but it's the first thing the buyer will see. Plus, painting the front door is a cheap way to give your home a polished look, and you can do it without the help of a professional painter by following along with a tutorial. Before you go out and buy a gallon of candy apple red paint, take note that the current trends are leaning more toward darker hues of gray and blue, or even black. According to MarketWatch, black doors are becoming popular and can add up to $6,000 in home value. And to save money on paint, make note of sales and coupons from companies like Sherwin Williams.
Channel Your Green Thumb
You've seen plenty of homes with beautiful landscaping, and perhaps your thumb even turned green with envy. However, if you live in a climate where the temperature is scorching hot, you might feel as if your landscaping options are limited. The key is to adapt to your climate, and this means using flowers and plants that are drought-tolerant, such as purple coneflower, autumn joy, manzanita, or coyote brush. Rather than revamp your entire yard, add color and greenery in areas that are sparse to save both time and money. Look for sales at nearby nurseries or home improvement stores to help stretch your dollar.
Selling your home doesn't have to be expensive. There are small ways to get your home ready to sell, such as de-cluttering, upgrading the entryway, adding greenery, staging, and making small renovations. Making these changes will make a huge difference in the eyes of a buyer, not to mention a small one on your wallet.
Written by guest blogger Suzie Wilson from Happier Home. Suzie is an Interior Designer and author.
---
Did you know the right paint colors can help you sell your home for more? Or less if you pick the wrong colors?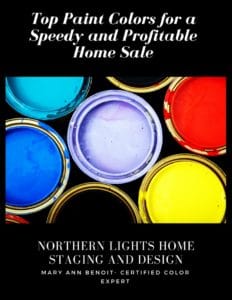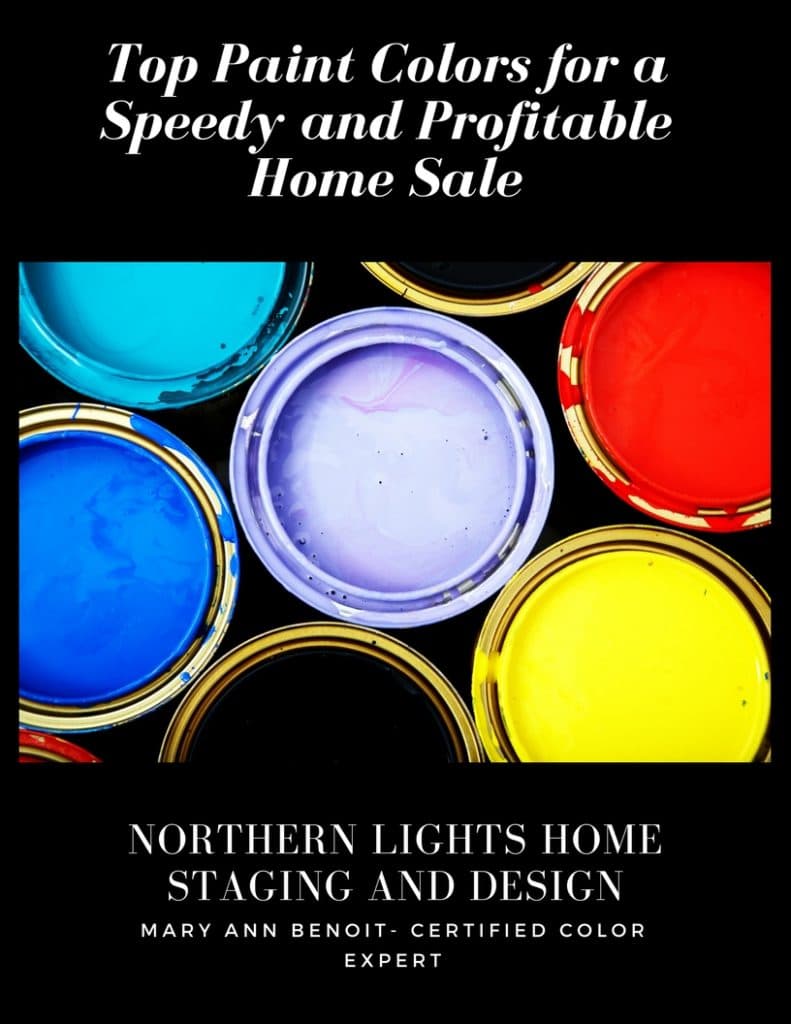 Get a Home Staging Consultation Today
Plan to do your home staging yourself but not sure where to start? Send me pictures of your house and I will give you a detailed checklist of everything you can do inside and out to prepare your house to sell fast, sell high and appeal to your target market. as well as tips for living in your for sale home and preparing for your photo shoot. Perfect if you will be living in the home while it is listed. If your home will be vacant, I can give recommendations for paint, upgrades and preparation for market. 
Learn more.
Call 907-362-0065 today
 info@northernlightsstaging.com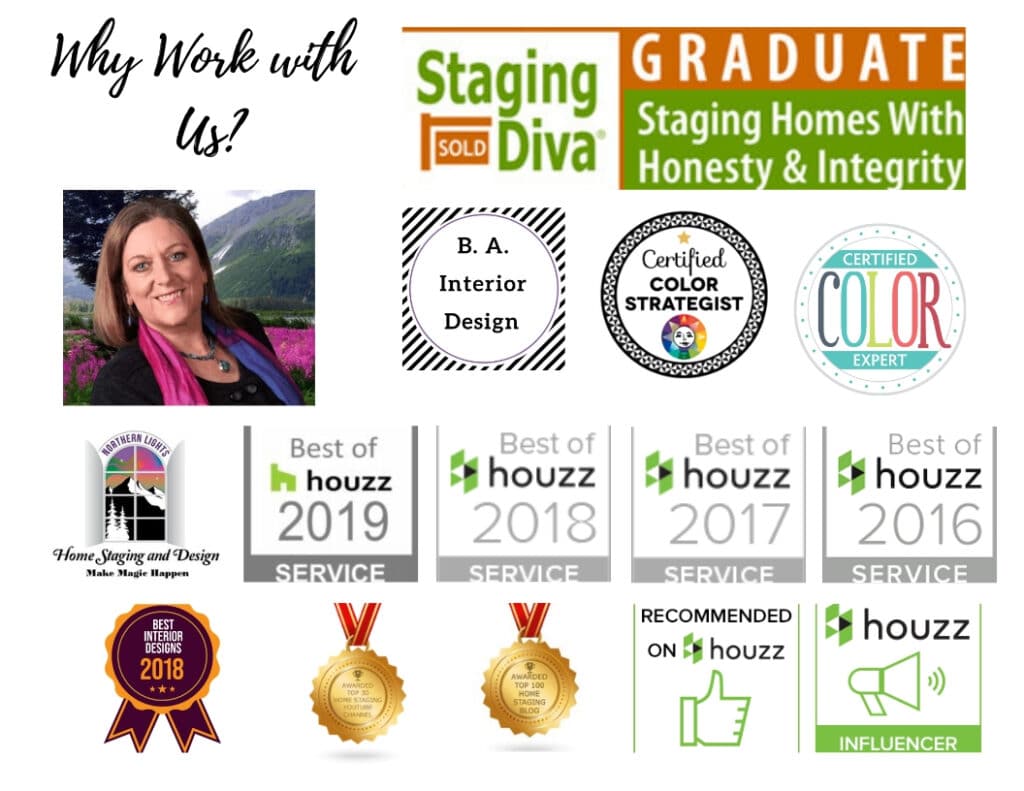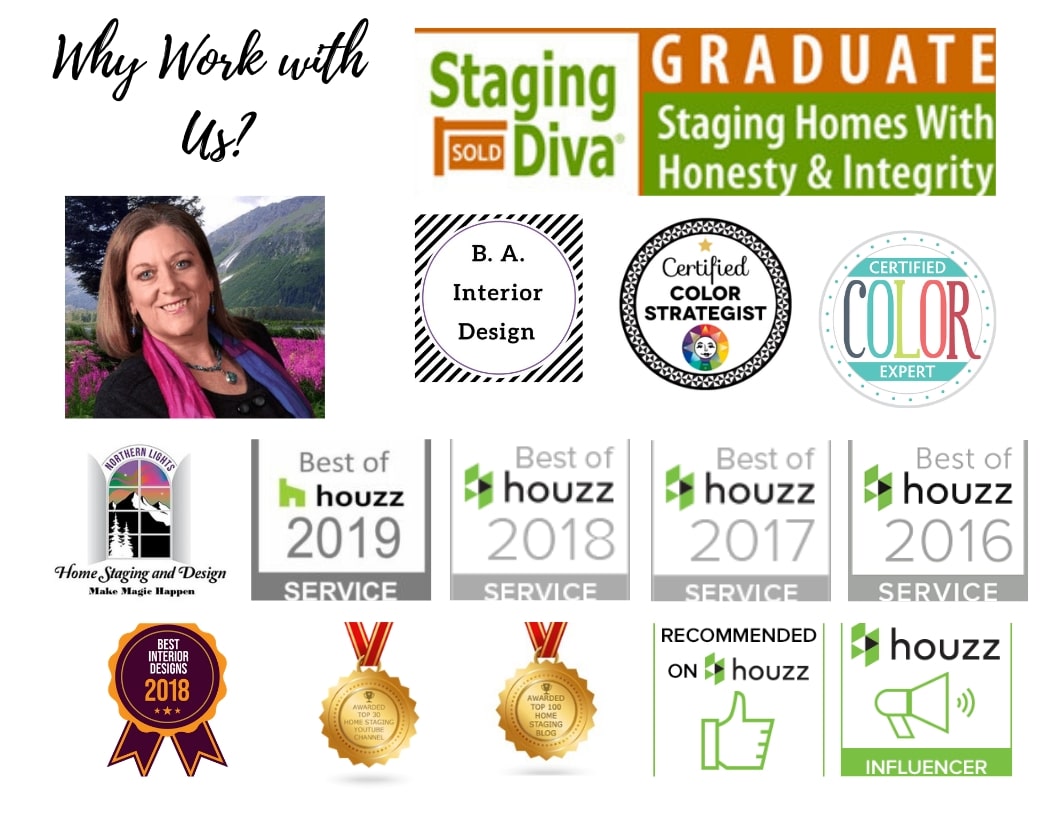 Prices subject to change without notice. This post may contain affiliate links.
---
Follow My Home Staging , Design and Color boards on Pinterest