When I look for products for your design, my goal is to find beautiful, authentic, and unique items that are eco-friendly and tell the stories of the cultures that inspired them!  I look for pieces that support local artisans and communities. 
Given that energy art forms the cornerstone of my Aligned Design approach, my quest is to find providers who can bring this art to life in the most sustainable, cost-effective, and high-quality manner. I want to not just procure items that are merely aesthetic but to curate pieces that strike a unique balance between beauty and uniqueness, all while championing eco-friendly practices. In essence, I strive to harmonize your space with art that radiates positive energy, while being affordable, and caring for the environment.
Vida creates beautiful glass trays of different shapes and sizes with my energy art that I have not seen anywhere else.  They also carry wall art and clothing and other accessories. They do a great job of using eco-friendly materials and donating to support social programs in the communities where their products are made.
These artists are wonderful artists and people I have gotten to know through Saturday Night Live Art Shows that all create wall art filled with amazing energy. Their pieces  can add wonderful color, meaning and inspiration to your home.
Brooke Harker– Los Angeles Contemporary Artist.
"In some ways, my paintings are time capsules, and I'm a historian of the ordinary."
 Sheryl Benjy– Abstract impressionistic painter, body painter, creative coach & creative educator.  "I help people like you add more color in your life".
Nichole McDaniel- Abstract Paintings and Photography.
"sharing an experience through a landscape or capturing a feeling in an abstract."
Beth Shahar– Israeli Based Contemporary Artist
"Sharing stories of hope and positivity, and bringing light and joy" through her art.
Wall murals are a great way to make a dramatic statement with art and set the foundation for the room. 
Rugs can be amazing works of art for your floor! Rugs aren't merely accessories for your floor—they can be stunning masterpieces that transform your space! Acting as visual anchors, rugs provide an exceptional way to direct attention, define a room's aesthetic, and set the tone for the color scheme. Ethnic rugs, in particular, are gems that blend cultural significance and artistry. They're typically crafted from natural materials like wool, silk, or cotton, making them not just ecologically responsible choices but also promoting a healthy indoor ambiance. Allow me to share some of my favorite rug sources with you.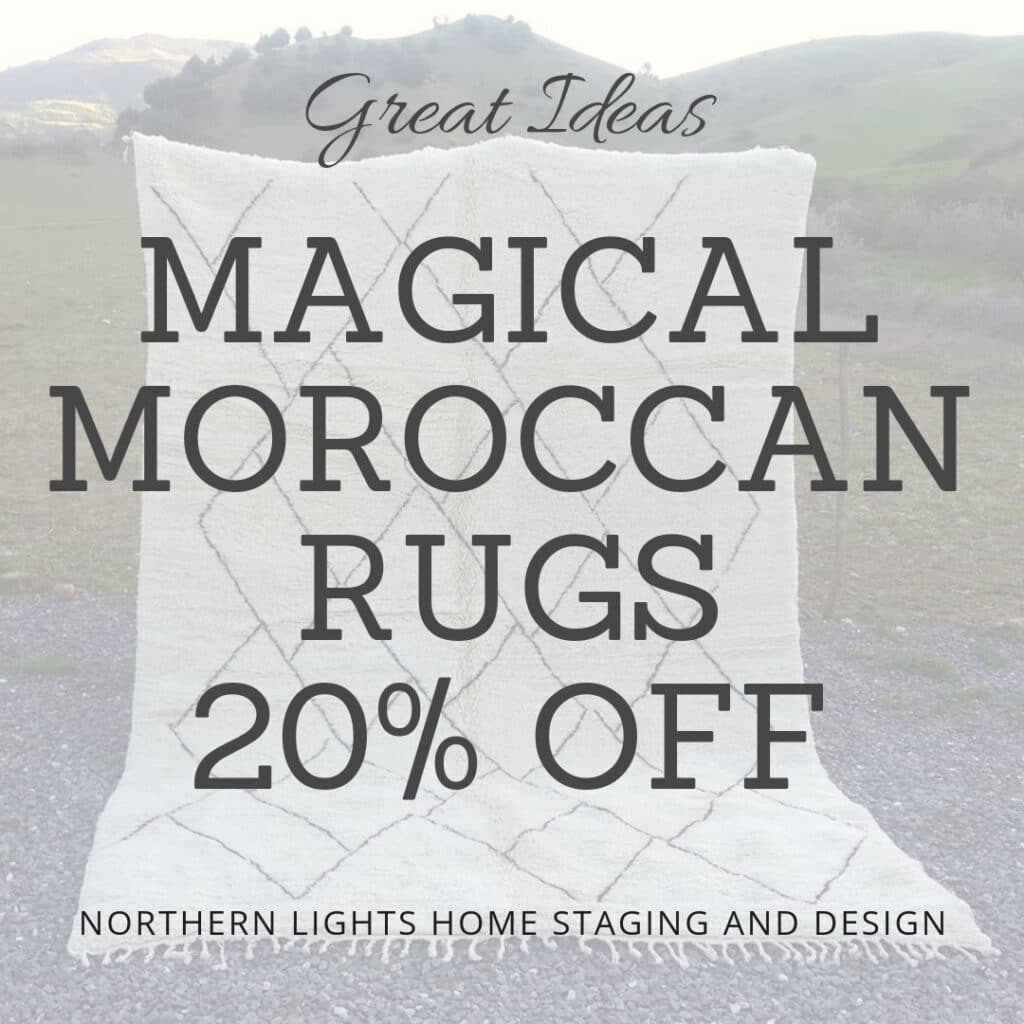 Atlas Weavers– My favorite trade source for authentic and beautiful Moroccan rugs. Get 20% off any non-sale item using the code "northern lights" at check out at atlasweavers.com. See my article on the Magic of Moroccan rugs to learn more about the different styles and how to use them in your décor.
My favorite source for beautiful authentic Turkish rugs, both new and vintage and Turkish pillows and furniture is Kilim.com. Authentic Turkish rugs are a beautiful focal point for any global style Interior Design including Turkish, Bohemian, Modern, and Vintage styles. And, they are great for eco-friendly design since most are made from wool and other natural materials! The vintage over-dyed rugs have beautiful rich colors! 

I love Surya! This is one of my favorite trade sources for beautiful handmade ethnic rugs from a variety of countries. Please watch this amazing and moving video about how their rugs are made and the people who make them! Surya also has some amazing pillows, art, lighting and other home décor. 
Eco-Friendly and Sustainable Furniture
See my unique energy art furniture at my store on Society6.   Select from a variety of coffee tables, end tables, credenzas, bar and counter stools and benches.
La Fuente– My favorite source for authentic Mexican, southwest and Central American home decor. I love their copper tables decorative masks and pottery, mirrors and windows! Beautiful workmanship and designs.
The Citizenry is another favorite source for global style furniture and decor from countries all over the world, many of which are eco-friendly.