Your global Interior Design style is Bohemian! You are a free spirit. Tell your story!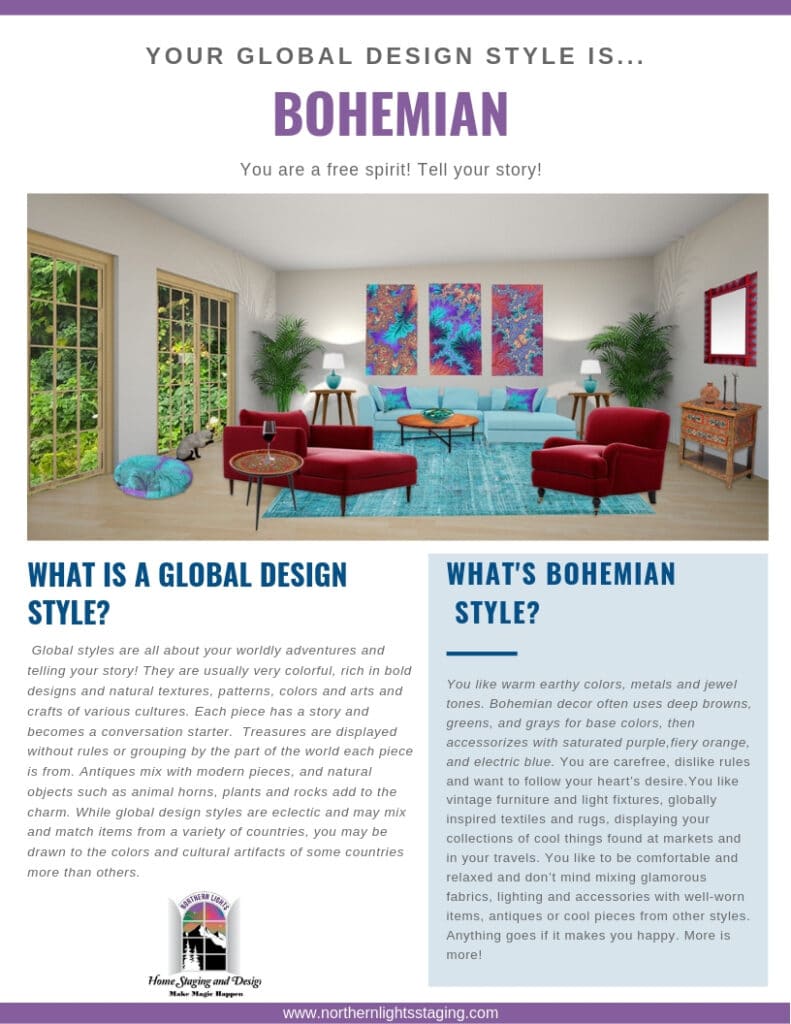 What is a Global Design Style?
Global styles are all about your worldly adventures and telling your story! They are usually very colorful, rich in bold designs and natural textures, patterns, colors and arts and crafts of various cultures. Each piece has a story and becomes a conversation starter.  Treasures are displayed without rules or grouping by the part of the world each piece is from. Antiques mix with modern pieces, and natural objects such as animal horns, plants and rocks add to the charm. While global design styles are eclectic and may mix and match items from a variety of countries, you may be drawn to the colors and cultural artifacts of some countries more than others.
What is Bohemian Style?
If you are drawn to Bohemian style, you probably like warm earthy colors, metals and jewel tones. Bohemian decor often uses deep browns, greens, grays or other neutral colors for base colors, then accessorizes with saturated purple, fiery orange, and electric blue and other jewel tones.
You are carefree, dislike rules and want to follow your heart's desire!
You probably like vintage furniture and light fixtures, globally inspired textiles and rugs, and love displaying your collections of cool things found at markets. thrift stores and in your travels.
You like to be comfortable and relaxed and don't mind mixing glamorous fabrics, lighting and accessories with well-worn items, antiques or cool pieces from other styles. Anything goes if it makes you happy. More is more!
Bohemian Style- Get the Look
So how do you get this look and pull it all together?  You could go all out and incorporate all the elements of Bohemian Interior Design, or you can add some key elements to your existing decor.
Try  lamps, pillows or rugs or art incorporating jewel tones. Try furniture, accessories or rugs from various countries, incorporating different textures and patterns.  Include some soft and sumptuous fabrics like velvet. Incorporate various metals. Mix modern and vintage pieces. Show off your treasures and memories, so your decor tells stories of your travels, adventures and your life.
Think about the end result you want. Although Bohemian style often epitomizes "more is more" with interesting objects everywhere, the key to a great end result that does not look cluttered is to curate your results a bit and be a little selective, giving space around key objects so they have a chance to shine and really tell their story. A more curated and elegant look is often described as "Haute Bohemian". This is the look I personally prefer.
Here is an example of a recent Edesign I did for a Bohemian style living room. See my blog article, Get the Look-Bohemian Style to learn more about my inspiration and the products I used and why.
You can see some of the design products I used by clicking on the picture below which goes to a Pinterest board with links to the products I used.  Some contain affiliate links, which means if you purchase, they give me a small commission but it does not change your price.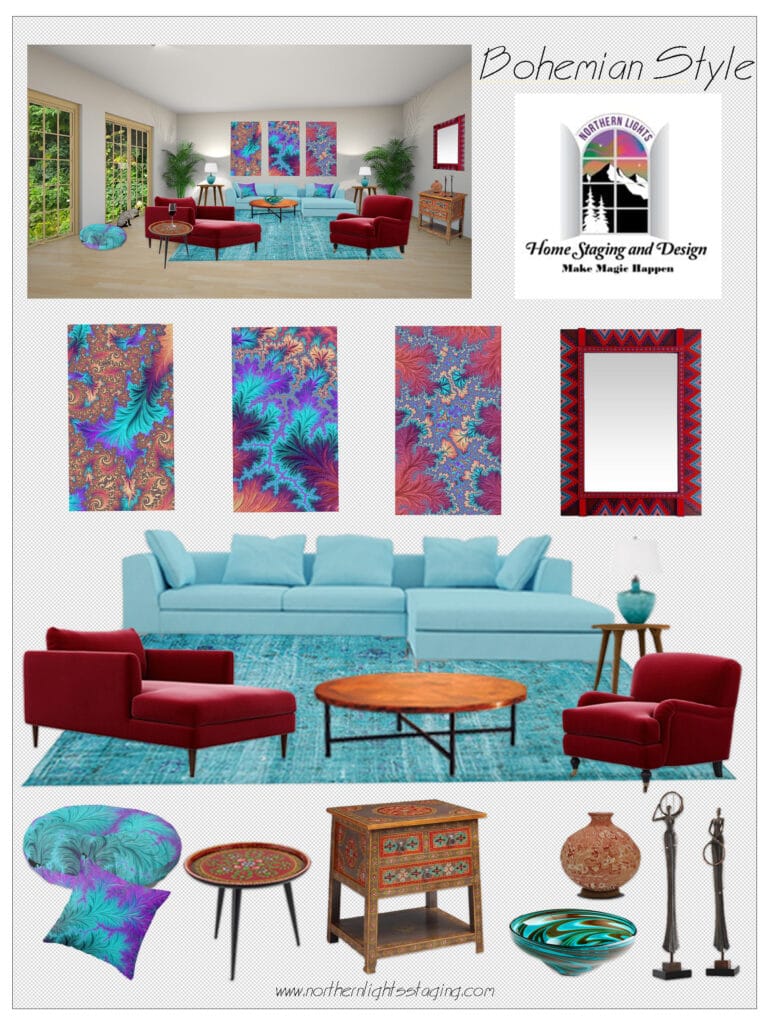 Your Custom Bohemian Interior Design Style Pinterest Board
For daily inspiration, check out your custom Pinterest board on Bohemian Interior Design. I update it weekly with new ideas.
Are you Inspired?
These are just a few ideas of how to capture this beautiful style in your home. For help in putting it all together, other options to create this beautiful style, or help with your Interior Design or color needs, call 907-362-0065 today for a design consultation or check out my Online and Edesign services. I would love to help you.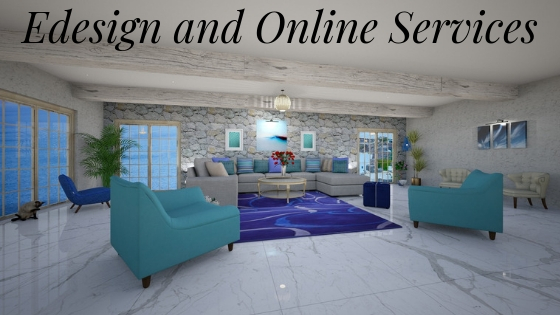 ---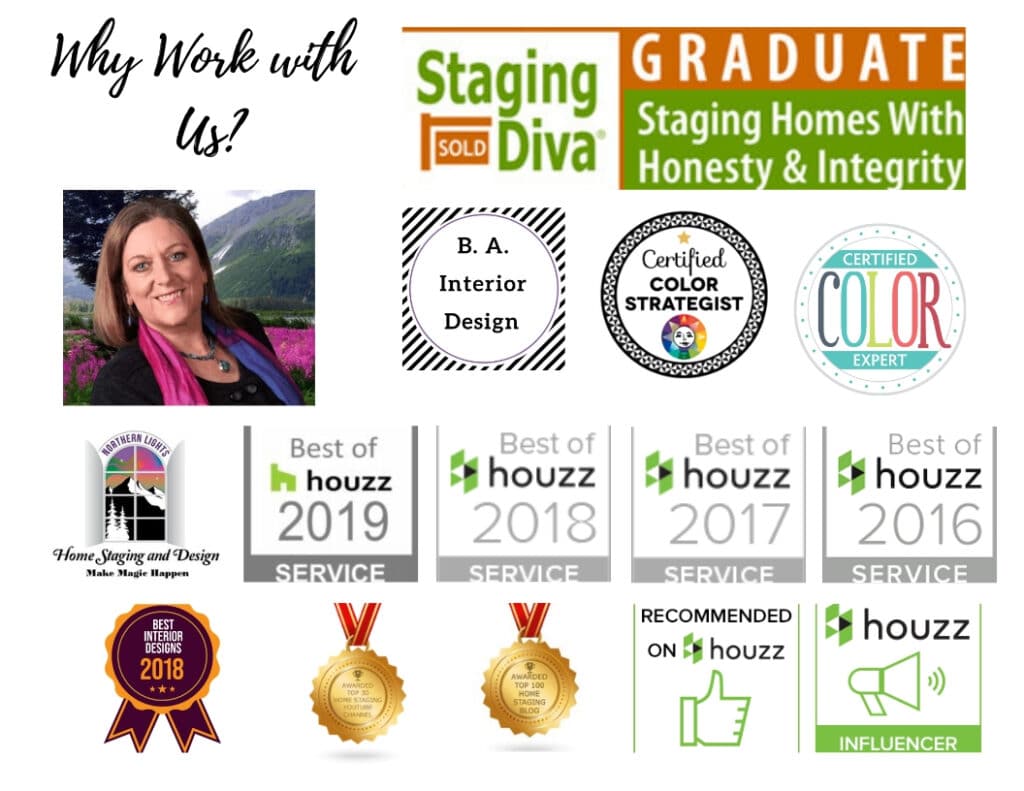 Call 907-362-0065 today
 info@northernlightsstaging.com