Your Global Design Style is Mexican! You are colorful, bold and happy!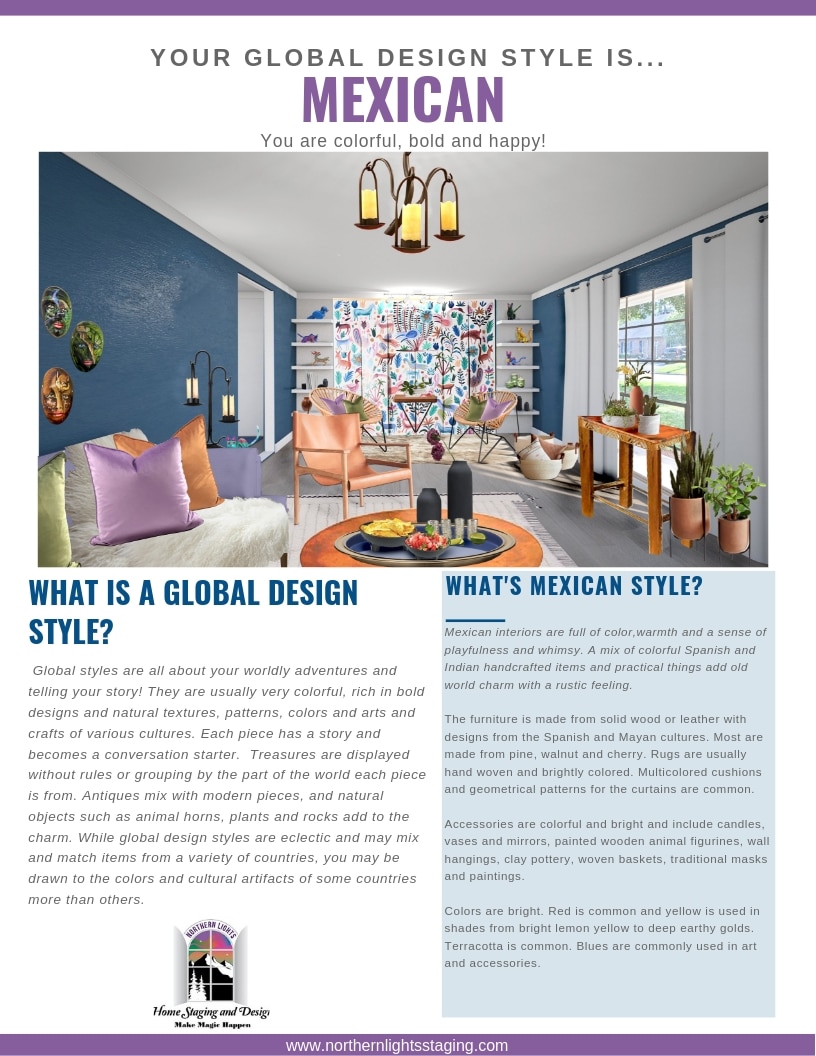 What is a Global Design Style?
Global styles are all about your worldly adventures and telling your story! They are usually very colorful, rich in bold designs and natural textures, patterns, colors and arts and crafts of various cultures. Each piece has a story and becomes a conversation starter.  Treasures are displayed without rules or grouping by the part of the world each piece is from. Antiques mix with modern pieces, and natural objects such as animal horns, plants and rocks add to the charm. While global design styles are eclectic and may mix and match items from a variety of countries, you may be drawn to the colors and cultural artifacts of some countries more than others.
What is Mexican Style?
Mexican style is a global design style. Mexican interiors are full of color, are welcoming, warm and there is often a sense of playfulness and whimsy. A mix of colorful, exotic Spanish and Indian handcrafted items and practical things add old world charm.
The furniture is made from solid wood or leather with designs from the Spanish and Mayan cultures. Most are made from pine, walnut and cherry. Sofas, beds and tables often have a rustic look. Rugs are usually hand woven and brightly colored. Multicolored cushions and geometrical patterns for the curtains are common.
Accessories are colorful and bright and include candles, vases and mirrors, painted wooden animal figurines, wall hangings, clay pottery, woven baskets, traditional masks and paintings.
Colors are bright. Red is common and Yellow is also used heavily in shades ranging from bright lemon yellow to deep earthy golds. Terracotta is common. Blues are commonly used in art and accessories.
---
Here is an example of an eco-friendly Edesign I did for a Mexican style living room. The clients were a retired couple that loved to travel and enjoyed collecting art and figurines from Mexico and other countries. They wanted a space rich in color where they could relax, read, watch TV, entertain and share their love of travel and ethnic art. They also wanted a space that was as eco-friendly as possible. Get the Look- It's Eco-Friendly!
Want to learn more about how to get the look of Mexican style design? Check out my blog article, Get the Look-Mexican Style to learn more about the Edesign for this eco-friendly Mexican style living room. See how it all came together, the products I chose and why. Get Inspired
Follow me on Pinterest for daily inspiration on global style, eco-friendly design. Check out my board on Mexican style for daily inspiration on this beautiful style!
Create a Mexican Style Oasis in Your Home
Create an eco-friendly, global style room in your home!  Check out my Online and Edesign services. I would love to help you.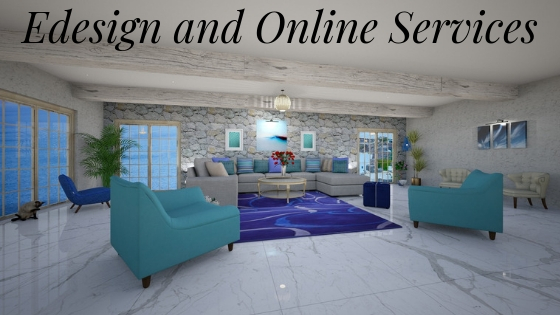 ---