Welcome to Saturday Night Live Art Shows where I share my fractal art designs in my "Magic" Aligned Energy Art series in an Edesign I created to highlight them and express their energy in a space. 
I created these designs as part of my journey to create new art every day for 100 days, and my experience in week 14.
Everything is energy. Magic is what happens when you open your mind and heart to possibility. It is what I feel when I create something beautiful and share it with you.
Tune in and allow yourself to see and feel what is around you.
Magic shows up every day. Sometimes it is big and dramatic, like the Northern Lights.
Often it is in the small things. It happens when we set our intention. Expect the unexpected.
What magic do you intend to make happen? Surround yourself with art that reminds you what is important and enhances the energy of your space.
"Magic" Energy Art- See the Show
"Magic" Aligned Energy Art
If you have watched some of my previous shows, you know everything is energy.
I like to make three pieces that can work together in a group, say behind a sofa. So, I created 3 more pieces, and used one design for pillows on the sofa as well.
Using Aligned Energy Art in your space.
This room expresses a Modern, Elegant Bohemian style that is relaxing, rich, and expressive.  It is very connected to nature with the colors and natural materials in the furniture, flooring, rug, and art. The colors, textures and details of the Magic, Magic #2, and Magic #3 evoke a feeling of entering a secret, magical garden where you are noticing and sensing all the small wonders. Magic #4 and #5 evoke a larger sense of wonder you might feel when seeing northern lights.
Surprise your guests with expressions of gratitude for them and who they are with a "Gratitude" serving tray and " I Love Your Energy" cutting board. Show them you "see them" and appreciate who they are.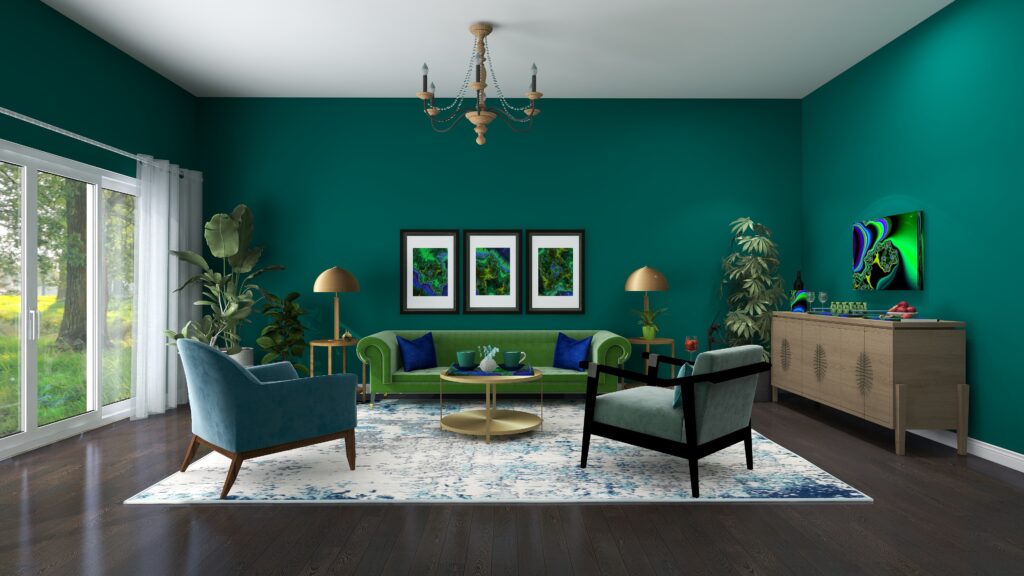 If the message of "Magic", resonates with you, then adding art  like this that is meaningful as well as beautiful is a great way to create your perfect space and remind yourself of what is important in your life each day when you see it.
Add art like this to your living room,  meditation, or workout area or wherever your intuition guides you to put it.
Because this art is digital, it can also be put on a variety of home decor products such as pillows, bedding, serving trays, coffee mugs, notebooks, and more. Think about your own transformation  as you sip your morning coffee or write in your journal, or while doing yoga.
 Aligned Energy Art  is another layer of meaning beyond the visual beauty in creating your perfect space that is  aligned with who you want to be.
Your selection of art determines the energy you want to surround yourself with.

How do you want to feel?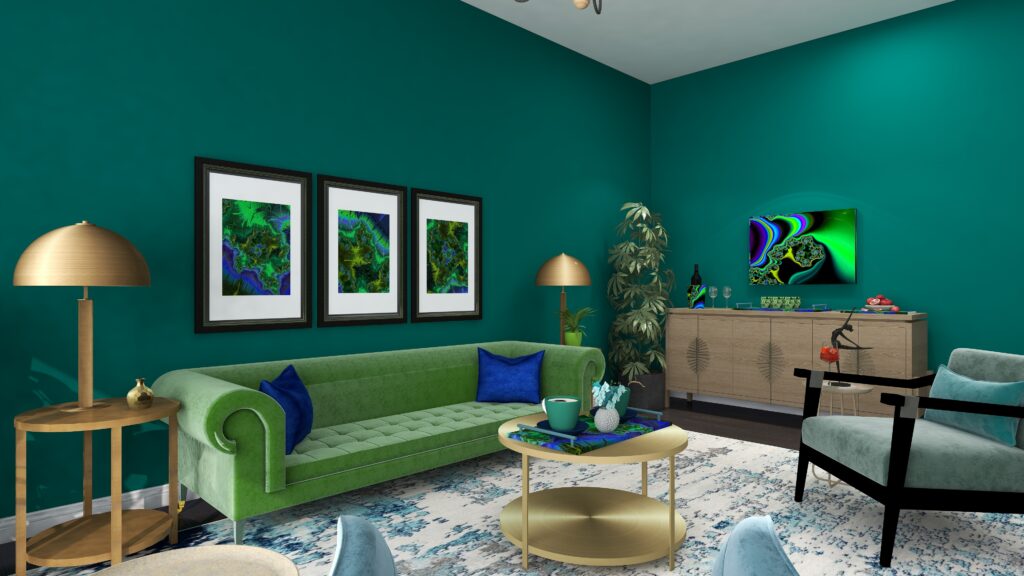 Get the Look with "Magic" Aligned Energy Art
Love the look of this space? Click on the pictures to link to the "Magic" energy art I used in this space.
While serving your guests or family, why not let them know how much you love their energy, or the essence of who they are. Show them you see "them".
Are you grateful for the people in your life you are serving in this celebration or for something they have done? Why not express it with a Gratitude cutting board.
Here are a few of the other products or similar ones I used in this design.
Fractal art is digital art I create on my computer. I love creating fractal art because it allows me to work with brilliant colors, interesting textures, and incredible detail. Learn more about how it is created in my Saturday Night Live Art Show, " A Passion for Purple" where I show some video of the process. 
Are You Ready to Create Your Perfect Space with Art?
Are you ready to create your perfect space with amazing art?  Let's tell your unique story and find the alignment of art, science, and energy that makes you happy. Try my Aligned Design consultation and let's get started.
Learn More About Energy, Healing, and Transforming Your Life
Many of the energy concepts that inspire my art to create harmonious energy in your home, I learned from Jim Fortin's Transformational Coaching Program (TCP). His program changed my life and almost everyone that I know that has taken it. Get o the waitlist for the next TCP program here.
What is Your Design Style?