Do you love the look of Global Style Design? It is filled with rich colors, exotic designs, and hand-made works of art that bring the beauty of different cultures to life in your space.
Is red your favorite color?
Red is often associated with love, passion, fire and heat, strength, power, courage,  vibrant energy, and excitement.
Red can be dramatic when used in your décor.
Like all colors, red means different things in different cultures. Often, when you see red as a color in a country's flag,  it is often an important color in that culture.
One thing is for sure.  Red is not a  boring color and can make a dramatic statement. Be bold and use it as your primary color or as an accent.
Get the Look with a Great Red Paint Color
Get the look of various global styles with a great red paint color combined with global style rugs, pillows, art, and lighting. See examples of some of my Edesigns below. I share some of the products I used to help you get the look. Most contain affiliate links, meaning I make a small commission if you buy something for sharing with you at no additional cost to you.
Shades of Red in Mexican Style Design
Shades of red are prevalent in Mexican Style Design.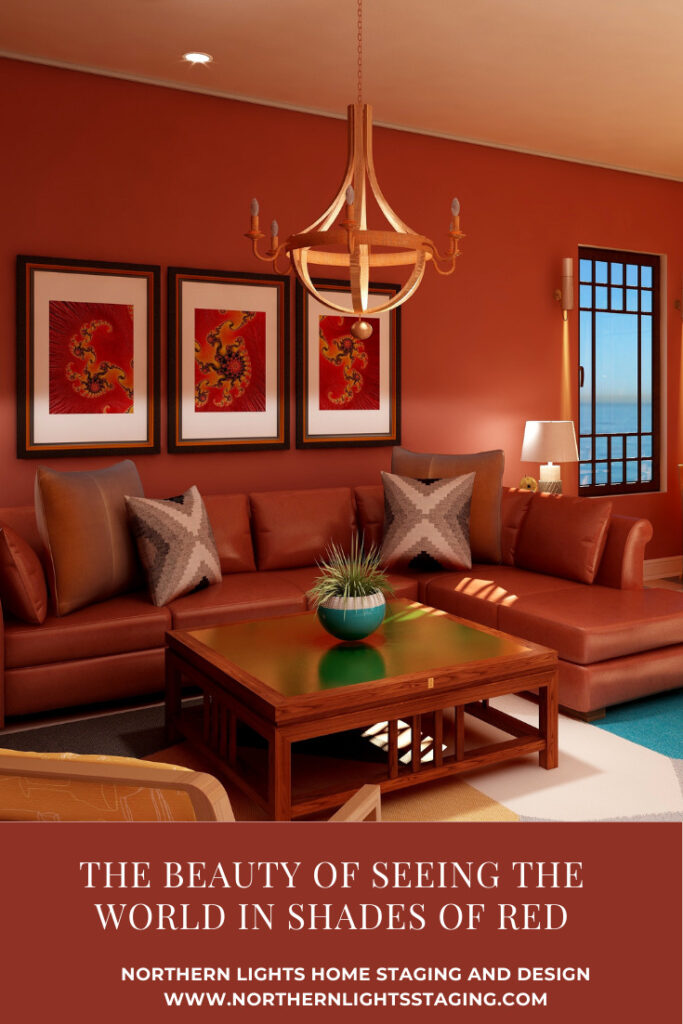 Shades of Red in Turkish Style Design
Shades of red are often used in Turkish-style designs.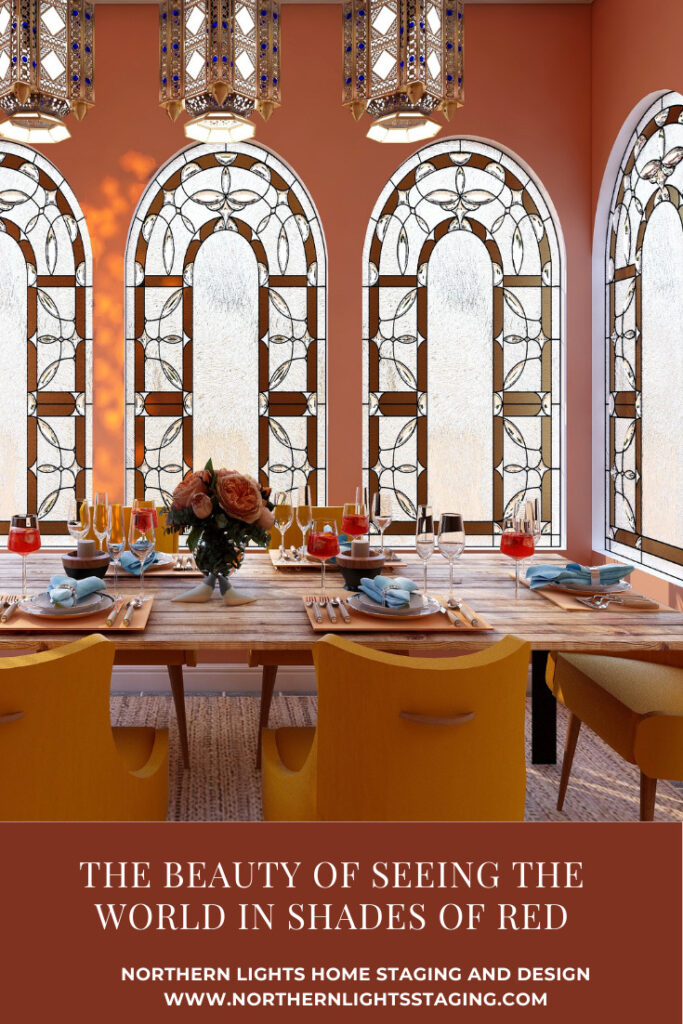 Shades of Red in Modern Global Styles
Modern global styles are clean and uncluttered, with more straight lines but mixed with patterns and textures from a variety of countries in the rugs, pillows and often the art.
Notice how the same room looks very different by using different shades of red for the wall color.
See how the whole look changes by changing the paint color and trying a different shade of red.
Or change the look by changing your art, as in my Edesign below highlighting a beautiful painting by artist Brooke Harker, called All Roads Lead. See or purchase her work on her website. This is an example of one of her cityscapes that she loves to paint, recording the connections between people as witnesses in a moment.
Here is another example using a shade of red, Passionate by Sherwin Williams on the walls while also using red accents in the rug, pillows, and furnishings. Softer shades of reds and pinks are more relaxing for use in bedrooms.
Are You Ready to See the Beauty of Red in Your Home?
Are you ready to create your perfect space with Global Style design? Let's tell your unique story and find the alignment of art, science, and energy that makes you happy.  Let me help you take that trip to your perfect space in a Ferrari instead of a stagecoach. Try my Aligned Design consultation and let's get started.