Do you love blue, and the look of Global Style Design? Fill your home with your favorite color, and the rich colors, exotic designs, and hand-made works of art that bring the beauty of different cultures to life in your space.
Blue is associated with tranquility, peace, nature, water, and the sky. It is considered by some to be a "cool" color and may affect your perception of how warm or cool you feel in a space.
It may at times evoke a feeling of sadness, which may be where the expression "feeling blue" or having the "blues" came from.
Blue is the majority of people's favorite color and is considered a "trustworthy" color.  It is a nice color to consider for business for that reason if you want customers to feel comfortable and relaxed in your space and to trust you.
Blue means different things in different cultures. If it is in a country's flag,  it is often an important color in that culture. Regions near oceans or lakes, often use blue in their interiors.
As with all colors, individual experiences affect how you feel about certain colors.
Get the Look with a Great Blue Paint Color
Get the look of various global styles with a great blue paint color combined with global style rugs, pillows, art, and lighting. See examples in my Edesigns below. I share some of the products I used to help you get the look. Most contain affiliate links, meaning I make a small commission if you buy something for sharing with you at no additional cost to you.
You can go light and airy or dark and dramatic as in the two living rooms below that both use a monochromatic blue color scheme.
Shades of Blue in Bohemian Style Design
Shades of blue are prevalent in Bohemian Style designs, which often highlight natural elements such as plants, birds, and natural materials.
Shades of Blue in Greek Style Design
Shades of blue are often used in Greek-style designs. Many areas of Greece are next to the sea, the the designs reflect the connection with the ocean.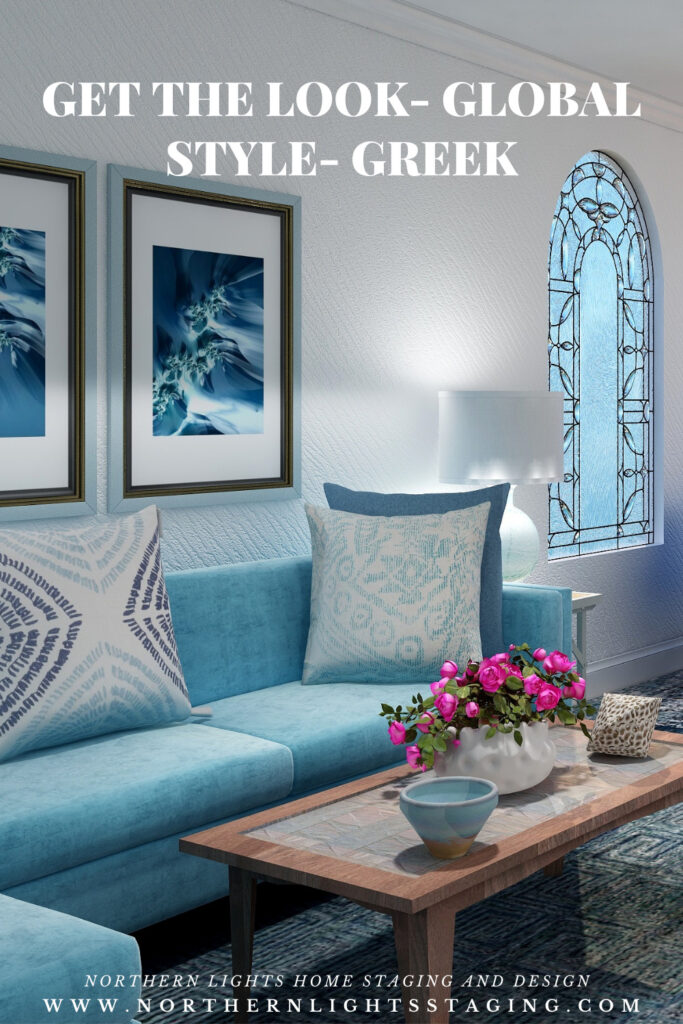 Shades of Blue in Moroccan Style Design
Blue is a common color in Moroccan style architecture, Interior Design and art. Note the blue in the art, representing Chefchaouen, which is a blue city in the north of Morocco.
Shades of Blue in Modern Global Styles
Modern global styles are clean and uncluttered, with more straight lines but mixed with patterns and textures from a variety of countries in the rugs, pillows and often the art.
Because blue is generally a relaxing color, I used it for both this Modern Global Style office and Wellness Center.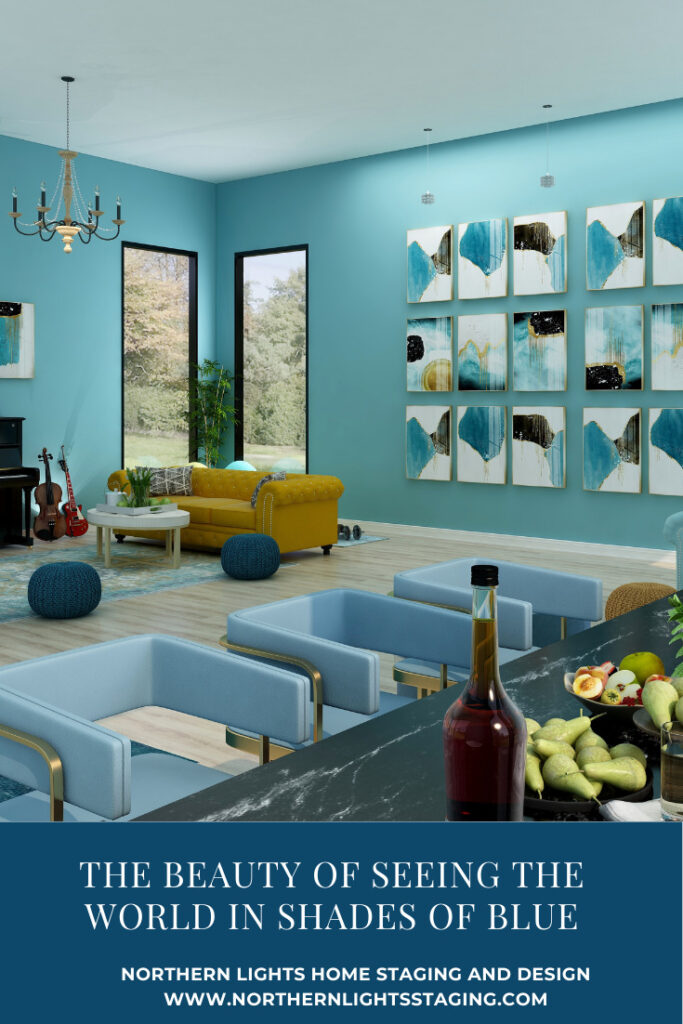 Are You Ready to See the Beauty of Blue in Your Home?
Are you ready to create your perfect space with Global Style design? Let's tell your unique story and find the alignment of art, science, and energy that makes you happy.  Let me help you take that trip to your perfect space in a Ferrari instead of a stagecoach. Try my Aligned Design consultation and let's get started.