Do you love purple, and the look of Global Style Design? Fill your home with your favorite color, and the rich colors, exotic designs, and hand-made works of art that bring the beauty of different cultures to life in your space.
Purple is not commonly used in many cultures because it was often an expensive color to create. So when it was used, it was often associated with royalty. 
On the color wheel, purple is between red and blue and can take on aspects of its neighbors. Like blue, purple can feel calm and relaxing, and is the color of nature, as many wildflowers are purple. Like it's other neighbor, red, it can feel stimulating, energetic and maybe passionate.   Darker shades of purple are sometimes associated with wisdom.
Purple is a symbol of status, wealth, and royalty, and it has also been used in religion, linking it to spirituality and mysticism. Some believe it inspires creativity. Because it is versatile in its meaning, it connects with a wide range of people and is a complex color.
Regarding global style, I have used it in Indian style design as I have found the color used in some beautiful Indian rugs. I think it can work beautifully in Bohemian and Modern Global styles as well.
You can often find purple used in accents in Morocco. In Mexico, shades of purple can be seen on stucco walls,  furniture, fabrics, and architectural features.  Purples are often found in Turkish rugs, providing inspiration for the rest of the decor.
Purple is not a color commonly used. Be bold, celebrate color, and try it for yourself.
Get the Look with a Great Purple Paint Color
Get the look of various global styles with a great purple paint color combined with global style art, rugs, pillows, and lighting. See examples in my Edesigns below. I share some of the products I used to help you get the look. Most contain affiliate links, meaning I make a small commission if you buy something for sharing with you at no additional cost to you.
You can go light  or dark and dramatic. 
Use Purple with Black and White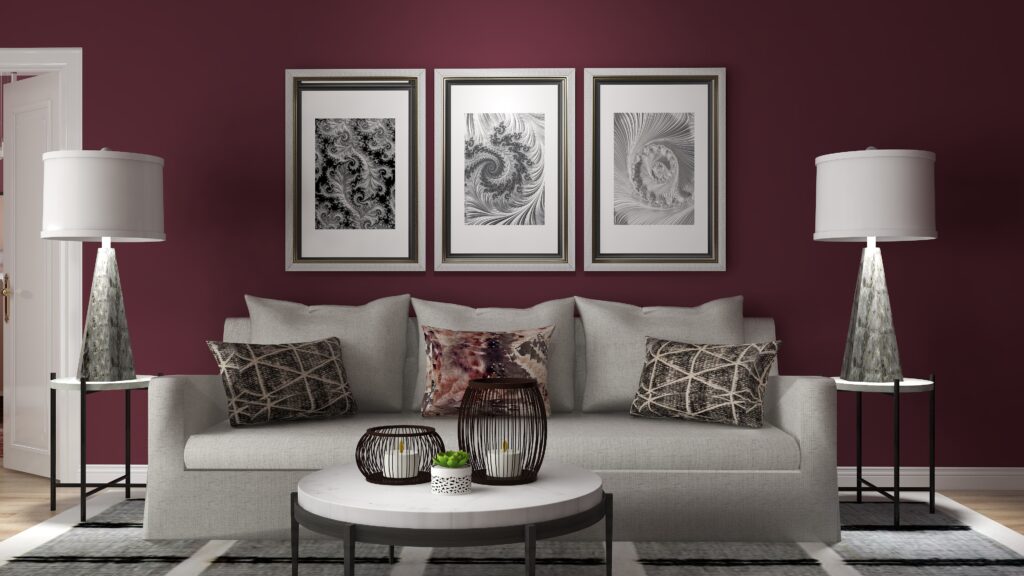 Use Purple and Contrasting Colors for a Bohemian/Mid-Century Modern Look
This Edesign mixes purple with contrasting orange, yellow and green in the art, rug, and accents to create a colorful room that is a mixture of Bohemian and Mid-Century Modern styles. My Spring fractal art collection brings a nice contrast in green to the purple walls and ties to the green outside, helping to bring the outside in. Learn more in my blog article, I Learned to Solve all my Interior Design Problems by Dancing- Be Brave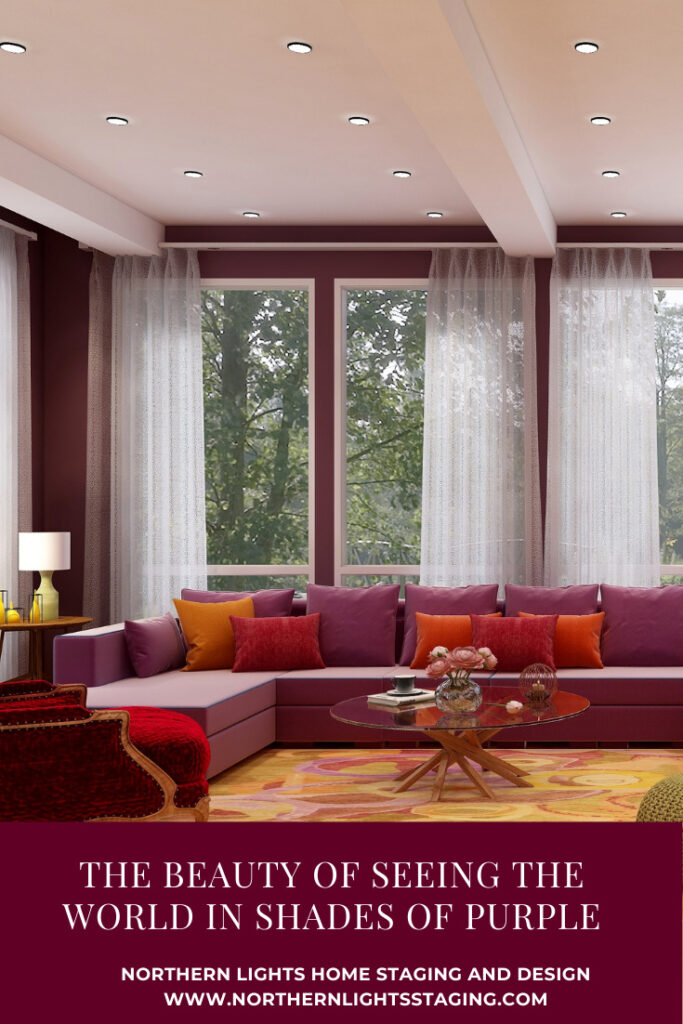 Bohemian Style- Change the Look with Contrasting Accessory Colors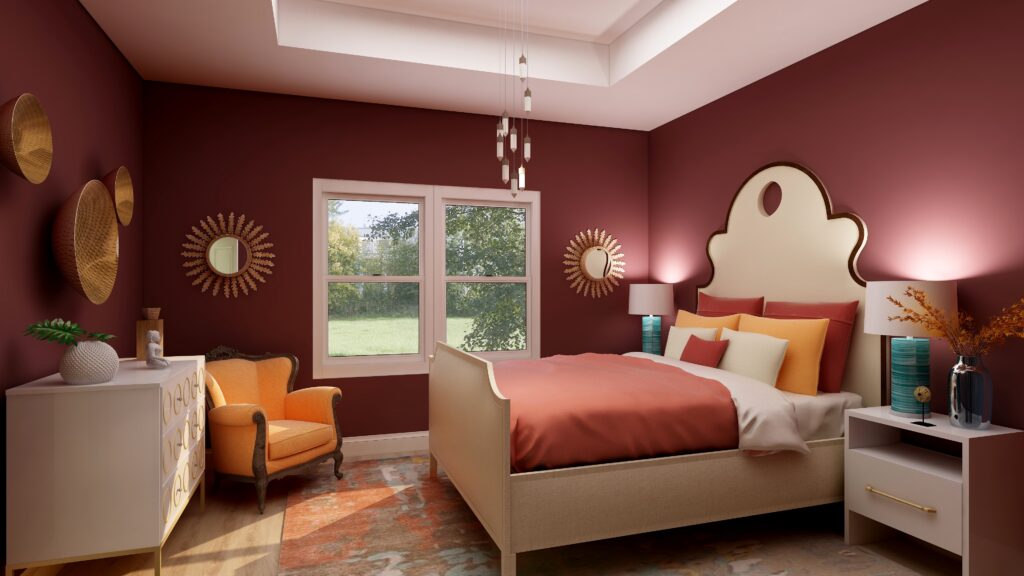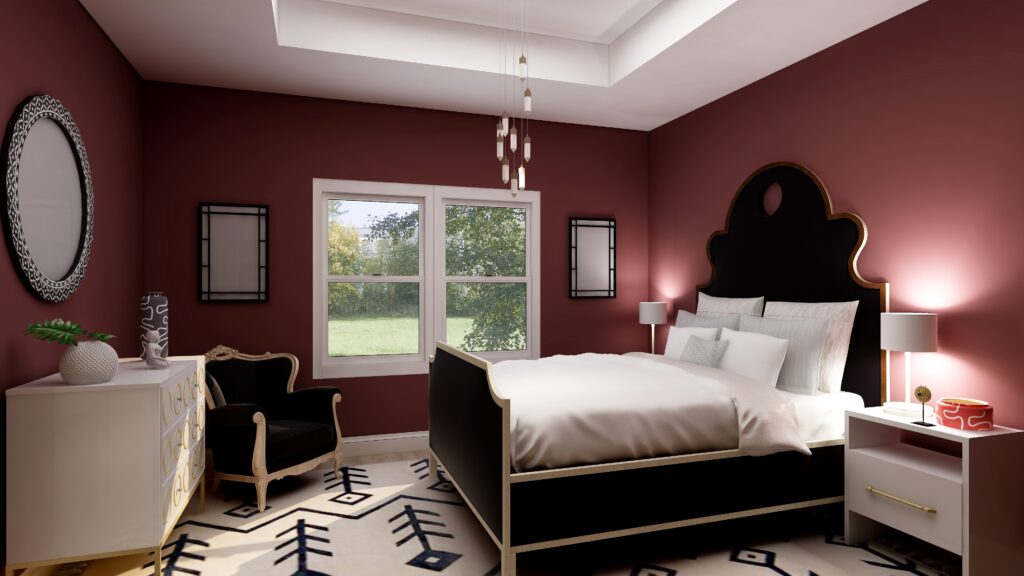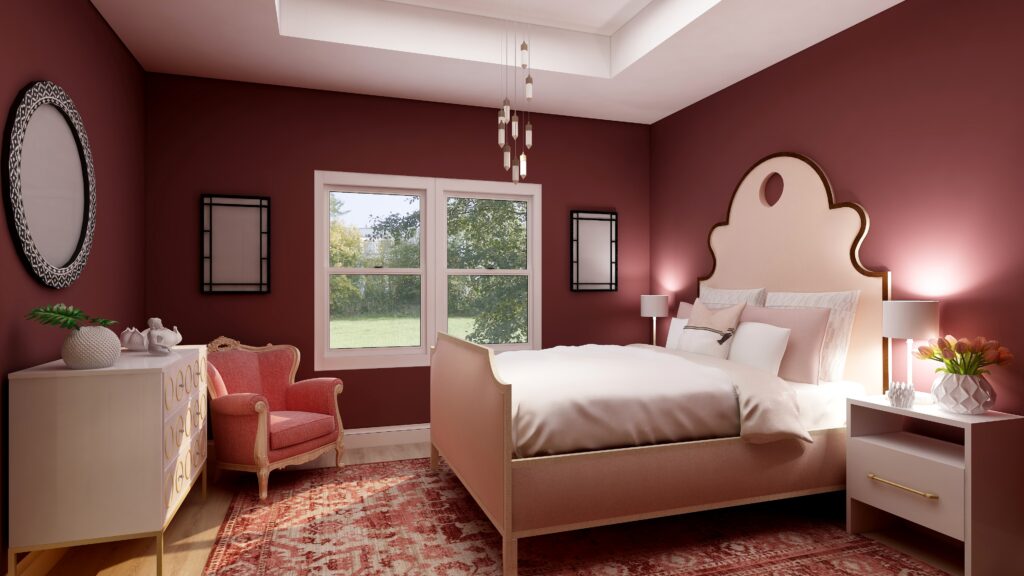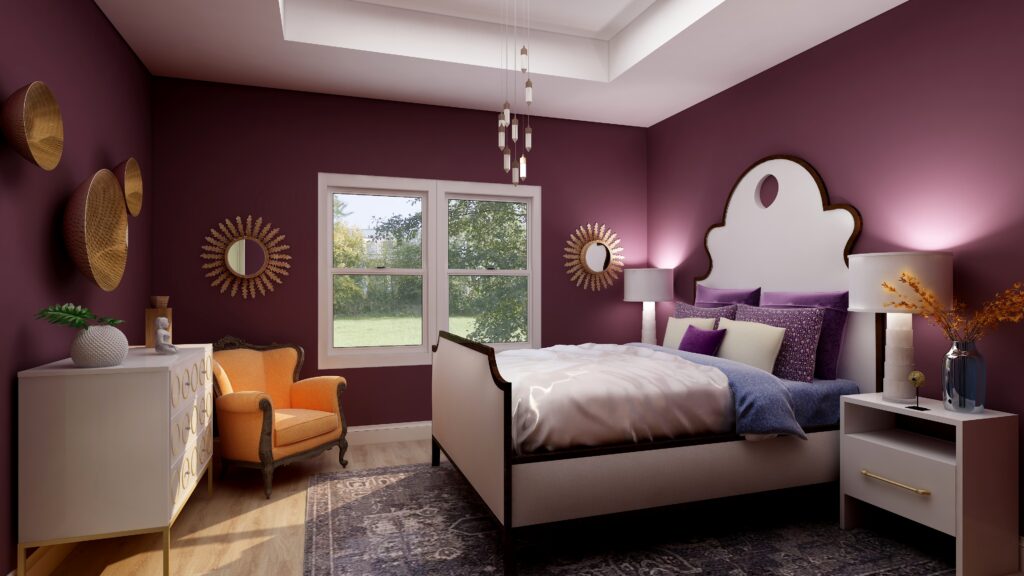 Modern Global Style- Change the Feeling with the Lighting
Whatever purple you choose for your walls, will change it's appearance based on the light. The light is always the boss. So consider if you will like the way it looks at night and during the day. This Edesign highlights my Deep Purple fractal art. I love the way the people looks in the different lighting. Learn more in my blog article, How to Make Magic Happen in Your Home with Lighting.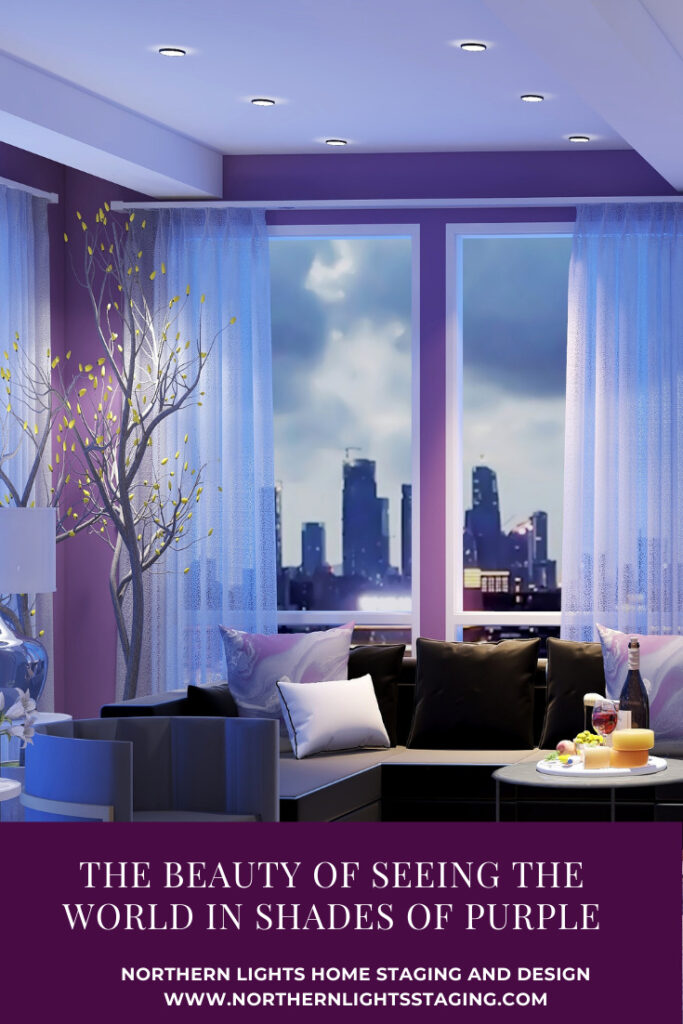 Try a Neutral Wall Color with Purple Art and Accessories
In this Edesign, I selected a wall color that is more neutral with just a touch of lavender and highlighted the purple fractal art I created, called "A Passion for Purple". I also used purple in the rug and furnishings. The neutral wall really makes the purple art and accents pop!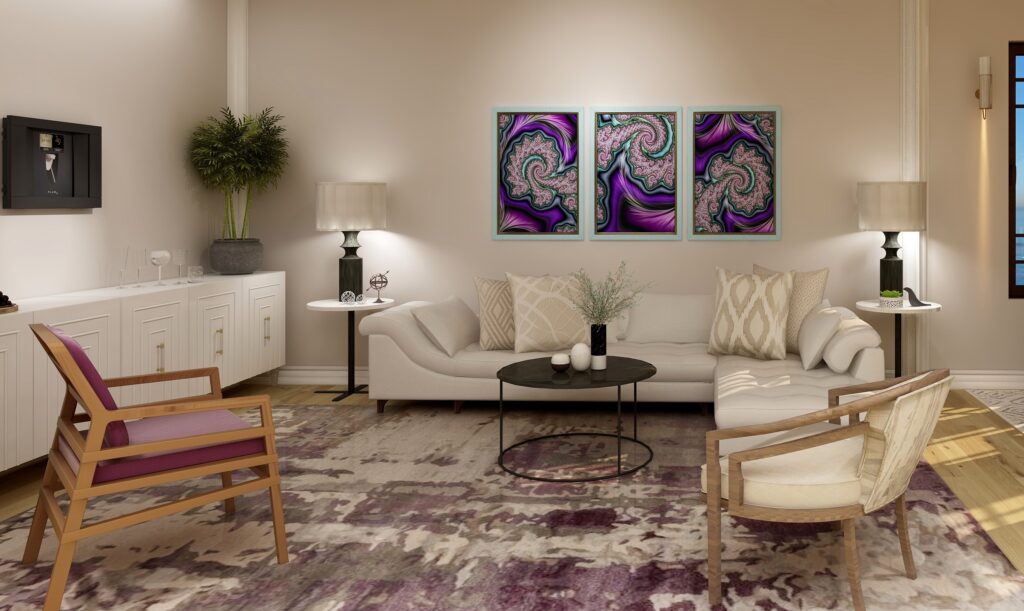 Are You Ready to See the Beauty of Purple in Your Home?
Are you ready to create your perfect space with Global Style design? Let's tell your unique story and find the alignment of art, science, and energy that makes you happy.  Let me help you take that trip to your perfect space in a Ferrari instead of a stagecoach. Try my Aligned Design consultation and let's get started.