Contrast is the Key to Striking Beauty
While in my doumbek class last week, my drum teacher Amir Etemadzadeh, who is a native of Iran was talking about the importance of being able to distinguish clearly all the notes we can make on our drums. The more notes, the better.  The more clearly they are different from each other, the better and more beautiful it sounds to the listener.
Amir describes it as creating a beautiful and delicious meal and all the notes are like the spices and layers that make it delicious to the ears. 
As he waxes poetic about the beauty of contrast and how critical it is to distinguish the doum from the slap, and how the Teks and Kas should be as bright and high as possible, my mind wanders to Interior Design and the importance of contrast there as well. 
In music, if the notes are not easily distinguishable, they can all start to sound the same, and some notes will make others sound muddy or dull because each is not living up to its full potential. Your playing becomes boring for the audience.
Interior Design Lessons from Dance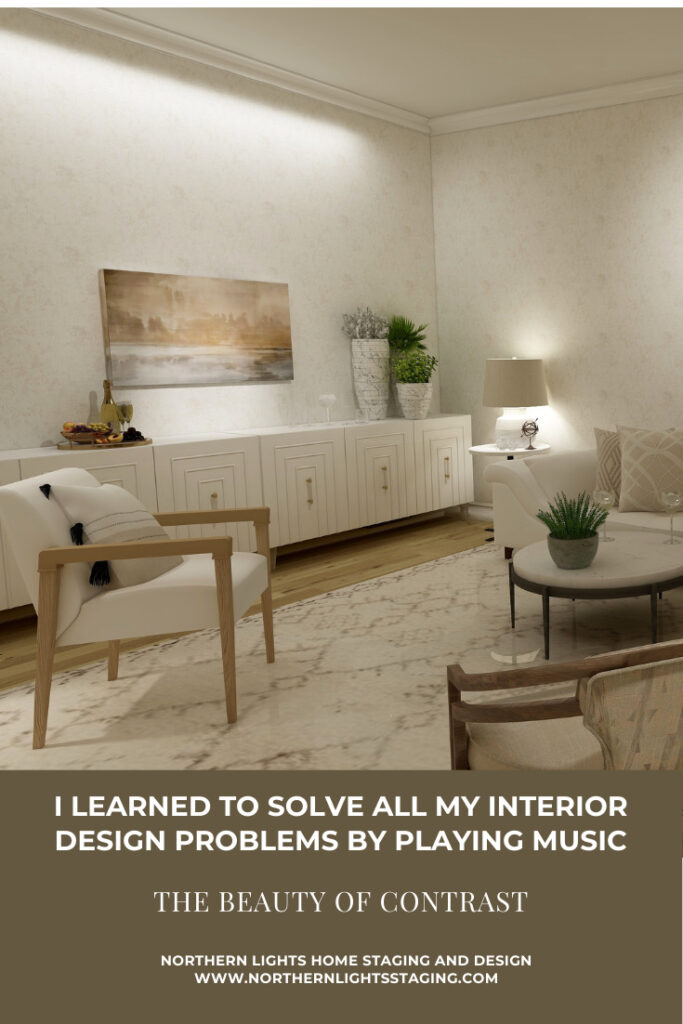 How Does Contrast Relate to Interior Design?
Contrast is important in creating interest and making you feel something in the room. You can create contrast with color, texture, shapes, lighting, levels, patterns, sizes and more.
The more contrast between things, the more they each stand out and shine with their own inherent beauty, complimenting each other, rather than one stealing the spotlight and making the other look dull.
There is a lot of complexity to this subject. Today, I will focus on color.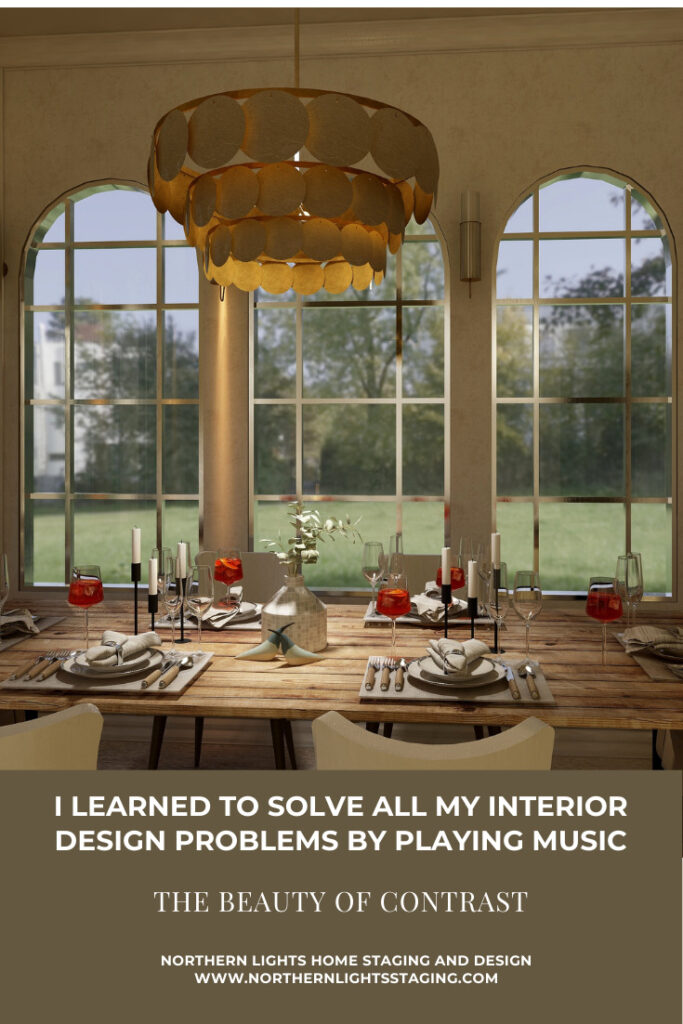 Creating Contrast with Whites and Neutrals
As my teacher spoke about the sounds of the drum, the first thing that came to mind was how important contrast is when using the color white.
White. How seemingly simple but how complex. Many, when confused about color will say, lets just paint it white and be done with it. Haha, well, that just opened a big can of worms.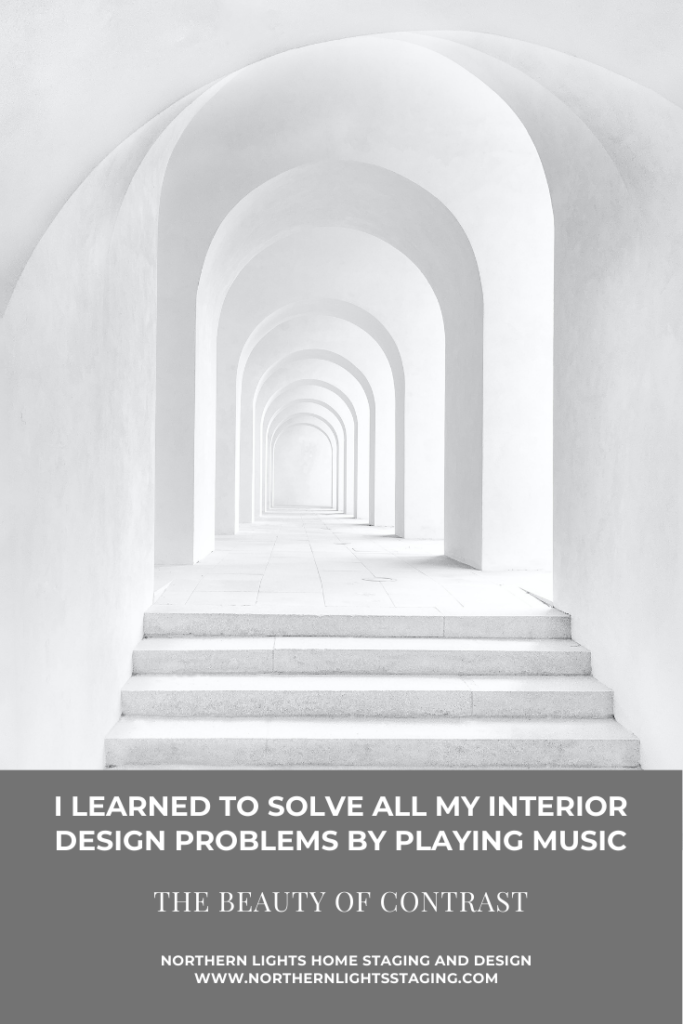 There are so many whites out there, it is amazing. Why? Because white is a color, just like any other, and is ultimately, the least saturated or a low saturation of a hue. Example, take a blue and reduce its chroma until it looks white, It is still that same blue, but with very little chroma. That is why all whites look so different.
P. S., it has nothing to do with so called "undertones", which is just a word people use that do not understand color science to subjectively describe what they see.
No big deal, until you decide to mix whites in your space. One white can make another look muddy, or dirty, or just "off".
Why? You need to make sure there is enough difference in chroma to easily distinguish the two whites. And there should still be some color harmony between the hues the whites come from. Whites that are opposites on the color wheel look better together than ones that are so close to each other that they look off.
Neutrals are the same as whites. They just have a little more chroma.
Finding the beauty of a neutral palette using various shades of whites, off whites and neutrals with enough contrast to see all the variations can be gorgeous. Throw in a variety of shapes and textures to add even more interest and variety.
 Here is an example of a beautiful and relaxing Edesign I created using whites and neutrals with contrasting colors and textures.  
Creating Contrast with Opposite Colors
Of course, you can get maximum contrast with saturated hues. The highest degree of contrast comes from either using black and white, or opposite colors on the color wheel, which creates a complimentary color scheme.
Maximum Contrast with Black and White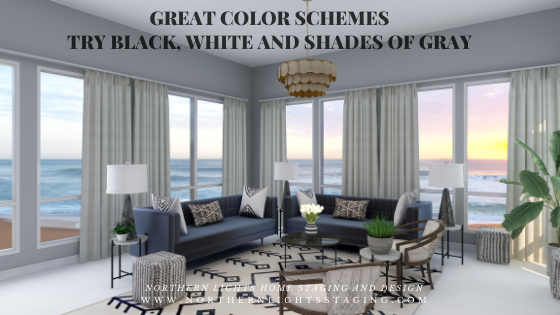 Maximum Contrast with a Complimentary Color Scheme
Blue and yellow are opposites or compliments on the color wheel. Each makes the other look even more vibrant.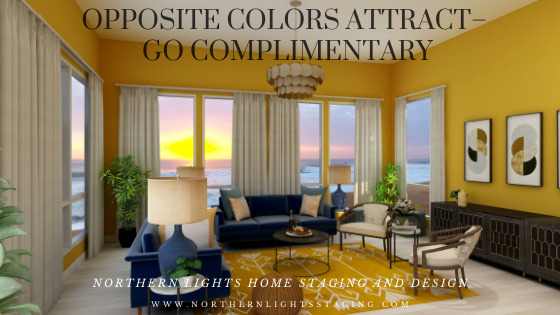 In the Edesign below, the green in my Spring Fractal Art is the complement of the purple walls. It has the effect of making the art really pop!
Are You Ready to Create Beauty Through Contrast in Your Home?
Now that you know some of the elements that work together to create your perfect space, are you ready to take action to make it happen in your home? If you knew absolutely for certain that creating a perfect space would create a better life for you, you would do it, wouldn't you?
Let's tell your unique story and find the alignment of art, science, and energy that makes you happy.  Let me help you take that trip to your perfect space in a Ferrari instead of a stagecoach. Try my Aligned Design consultation and let's get started.
Curious about your Interior Design style? Take the quiz and find out.