Surprises Make Magic Happen
A great dance performance always has a surprise.
It might be an unexpected twist in the storyline.
It might be the unveiling of the dancer so you see her beautiful face or costume.
Maybe it is the revealing of an unexpected part of the costume that was hidden that causes the audience to gasp in surprise and delight.
Surprise and Delight!!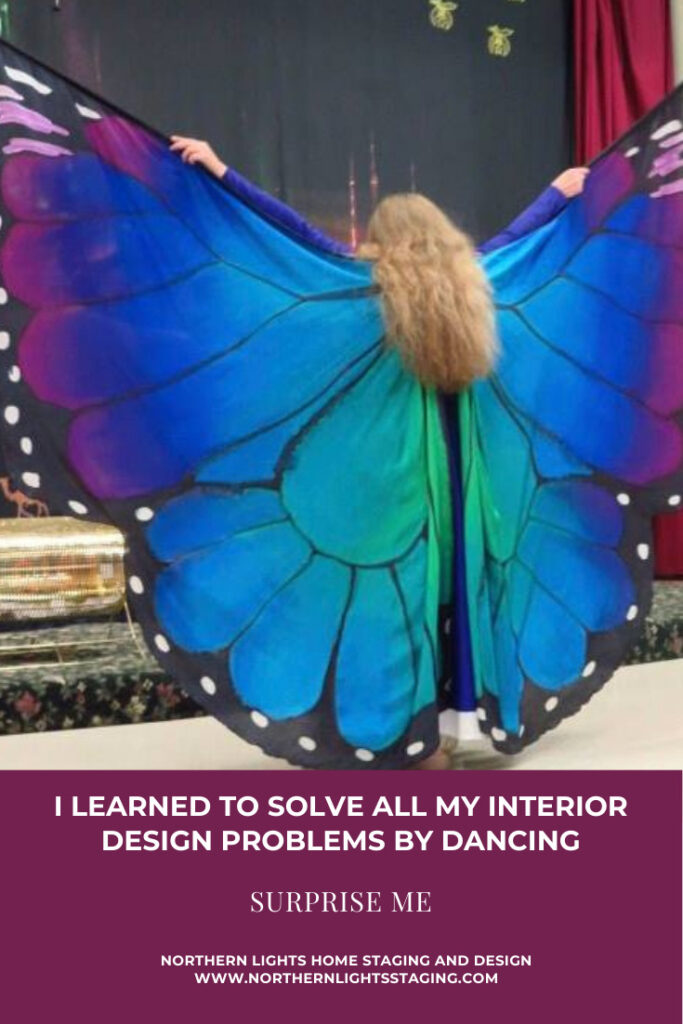 Maybe it is a surprising moment where the dancer drops to the floor and swings their  hair in wild abandon.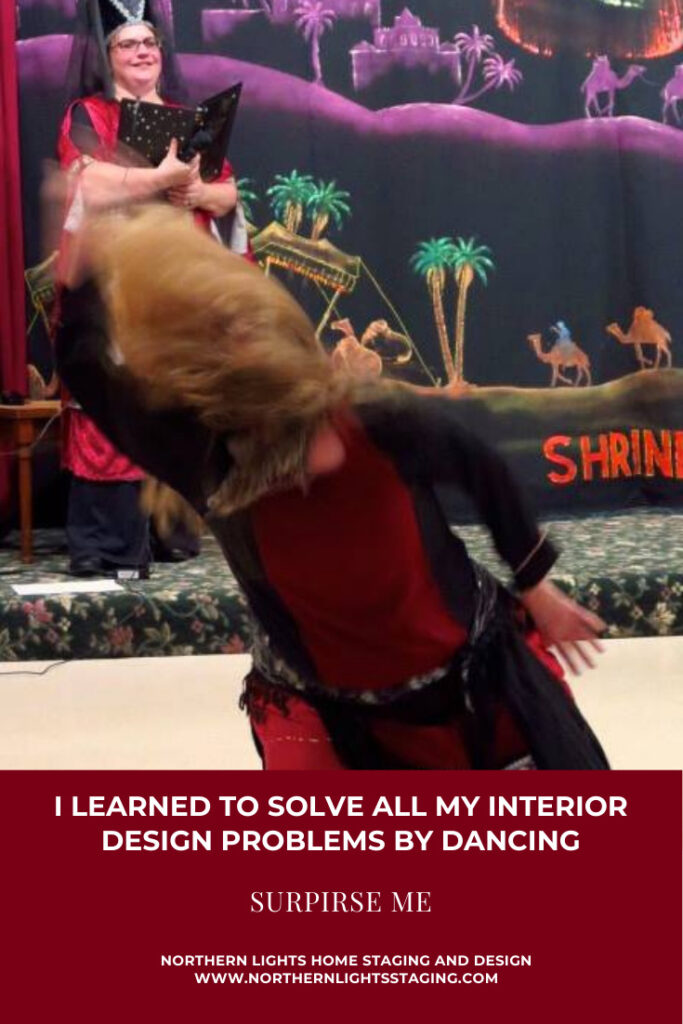 It can be anything. The key is that it is unexpected and brings delight in the discovery.
Surprises tell the story and add drama, texture, and depth to the performance.
With any dance, there are some things that are predictable, such as repeating patterns.  These parts give the audience comfort in knowing they understand what is going on. Then there are the surprises, that keep things interesting, exciting and make a memorable performance.
Interior Design Lessons from Dance
How Does Surprise Relate to Interior Design?
One of the things that really gives a room character is the little surprises. I often see these in the accessories, the small things that are added to a bookshelf or side table. They are the little things that as you explore the room, surprise you with their sweetness, humor, uniqueness. They give a glimpse into the homeowner's soul. Why did they pick that small thing and put it there? It feels rather intimate when you discover them as if the owner just shared a secret with you.
Surprises can also be bigger, such as a surprising piece of art, an unusual design, an invention, or a new way of doing or displaying something.
As in the dance, it is all part of telling a great story and it adds texture, depth, and interest to your design in a way that makes you happy and that others enjoy and remember.
What Surprises and Delights You?
Your perfect space is authentic to you, your life, your style, your energy, and the mood you want to create. Consider what surprises and delights you, and how you can work those things into smaller and larger accents in your home. They always bring a smile when you see them.
 I am always surprised and delighted by artistic balls of various materials, colorful glass, nd artistic accents inspired by birds and plants and things that hint at a person that has an open mind to possibilities unseen.
Create Surprise and Delight with Accents
Here are some examples of how accents, both indoors and out, might be used to create surprise and delight, and some of my favorite accent pieces for that. I am always touched by accents that have birds and animals items people have collected from outdoors. I also love to see creative things that people have made, which is a true expression of who they are.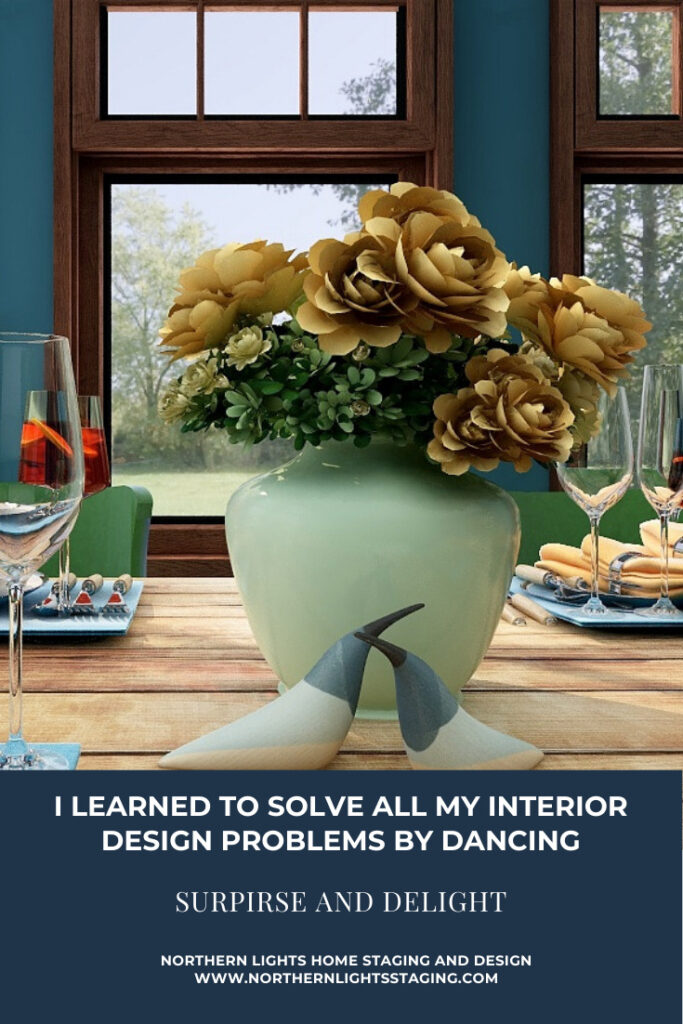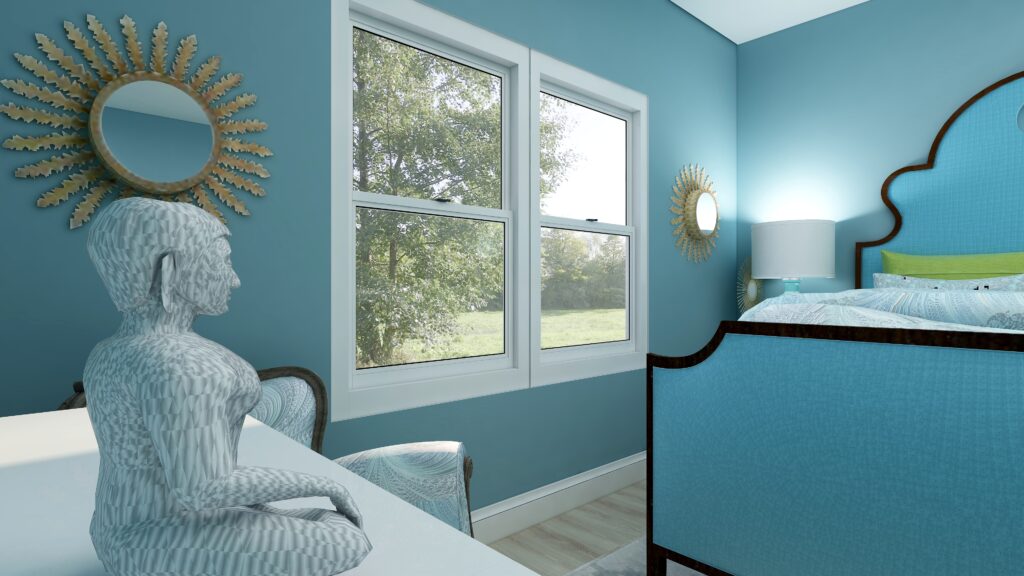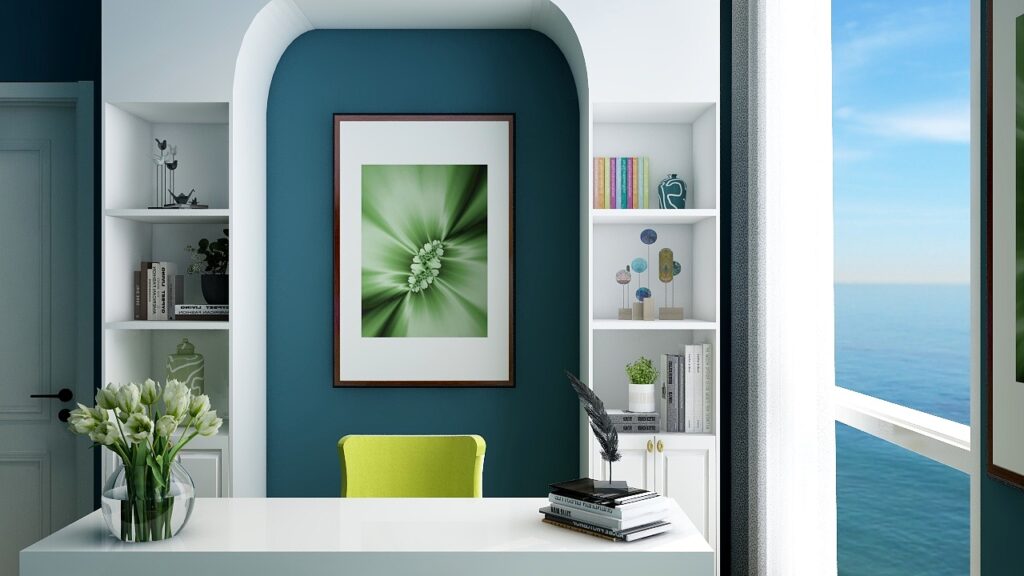 Surprise and Delight- Get the Look
Here are some products I love for getting the look that surprises and delights. Some contain affiliate links.
Use Surprise and Delight to Sell a House
Surprise and delight can help you sell a home. When staging a home, there is always a balance between keeping things neutral enough to appeal to more buyers and standing out and being memorable. One way to stand out and be memorable is by using surprise and delight.
I recently staged a home where I was using mainly what the owner had for staging props. The house itself had a somewhat whimsical feel to it based on some art that the previous owners had created on the shutters. There was nothing in particular available in the owners things that inspired surprise and delight. I had an idea to create a rock cairn near the front door as a little surprise to be discovered.  
Creating surprise and delight by building a little rock cairn near the front door during a home staging project.
I continued the idea of a surprise rock cairn on a table in an outdoor seating area.
I created some small cairns indoors as decor on the end tables in the living room.
People noticed and commented. I am sure they never had seen something like this before and it made the home more memorable.
In another staging project, I carried my love of small decorative birds into a staging project where I created surprise and delight in a bathroom.
Are You Ready to Create Surprise and Delight in Your Home?
Now that you know some of the elements that work together to create your perfect space, are you ready to take action to make it happen in your home? If you knew absolutely for certain that creating a perfect space would create a better life for you, you would do it, wouldn't you?
Let's tell your unique story and find the alignment of art, science, and energy that makes you happy.  Let me help you take that trip to your perfect space in a Ferrari instead of a stagecoach. Try my Aligned Design consultation and let's get started.
Curious about your Interior Design style? Take the quiz and find out.