Bravery.
It is a good quality to have, in dancing,  design, and life.
Often, we are afraid to put ourselves out there and be who we really are for fear others will judge us.
Guess what? They will judge us no matter what we do. It is human nature to make meaning of everything.  So, why give others the power to control how we live?
Be yourself. Be brave. Let your uniqueness shine through in your dance or design. It is a beautiful gift you give to yourself and others.
And, bravery makes the magic happen. Read on to learn how.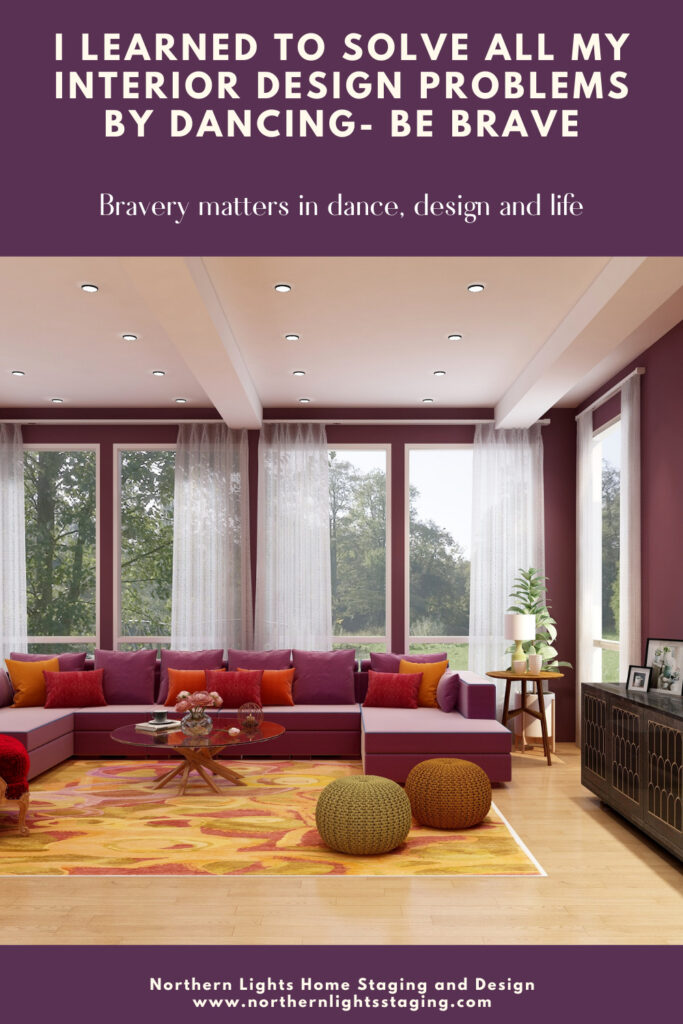 Through my journey in dance, I've discovered profound insights that transcend the world of Interior Design. As I've grown older, the web of connections between various forms of art has become increasingly apparent. These revelations hold true whether I'm crafting captivating dance compositions or curating awe-inspiring interiors.
It all centers on a delicate fusion of art (creativity), the science of color, and the energy of connection. This alchemical blend is the place where magic is born. It's a guiding principle I apply both to choreographing beautiful dance pieces and crafting enchanting living spaces.
Dancing demands bravery.
Every performance is a dance with vulnerability. Questions whirl around: Will the audience connect with my choreography? Will I falter or forget a step? What if I lose balance during a spin, drop the sword I balance on my head, or suffer a costume mishap? And yes, some of these fears have come true. The blinding stage lights, the unpredictable variables – the list of worries is endless.
But then, clarity strikes: This isn't about me.
Dancing is a gift I offer the audience, hoping to enrich their experience. They don't wish for my missteps; they're there to lose themselves in the art. To overcome this self-imposed barrier, I've learned to silence the incessant chatter in my mind.
When this mental blockade lifts, that's when the enchantment begins. It's a palpable connection between performer and observer, where emotions are shared, stories resonate, and for those moments, they dance vicariously through me. This profound exchange elevates the performance, making it memorable for both parties.
In the Middle East, this transcendent experience is termed "tarab" – a deep emotional surrender to the music or performance, leading to transformative ecstasy.
If you've either danced or been an entranced observer, you'll recognize the magic of "tarab".
But remember, this alchemy only ignites when bravery prevails.
Dance with abandon. Silence your doubts, embrace your essence, and let your unique light shine unapologetically.
Bravery in dance can lead to tarab, or emotional transformation of yourself and your audience.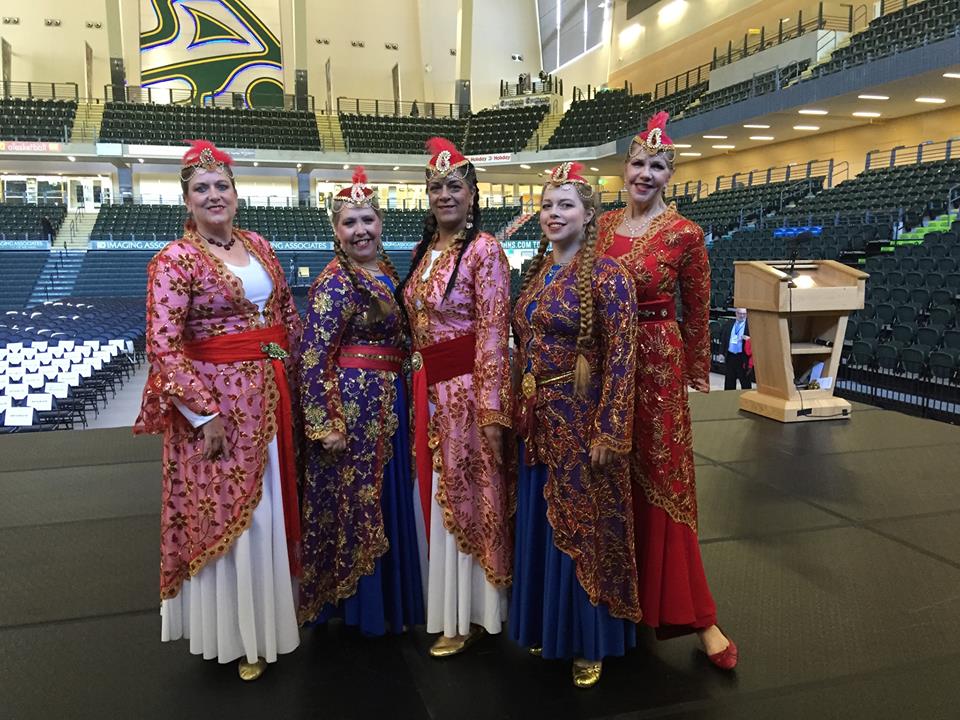 I remember this moment in particular as one of bravery. The Persian dance company I was the Assistant Director for was to be the opening act at an event that was for President Obama's visit to Anchorage several years ago.
We walked out on stage beforehand to check it out, before the performance. And holy cow, looking at the stadium…there are a lot of seats out there! What was I thinking? OMG. Breath in, Breath out. It will be fine. And it was.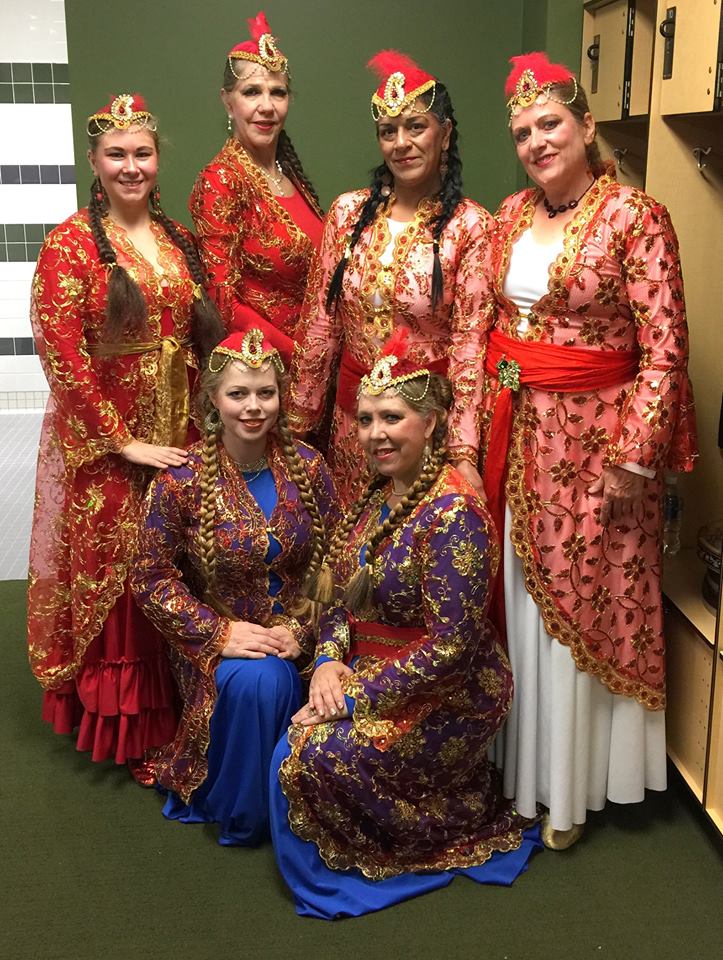 Be brave and tell your story in your dance or your room. Let who you are shine through. Who cares what anyone else thinks. That is none of your business.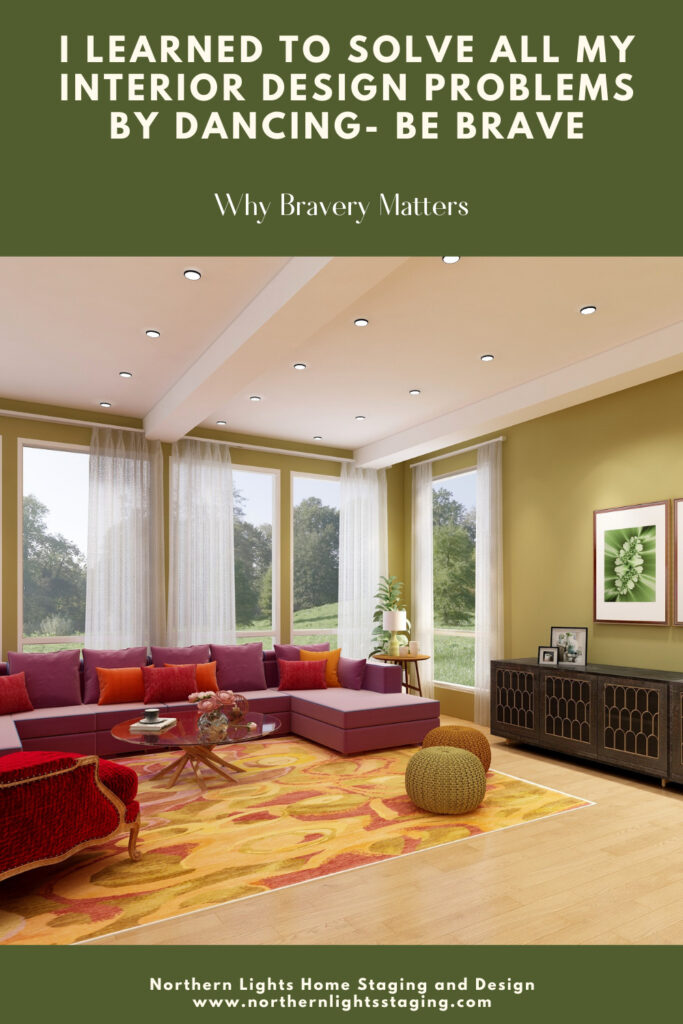 I take my lesson of bravery into my design world and how I create the magic for people in their spaces. I hope these thoughts will help you open your mind to possibility!
Many people are afraid when it comes to designing their homes, especially when it comes to color.
They play it safe and go neutral, fearing that using color will be "too much" of something.
They pick designs off Pinterest that tell someone else's story.
Many do not really know what they like so they pick what others tell them they should like.
They design their home by a committee from the opinions of friends and family.
Why not just tell your own story? The important thing is that you walk through your space every day and think "Wow, I love this". Breathe in, Breathe out. Joy.
Take a chance and try something new. A new approach, a new style, new colors.
You can always change your mind later if you don't like it or you evolve and want something new. 
In my role as a designer, I often encounter requests for styles or color palettes that differ from my personal preferences. That's perfectly fine because it's not about me; it's about you. However, I infuse a part of myself into each design, enhancing the collaborative process. It's akin to the profound connection, known as "tarab," between a performer and their audience.
My personal taste leans towards a curated, elegant Global Style/Bohemian aesthetic, characterized by rich jewel tones, particularly blues, greens, and purples. I'm passionate about bringing the outdoors inside and creating sustainable designs, often featuring my own fractal art home decor.
For this article, I ventured out of my comfort zone, crafting a design that deviates from my usual color palette and style. It serves as an example, encouraging you to fearlessly embrace new ideas. Be courageous, and see where it leads.
I began with an intriguing rug that sparked my interest, even though its colors were a departure from my norm, particularly the dominant shade of orange, which happens to be my least favorite color. The design organically evolved into a mid-century modern style, guided by the rug's suggestion. The result? A vibrant color scheme featuring orange, purple, and a captivating green. I explored various paint color options, all of which I found appealing. Despite this departure from my usual style, the design still retains elements of Bohemian flair and incorporates my fractal energy art, staying true to my essence.
I love it. How about you? The takeaway is to summon your bravery. Embrace the unknown, and stay open to the wonderful surprises it might bring.
Bravery allows you to be open to creating the perfect space for you, which can support your personal transformation so you can live the life you dream of.
Bravery when designing your space can support your personal transformation to becoming the person you dream of being and living the life you want. 
Are You Ready to Create Your Perfect Space?
Are you ready to tell your unique story and find the alignment of art, science, and energy that makes you happy?  Let me help you take that trip to your perfect space in a Ferrari instead of a stagecoach. Try my Aligned Design consultation and let's get started.
Curious about your Interior Design style? Take the quiz and find out.