A dance performance needs some bling.
It can be sparkly and glittery jewelry or fabrics that create magic under the stage lights. It can be accessories that make musical or percussive sounds as you move. It might be the tassels and sparkly bits that show off your movements. It could be or a costume with cultural elements that tells the story of the dance or the culture it came from.  The bling adds depth, excitement and the final touches.
It is about more than beauty. It's about the story it tells and the mood it creates.
It's like the jewelry that completes the perfect black dress. The jewelry says who you are, how you are feeling, and the mood you are setting for your evening.
It is also like the elements or accessories that finish off the perfect space in your home.
For example, I am in a dance company named "Tavus", which means peacock in Persian.  The peacock is a sacred bird in Persian mythology and a symbol of royalty and power. The peacock has been sacred and revered throughout history by many cultures.
We designed classical Persian coats by attaching beautiful peacock appliques to sequined blue material to tell the story of our dance company. We designed  hats that have a peacock and peacock feathers. Our jewelry highlights the peacock colors and resembles a peacock tail. Everything sparkles under the lights, shows off movement, and a variety of textures.
Our bling tells the story of who we are, and adds depth and texture, like adding the shadows in a painting so you bring out the three dimensions.
Interior Design Lessons from Dance
How Does Bling Relate to Interior Design?
As in dance, bling, is what finishes off the room, creates the mood, and helps tell the story.  Bling is the special elements, accessories, and accents.
Here are some examples of some favorite accessories or elements that can help create your perfect space. Some contain affiliate links. This means I may earn a small commission if you buy something at no additional cost to you.
It is about more than beauty. It's about the story it tells and the mood it creates.
Fire Can be the Best Bling

Fire adds light, sparkle, warmth and a magic all its own. It can be your best bling. A fireplace is perfect in a bedroom or living room. Candles can create the same effect on a smaller scale.
In the Edesign I created below,  the fireplace and candles are the main bling. Additional accessories which would highlight the colors and natural elements of this beach front bedroom are listed below.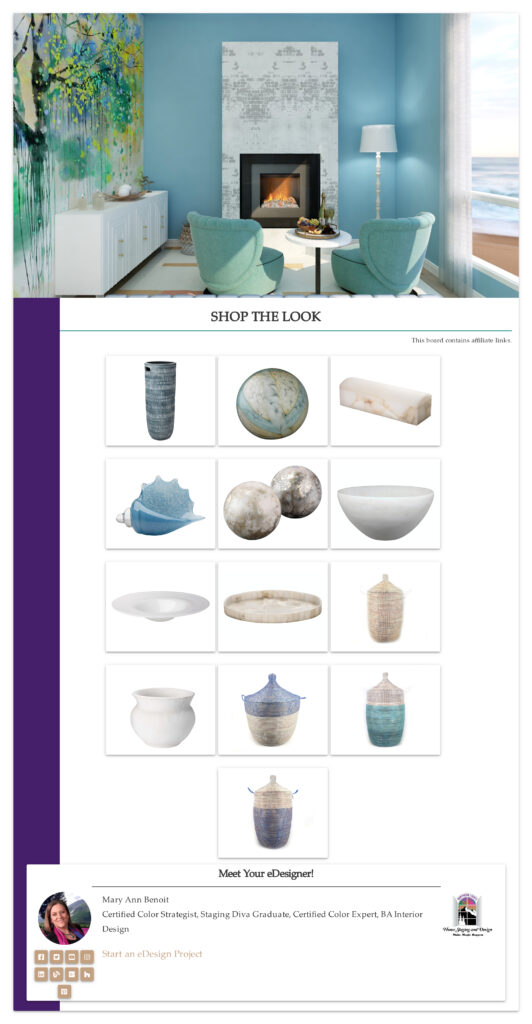 Natural Elements Make Great Bling
Nature is great bling. A spectacular view highlighted by natural decor elements creates an inspiring and relaxing space.
While accessories made of natural elements such as wood, stone, plants, metals, and more are not often shiny, sparkly, or dramatic, they add warmth and texture and align the energy in your space with the outdoors.
In the Edesign I created below, the view is the bling, highlighted by natural elements for the decor such as the wood table, stone lamps and planter and plants. Everything is very simple, letting the view stand out as the main decor element.
Lighting adds beauty, color, style and creates the ambiance that can really make a room. Layers of lights create the magic. Use overhead lighting, floor lamps, table lamps, and spotlighting for art and other elements. Learn more in my blog article, How to Make Magic Happen in Your Home with Lighting.
Below are some of my favorite table lamps. Some contain affiliate links.
Are You Ready to Create Your Perfect Space?
Now that you know some of the elements that work together to create your perfect space, are you ready to take action to make it happen in your home?
Let's tell your unique story and find the alignment of art, science, and energy that makes you happy.  Let me help you take that trip to your perfect space in a Ferrari instead of a stagecoach. Try my Aligned Design consultation and let's get started.
Curious about your Interior Design style? Take the quiz and find out.