Do you love the look of Global Style Design? Do you love the rich colors, exotic designs, hand-made works of art that bring the beauty of different cultures to life in your space?
Guess what? You can still get the beauty of all those global styles in black and white.
An easy way to get the look of any Global Style is with a beautiful rug, and then add some great Global Style pillows for accents.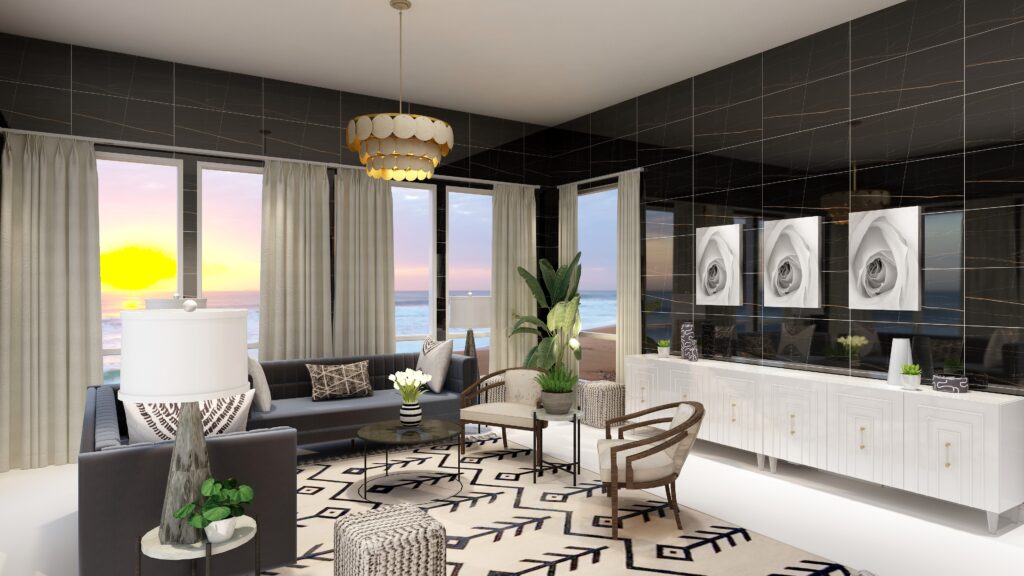 Allow the rug to become the focal point for your room and guide the color scheme and your choices for accents and accessories such as throw pillows, art, lighting, and more.
A great way to get started is to work with black and white rugs and pillows. Then you can continue with the black and white theme throughout the room or add pops of color with your wall color, lighting, or other accents.
Because black and white are so neutral, they can work with just about any other color accents you choose and will highlight the beauty of those colors by contrast.
Examples of Global Styles Inspired by Black and White Rugs
Here are a few examples using Edesigns I created primarily in black and white. In the living room below, my inspiration was the beautiful black and white rug. I built the rest of the color palette and accessories around it and used red as my additional color. Learn more.
In the bedroom below, I used the same rug as my inspiration piece, and used yellow as my accent color. Learn more about this project.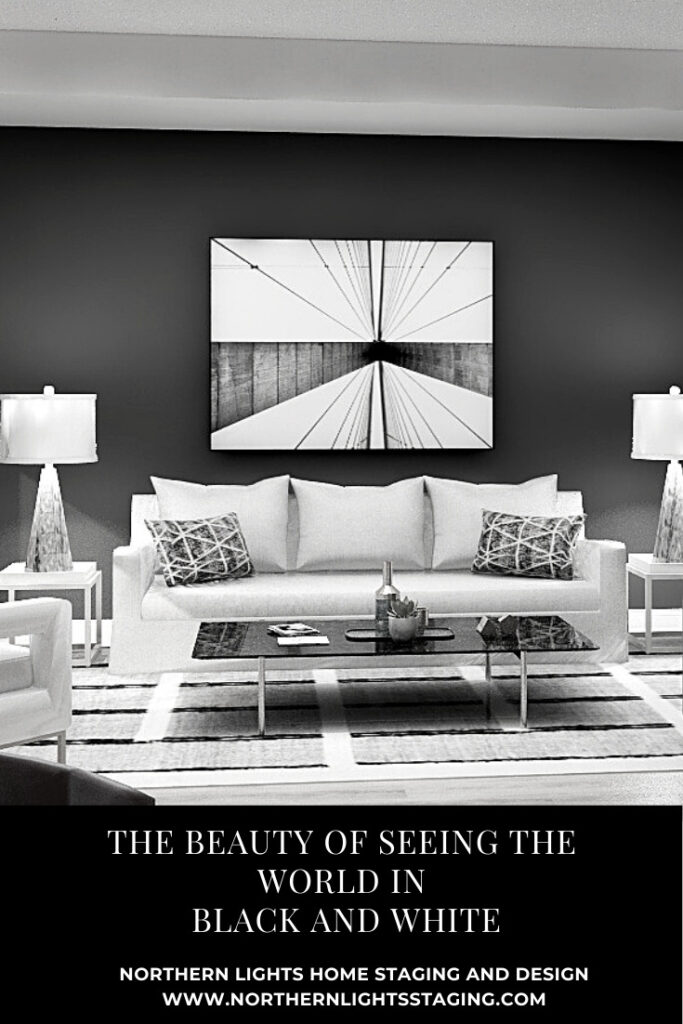 Black and White Global Style Rugs
Here are some of my favorite black and white Global Style rugs which would be great as the inspiration piece to build any room design from. 
Black and White Global Style Pillows
Here are some of my favorite black and white Global Style accent pillows.  
All Blacks and Whites are Not the Same
Remember, blacks and whites are actually either extremely saturated or unsaturated hues or colors, so all blacks and whites will look different.   
When putting together a black and white themed room, it would be wise to have a color strategist measure your colors to make sure the blacks and whites you want to use will work together nicely.
Although there is a general rule in Interior Design that all "blues" work together or all hues in the same family work together, that is not always true. One white for example, if too close in values to another can make one look "dirty". It is important to make selections that play well together.
Are You Ready to See the Beauty of Black and White in Your Home?
Are you ready to create your perfect space with Global Style design? Let's tell your unique story and find the alignment of art, science, and energy that makes you happy.  Let me help you take that trip to your perfect space in a Ferrari instead of a stagecoach. Try my Aligned Design consultation and let's get started.