Do you love orange, and the look of Global Style Design? Fill your home with your favorite color, and the rich colors, exotic designs, and hand-made works of art that bring the beauty of different cultures to life in your space.
Orange is used in various shades and saturation levels in many different cultures, and shades of orange are a natural color of the desert and of rocks in many areas so shades of orange can be quite common, such as when you see terracotta.
On the color wheel, orange is between red and yellow and can take on aspects of its neighbors. Like red, orange can feel vibrant and get your attention. Like its other neighbor, yellow, it can feel light, creative, and fun.
Orange is a vibrant, happy,  expansive, optimistic, and creative color that inspires socializing. It is fun and warm (from the Land of Color). It is exciting and draws attention (which is why it is used for signs).
Regarding global style, brighter orange shades are common in Bohemian, Indian, Mexican, and Moroccan styles on walls, fabric, and decor items.  More muted terra cotta colors are also used in Turkish,  Mexican, and Moroccan styles on the walls, floors, rugs, and pillows. Greek-style does not use orange very often, but you could add beautiful orange accents, considering it is a compliment of blue which is very common in Greek design.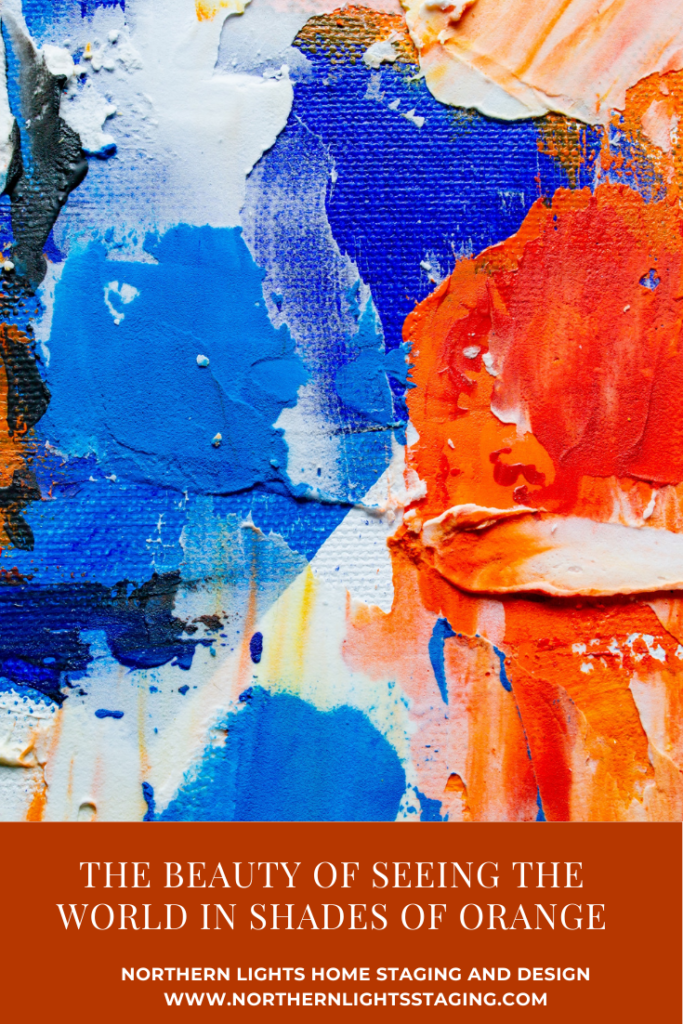 Get the Look with a Great Orange Paint Color
Get the look of various global styles with a great shade of orange on your walls, combined with global style art, rugs, pillows, and lighting. See examples in my Edesigns below. I share some of the products I used to help you get the look. Most contain affiliate links, meaning I make a small commission if you buy something for sharing with you at no additional cost to you.
You can go light  or dark and dramatic. 
Get the Look- Turkish Style
Turkish style is warm and inviting, earthy and exotic. There is an abundance of warm earth tones that come from orange terracotta shades reminiscent of desert colors.
In this Turkish-style living room, I used a dark terracotta paint color to highlight my fractal art from my Great Conjunction collection. Learn more in my blog article, Get the Look- Global Style Turkish.
Get the Look- Mexican Style
Mexican interiors are full of color, are welcoming, warm and there is often a sense of playfulness and whimsy. Colors are bright. Red is common and yellow is also used heavily in shades ranging from bright lemon yellow to deep earthy golds. Terracotta is common. Blues are commonly used in art and accessories.
In this Mexican-style living room, I used a deep burnt orange paint color to highlight my fractal art from my Great Conjunction collection.
.Learn more in my blog article, Get the Look-Global Style-Mexican.
Get the Look- Modern Global Style
In this Modern Global style design, where I was creating a split complementary color scheme to work with the deep blue sofas. Orange was one of the compliments. Learn more about this color scheme in my blog article, Great Paint Color Schemes- Try a Split-Complimentary.
Get the Look- Bohemian Style
Are You Ready to Create Your Perfect Space?
Are you ready to create your perfect space with Global Style design? Let's tell your unique story and find the alignment of art, science, and energy that makes you happy.  Let me help you take that trip to your perfect space in a Ferrari instead of a stagecoach. Try my Aligned Design consultation and let's get started.