Welcome to your personal project page.
I am very excited to work with you! This is your personal project page where we will collaborate. Everything you need and we create will live here:).   
I work Monday- Friday, 9-5 Alaska time and other times by appointment. You can reach me using the blue Chat button at the bottom of the screen, or by email at info@northernlightsstaging.com. I try to use one or the other and keep our communication on one thread so it is easy to find everything. Send me a note when you have completed different steps and I will do the same and let you know when I have uploaded new things to our page:)
To get started, let's take care of a few things. You also have a little homework to help me to provide your home staging and color recommendations
Please pay for your package if you have not done so yet here. Just click on the picture. If you decide to add any additional services later, you can also do that here. See my Edesign and Online Services page for full descriptions.
2. Review and sign my Letter of Agreement
Review and sign my  Letter of Agreement.   If you have trouble sigining it electronically, just send me an email saying you have reviewed it and agree to it.
3. Answer Questions, upload photos and take color measurements
Please fill out these questionnaire(s).
Color Questionnaire (for Color Consultation and Design/Color Consultation packages). Before you start the questionnaire, please order your Color Muse, and watch the video on how to use it. You will need it for your questionnaire.
4. I review your info and come up with an amazing plan!
I will review all the info in your questionnaire and start working on your reccomendations.
5. Let's Discuss Your Recommendations
We will set up a video call on Zoom to discuss your recommendations. You can set up a free account here.  I will send you a link to invite you to our meeting. We can record it and I will upload here so you have a record of our conversation.
Home Staging Recommendations for all houses
The following guidance applies to all for-sale homes. The specific recommendations for your home we will discuss on our video call.
Clean everything-make it spotless (consider hiring a professional).
De-clutter- Cabinets, closets, bookshelves should be about 1/3 full
Remove excess furniture and other items to off-site storage.
All personal items in bathrooms should be out of sight during showings (hide in a closed basket or decorative container).
New towels in the bathrooms, new bedding in master bedroom
New welcome mat at front door.
Complete all priority repairs, painting, and remodeling if noted.
During showings, all lights should be on, curtains open (unless a poor view), toilet lids closed, personal items in bathrooms and children's toys stored in baskets.
Make sure all lights are working and have the highest wattage bulbs that the fixture can take.
Pet items (food dishes, litter boxes, toys and pets should not be visible during showings.
Yard should be clean, all items put away. Clear out dead plants, trim trees and shrubs if noted.
I will add your paint color recommendations here.
Your color data shows………………………………….
Based on the data I have recommended …………………
These recommendations are based on ……………………………………….
Paint Brands, Colors and Sheens to Use by Room
If I have recommended you purchase anything to complete your staging, I have included it here. Click on the pictures to go directly to the page where you can order the product on your own. If the product is a trade product that I am ordering for you, it will take you to an invoice for you to pay before I order it. 
I look for the best price for you and sales so if possible, order as soon as possible so the item does not go out of stock. All prices shown do not include tax or shipping.
Before you buy, consider signing up for Ebates. It's free and you can get cash back on your purchases from participating vendors and get $10 off your first purchase. It's worth it!
5. Complete your painting, repairs and get it clean!
Before your start staging the home, take care of all your painting and repairs first. Then get it spotlessly clean. Consider hiring a pro to do the cleaning. Clean really helps sell the home!
Time to stage your home! Here are tips for all the important things to remember when you start to implement your recommendations.
Tips for Finding a Great Home Stager if you Choose Not to Do it Yourself
If you find you don't have time to do the staging yourself and want to hire someone, here are some tips for finding a great stager. You are welcome to share the results of your home staging consultation with them.
How to Make the Beds look Gorgeous
You may need a new comforter set, especially for the master bedroom to make everything look fresh, clean and luxurious. I find Burlington Coat factory has great options and prices. It does not have to be expensive! Watch this video on how to make the bed. Having new, fluffy pillows rather than old "flat" pillows makes a huge difference.
Bathrooms are easy to stage. The key is to have it spotlessly clean, have all your personal items stored away in a cabinet in baskets or nice storage, clean, new towels nicely folded on the towel racks, and a new shower curtain.  A few decorative items on the counter top.  Some nice art hung above the toilet if there is room . I usually use a white bath towel, with a colored hand towel and a different colored wash cloth folded on top for a nice touch.  Fold so your see the folded or rounded edge towards you as you enter. Folding in thirds so you do not see the edges is even better. You can skip the tying with ribbons idea in the video. We want to to look natural. Who ties their towels with ribbons! Remove bathmats from the floors…they look distracting in professional photos. Always keep the toilet seat down and lights on for showings. See the video for more tips for staging your bathroom.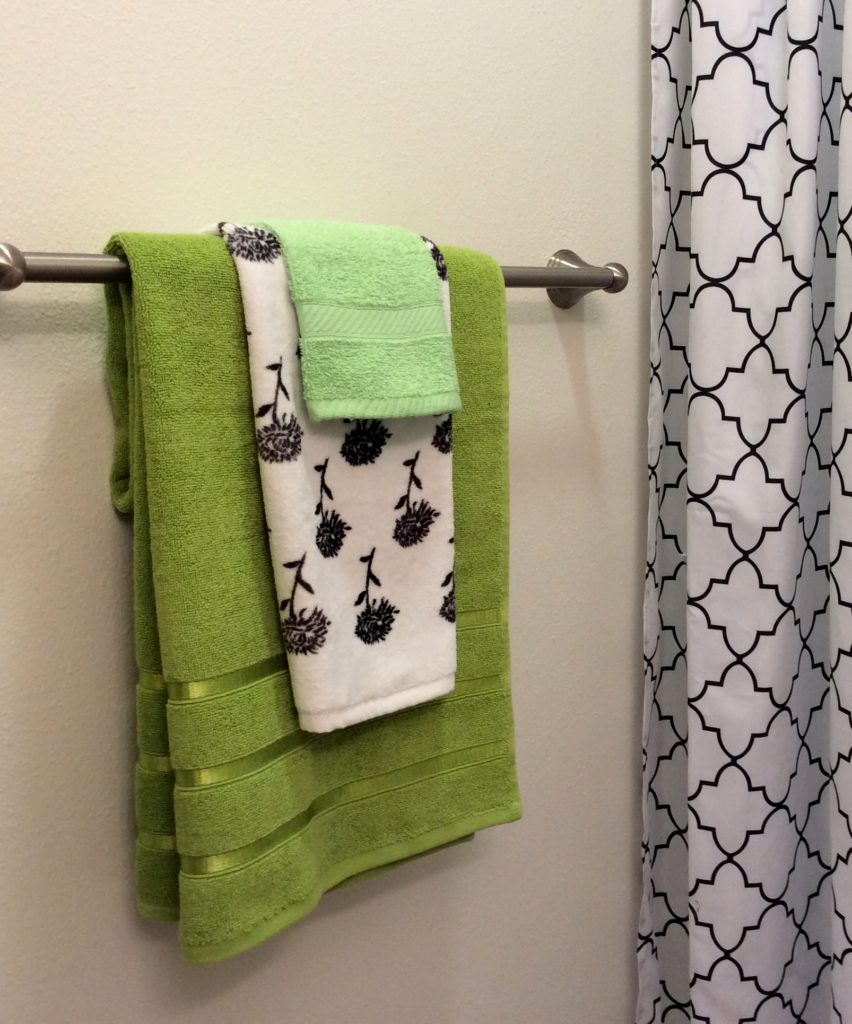 AdHow to Hang your Curtains
Styling your Bookshelves, Tables and Countertops
For staging, remember, we want to have less things on display (only about half or 2/3 of what you normally have) to highlight the space and home, rather than your things (that is for design of your new home). Keep it simple and use the rule of 3's. This means group things in 3's or another odd number. Combine various textures and heights. Do this for your coffee tables, bookshelves, end tables, on your kitchen and bathroom countertops. You can use the concepts and ideas in the video below for any surface.
My Top Ten Home Staging Tips
My Resource Library has all kinds of great links and videos about home staging and design to learn more.
7. Send Your After Photos
I would love to see your after photos and am happy to give you any final advice on tweaking your staging before you get your professional photos done. 
8. Get Your Professional Photos
You did it! Your house looks great and you are ready to show it off. Professional photos are key to attracting buyers to want to see your listing! See my article below on preparing for your photoshoot. Make sure the realtor does not leave their paperwork, coat etc. showing on your table if they attend as this will make the photos look bad! Send me a note when it's listed so I can see your beautiful photos!
Before Listing, Review these Top Mistakes Home Sellers Make
Now is a good time to check this article and make sure you are not making any of the top mistakes home sellers make before listing your property. You should be in great shape after this consultation, but this is a good final check to make sure everything is in order.
9. Survival Tips for Showings While Your House is on the Market
Now it's time to sell fast and move on to your new house. Even though it is inconvenient, you will need to keep things in order, clean, and keep your staging looking great so that you can show the house at a moment's notice. Baskets to stash away toys of personal items in the bathrooms in the cabinets quickly can help. Try not to cook foods that have strong odors than may linger. When you leave the house for a showing, open all the curtains, turn on lights, shut off TVs, put down toilet seat lids etc. Make sure the beds are made and bathrooms are spotless. Click on the picture to see my tips below. Breathe, relax, it will be over soon!!
You are awesome! Great job! I hope you are happy with everything. You can always come back here to find your information. I would  love to hear how your home sale went, how long it was on the market and if you got your asking price or higher!  Thank you!! It was a pleasure working with you!  
Ready to Make Your New Home Everything you Dream it Can Be?
When you move into your new home, I would love to help you with your Interior Design. As a thank you, I will give you $20 off one of my design packages.
Mary Ann Benoit
Northern Lights Home Staging and Design
907-362-0065
info@northernlightsstaging.com
I have added you to my email list to receive my tips on home staging, Interior Design and color. I hope you enjoy them and you can easily unsubscribe at any time.