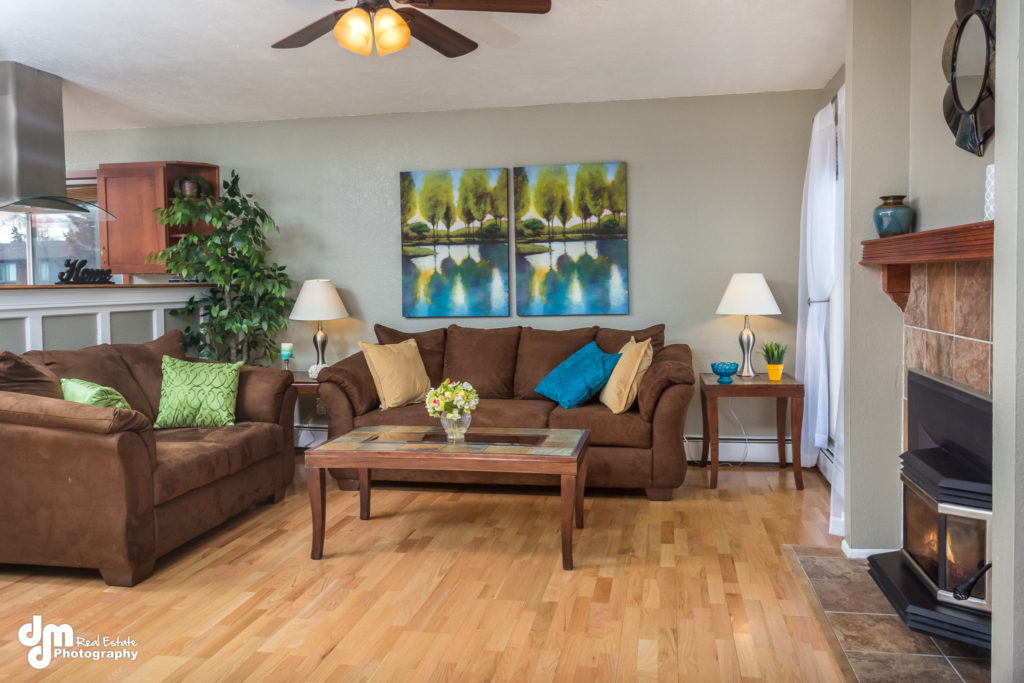 Getting professional photos to highlight your for-sale home is critical to helping your listing outshine the competition online and getting buyers to visit your property!
Professional photos also  help make your vacation rental stand out online and attract your ideal customer.
Even with professional photos, it is important to make sure what is in the photo looks great and will capture buyer  or renter interest! After all, a high quality photo of an ugly room will emphasize the negative aspects rather than the positive.  Here is a checklist to make sure your rooms and the photos look fabulous.
Prepare for Your Photo Shoot – 2 weeks or more in advance
Consult with a professional home stager.  Staged homes or rental properties will look significantly better in photos than un-staged homes. Stagers are experts at decorating your home to create an atmosphere that appeals to buyers or renters so they make an emotional connection!
Stagers will help you highlight the positive and downplay the negative, give you an objective plan of things you can do to get top dollar and sell quickly with suggestions that will give you the greatest return for your investment.
Stagers can re-arrange furniture and decor to highlight focal points and enhance space, recommend paint colors that appeal to buyers or renters and look good in your photos.
They recommend repairs or remodeling, arrange to rent and place furniture, art and accessories if needed.
They research your target market in advance, and decorate to appeal to them. Most stagers will need 2 weeks in advance of photos to consult with you, devise and implement your staging plan and set up and have furniture and decor delivered if it is needed, although they can usually work with what you already have.
Complete painting, repairs and maintenance
Make your house spotless! While this is particularly important before showing your house to buyers, a clean house will make your photos look much better!
Stick with the plan. If your home has been staged, do not add, take away, or re-arrange items that have been placed before the photos
On the Day of Your Photo Shoot
If you have used a professional stager, they may have done most of this for you. If you are living in the house while listing, some of these things will still be up to you to do on the day of the photo shoot.
In All Rooms
Turn on all the lights, including accent lights such as under kitchen cabinets
Open all curtains unless specified otherwise by your stager to downplay a poor view
Make sure shades, if partially closed are all at the same level and are even at the bottom with cords neatly hanging and as invisible as possible
Consolidate and hide electrical cords as much as possible
Remove personal photos
Make sure price and other tags are not visible on pillows, towels, curtains or other items
Remove pets and all evidence of their bowls, food, beds etc.
Turn off TVs and ceiling fans
Kitchen
Remove all items from the countertops except a few appliances and decorative items
Remove dish towels
Sinks should be clean and empty. Remove sponges and soaps
Remove small area rugs in front of sink or doors. They are distracting in photos.
Remove all magnets, papers etc. from the refrigerator
Close all cabinet, pantry or closet doors
Living /Family Rooms
Neatly arrange pillows or throws on couches
Clear coffee and end tables of items except for a few decorative items
Hide remotes
Dining Room
Clear table except for a centerpiece
Bedrooms
Make the beds. Ensure the bottom of the bed spread is even along the front and sides. Crooked bedspreads look distracting in photos
Put away clothes
Close closet doors
Clean and organize closets for interior photos
Clear bedside tables of all items except for lamps and small decorative items
Office
Neatly organize papers and files
Hide personal information, certificates or bills
Bathrooms
Towels are clean and neatly folded or hung. On towel racks, make sure the bottoms are straight and even.
Put down the lid on the toilet seat!
Remove personal items such as soaps, shampoos, toothbrushes etc. from view
Remove bath mats (they are distracting in the photos).
Shower curtains are clean, pressed, and open to show the shower
Entry
Put away shoes, coats, keys, backpacks etc. so they not visible
Remove all rugs except entry rug just inside the door
Exterior
Park cars elsewhere so house is clearly visible
Put away all tools, toys
Make sure yard looks cleaned and maintained
Remove trash cans from view
Resources
Tips for Finding a Great Real Estate Photographer
Tips for Finding a Great Home Stager
Call 907-362-0065 today
 info@northernlightsstaging.com