Our intrinsic desire to connect with nature and living entities is encapsulated in the term "biophilia." Coined initially by Erich Fromm and later popularized by Edward O. Wilson, this concept has found a renewed emphasis in contemporary interior design.
Throughout history, our bond with nature has been pivotal, not only for sustenance and survival but also for spiritual rejuvenation and inspiration. Nature, in all its splendor, offers a plethora of colors, shapes, patterns, and textures that have always intrigued our aesthetic senses. Beyond the visual delight, nature nourishes our well-being. Plants, for instance, not only beautify our spaces but purify our air and offer sensory pleasures. Similarly, our reverence for animals can be traced back through art, religion, and their cherished presence in our lives as companions.
My personal journey as a wildlife biologist for 33 years, trekking the terrains of Arizona and Alaska, deepened my appreciation for nature's designs. Be it the intricate patterns of plant parts under a microscope or the harmonious color schemes, I've often been inspired by nature's unparalleled creativity.
In an ever-evolving technological world, the essence of biophilia reminds us of the solace nature provides. So, the question is, how can we bring this comforting connection to nature into our homes through interior design?
Opt for eco-friendly and sustainable materials in both your construction and interior design choices. Discover more in my article on Eco-Friendly Interior Design. Embrace nature by integrating unique finds from your outdoor excursions – think branches, rocks, or shells – into your home decor. Elevate your space with indoor plants that not only beautify but also purify. Enhance your home's synergy with the outdoors by strategically landscaping visible from your interiors. Design outdoor sanctuaries that beckon you outside. Seamlessly blend indoor and outdoor spaces with design choices and window placements that frame nature as living art.
Incorporate native plants in your garden to not only attract local wildlife but also ensure sustainability. These indigenous species are tailored to thrive in local conditions, ensuring they're resilient and eco-friendly by preventing the spread of invasive species that could harm native ecosystems. On my Alaskan adventures, I've handpicked native perennials like wild roses, blueberries, and geraniums, which beautify my garden, attract wildlife, and even offer delicious treats. Indoors, adorn your space with houseplants that enhance aesthetics and purify the air. Choose flowering varieties for a burst of vibrant color!
For many, including me, a home feels incomplete without the affection of a pet. Their presence greatly enhances our overall well-being. When designing interiors, consider pet-friendly choices that not only facilitate but celebrate life with animals. Opt for durable upholstery and washable rugs to minimize pet-related wear and tear, reducing any stress that may come with adding a furry friend. Moreover, cultivate an outdoor space that's both visually pleasing and teeming with life. Plant flora that captivates the senses and invites wildlife. Thoughtfully positioned plants near windows can provide natural 'entertainment', as you watch birds, butterflies, and pollinators drawn to your garden.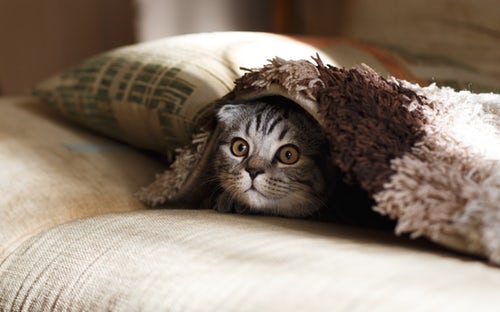 Incorporate nature's hues into your home's interior and exterior. As a certified color strategist, I've often drawn inspiration from the landscaping colors of clients' gardens, converting them into paint shades for walls, front doors, or interior palettes. Think of the calming blues of the sky, lush greens, earthy browns, muted grays, and soft off-whites. Highlight with vibrant shades inspired by garden blossoms in pinks, purples, yellows, and reds or the autumnal tones of foliage like golds and oranges. While stark black and pure white are rare in nature, they can accentuate and uplift these natural shades. And remember, if a color dominates your view—even from a neighboring property—it's worth integrating into your decor palette.
Get great photos of your outdoor adventures that evoke the feeling you had while you were there for art.
Consider art that shows landscapes, plants, animals or other natural elements that bring you joy and work with your design and color palette.
Incorporate energy art that connects energetically and spiritually to nature.
Scents can have a huge impact on the way you feel.
Try a diffuser with natural oils of lavender, orange or other scents related to herbs or fruits to make the connection through smell.
Flowering plants add a beautiful scent to your indoor space.
Avoid products that emit harmful odors.
Use full spectrum bulbs to get the quality of natural daylight, especially in northern climates where light can be very limited in the winter. Living in Alaska, I can personally attest that they work and affect your mood.
Lots of strategically placed windows provides an abundance of natural light.
Get the Look and Feel Good
Even amidst urban sprawl, it's entirely possible to forge a natural sanctuary in your living space. Let's explore how I transformed rooms with views of nothing but an adjacent brick building into rejuvenating havens. By leveraging earthy tones like greens, blues, and browns, incorporating artwork showcasing flora and fauna, and introducing real plants, I managed to evoke a "feel-good" ambiance that resonates with the calming embrace of nature.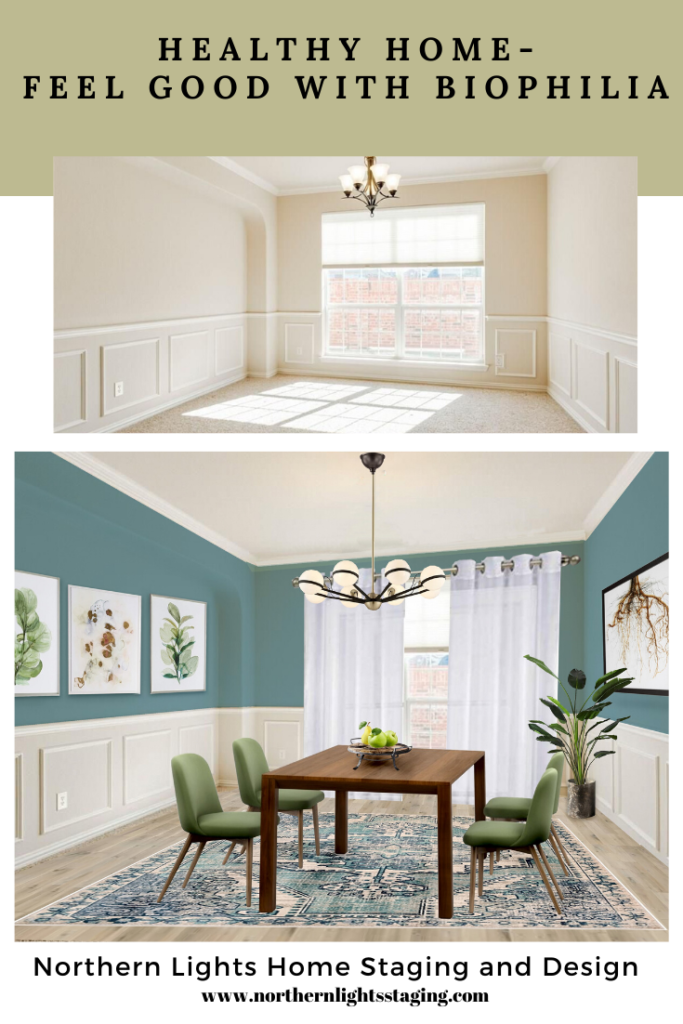 Get Connected to Nature in Your Design