As humans, we want to be connected with nature and other living things such as people, animals and plants.  This longing for "connection" with other life forms is called "biophilia".  The term was first used by Erich Fromm in The Anatomy of Human Destructiveness (1973) and later by Edward O. Wilson in his work Biophilia (1984). Lately, there seems to be more emphasis on this concept in the world of Interior Design.
As humans we have always been connected to nature, for survival, sustenance, spiritual renewal and inspiration. Mother nature is the best designer there is, with her endless abundance of beautiful color palettes, shapes, patterns and textures. Spending time in nature is good for our health and wellbeing. Plants give us food, color, texture and beauty inside and outside our homes, wonderful aromas and they help create the air we breathe.  We admire and have revered animals throughout time and culture in our art, religions and in our homes as our best friends.
This really speaks to me, as I spent 33 years as a wildlife biologist, hiking the woods of Arizona and Alaska, looking for plants and animals, thinking about protecting their habitats and admiring Mother Nature's design skills. Geeky as it may sound, I have looked at a lot of plant parts and other things under a microscope and thought, wow that would make a great pattern on a pillow or love that color scheme!
Feeling "connected" makes us feel good. And who doesn't love that! So how do we get all those good feelings in relation to our home, even as the world around us seems to get higher tech and removed from nature every day?
How can we connect with those great feelings related to biophilia when it comes to our homes and Interior Design?
Use natural and eco-friendly material in your building materials and Interior Design choices. See my article on Eco-Friendly Interior Design.
Follow the call of the wild. Get outside, collect cool objects from your outdoor adventures to decorate your home and tell your story. Branches, rocks, shells etc.
Indoor plants.
Create a beautiful outdoor oasis with landscaping that connects the outdoors with the indoors. Place a window so you can see it from inside.
Create inviting outdoor living areas.
Bringing the outdoors "in" through use of design, strategic window placement and use of colors that harmonize with the outdoor environment. Use your outdoor windows as indoor "art".
Plant native species in your yard to attract wildlife. They are great for withstanding the elements because they are adapted to the area and don't contribute to the spread of noxious weeds or non-native plants that can be detrimental to other plants or wildlife. I have collected perennial native plants such as wild roses, blueberries, geraniums and more in my hikes to plant native species in my yard here in Alaska to attract wildlife, produce food and provide great color.
Get indoor plants to provide a variety of colors, textures and improve your indoor air quality. Flowering plants are a special treat to add pops of color!
I don't know about you, but I never feel truly good and happy if I do not have an animal to love living in my home! Enjoying animals, whether indoors with you or those that share your outdoor space can make a wonderful difference in how you feel.
Interior design that encourages and makes it easy to live with pets. Pet friendly upholstery, washable rugs etc. make it easy and less stressful to add a pet to your home.
Plant trees, bushes, shrubs and flowers that are beautiful to look at, filled with color, smell great and attract wildlife, birds, butterflies and pollinators. Place some of these strategically so you can view the wildlife you attract from your windows.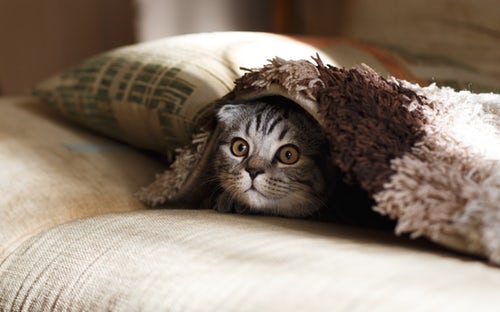 Use the colors of nature in your home, inside and out. As a certified color strategist, I often measure some of the colors from clients landscaping (shrubs, flowers, trees) and translate that to paint colors for exterior walls, front doors or interior paint palettes.
Blues, greens, browns, off whites and grays are great natural colors to try to bring the outdoors in since they are prominent in trees, shrubs, the sky and water. Find pops of color from some of your colorful outdoor landscaping such as the color of prominent flowers (pinks, purples, yellows and reds), the fall colors of your trees, shrubs or ground covers (golds, reds, oranges).  Black and pure white are not often found in nature but can be great colors to add to make the others stand out in all their glory. If it is a prominent color you can see from your windows, even if it is from an adjacent property, consider tying it in to your color scheme.
Get great photos of your outdoor adventures that evoke the feeling you had while you were there for art.
Consider art that shows landscapes, plants, animals or other natural elements that bring you joy and work with your design and color palette.
Scents can have a huge impact on the way you feel.
Try a diffuser with natural oils of lavender, orange or other scents related to herbs or fruits to make the connection through smell.
Flowering plants add a beautiful scent to your indoor space.
Avoid products that emit harmful odors.
Use full spectrum bulbs to get the quality of natural daylight, especially in northern climates where light can be very limited in the winter. Living in Alaska, I can personally attest that they work and affect your mood.
Lots of strategically placed windows provides an abundance of natural light.
Get the Look and Feel Good
Even if you live in the middle of a city, you can follow some of these guidelines to create a space that feels good and gives a sense of being more connected to nature. Here are examples of several rooms I designed in a home that had lots of windows, but the views were of an adjacent brick building. In these examples I used natural color such as greens, blues, browns, art displaying plants and animals and plants to create a space that "feel good".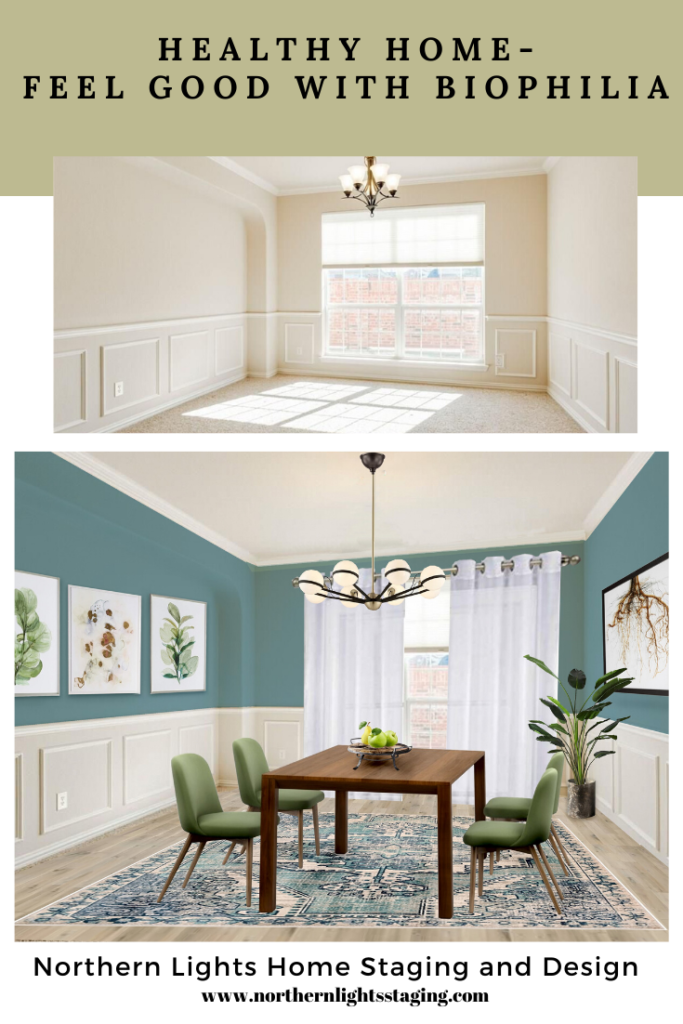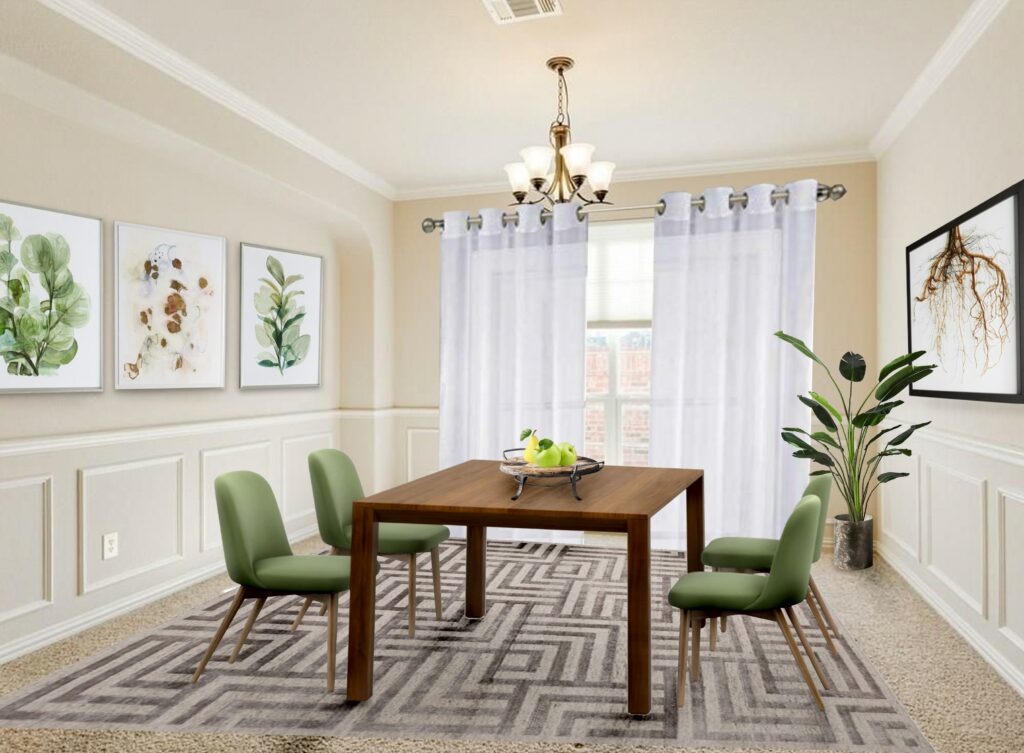 Here is another example of a living room in the same home.
In the example below, I used color such as Behr's 2020 color of the year Back to Nature, as well as natural products such as wool, stone and metal and leather. Even the fractal art, which I designed, uses eco-friendly materials.