Do you love bringing the outdoors in? I do too. A beautiful example is this Edesign I created for the Seasonal Living Design Challenge.
Participants were to design a space in a Modern to Modern Farmhouse higher-end residential home, containing at least 3 Seasonal Living products, and 2 seasons should be reflected in the use of each space. Spaces should emphasize the concept of "Wellness".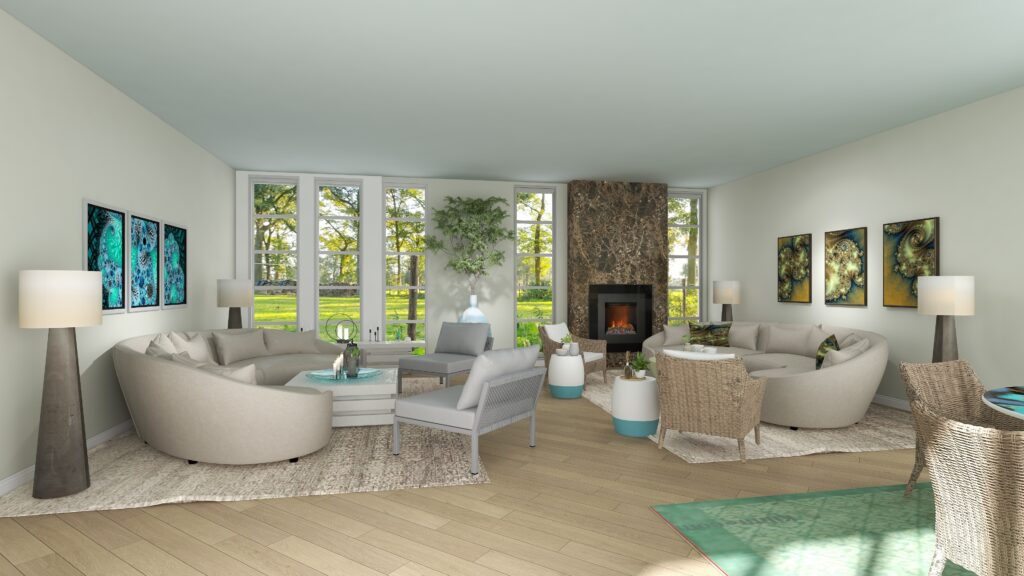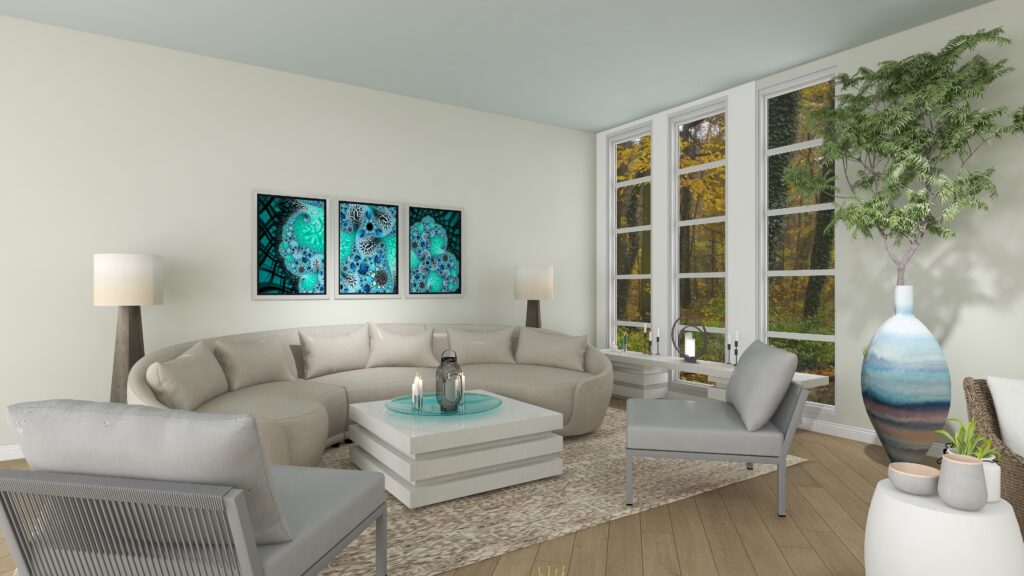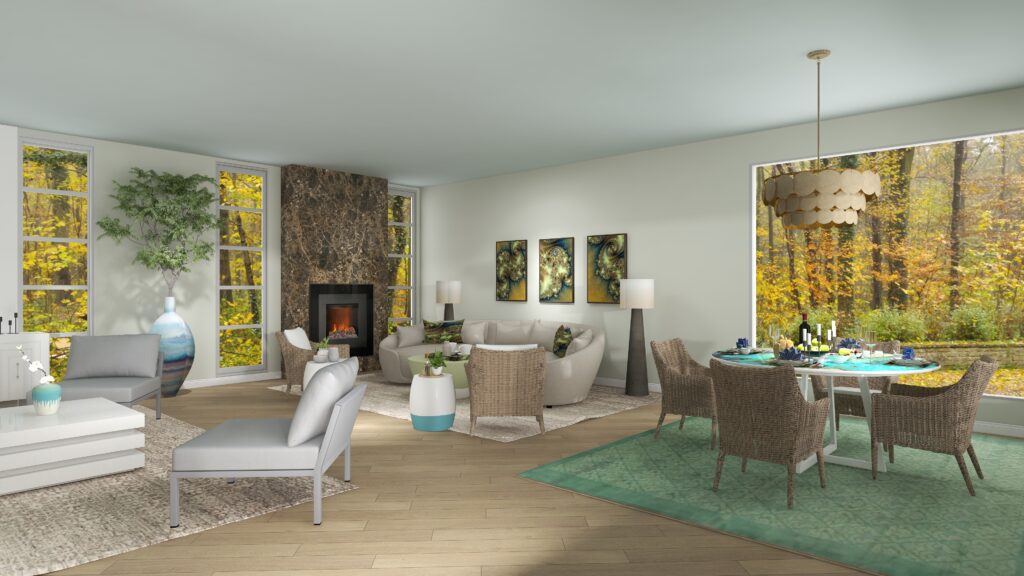 Designing a space that enhances the use of outdoor space as well as indoor space and is usable for more than just one season of the year is wonderful for making the most of your space and your well-being.
Seasonal Living provides distinctive furniture and decorative accessories that invite people to connect with the outdoors and live in rhythm with the four seasons.
I believe my design is perfect for spring, summer, fall, and winter with its indoor and outdoor fire features and roof that covers the outdoor space.
I believe the concept of wellness is critical in creating the perfect space for you. Wellness is about having a healthy environment that inspires peace and well-being. Bring wellness into your space in the following ways.
Color– Use the energy of color to bring peace, calm, well-being, or inspiration to your space.
Biophilia- Bring the outside in by creating a seamless interplay between the outside view and the interior. Use natural materials and elements in your space.
Art- Select art that has a meaningful message that inspires you whenever you see it.
Natural Materials- Use natural materials such as wood, metal, glass, wool, clay, stone, cotton, etc. for a healthy environment.
Light, Fire, and Sound- Let your space and yourself breathe in an area with plenty of light, fresh air, quiet, and the comfort of a fire in the fireplace.
Uncluttered space– Give yourself room to breathe, move freely and relax. Too much clutter feels chaotic and does not allow your eyes to rest.
This design uses a primarily neutral color scheme interspersed with greens, blues, and yellows to harmonize with the outdoor landscape. The colors are peaceful, relaxing and give the feeling of relaxing in the forest. The walls are a very light green and the ceiling a light blue, to blend with the forest and sky increase the flow between outdoors and in.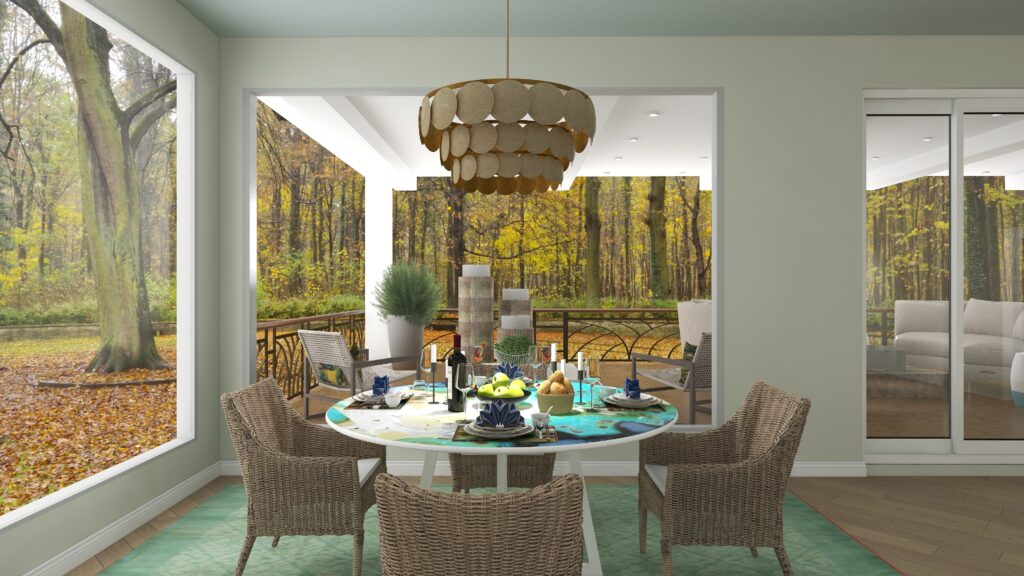 As humans, we want to be connected with nature and other living things such as people, animals, and plants. This longing for "connection" with other life forms is called "biophilia". See my article on biophilia for more details.
Some of the ways of doing that, which I incorporated in this design include:
Use natural and eco-friendly materials for building and decor. In this design, I used lots of glass, wood, wool, wicker, stone. Seasonal Living also uses natural and recycled material whenever possible.
Use indoor plants to provide a variety of colors, textures and improve your indoor air quality.
Use the colors of nature in your home, inside and out. The furnishings are primarily neutral colors, allowing the art, plants and accessories to add colors and textures to harmonize with the outdoor environment. The walls are green and ceiling blue to allow the eyes to rest and help the inside flow into the outside.
Use lots of strategically placed windows for an abundance of natural light and views.
Select art that enhances the energy you want to surround yourself with, inspires you and helps remind you who you want to be.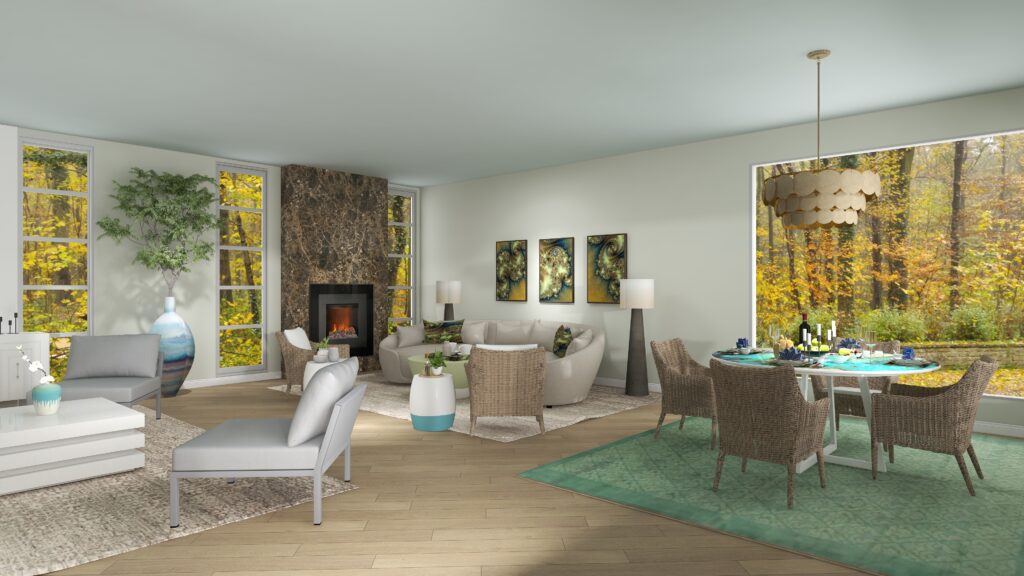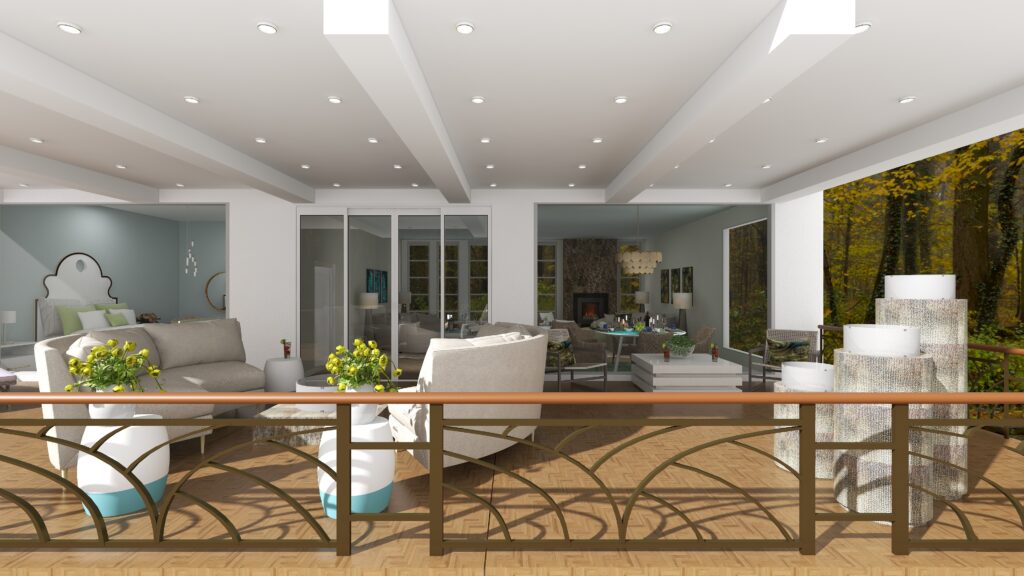 Art can have a big impact on the energy of the space and how your feel in it.
Consider art that shows landscapes, plants, animals, or other natural elements that bring you joy and work with your design and color palette.
Consider art that tells the story of something important to your well-being. In this design, I used 2 of my recent fractal energy art series. The first, in shades of greens, is called "Release". It not only portrays the release of the season of fall into winter but the release of all the things that no longer serve you or your well-being. Note the design in the wall art, pillows and tray on the coffee table. 
See my Saturday Night Live Art Show on my "Release" art to learn how it was made and more about the energy behind the design.  "Release" is all about releasing all the things in life that do not serve you or contribute to your well-being.
The greens and fall colors add a feeling of calmness and well-being as if sitting in a beautiful forest. This is the feeling I want to have as a result of releasing what no longer serves me. It works together perfectly with the exterior landscape and the Seasonal Living furniture.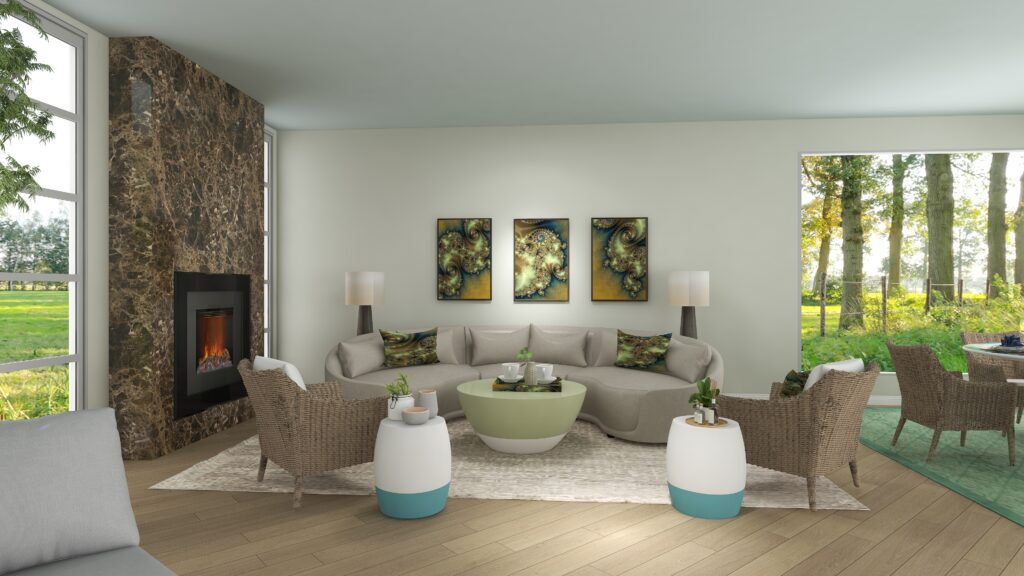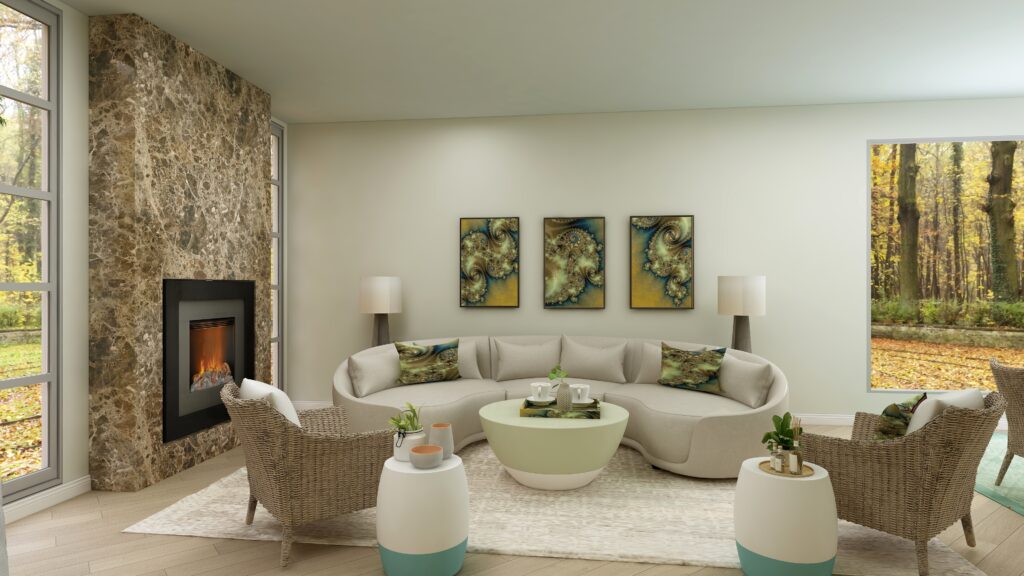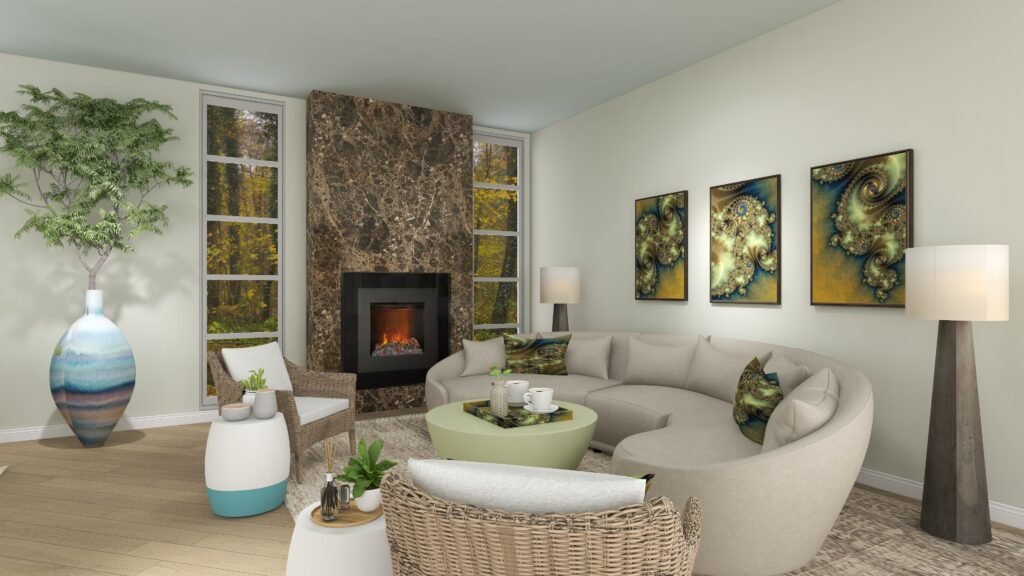 I created 2 more pieces to go with it, so you can see the movement between pieces and use three together over a sofa t create a focal point in a room.
"Attachments" Fractal Art
Lots of sunlight, a warm, beautiful fire in the fireplace or outdoor fire pits, candlelight and the sounds of nature are the extra touches that make magic happen and increase your wellness in un-measurable ways!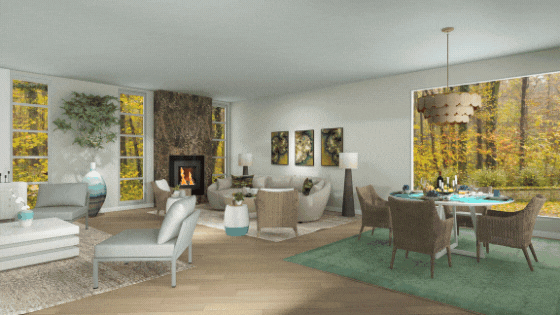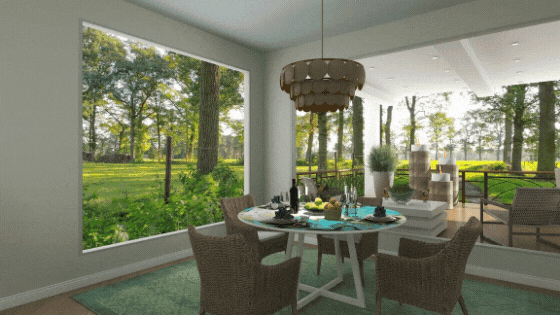 I enjoyed developing a design using Seasonal Living products and exploring the flexible concept of indoor/outdoor living. I love that their products are sustainable and created or inspired by artisans. I liked being about to meld it with my own fractal art and loved the experience of creating a design that flowed seamlessly between inside and outside and could be used in all seasons of the year. 
Fractal art is digital art I create on my computer. I love creating fractal art because it allows me to work with brilliant colors, interesting textures, and incredible detail. Learn more about how it is created in my last Saturday Night Live Art Show, " A Passion for Purple" where I show some video of the process. See examples at my store on Fine Art America and Society6.
Create Seasonal Living and Wellness in your space.
Are you ready to bring the outside in and bring more peace and well-being into your space?   Let's tell your unique story and find the alignment of art, science, and energy that makes you happy. Try my Aligned Design consultation and let's get started.