As a Certified Color Strategist, I love color and exploring the latest color trends and how you might use them in your own home. Cavern Clay is a warm, earthy and inviting terra cotta color which is the Sherwin Williams 2019 Color of the Year. An interesting choice!
When I first saw it, it reminded me of the red rock country of Arizona. It brought back memories of Southwestern Indian tribe colors from their rugs and art, terra cotta pots from Mexico and Indian ruins of New Mexico. Sherwin Williams calls it "Ancient, yet fully alive, and Bohemian, yet totally refined".  I could sense the ancient aspect.  It reminded me of the colors of a Hopi village where I once attended a ceremony that felt like it could have taken place a thousand years ago. Sherwin Williams says that it goes great with natural furnishings, including exposed floors, wood furniture, leather upholstery and worldly textiles.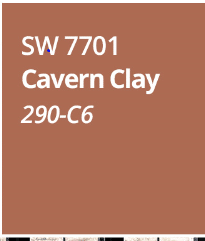 I was working on a design for a Turkish inspired living room, and I noticed how much this color is used in Turkish rugs, pillows, textiles and art. No surprise as Turkey is a place where the land has inspired much of their art and culture, is a place with ancient roots, and Turkish elements are often used in Bohemian inspired design.  Turkish style is a global style that is warm, inviting, earthy and exotic.
In the design below, I used Cavern Clay on the walls and mixed traditional rugs, pillows and accents with modern furniture and art.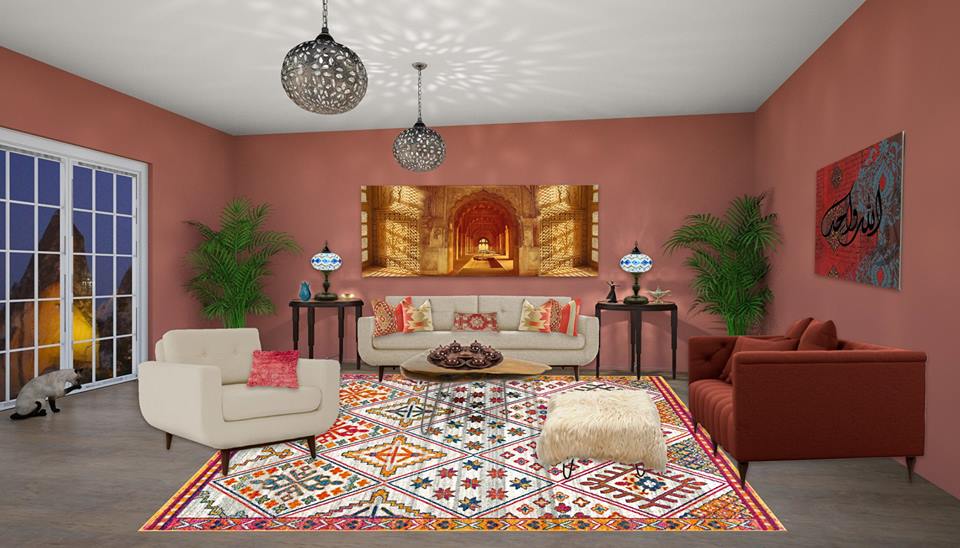 Interested in trying Cavern Clay in your own home? Be brave and paint an entire room with it, or try the color or similar shades in accents such as a wall mural, pillows, rugs, art, a beautiful side chair or accessory. These can be easily changed over time if you want to try a different color.
Interested in adding elements of Turkish style into your design? Visit Kilim.com to find some fantastic traditional, vintage and modern Turkish style rugs. Most are made from wool and cotton so have the added benefit of being eco-friendly. Many of their pillows are made from Turkish rugs or the same materials. Get 5% discount on anything on their site using the code NLS2019 at checkout.
Get the Look- Turkish Style Interior Design
To get the look in my design, check out the following products. Some contain affiliate links, meaning they give me a small commission but it does not increase your price.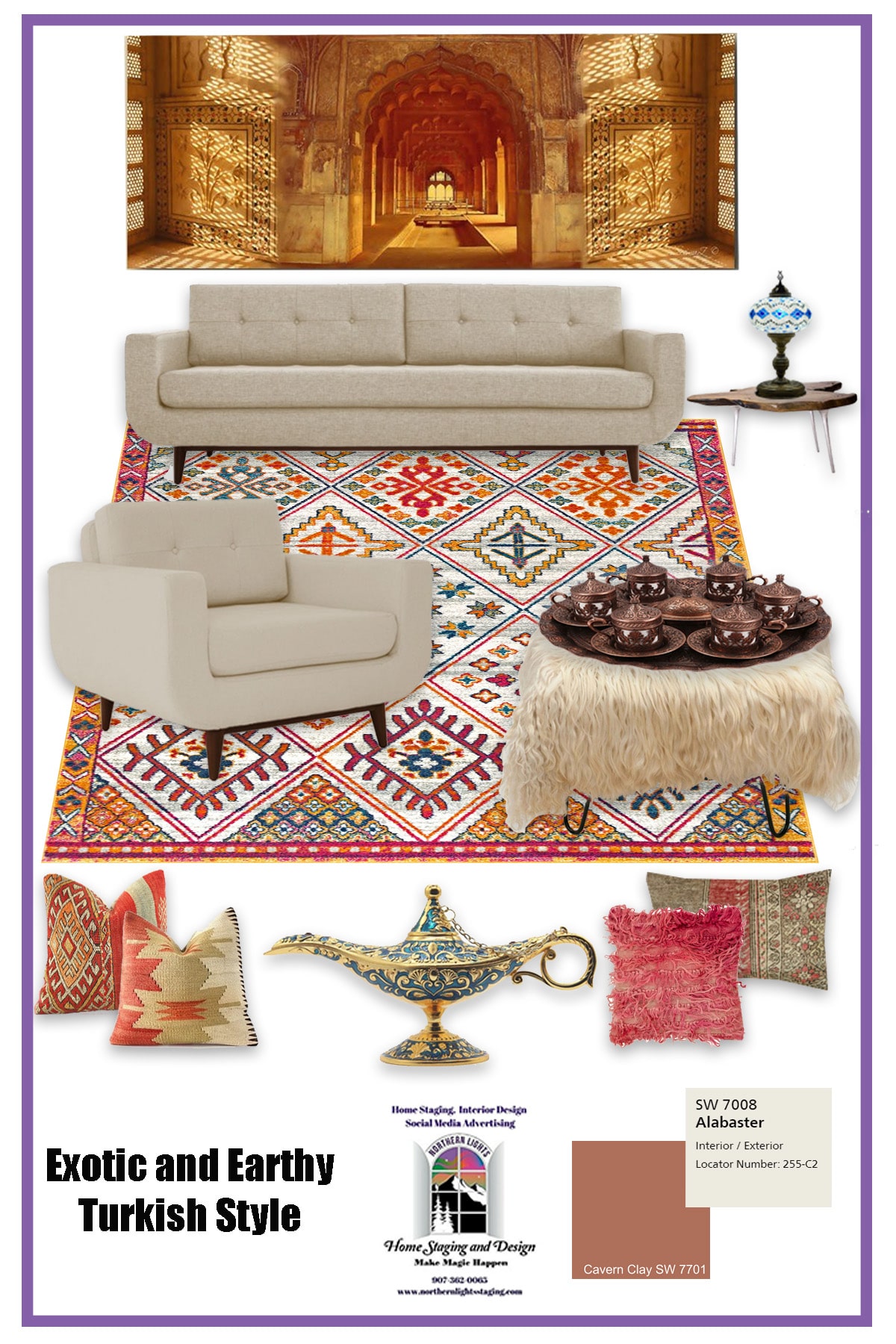 I found this great rug at Rugs USA which contains the Cavern Clay color, and inspired much of the rest of the design.
For the following items at Kilim.com, my favorite source for Turkish style products, get 5% off at check out using the discount code NLS2019. Love the colors, textures and unique traditional elements of these pieces, mixed with a modern twist.
Red Tulu pillow, Kilim pillow, Angora goat hide ottoman, Walnut slab table
To add a modern touch to the design, I used furniture from Joybird using the Nova Sunflower fabric.
At Amazon.com I found some traditional accents such as the Turkish coffee set and the Turkish lamps. Plus, who does not need a magic Aladdin lamp to make your wishes come true?
Traditional Turkish coffee set, Aladdin Magic Lamp, Turkish Lamp.
At Etsy I found the most wonderful modern Turkish art and loved the fact you could get them in large murals. Make a statement! Also, Etsy had some beautiful Kilim pillows as well that looked beautiful with the rug I selected.
Art Mural, Kilim pillow, Kilim pillow
For more inspiration on color trends and how to use them in your design, see my Pinterest board on Paint Color Trends and Ideas.
For more inspiration on Turkish style design and other global styles, see my Pinterest board "What is your Design Style" and  the board on Turkish style.
Since writing this blog post, this design won an award for one of the best Interior Designs of 2018 from Searchmetry!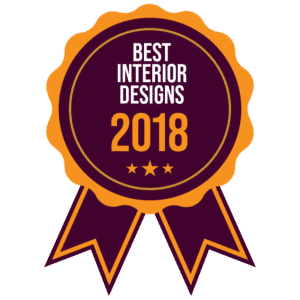 Need help pulling it all together? I would love to help you. Contact me for a design or color consultation today! Call 907-362-0065 or email me at info@northernlightsstaging.com.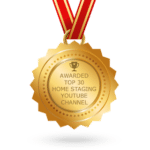 Wondering what your Global Design Style is? Take the quiz and find out!
Call 907-362-0065 today
 info@northernlightsstaging.com