When I do consultations with people getting ready to sell, there are some issues I see regularly. Here is some of my top ten home staging tips I give most people to help them sell fast and for more money.
Clean– Make it spotless! Particularly kitchen, bathrooms and master bedroom. No time? Hire a professional. A clean home looks well maintained.
Repair- Fix all those little things like leaky faucets, squeaky door, loose knobs, lights that do not work, etc. A home that looks well maintained on the surface will be less likely to have buyers wondering about the condition of all the things they can't see such as your wiring, plumbing, etc. The first thing the buyer sees that is broken or not working properly breaks the magic that can get that buyer to fall in love with your home.
Declutter– Remove 50% of what is in your closets, bookshelves and cabinets. You are selling space, if it looks like you do not have enough of it, buyers will be worried they will not have enough either.
New bedding– A new bedding set can transform a bedroom. Definitely go for new bedding in the master bedroom. Even just new pillows (4 per bed plus throw pillows) can make a bed look fabulous, as pillows flatten out over time. Go for a fresh, modern style.
New towels and shower curtain– Fresh clean towels of various colors in a spotlessly clean bathroom that coordinate with a fresh, simple shower curtain will make your bathroom look great. They do not need to be expensive, just new and clean! Hide all personal items including soap when showing.
Let there be light! – Nothing screams dated in a house louder than outdated lighting fixtures. Lighting is easy to replace and simple, attractive and inexpensive lighting fixtures can be purchased at Home Depot or Lowes. Rooms should ideally have overhead lighting, several lamps and some task lighting. A room with only an overhead light looks unattractive and dark, and can appear smaller. Have several matching lamps with high wattage bulbs and have all lights in the house on for showings.
Paint neutral colors (beige, tan, grays)- Although colorful paint jobs can be great for living and for spicing things up in kid's rooms, it can turn off buyers with different tastes and who worry their belongings will not match your paint job. Painting everything white will make your house boring and unmemorable. Add color in the décor rather than the paint. Paint is cheap and can make everything look new, fresh and clean.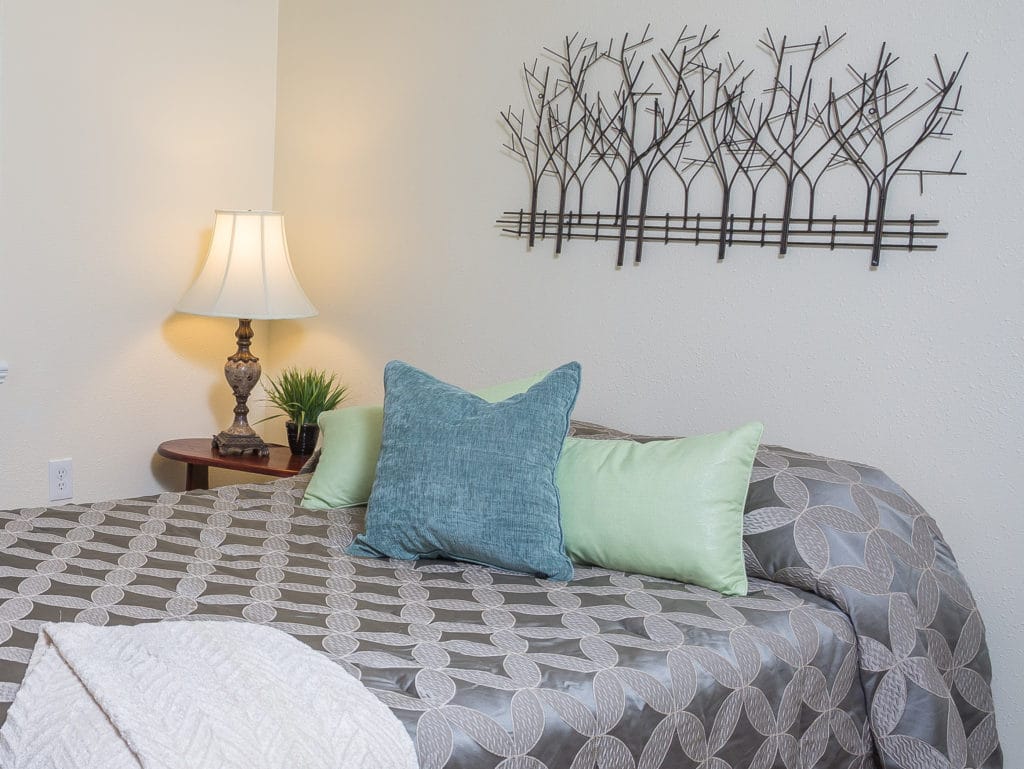 Remove heavy curtains– Replace heavy curtains with sheers or no curtains (if there is a good view). Keep all curtains or shades open for showings. You want everything to look as bright, airy and spacious as possible. Sheers are inexpensive, let in light, soften the room and can downplay a poor view if needed.
Remove personal photos and items– Buyers get distracted by these items and feel like they are invading your territory. Make it easy for them to picture themselves living in the home. It is also good from a safety standpoint not to give them information about you or your family.
Improve curb appeal– Declutter the outside, make sure vegetation is trimmed, cleaned up etc. Make sure lights are always on outside and house number is visible. Something decorative near the door and a new welcome mat is a great touch.
Use these home staging tips to sell your house fast and for more!
Call 907-362-0065 today
 info@northernlightsstaging.com