In the last 3 weeks, I have been thinking of my dharma quite a bit. Interestingly, I did not know what this term meant before that. But it keeps coming up and jumping out in front of me.  "Hey, you, I'm your dharma…are you paying attention"?  Well OK, now I am. Who are you and what do you want?
"I am your purpose in life. Your true calling – what you were put here to do". OK, well, you are a little fuzzy and nebulous. Could you make yourself a little clearer?  "Yeah, but you have to do some work to help make that happen." OK, I have time. Let's get to it.
Since Covid-19, and spending a lot of time in quarantine, I decided to use the time to learn, transform, make my life better, and get healthier. I've been taking classes, both personal development and business classes, and even doing 2-3 online dance classes per day.
One of my classes, Jim Fortin's Transformational Coaching Program, I took to build my design business. The basis of the class self-development and that you need to BE more, in order to do more and have more, not the other way around. BE, DO, HAVE, not HAVE, DO, BE as most people think of the way to get ahead. Many that take the program for business find that their transformation happens in their personal development first, and that is usually what is needed before it affects your business. I have found the same. Since starting I have totally changed my diet, lost 10 lbs., quit smoking, become more peaceful, am learning to do less better and be grateful for all I have. Making the investment and going through this program during this time of COVID-19, has made it even more profound. The journey is more important than the outcome.  
I have developed this morning routine, similar to what is described in the Miracle Morning by Hal Elrod which incorporates silence, affirmations, visualization, exercise, reading and writing each day. As I was reading the book, there was a quote from Jim Rohn, one of my favorite motivational speakers, that "Your level of success will rarely exceed your level of personal development, because success is something you attract by the person you become". This made so much sense, about why people come into the program for business but end up working on personal development first. And I am OK with that, although I still am working on my business too.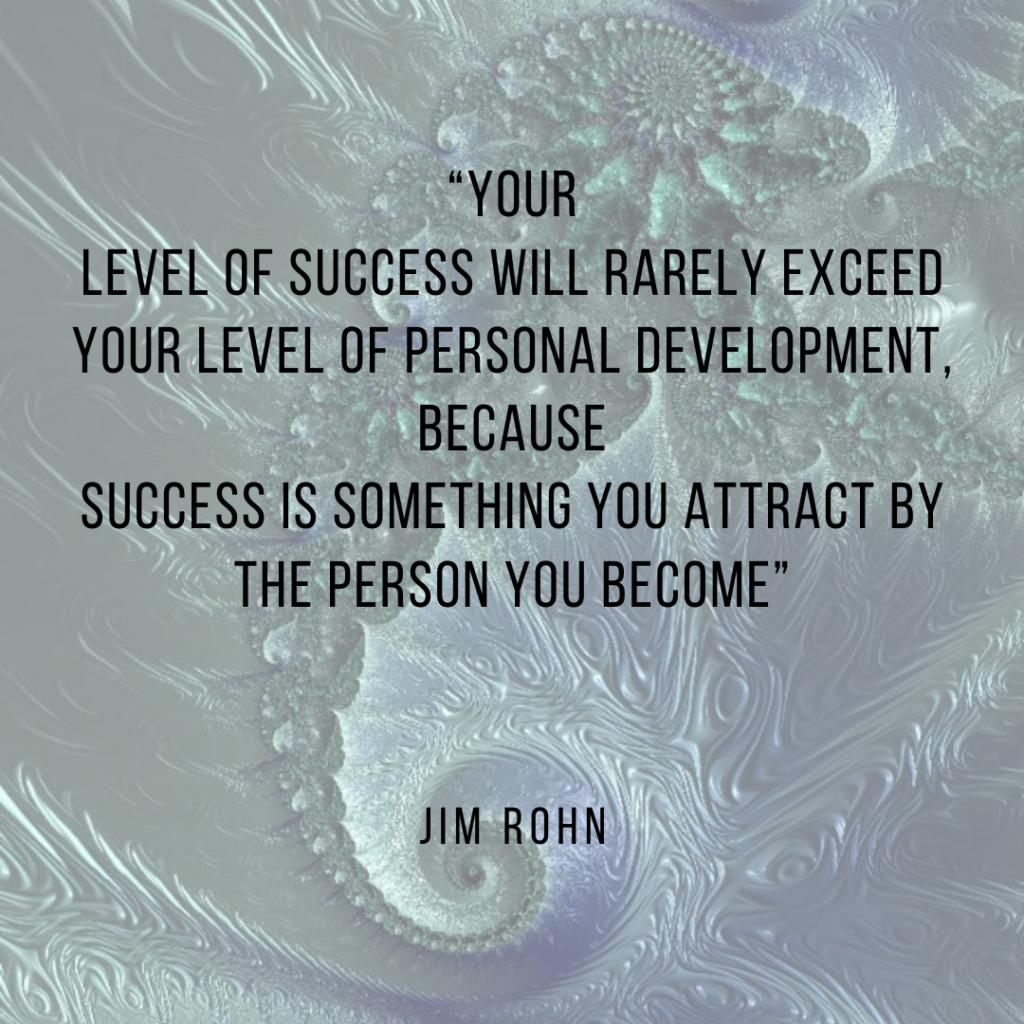 One thing I keep hearing in this program that I am trying to get my head around is that money does not come from works, it comes from the universe. Really? How the hell can that be? What it comes down to is that if you are doing that thing you love, the thing you would do anyway even if you were not getting paid, and it is helping people and serving others, the money will come.
One of the business coaches posted a quote by a famous dancer, Martha Graham. Being a dancer, I thought, OK, you are speaking my love language now. Let's hear it.
"There is a vitality, a life force, an energy, a quickening that is translated through you into action, and because there is only one of you in all of time, this expression is unique. And if you block it, it will never exist through any other medium and it will be lost. The world will not have it. It is not your business to determine how good it is nor how valuable nor how it compares with other expressions. It is your business to keep it yours clearly and directly, to keep the channel open. You do not even have to believe in yourself or your work. You have to keep yourself open and aware to the urges that motivate you. Keep the channel open. …
― Martha Graham
And now it makes more sense. We are all unique in all of time and space. We all have our individual voices. If we can just get out of our own way and out from under all the personal stuff that holds us back, by Being better, we can open the channel and let it come through. That is our dharma. When it happens, the money will come.
And as a fellow Interior Designer, Leslie Carothers said in a post on Facebook the other day, NO ONE is YOU. NO ONE has your heart, your soul, your exact combination of the *magic* that makes working with you such a special experience.
So, in a way, we don't have to specifically pinpoint exactly what are dharma is, we just have to be open to allowing it to come through us and to express it.
I think my dharma is to create beauty in the world and make people happy. Whether it is through Interior Design, color, a beautifully staged home, a beautiful dance, piece of jewelry, stained glass or fractal art. That beauty is inspired by joyful color, lots of texture, a bold statement that is unafraid to say look at me, experience this! It is eco-friendly and cares for and connects to nature whenever possible and connects the world with global style designs.  It searches for the magic that is your dharma and wants to help you express that in your home.
That is what I am working on lately, allowing my dharma to express itself in all it's colorful glory.
How about you? Are you living your dharma?
Here are some examples of some of my creative work that I am inspired to create that you are welcome to check out! Enjoy
Interior Design and Celebrating Color
My Fractal Art Home Decor and Wearable Art