My previous posts have been about how to design your Bed and Breakfast to make it beautiful and functional and attract your idea guests.
With our current situation, things are uncertain about how many people if any will be traveling now and through the fall. If your Bed and Breakfast or vacation rental will be open, or you are just setting it up now, there are things you can consider to design and manage your Bed and Breakfast to help keep your guests and yourself as safe as possible.
I am not offering medical or health advice, just passing on what I plan to do at my own Bed and Breakfast in case you might find it helpful. I am updating this post as new information comes out. (Updated 3-27-20).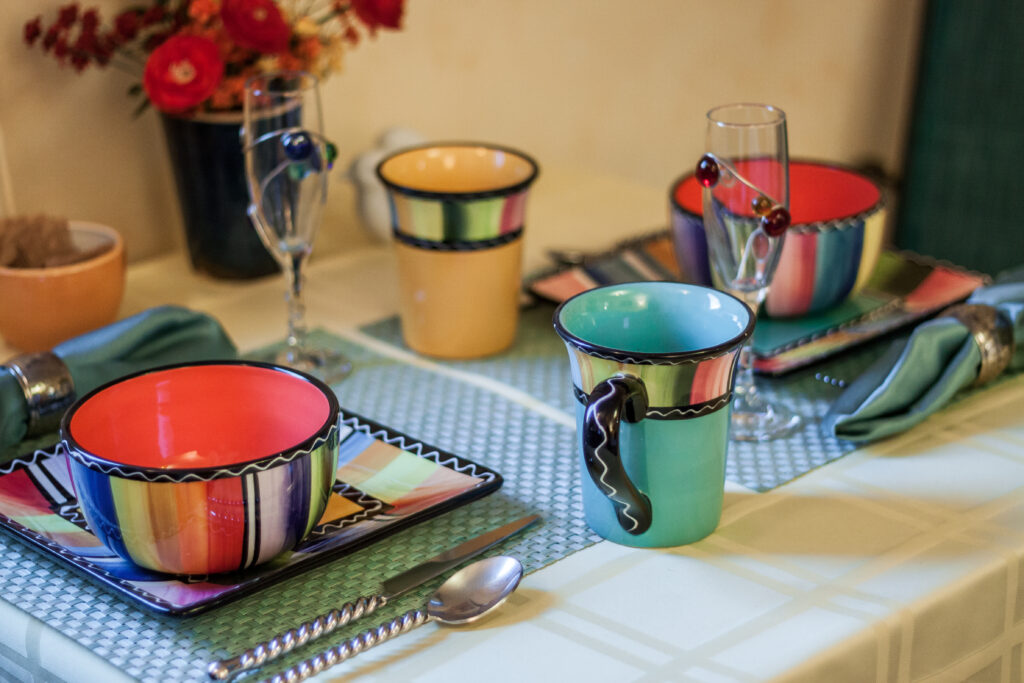 I plan to to listen to the experts and to follow all guidelines coming from the federal, state and local governments in my community. I do not get information from social media, which can be false or misleading.
Here are some great links from the experts:
Centers for Disease Control and Prevention- Latest Updates
Determine Your Own Safety Policies and Let Customers Know
It is important to let your guests or future customers know how you are considering their safety when staying with you. Have you thought of how you are going to keep them and yourself safe? How you might change your cleaning procedures? How you will handle it if someone shows up and they are sick or get sick while visiting? How you will design your Bed and Breakfast to adapt to the current situation?
Here are the policies that I plan to implement in my own Bed and Breakfast. I have posted this on my Facebook business page and also on my website, so guests know what to expect. You may need to adapt as new information comes out.
"Hi future B&B guests! Just wanted to let you know that your (and my) safety are my priorities. I am implementing some new safety procedures which include having you leave your shoes at the door (as always), using hand sanitizer available at the door when you arrive, providing masks for anyone that has a cold to wear, extra sanitizing wipes in the bathroom and room for your use, running an air purifier during your visit. I will be doing complete cleaning of all surfaces between guests and removing items from the room that cannot be cleaned or washed. I only have one room at my Bed and Breakfast which also eliminates your exposure to other guests. Let's stay safe, healthy and happy by working together. Look forward to meeting you." Mary Ann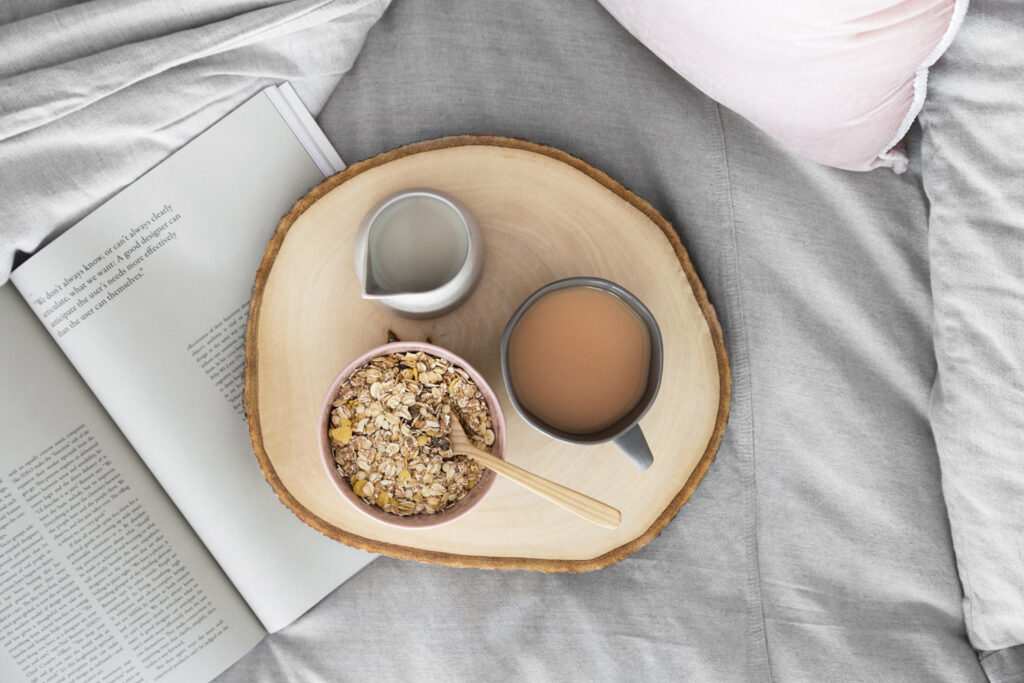 While of course we want our Bed and Breakfast to be beautiful and comfortable, and to provide an experience that is perfect for our ideal customers, we may need to adapt some things during this time.
Throw Pillows –Consider items that are hard to clean after each guest such as throw pillows. If they can't be washed after each guest, consider removing them from the room or using removable pillow covers on them that can be washed. Another option is to get Lysol spray in a nice scent such as "Linen" for use after each guest. I have heard this works and smells great. I have been unable to find it online or at the grocery store right now so for now plan to remove these items.
Bedding- Can all of your bedding including bedspreads be easily washed after each guest? If not, consider replacing them for now with something that can go in the washing machine like duvet covers.
Bed pillows- Pillows should be washed after each guest or sprayed with Lysol spray (nice smelling scents of course). If you have down pillows or types that don't handle a lot of washing well, consider replacing them with a different type for now.
Rugs- Wash rugs that are washable. For carpeting vacuuming should suffice. Have your guests leave their shoes at the front door.
Decorative accessories- Keep in mind that you will need to clean everything in the room after each guest, so consider removing excess accessories and replacing with just a few things that are beautiful and easily cleaned.
Stock the bathroom with lots of beautiful soaps, hand sanitizer and disinfecting wipes. Put them in a beautiful box or basket so they look great but are easily available.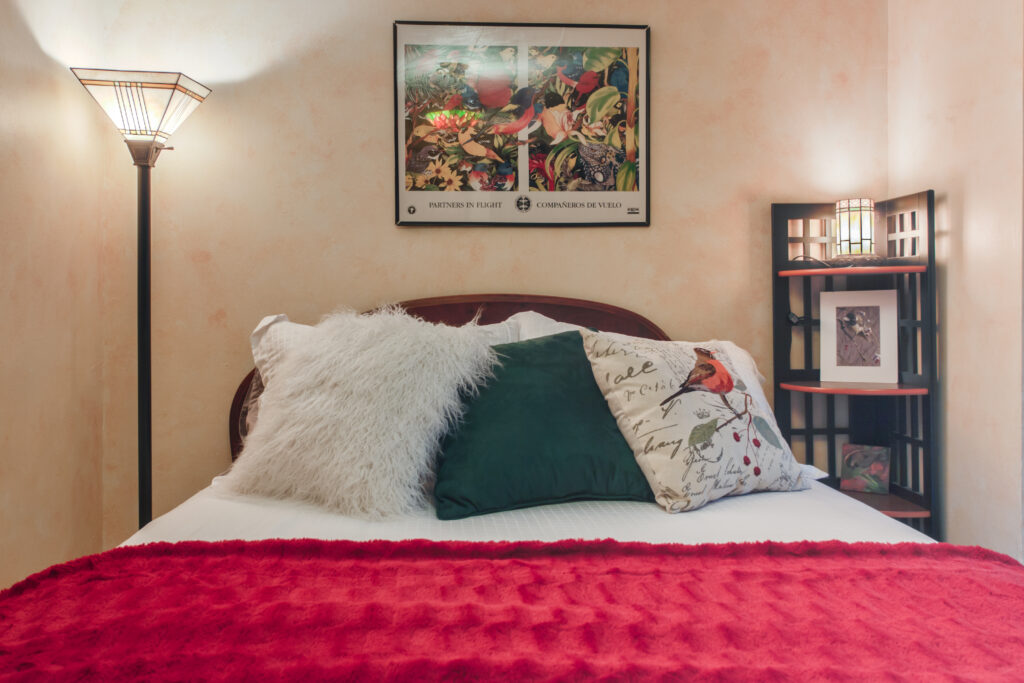 My plan is to wear a face mask and disposable gloves when cleaning the room and to use cleaning products with bleach or disinfectants. . Wash your hands immediately after using the gloves.
The CDC offers these definitions and advice for "cleaning" and "disinfecting":
Cleaning refers to the removal of germs, dirt, and impurities from surfaces. Cleaning does not kill germs, but by removing them, it lowers their numbers and the risk of spreading infection.
Disinfecting refers to using chemicals to kill germs on surfaces. This process does not necessarily clean dirty surfaces or remove germs, but by killing germs on a surface after cleaning, it can further lower the risk of spreading infection.
Clean and disinfect high-touch surfaces daily in household common areas (e.g. tables, hard-backed chairs, doorknobs, light switches, remotes, handles, desks, toilets, sinks) with household cleaners and EPA-registered disinfectants that are appropriate for the surface, following label instructions.
In addition to things already mentioned, some booking sites offer additional recommendations for hosts. These recommendations come from AirBnB.
1. Ventilate rooms before you clean. Allow fresh air to circulate for at least 20 minutes. If possible, leave all windows open during the entire cleaning process.
2. Wash your hands thoroughly before and after each cleaning. Use soap and water, and wash for at least 20 seconds. If that's not possible, use a hand sanitizer with at least 60% alcohol. Learn more about proper hand washing
3. Clean, then disinfect. Use detergent or soap and water to remove dirt, grease, dust, and germs. Once the surface is clean, spray with a disinfectant. Let it stand for a few minutes, then wipe—and if you're not using paper towels or disposable wipes, it's best to use a new cleaning cloth for each guest.
4. Use the right disinfectant. You don't need any hard-to-find cleaning products—most common household disinfectants registered by the Environmental Protection Agency, as well as cleaning solutions with diluted household bleach or at least 70% alcohol, are believed to be effective against the coronavirus. Pay special attention to frequently touched surfaces, like light switches, doorknobs, remote controls, and faucet handles. (See our full list of surfaces to disinfect at the bottom of the page.)
5. Don't forget about sofas, rugs, drapes, and other soft, porous surfaces. Carefully remove any visible dirt or grime, then clean with the appropriate cleaners indicated for use on these surfaces. If possible, machine-wash items according to the manufacturer's instructions.
6. Wear disposable gloves while you clean. Gloves should be thrown out after each cleaning. And make sure to wash your hands immediately after gloves are removed.
7. Don't reuse microfiber cloths, mops, and sponges when cleaning your space for a new guest. Consider stocking up on supplies that you can throw away after each cleaning. If you prefer to clean with reusable products, make sure to machine-wash them at the highest heat setting that's appropriate for the material.
8. Wash all linens at the highest heat setting recommended by the manufacturer. That includes bed sheets, mattress covers, hand and bath towels, kitchen towels, and blankets. Remember to wear gloves when handling dirty laundry.
9. Clean and disinfect laundry baskets and hampers. If possible, consider using a liner that is either disposable or that you can throw into the washing machine.
10. Empty the vacuum cleaner after every cleaning. You should wipe down the vacuum cleaner with disinfectant, along with appliances like your dishwasher and washing machine.
11. While restocking your supplies, take a moment to check expiration dates. And remember to never mix household bleach with ammonia or any other cleaning solution that can release toxic gases that are dangerous to inhale.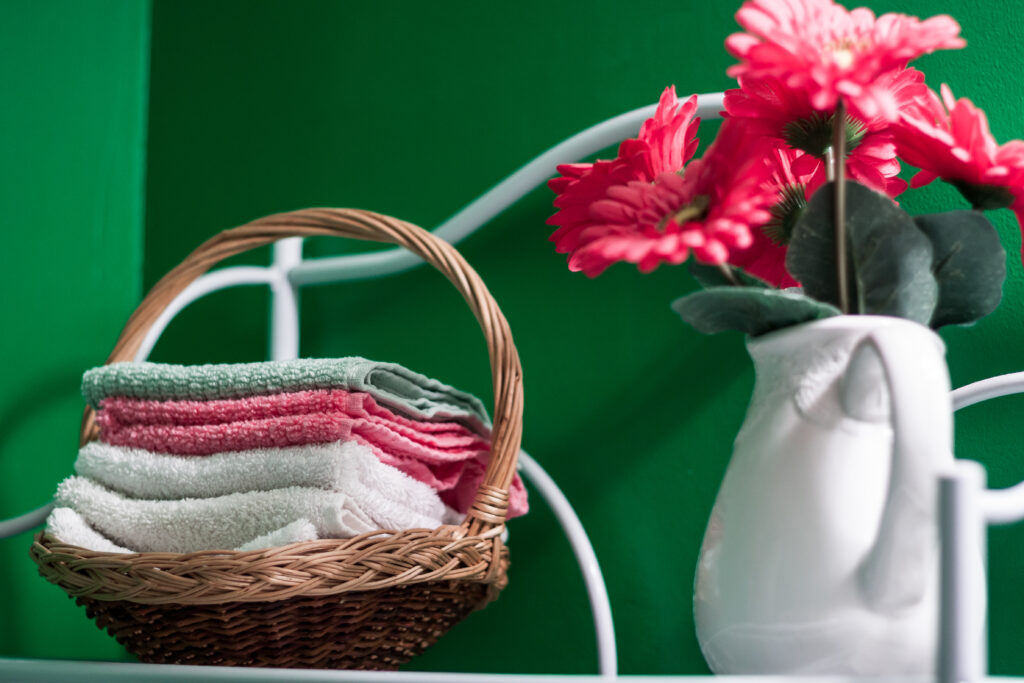 Will doing laundry kill the virus. From my understanding, No.
Basically, washing bedding, towels etc. will clean them, but won't disinfect them.
Even if your washer and dryer have sanitized modes, those are unlikely to kill the virus. During the wash cycle, the agitation and detergent will likely scrub the virus off the infected clothes and flush it out with the wastewater.
If you have a cloth laundry hamper liner, toss it in the wash when you do the laundry. As mentioned above, wash laundry on the warmest setting your clothes and linens can handle, and avoid shaking dirty laundry, which can spread virus through the air.
And when you're done handling dirty clothes and towels, be sure to wash your hands. If you aren't using gloves when handling dirty laundry, be sure to thoroughly wash your hands afterwards.
Consider whether your Bed and Breakfast normally includes common use areas such as living rooms. Mine does not but I do allow guests to use my living room if they ask at times. This might be a good time to not have common areas open to all guests for safety and to reduce the spaces that will also need deep cleaning.
I usually tell guest they can put their dirty breakfast dishes next to the sink in my kitchen after they are done eating so their dining table in their room is clear for their use. I plan to now have them leave dishes in their room, so it reduces the chance of spread of the virus into my kitchen.
I normally greet guests at the door, shake hands and then help carry all their luggage. Now I plan to stay 6 feet away and allow them to carry their own luggage.
Think about your own usual ways of doing things and how you can adapt to make things safer for both you and your guests.
Need Help Desgigning Your Vacation Rental or Bed and Breakfast?
Why not try my online Vacation Rental Consultation. Find out everything you need to do to create a beautiful space that attracts your ideal customer and gives you great photos for your online marketing. I also offer website reviews and social media advertising.
Sign up for Seasonal Living Magazine Online