Spend a little and make a lot with home staging? How does that work?
Well, we all know that if we want to make money, we have to invest some money to get started. Whether it is stocks, mutual funds, a home, a business or any other investment, we need to spend a little to make a lot. The key is to pick an investment that we can get a good return on for the price we pay for it.
Home Staging is a marketing tool for selling your home that uses decorating to show off a home's best features while downplaying its flaws. Done right, staging creates an emotional connection between home and buyer, leading to a faster sale at maximum value.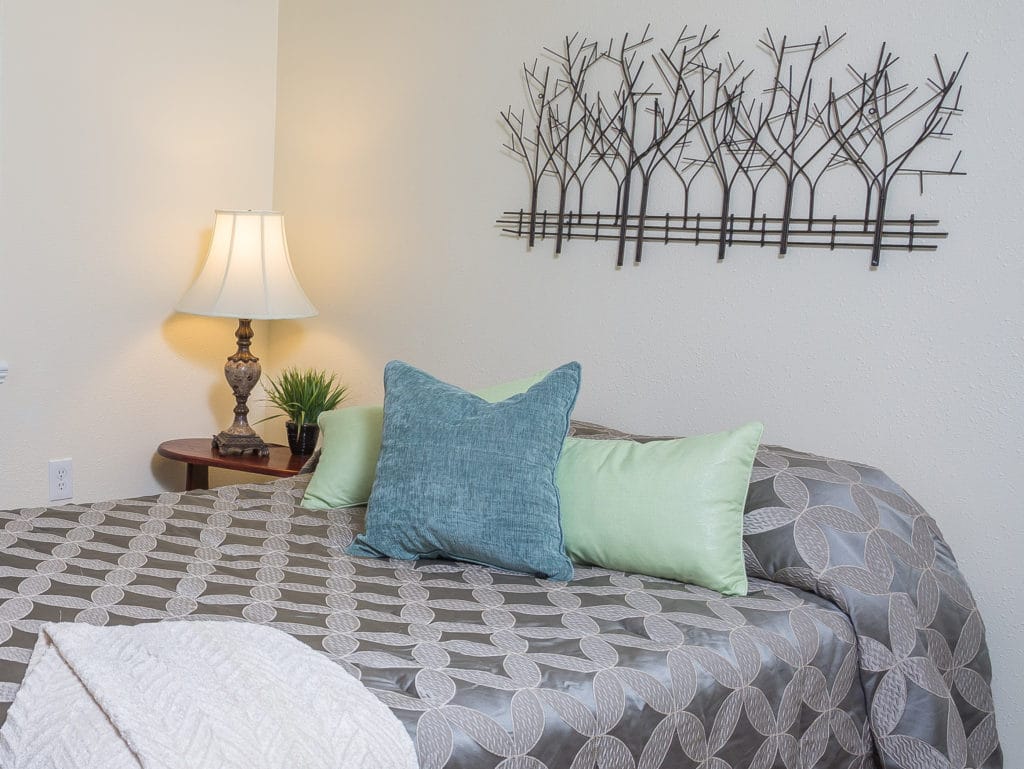 As a professional home stager,  the first question I usually get from home sellers and Realtors is how much does home staging cost? A better question might be can home staging help me sell faster and for more! Think of home staging as an investment, rather than a cost. That investment will depend on the size of your home, if it is vacant or occupied, if the stager will do everything, or you will be doing some of the work.
Stagers charge a fee for a consultation and give an estimate (based on an hourly fee, or a flat fee) if additional time is needed. A monthly rental fee may apply for furniture and/or accessories.
On average, stagers charge $300-$500 for a consultation and about $100/hour for their time after that. Furniture and accessory rental costs vary based on what is needed to properly showcase your home. A stager should not be picked based on the lowest bid. You get what you pay for. Quality counts.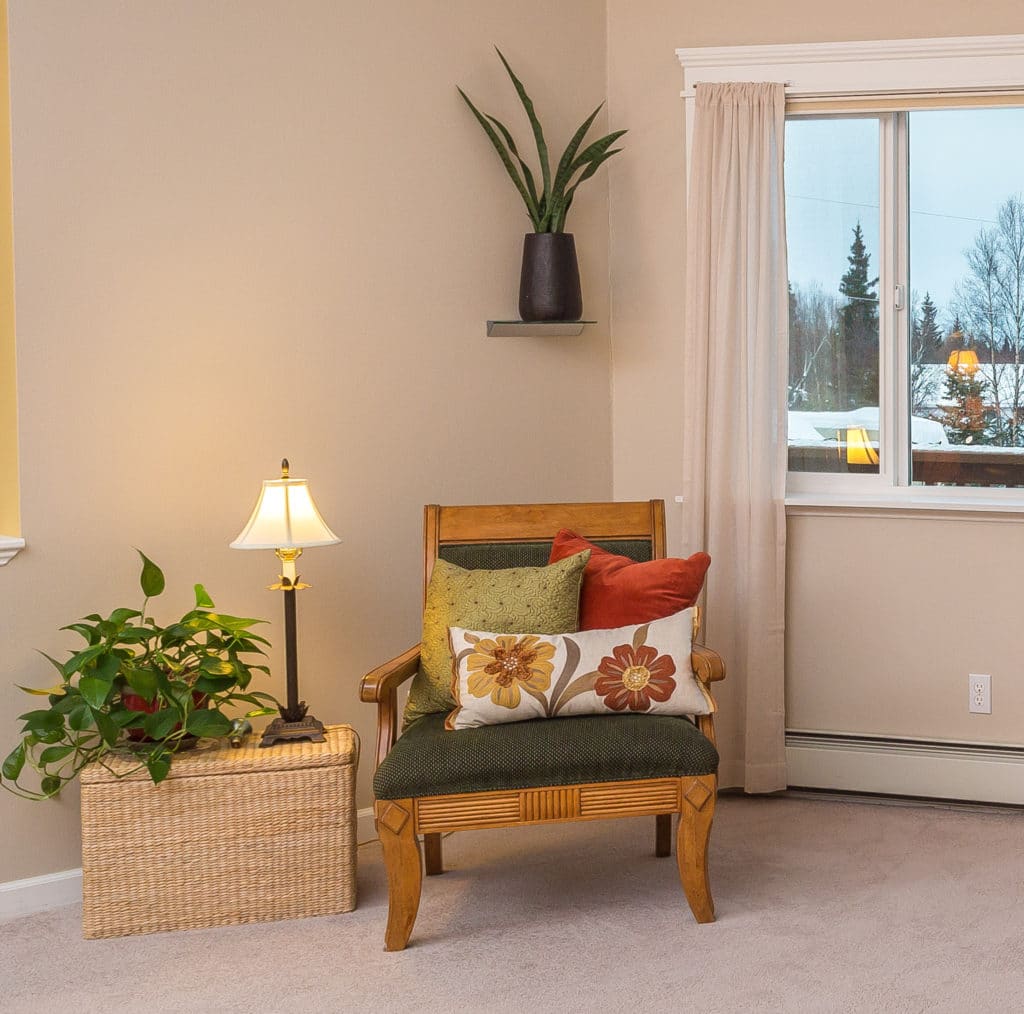 Various reports publish statistics on the benefits of home staging. Numbers may change over time with different reports, but statistics clearly show staged homes sell faster and for more.
I have found that home staging usually costs 0.5%-1% of the home's value.  Considering it may increase the value a buyer may pay up to 20%, while also saving money on holding costs with a quicker sale, this is a pretty good investment!
Spend a Little and Make a Lot
Let's Do the Math
If the median home price in your area is $350.000
1% increase is $3500
5% increase is $17,500
10% increase is $35,000
15% increase is $52,500
20% increase is $70,000
So what does this all mean? Let's look at a three examples.
1.  Make 1% More with Home Staging: Say you spend $3000 on home staging and only make a 1% increase ($3500) over the sale price of $35000.  You have paid back your home staging costs and made $500. You likely have also sold your house faster because it looks better than the competition. If you sell in a month, compared to three months for example, and your holding costs such as utilities, mortgage and taxes are $2000 a month, you have also saved yourself $4000.  Total increase or savings, $4500.
2.  Make 20% More with Home Staging: Say you spend $2000-$3000 on home staging and make a 20% increase ($70,000) on the sale.  You sell your house in a month instead of three months. You have paid back your home staging costs and made $72,000 plus your savings of $4000 in holding costs. Total increase or savings, $76,000
3. You choose not to invest in Home Staging:  You save the $2000-$3000 on home staging. You list your house for the average price of $350,000. If you are lucky and sell in a month at full asking price, your increase or savings would be $4000 on holding costs compared to not selling for three months.  This is still $500 less than had you staged and got a minimal 1% increase in the sales price as in scenario #1.  A more likely scenario is that your house does not sell in the first month because it will not outshine the competition, and your realtor recommends a price reduction of $5000 or more.  If your house is on the market for three months, and each month you go through another $5000 price reduction, at the end of the three months you have lost $15,000 from price reductions. You will also lose  $4000 in holding costs.  Total loss of $19,000.
Does Home Staging Work in Every Market?
You might think, well, it is a seller's market. My home will sell fast. Home staging works in every type of market. Even in a seller's market, there will always be homes that do not sell quickly. Staged homes generate more interest on the web and in person, by creating move-in ready homes that feel fresh, spacious, and up-to-date. All these conditions lead to higher offers, potential bidding wars, and greater profits for you.
What is the Bottom Line?
Staging will always cost less than your first price reduction. An increased sales price of your home, faster closing, and reduced holding costs, will more than cover the staging investment and all with a whole lot less stress!  Much of the staging cost can likely be written off on your taxes as advertising fee on the sale of the home.
Bottom line? Without home staging, you could lose 1-20% from your starting price as your house sits on the market compared to making 1-20% with home staging.
Home staging is a worthwhile investment with a potential return of nearly 300%. Selling faster will help you get paid faster, reduces your holding costs (mortgage, utilities. taxes etc.) while your home is on the market and makes the process a whole lot less stressful!
Resources
An Inconvenient Truth about Selling your Home.
Helpful Tips on Finding a Great Home Stager
Home Staging Proof: Solid Science Proves Staged Homes Sell Faster.
National Association of Realtors 2015 Profile of Home Staging
National Association of Realtors 2017 Profile of Home Staging
Consumers Guide to Real Estate Staging
Six Tips to Maximize Your Home Staging Consultation Dollar
Summary of 2017 Home Staging Statistics
What is the Cheapest Way to Successfully Stage Your House? Get a Home Staging Consultation.
Why Hire a Professional Home Stager?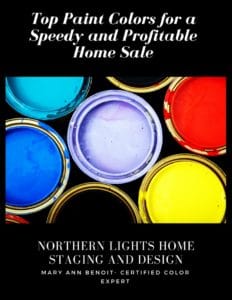 Call 907-362-0065 today
 info@northernlightsstaging.com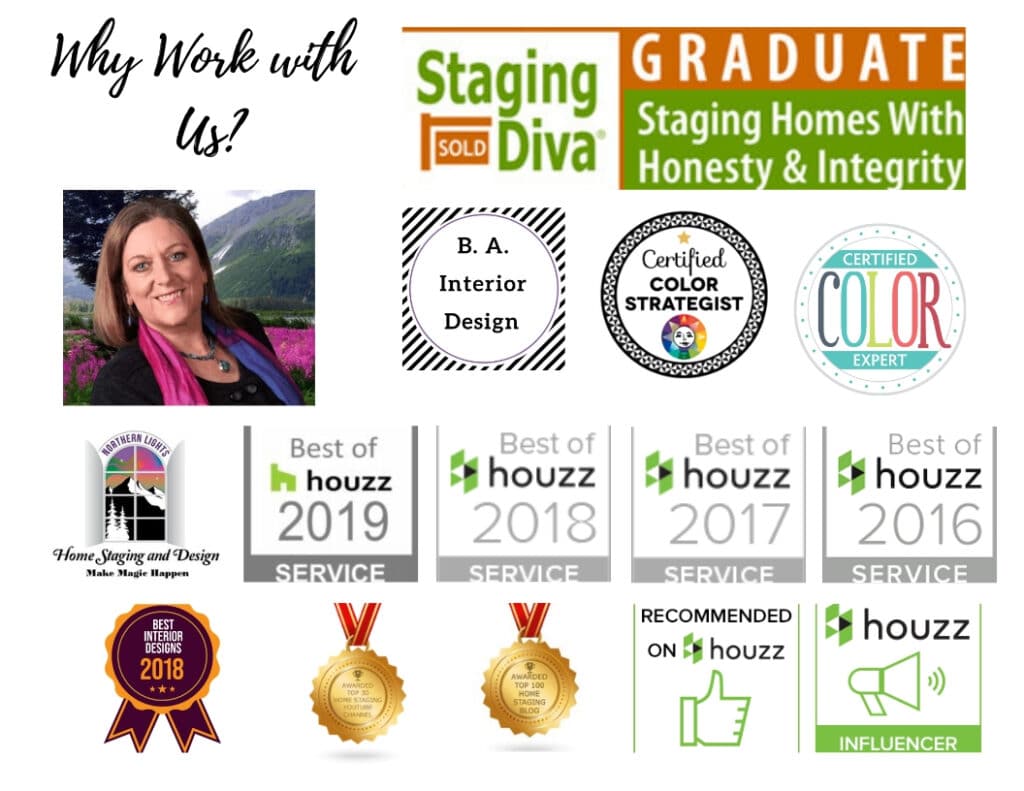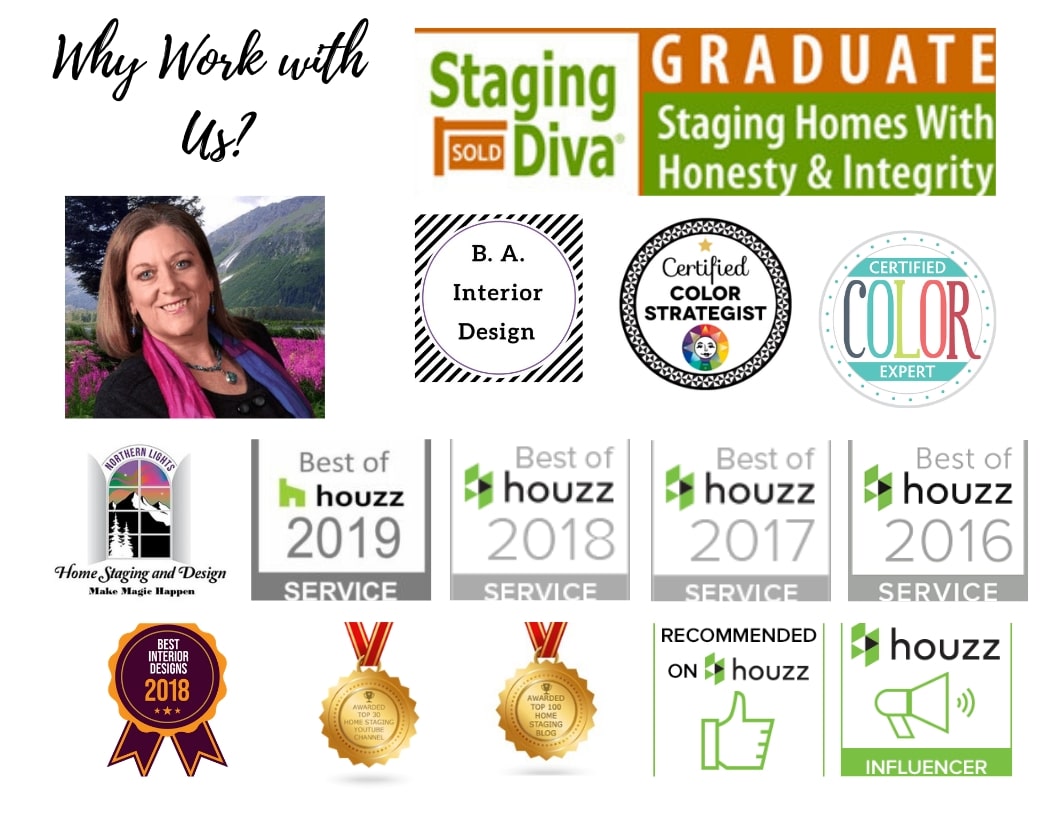 Prices subject to change without notice.