This second flat lay, to me, evoked a much more glamorous style and feeling, like a cross between Modern Global Style and Hollywood Glam.
 I am not sure what bird the feathers in the photo came from, but the art is less realistic and more stylized.  The black and gold color combination felt very luxurious, and like a great place to add a variety of metallic finishes.
The natural theme of bird feathers still evoked a sense of nature, inviting wood, stone,  and natural materials such as velvet, leather, and cotton.  I selected green, which is a wonderful color of nature, for the fabrics and added plants.
I decided to create a living room, that was dark and moody, with black or deep chocolate walls, and lots of different gold-tone metals. Dramatic lighting enhances the art and brings out the shine of the various brass and gold-toned lights and accessories.
Instead of the photo in the flat lay, I found several other art prints of feathers in black and gold that I used as inspiration.
I could see this combination in a living room, master bedroom, master bathroom, or powder room. How about you?
I decided to try a living room. A flat lay can first evolve into a drawing or floor plan to get a feel for how the room will work spatially.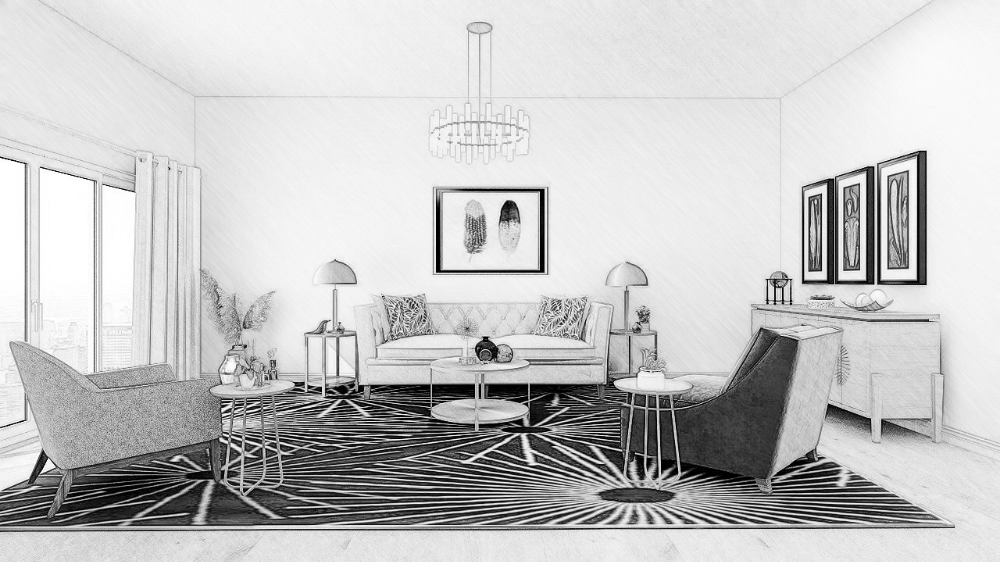 To get the feeling of drama and glamour, I decided to try the idea of a black wall. I love it! It beautifully highlights the feather art and sets off the beautiful greens in the furniture. Of course, lighting, strategically placed and lots of it, is important when using black.
For variety, I tried a textured light-colored wallpaper similar in color to the feathers to give the room a more light and airy feeling. I think I like the black better for a glamorous feeling.
And here is it in a shade of off-white. While still pretty, I like the black walls best, and the feeling of dimension the textured wallpaper gives over the white walls. How about you?
Here are some of the products I used, or similar ones you could try to get the look in your own home. Some contain affiliate links, meaning I may make a small commission for sharing at no additional cost to you.
The moral of this flat lay tale is that you can use natural elements like bird feathers to inspire glamorous, dramatic, modern, and sleek designs while still bringing the outdoors in. And, don't be scared to use black!
Bird feathers can inspire many design styles. Look for my next article on the design for my third flat lay inspired by bird feathers.
Are You Ready to Create Your Perfect Space?
Are you ready to create your perfect space? I assume you are since you are reading my blog post. Let's tell your unique story and find the alignment of art, science, and energy that makes you happy.  Let me help you take that trip to your perfect space in a Ferrari instead of a stagecoach. Try my Aligned Design consultation and let's get started.