When it comes to home staging, you may be scared it will cost too much, you will offend your client by recommending it and possibly lose the listing. You may be worried it will take too long and you want to get the home listed as soon as possible. You also may be scared to recommend it and that it may not work. OK, all kidding aside, you may not be "scared",  but maybe apprehensive or you are just not convinced it is the way to go. Please consider the following.
According to Debra Gould, "The Staging Diva" in her article 5 Secrets Real Estate Agents Need to Hear From Home Stagers, you should know five things.
Home staging will make it easier for you to market and sell your listings because your MLS photos will outshine the competition online and a staged home will show much better, enticing buyers to make an offer.
Most buyers shop online first and professional photos of a beautifully staged listing will attract more leads for you.
Home stagers can address problems and can tell your clients the things you don't want to say for fear of offending your client and losing the listing. Let them be the "bad cop", especially in situations where the clients are selling due to divorce and sellers may have differing opinions.
Home staging can help your clients sell faster and for more, and is a service the client should be paying for, not you. You can always offer a great benefit by paying for the initial consultation.
Home staging always costs less than the first price reduction. Wouldn't you rather have a talk with the client about home staging than a price reduction?
You are probably concerned about the cost, and rightly so since you don't get paid until the house sells. As mentioned above, the cost of staging should be paid by the seller. They after all, have the most to gain by a higher sales price and faster sale. Both of you will benefit from selling fast. Less stress and costs for the seller and you get paid faster! And of course the seller will love a higher sales price and that increases your commission.
Worried about how long it will take? It always takes  time to prepare a home and get it listed, so why not have the staging conversation right away. A good stager can get the job done quickly for you given a little lead time.
Still apprehensive of how to approach the initial conversation about staging with your client?
Susan Atwell, of Atwell Staged Homes recommends one way to handle it is to not to use the word "staging" initially but repeat the message that they need to "properly prepare their home" and that you have an outside consultant who can help.  Let them know that for an occupied home they will be living in while listed, the stager could help them for as little as $500 using what they already have. A vacant home will cost more, but they are also harder to sell as vacant homes don't make an emotional connection with buyers. Learn more about the costs of home staging.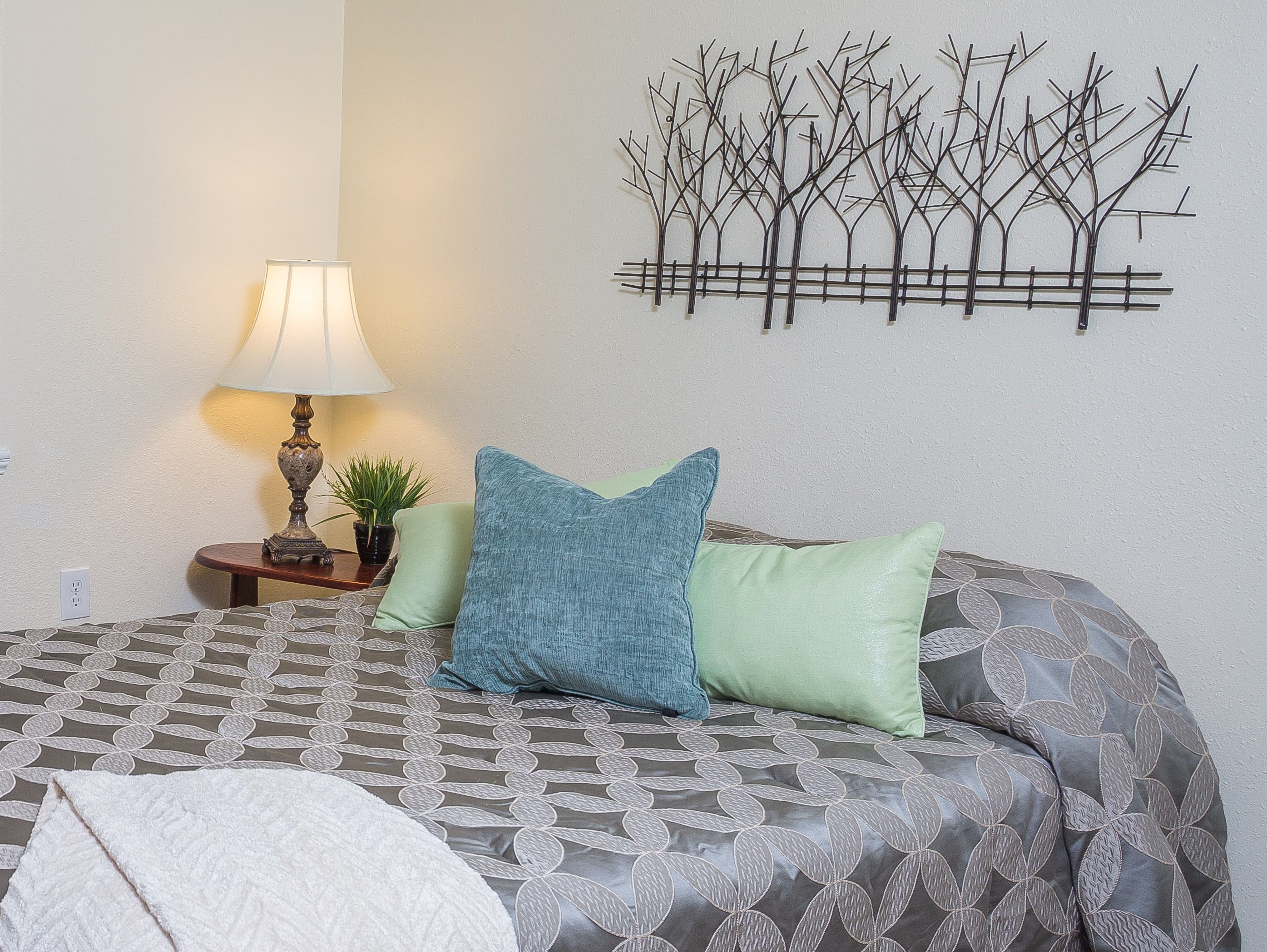 Still worried, what if it doesn't work and you have recommended the client make the investment in staging? For years, the National Association of Realtors has published a yearly "Profile on Home Staging" showing the value of home staging. You can see the 2019 report here. Remember that the final results depend on  hiring a professional home stager with a proven track record of results, rather than the "cheapest" stager or having an unqualified, untrained person stage it.  It is worth helping your client find the best stager to do the job for them, even if it costs more.
Want to learn more? Check out our FAQs for Realtors on Home Staging,  or share our FAQs for Home Sellers on Home Staging with your clients.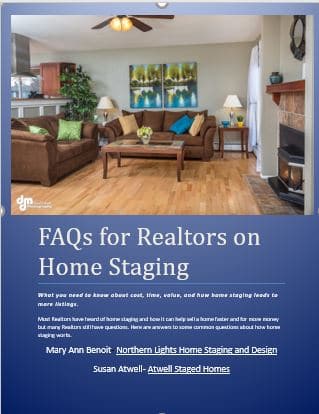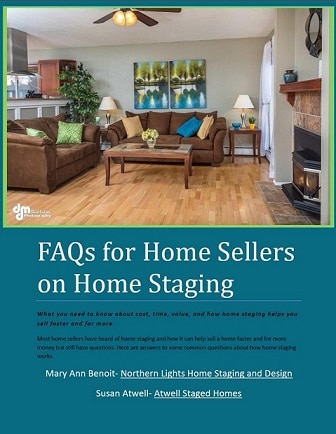 Still "scared"? What do you have to lose? Well, a better-looking listing that shows better, sells faster, where you get paid faster with a higher commission and have happy clients that will give you great reviews!
Want to get started today? I offer online home staging consultations for sellers nationwide that you can recommend to your client so they can do the staging themselves with help from a pro.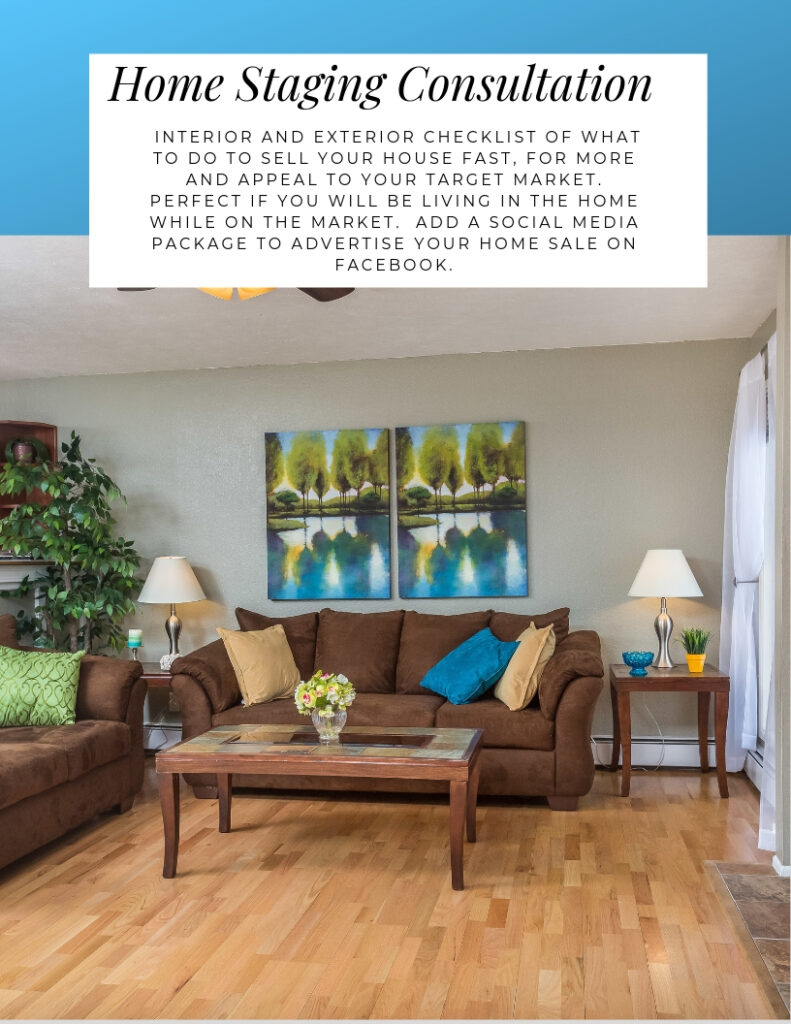 Plan to do your staging yourself but not sure where to start? Send me pictures of your house and I will give you a detailed checklist of everything you can do inside and out to prepare your house to sell fast, sell high and appeal to your target market. as well as tips for living in your for sale home and preparing for your photo shoot. Perfect if you will be living in the home while it is listed. If your home will be vacant, I can give recommendations for paint, upgrades and preparation for market. Virtual staging can be added separately. Learn more.
[btnsx id="6356″]
Call 907-362-0065 today
for a custom quote for your local home staging project.
Follow Me on Pinterest