Many people consider working with an Interior Designer an expensive luxury when remodeling or updating their home. Truth is, working with a professional can save you a lot of money by helping you avoid expensive mistakes and making sure the end result you get from shelling out your hard earned cash really meets your vision.
Still, remodeling is expensive and we all have a budget. What is one of the most affordable ways to get help from a pro that works with your budget?  Edesign!
What  is Edesign? It is Interior Design of a space done entirely online. I believe it is the wave of the future of Interior Design as consumers want things faster and cheaper. Edesign allows you to work with a designer you like locally or even if you live in another state.
Edesign is all about convenient, fast and affordable Interior design for you.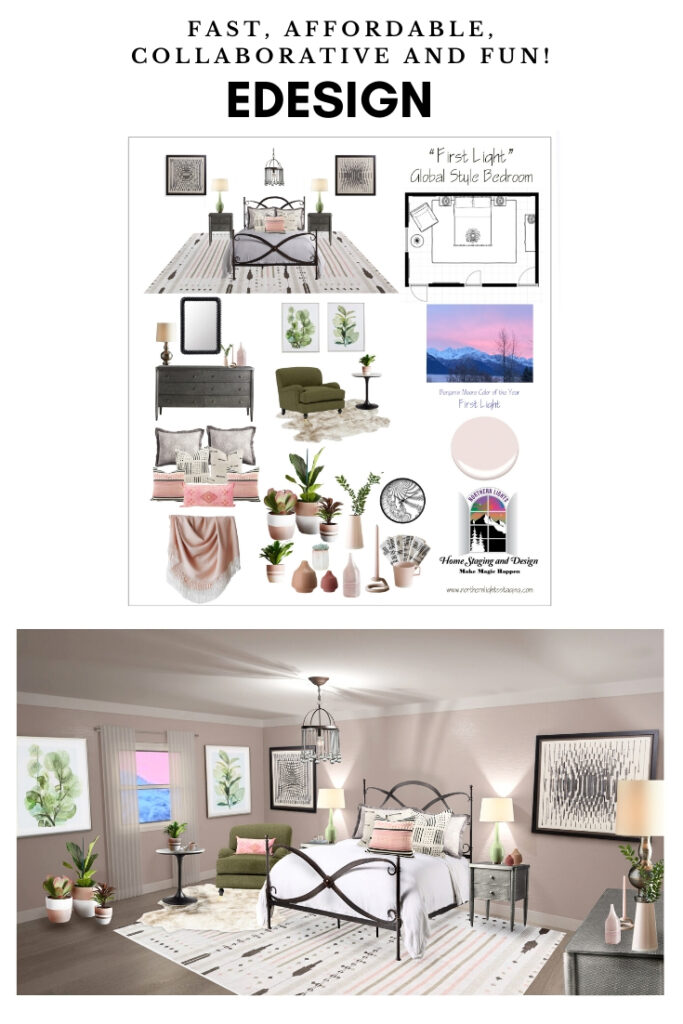 One reason it is faster and more affordable is that generally, you are getting retail products rather than custom, to the trade design sources. The designer provides  a shopping list which you  purchase yourself. Once you receive your final design it's up to you which elements you choose to use and the time frame to buy and implement your design.
Another reason it is faster and more affordable is that you take on some of the work a designer generally does, such as measuring, ordering  items and installing everything yourself. You also select and manage contractors for any remodeling work that needs to be done.
Edesign is a true collaboration between designer and client, with work being done on both ends so that the typical design timeline is faster and more affordable.
Communication is  by phone, email or video calls, allowing you  more flexibility in your schedule.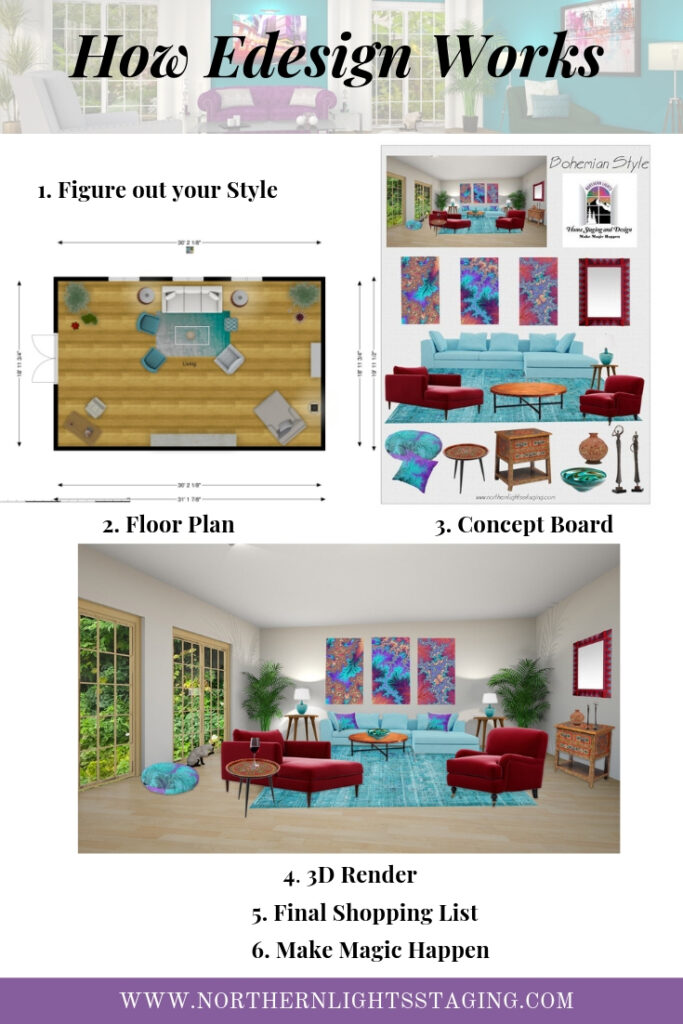 The Questionnaire:  Fill out a detailed questionnaire which covers everything from your style, fabric, color and art preferences to timeline and budget.
Pre-work: Measure your space, take good photos and make notes of any existing pieces you want to keep for the new design and send to the designer.
Mood board: A designer may create a mood board, or picture of inspiration photos and a few furniture and decor pieces  to capture the essence of what  your desired design will look like and make sure they are capturing your vision before they provide more detail. Some designers may skip the "mood board" and just provide a "concept board" with the actual products and finishes they recommend.
Final Products: This is where designer offerings may differ. Designers offer a variety of packages including:
Concept boards with the actual products they are recommending
3D renderings to help you visualize what the final space will look like
Floor plans
Shopping lists
Styling and installation Instructions.
All of the above for full service Edesign.
Implementing your Design: You purchase any of the recommended items you choose on your timeline, and put the room together yourself. Some designers will offer a Post-Design call to make sure everything went smoothly and help with the final touches.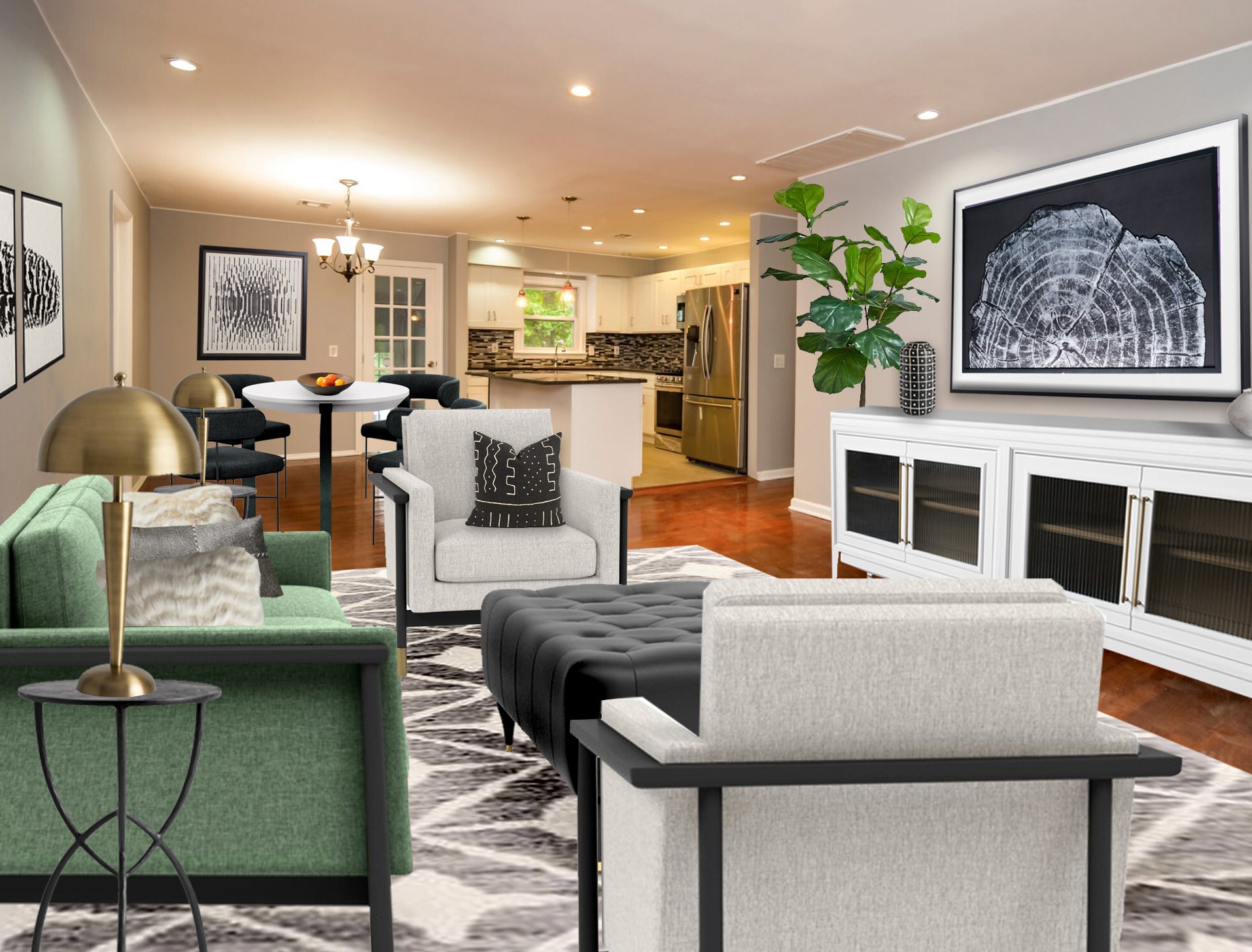 Is an Edesigner right for you?  
An Edesigner might be perfect for you if:
You are willing to do some of the work to make the design process more affordable?
You enjoy the DIY aspect of assisting in the design process.
You are able to measure and photograph your space with direction from the designer.
You fee comfortable communicating what you really wand through inspiration images and product links on a computer.
You are on a tight timeline and willing to do some of the work to get a design plan within a few weeks.
You are comfortable ordering products on your own and handling returns/exchanges.
You are willing and able to hire any tradesmen (painters, installers, etc.) and direct and inspect their work on your own.
You have time and are willing to check out  local items before ordering if you want to see and touch things before buying. While your designer will recommend brands they believe to be of high quality from companies that offer easy returns and exchanges and have good reviews, they will not be able to see and touch everything in advance to check it for you. They can try to use sources local to you so that you may see the product first hand before buying.
When should you hire a local Designer instead of an Edesigner?
You prefer an in-home consultation and in person communication with the designer
You prefer detailed room measurements and photos be done for you
You like to see samples in person of fabrics, wallpaper, paint colors, tile, flooring, counter tops and other items.
You need detailed construction documents
You prefer custom cabinetry or furniture
You do not feel comfortable  ordering furniture or other purchases or dealing with issues or returns
You want all your furniture and other items delivered and installed at the same time.
You want a designer to do the installation.
How to get the best of both worlds
Many designers do both traditional and eEdesign, and even if local, may offer part of their services through Edesign if it fits better with your budget.  Once you find a designer you like, ask if they offer Edesign as part of their services.
Northern Lights Home Staging and Design offers both local and online Interior Design, Color Consulting, Virtual Staging and Vacation Rental Design services.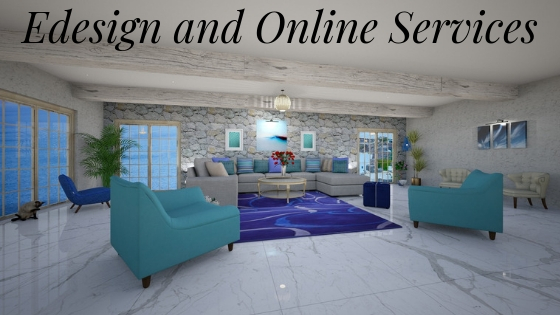 Some of the designs in this article are examples of my Full Service Edesign package. Learn More.
---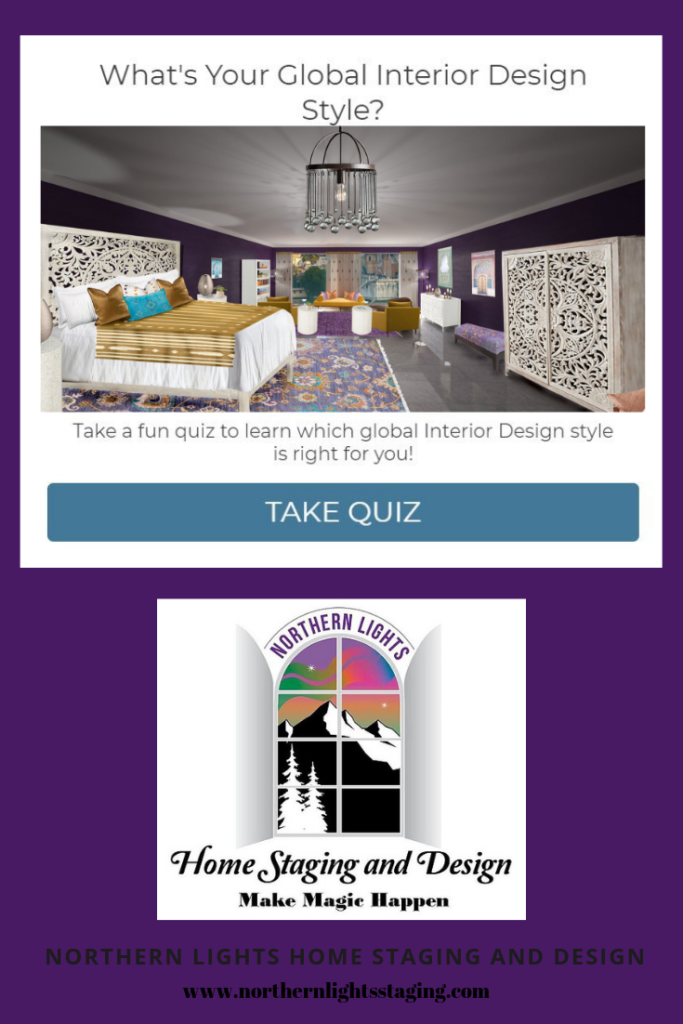 ---
Call 907-362-0065 today
 info@northernlightsstaging.com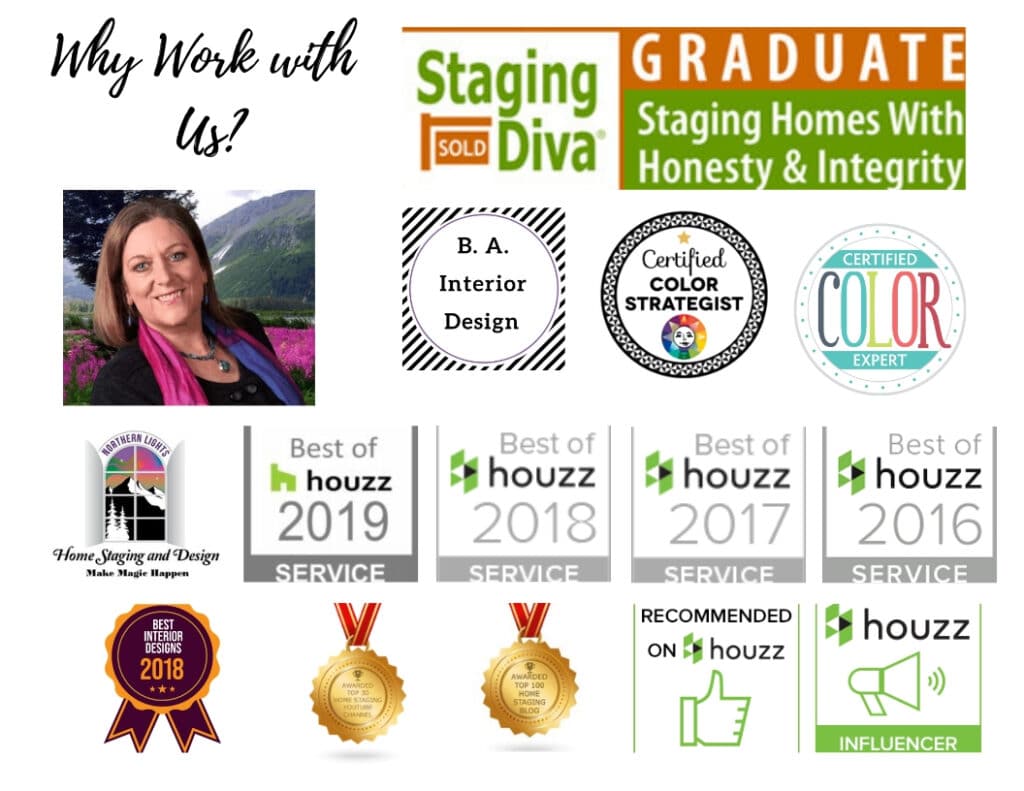 ---