Every phone call I get starts about the same. How much does it cost? I assume if you sell a service or product, you probably have the same experience.
Some people are surprised if  home staging costs are more than they thought it would. They may struggle with the idea and think, "I can't afford it ", or "it is more expensive than I expected". More expensive compared to what? Not your first price reduction!
"Home staging is more expensive than I expected." More expensive compared to what? Not your first price reduction. 
I get it. Of course, we all want to get the best price we can. My last client said it costs more than she expected, but decided to do it anyway. She knew that there had been other times in her life when she had paid more for a service and had been really happy with her investment.
And she is a smart woman! She had a price in mind she wanted to sell for. The realtor told me privately that in it's current shape, she would be lucky to get 20K less than she wanted. Houses that don't look as good or better than the competition, often sit on the market longer and end up with one or more price 10K reduction. The extra time and uncertainty causes stress and additional costs such as for mortgage and utilities.
So, what happened? After I staged her home, she received 2 over asking price offers within 24 hours, 15 offers in 7 days, and she sold her home for 30K over asking price! 
She received a return that was 30 times greater than what she paid for staging. Instead of losing 20K or more and adding stress, she sold quick and made 30K more than expected. So, can you afford not to stage your house?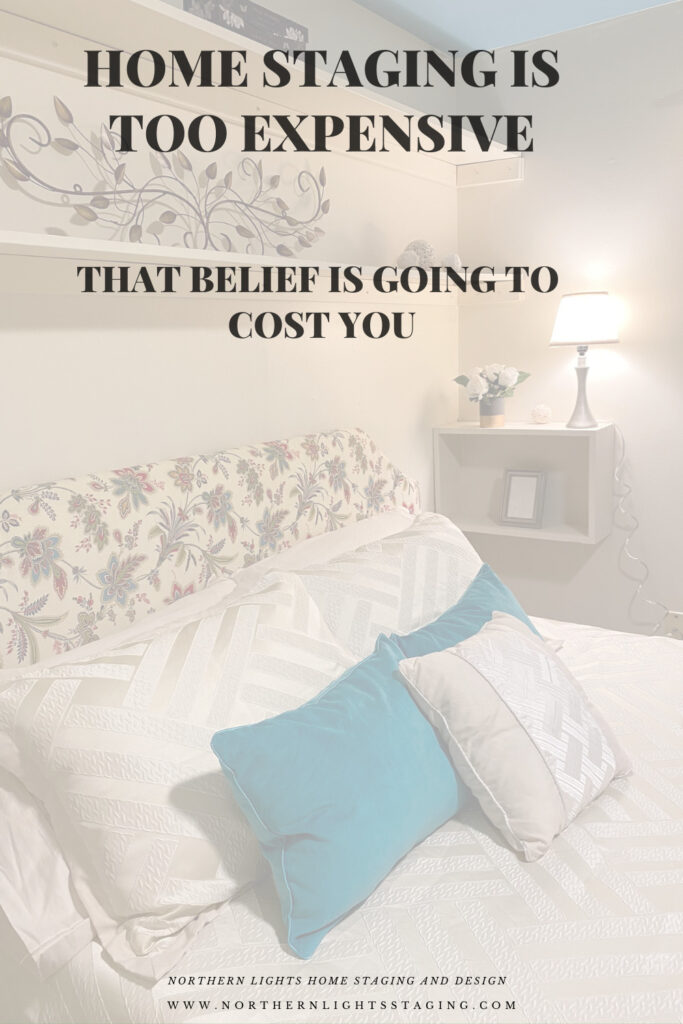 In another example, a client sold their house after I staged it on the first day on the market for full asking price!  While they did not get over their asking price, the quick sale saved them endless showings, stress and and saved them money on their monthly holding costs.
"Home staging is too expensive. That belief is going to cost you."
In another case, I staged a home that had been on the market several years without selling. In the beginning, the owner did not want to spend money on staging and tried to sell it vacant. No luck. They had numerous price reductions. After a year or more they decided to stage with a lower priced staging service that did minimal staging in some of the rooms. No luck. Finally, two years later they contacted me. After doing a professional staging job, the house sold in 6 weeks. That was actually very fast considering the home had been on the market for years and had the stigma of "what is wrong with that house that it has not sold yet". Think of all the money and time this seller lost in trying to save a little on home staging costs.
How much money are you willing to take off your sales price to go with a discounted staging service that saves you money now but costs you a lot more later? Or, by not staging at all?
 What's more important to you, saving a few dollars on staging now or selling fast and for thousands more later?
Ready to drop your expensive belief?
Get your online home staging consultation or staging service today. Click on the pictures to learn more. For in person consultations or staging, call for a custom quote