Countertops play two essentials roles in the kitchen: first, from a practical point of view, they make the kitchen space fully functional, and second, they serve an aesthetic purpose.
Different people look for different things when choosing a kitchen countertop.
Some place more importance on functionality, while others place the visual appeal of the material on the top of their list of priorities.
Whatever group you belong in, natural stone offers the best of both worlds.
Below, we will explore the pros and cons of natural stones and list a couple of top picks so that you can make an educated decision about what material best suits your kitchen, your cooking habits, and your budget.
The Pros and Cons of Natural Stone Countertops
Pros:
Natural stone is heat and water resistant and does not require any special care.
To avoid stains, one needs to wipe the stains and spills as they occur, and even more, resistant stains can be removed using a poultice.
As far as cracks and scratches go – natural stone can be easily repaired by a stone restorer.
Aesthetically speaking, you can't beat natural stone. Deriving straight from the earth, each piece of stone tells its own story, so you can rest assured that your countertop will be a unique piece with a pattern and colour unlike any other out there.
Cons:
All those pros of natural stone come at a price – natural stone is one of the most expensive options for a countertop.
Moreover, stone is heavy and hard to work with, so you will have to hire a crew to cut it and shape it for you.
Finally, some stones are vulnerable to acids, so they require frequent sealing and maybe, repairs done by a professional.
Types of Natural Stone Countertops
Granite
In the past granite was the go- to choice for luxurious homes. However, due to its durability and heat resistance, as well as the wide array of pattern and color choices, granite has not only gained in popularity but also has become one of the most commonly used materials in residential kitchens.
With a price slightly lower than marble ($40 – $200 per square foot, including installation), granite is the best choice for heavily used surfaces.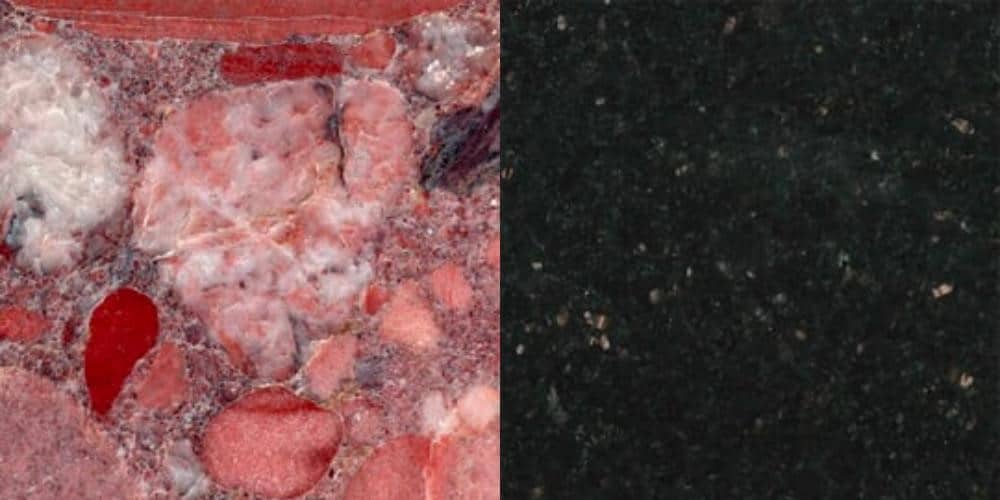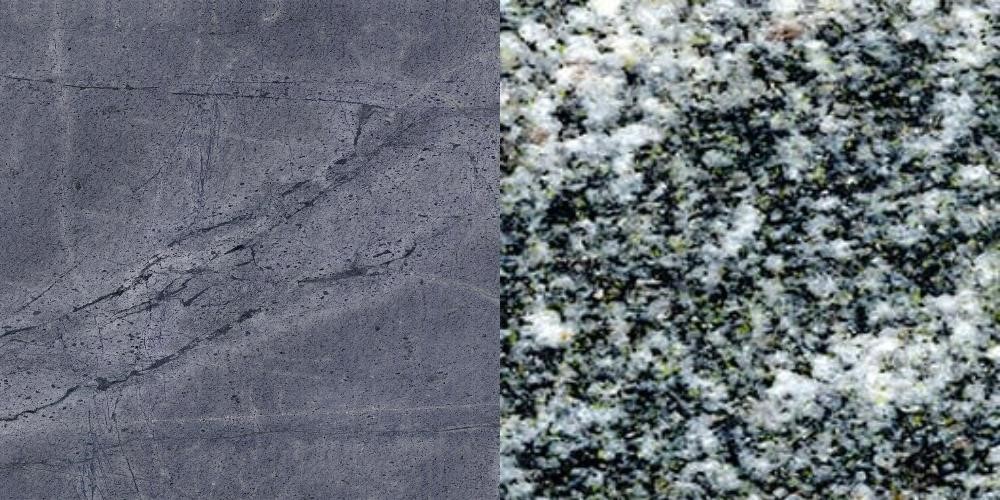 Granite-Photo provided by Nicole Andrews 
Marble
If you are someone who cares about how your kitchen looks more than anything else, marble may be just what you need, as a marble countertop will add a sophisticated and elegant look to your kitchen.
However, there are a couple of downsides to using marble in your kitchen.
First, it comes in fewer patterns and colours than granite – some patterns more expensive than others.
Second, it is one of the most high maintenance materials, as it needs frequent sealing (every 2-3 weeks) and it etches whenever it gets in touch with acid. Moreover, marble is softer than granite, so it is prone to scratches and knife cuts.
Finally, with a price range from $75 to $250 per square foot, marble is one of the most expensive materials on this list.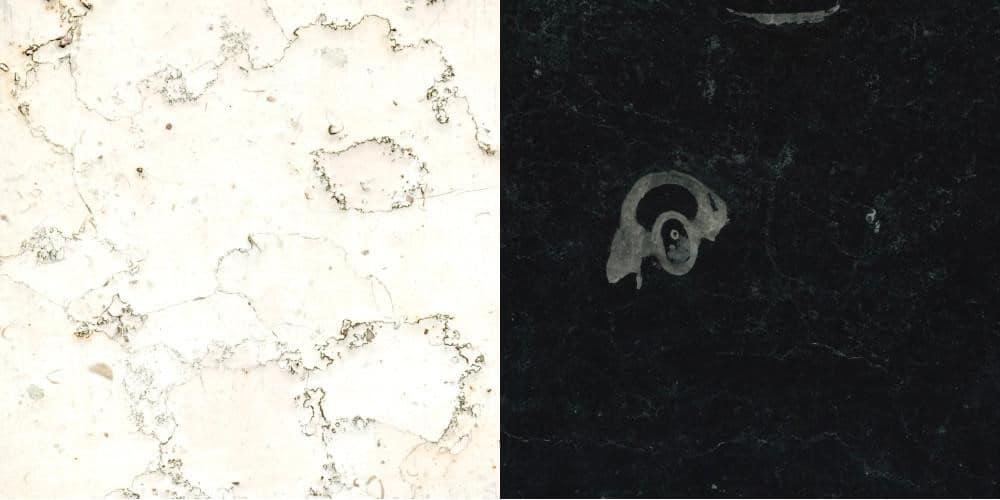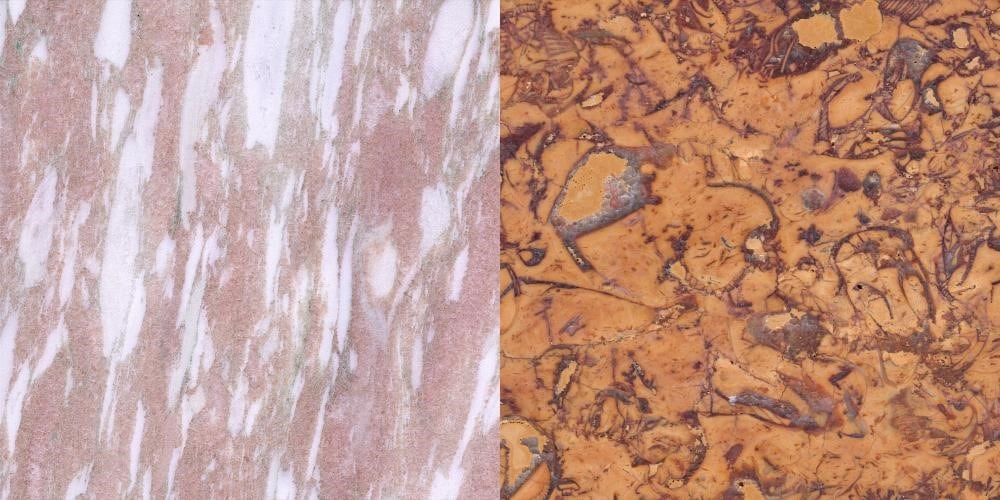 Soapstone
If you are going for a more casual, rustic look of your kitchen, soapstone is what you are looking for.
Soapstone is non-porous, so it won't need frequent sealing like marble (instead of sealer, you can apply mineral oil), but it is just as soft as marble, so soapstone too shows knife cuts and scratches.
Soapstone costs anywhere from $60 to $185 per square foot.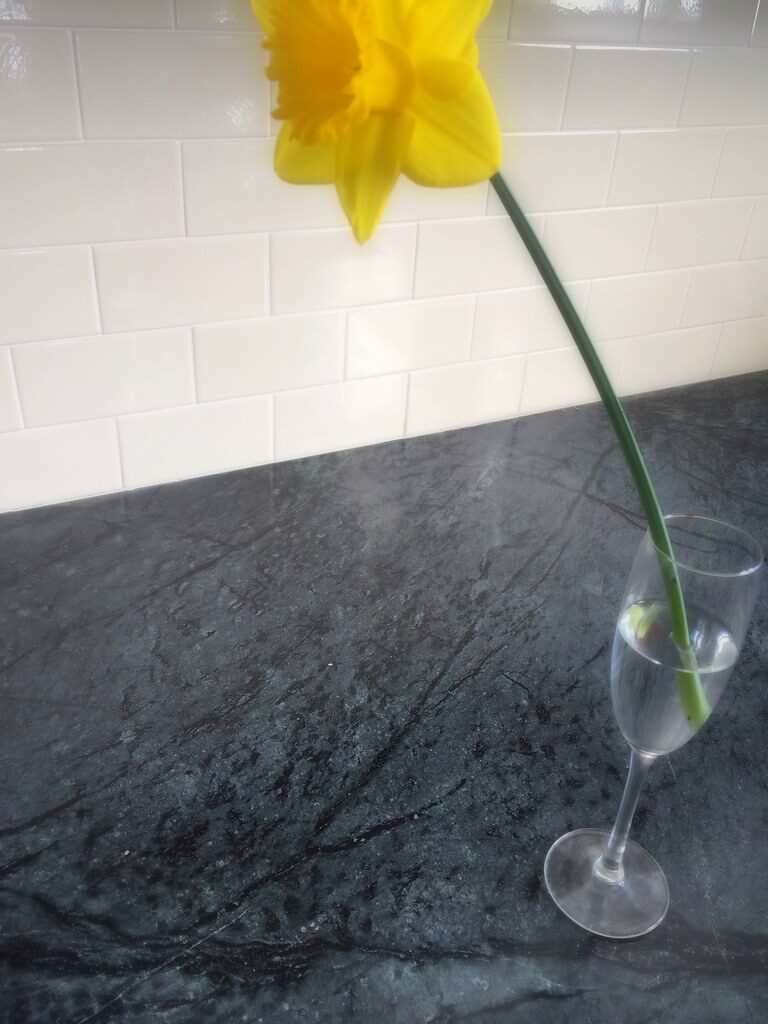 Quartzite
It's hard to go wrong when choosing a quartzite countertop.
Quartzite looks very similar to marble, but it has the great properties and durabilities of granite, so it's a great alternative to marble that endures well even in the most heavily used kitchens.
Quartzite costs from $55 to $155 per square foot, depending on the grade of the material. However, it is hard and complicated to cut and install, so if you decide to use a quartzite countertop, you should expect higher labour costs than with other materials.
The labour costs bring the price of a quartzite countertop close to the price of a marble one.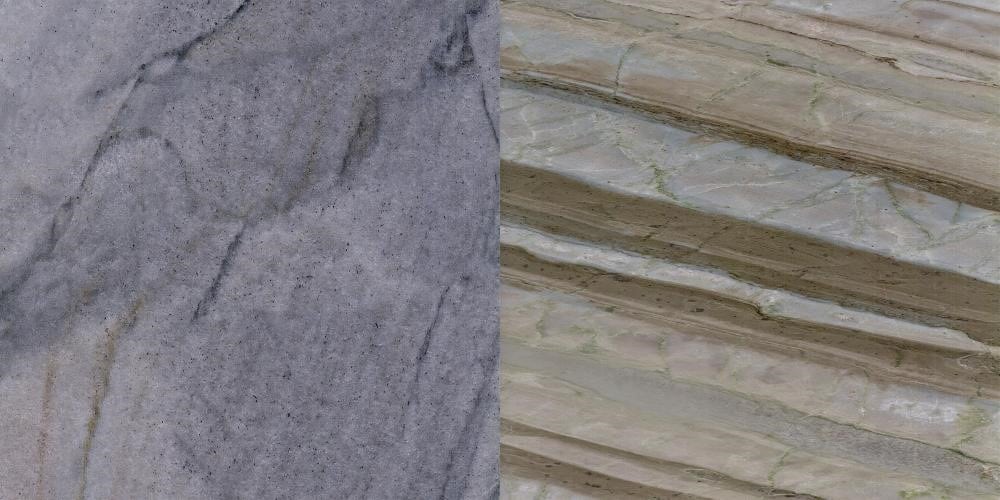 Final Words
To choose the best countertop for your kitchen, you first need to consider your kitchen design and overall cooking habits.
Natural stone countertops come at a higher price than other materials you could choose from.
However, there are a couple of things you could do to save some money, even when going for one of the most expensive options.
First, you should compare different vendors, as the prices between companies will fluctuate due to varying operation expenses. Also, just like with anything else, there is a high and down season in this industry as well, so if possible, buy your materials in late fall of the beginning of winter when the prices are lower than usual.
Second, natural stone is high maintenance, so you should make sure that you apply sealer regularly to avoid extra repair costs. Moreover, go for rounded edges as squared edges chip easier, or consider installing an edge of a different material.
Finally, choose stone tiles instead of a slab: if something were to happen to your countertop, replacing one tile would be way cheaper than replacing the entire slab.
There are many other natural stones to choose from, but the four choices above are the most commonly used in residential kitchens worldwide. We hope that now you have more information on what to look for when choosing a countertop and that you already have an idea about what material would best fit your particular needs.
Happy countertop picking!
Author Bio: Nicole Andrews is the marketing manager for Euro Marble in Sydney, Australia. With a background in interior design, she enjoys writing about the latest industry trends. In her spare time, she walks her dog Rusco down at Bondi Beach.
---
Now that you know how to decide on which natural stone countertop is right for you, do you need help pulling all your colors together to make sure that countertop works with your cabinets, flooring, back splash and paint colors? My color consultation is the perfect tool to help you make that happen! Learn more.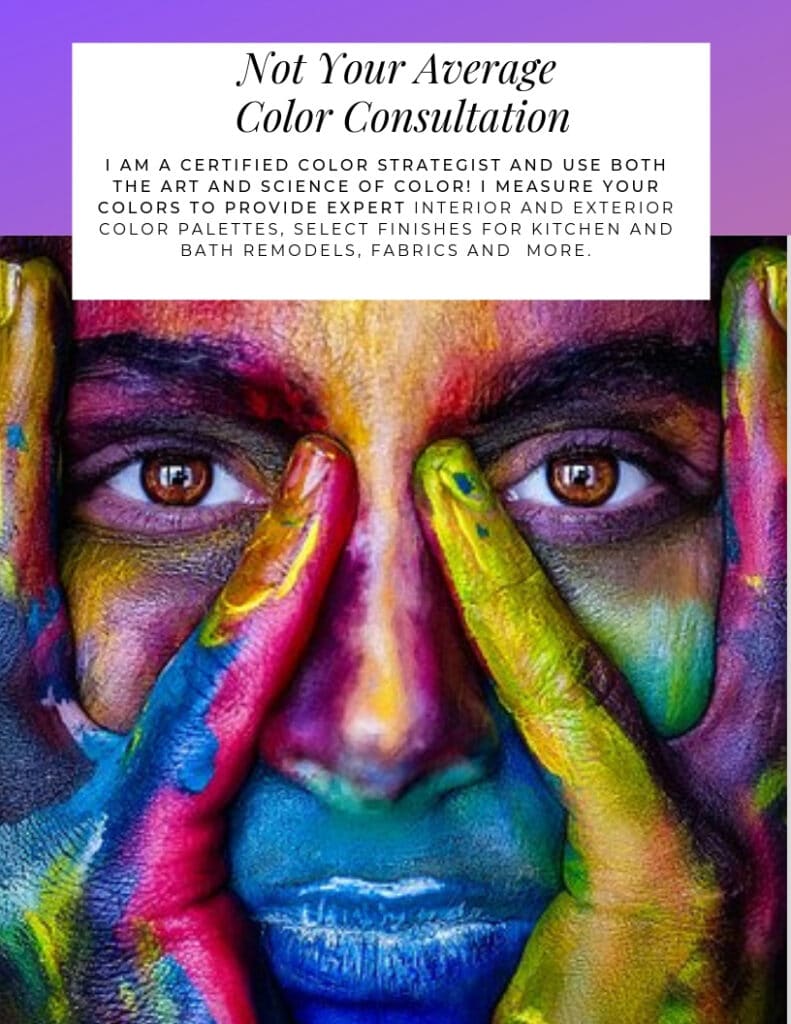 [btnsx id="6354″]
---
Sign up to get our monthly award winning blog articles and get a free report on Top Paint Colors for a Speedy and Profitable Home Sale in appreciation. Visit our award winning Youtube channel. Never miss a great idea!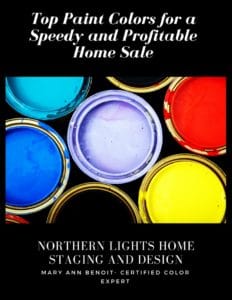 Call 907-362-0065 today
 info@northernlightsstaging.com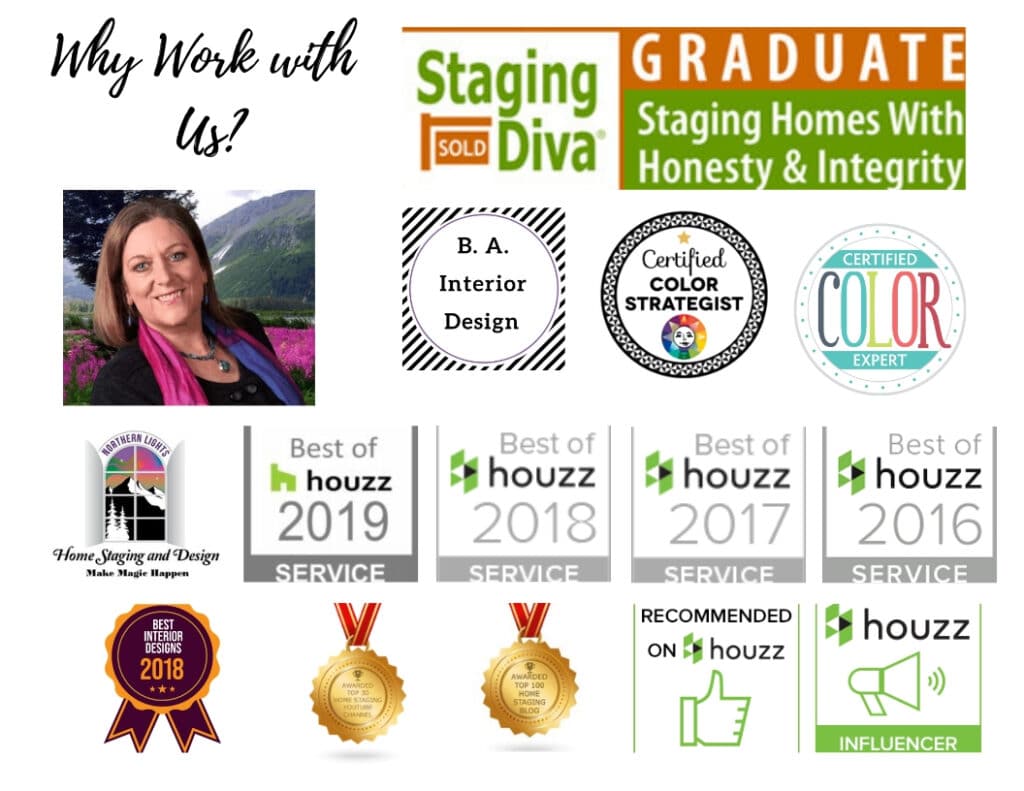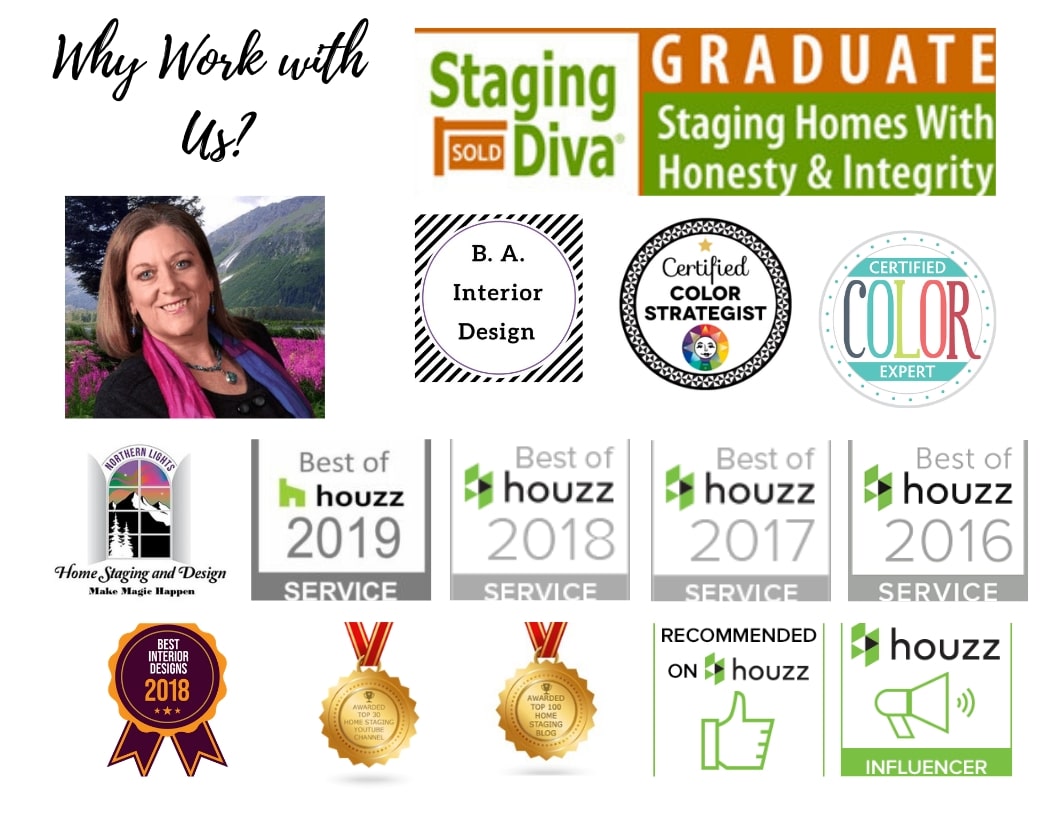 Prices subject to change without notice.