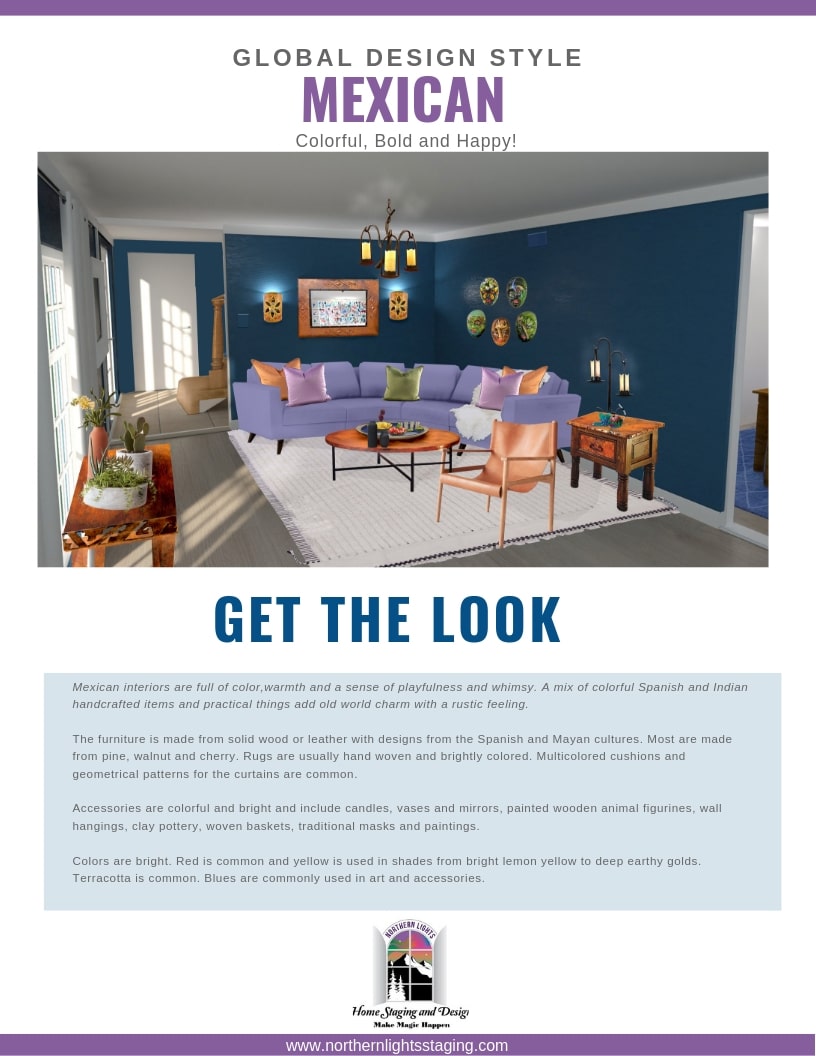 What is Mexican Style?
Mexican interiors are full of color, are welcoming, warm and there is often a sense of playfulness and whimsy. A mix of colorful, exotic Spanish and Indian handcrafted items and practical things add old world charm.
The furniture is made from solid wood or leather with designs from the Spanish and Mayan cultures. Most are made from pine, walnut and cherry. Sofas, beds and tables often have a rustic look. Rugs are usually hand woven and brightly colored. Multicolored cushions and geometrical patterns for the curtains are common.
Accessories are colorful and bright and include candles, vases and mirrors, painted wooden animal figurines, wall hangings, clay pottery, woven baskets, traditional masks and paintings.
Colors are bright. Red is common and Yellow is also used heavily in shades ranging from bright lemon yellow to deep earthy golds. Terracotta is common. Blues are commonly used in art and accessories.
Mexican style is a global design style. Global styles are all about your worldly adventures and telling your story! They are usually very colorful, rich in bold designs and natural textures, patterns, colors and arts and crafts of various cultures. Each piece has a story and becomes a conversation starter.  Treasures are displayed without rules or grouping by the part of the world each piece is from. Antiques mix with modern pieces, and natural objects such as animal horns, plants and rocks add to the charm. While global design styles are eclectic and may mix and match items from a variety of countries, you may be drawn to the colors and cultural artifacts of some countries more than others.
Sustainable and Eco-Friendly Living Room
Here is an example of an eco-friendly Edesign I did for a Mexican style living room. The clients were a retired couple that loved to travel and enjoyed collecting art and figurines from Mexico and other countries. They wanted a space rich in color where they could relax, read, watch TV, entertain and share their love of travel and ethnic art. They also wanted a space that was as eco-friendly as possible.
Before Photos
The clients had just moved into a new home. Here is what it looked like before their new design. They provided these photos and floor plan to create the design from and information on what they liked in term of style and color and how they wanted to use the room. The only things that would be staying in the room from the photos was the flooring, which was new.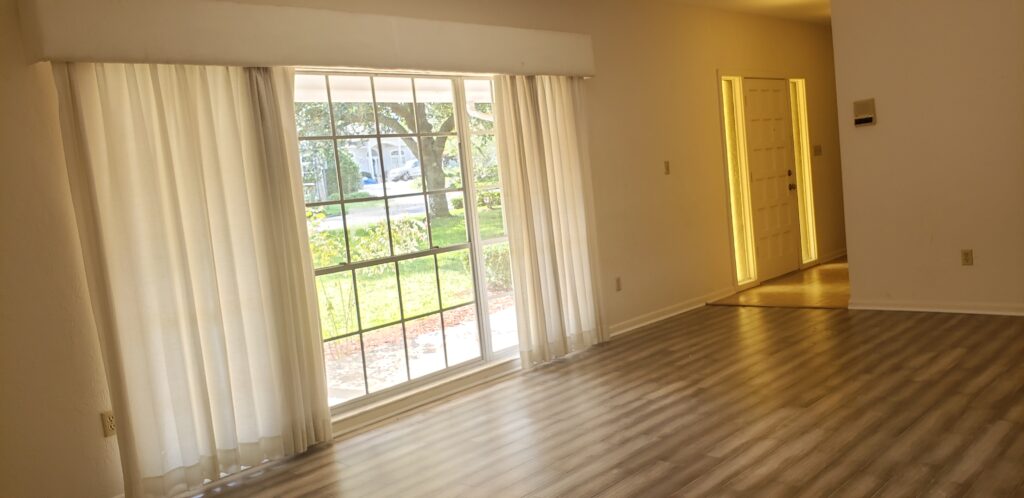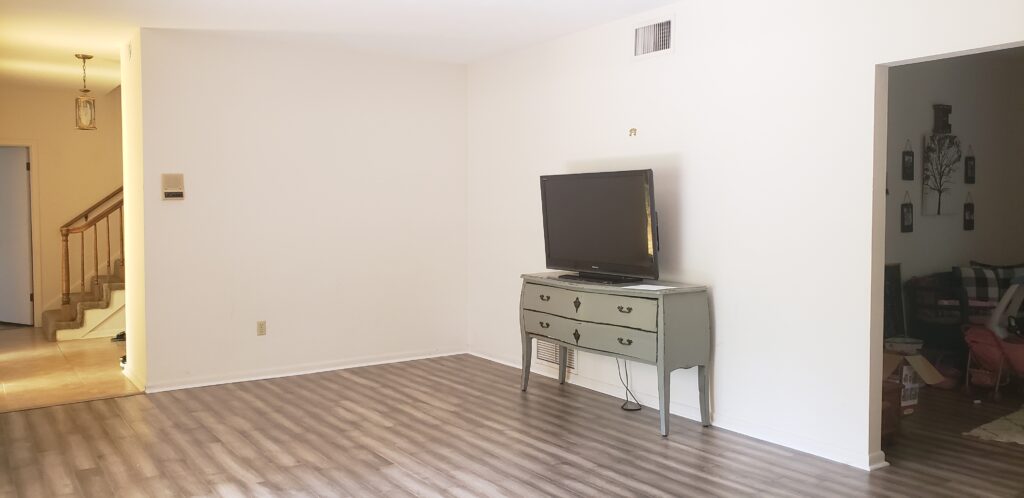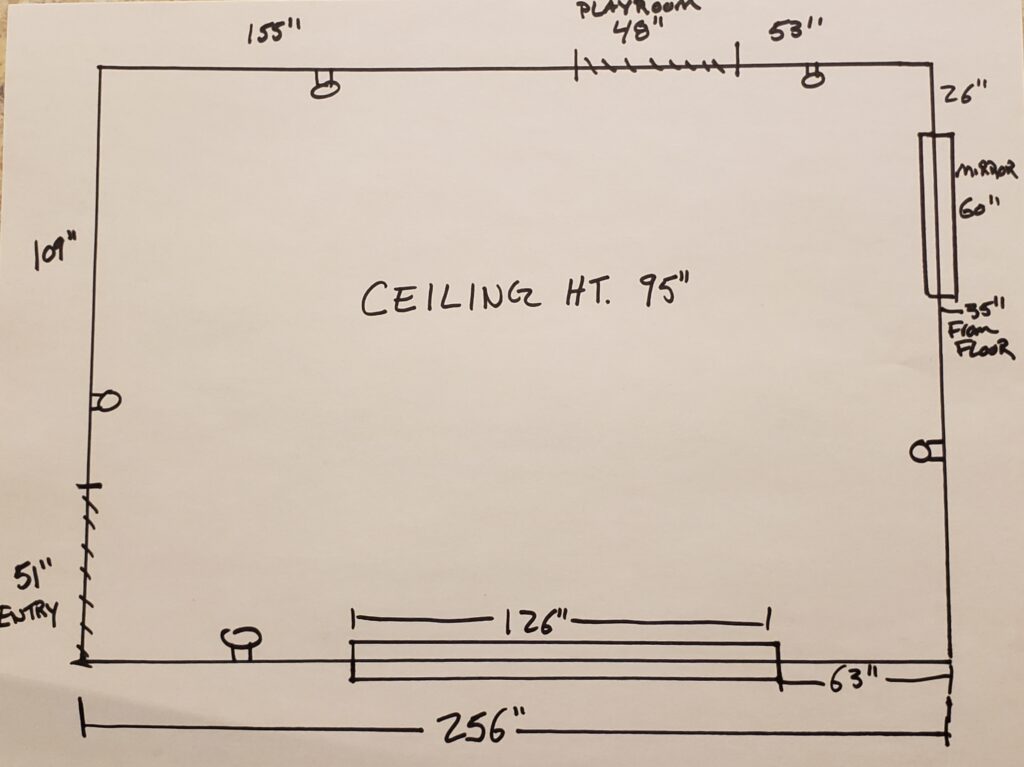 After
This project was a full service Edesign. These after pictures are 3D renders of the finished design which they received with a concept board, shopping list and set up instructions. As you can see, I changed the wall color, and used PPG's color of the year for 2020, Chinese Porcelain which I extended into the entry way to create a feeling of more space. I changed the front door, window treatments, lighting and furniture. Get the Look- It's Healthy and Great for Entertaining
The products I used are all sustainable and healthy for your indoor environment.  See my article on "Eco-Friendly Interior Design- Why You Should Care" on the Edesign Tribe blog.  All the items are made from natural materials such as wood, cotton, wool, copper, iron, sheepskin, clay, ceramic, palm and leather. Here is the concept board I created for the clients. Inspiration and Products
The following products were used in this design. Some are trade sources in which I was able to work out a discount for you if you like them and order directly yourself. Others may be affiliate sources, meaning I get a small commission if you purchase them for sharing them with you, at no additional cost to you.
The inspiration for this room was this mural from Anthropologie. The whimsical, crewelwork-inspired motif is based on an embroidery style created by the Otomi people of central Mexico and is filled with pre-historic symbols based on native flora and fauna, local beliefs and even primitive cave drawings. Animals, were thought to be bearers of important news. This piece inspired the color scheme, the purple couch, the colors of the leather chairs and velvet pillows on the sofa.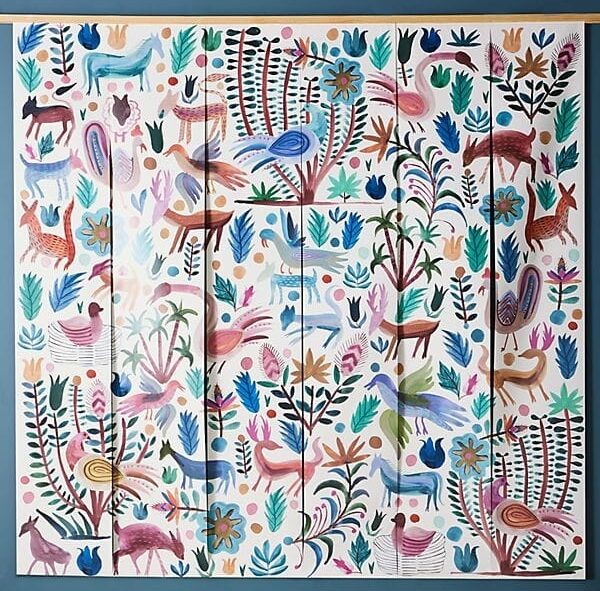 Eco-Friendly Accessories
The animals in the mural inspired the collection of painted wood animal figurines on the book shelves which I got from La Fuente and Wayfair. The ones from La Fuente are Oaxacan Woodcarvings. The wood carvers of Oaxaca Mexico create whimsical designs in festive colors, are carved by hand from the wood of the copal tree. They are painted in stunning detail with acrylic colors. The carvers believe their figures will bring good luck to the potential owner. The figurines from Wayfair are representations of these, which I chose because I loved the colors and some of the cats were just too cute!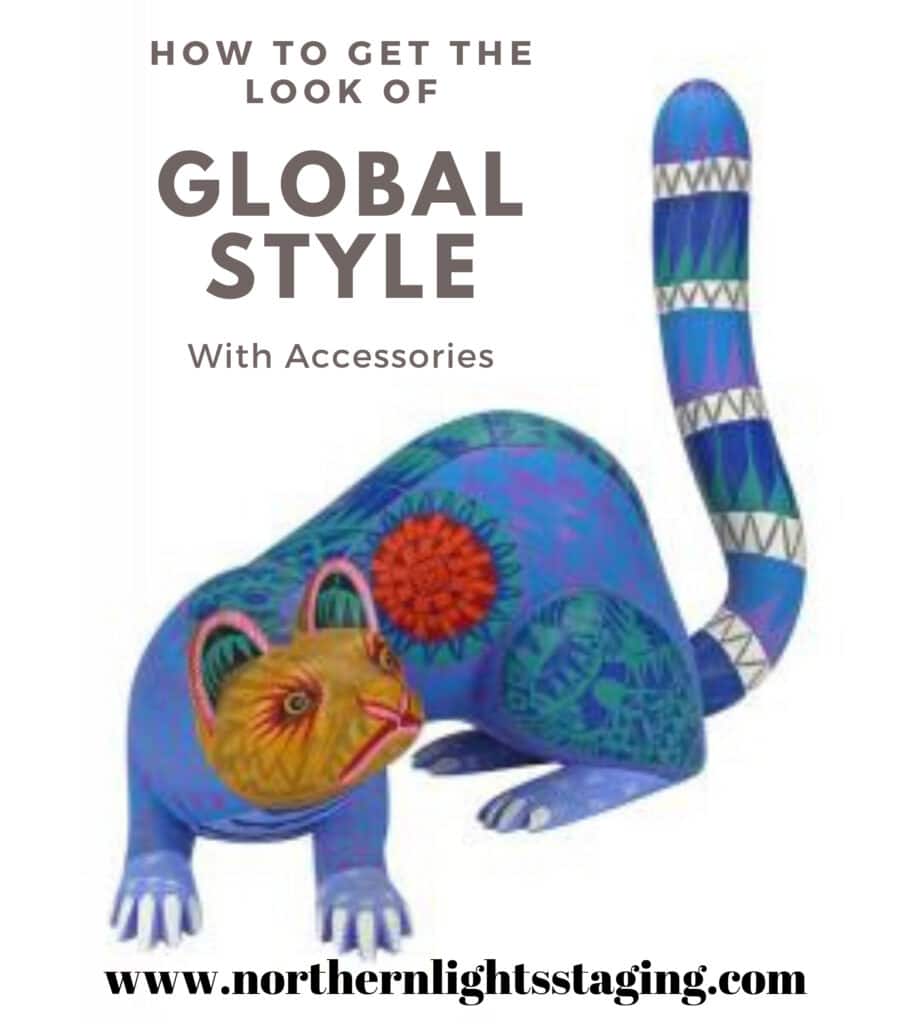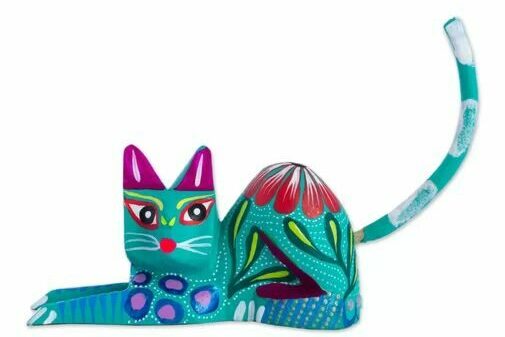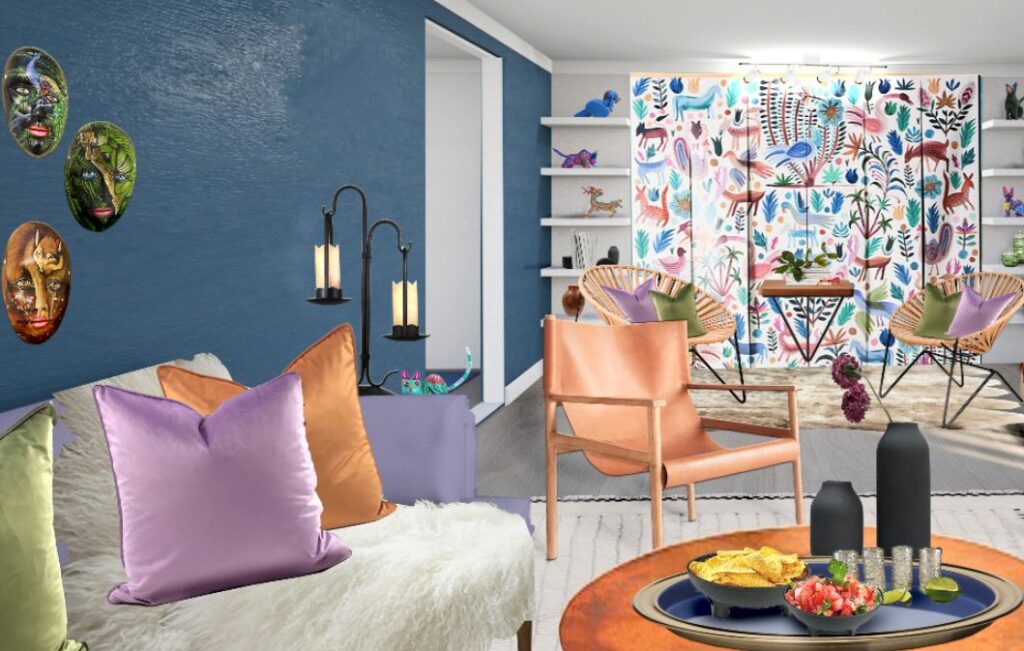 This purple cat had some nice colors that tied in with the purple sofa and colors on the wall and mural.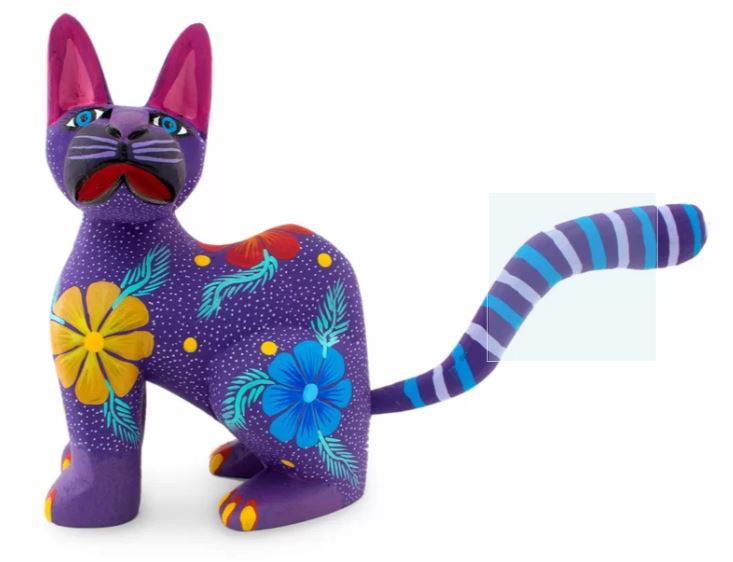 The whimsical mural's focus on plants and animals also inspired the use of the ceramic masks which feature plants and animals.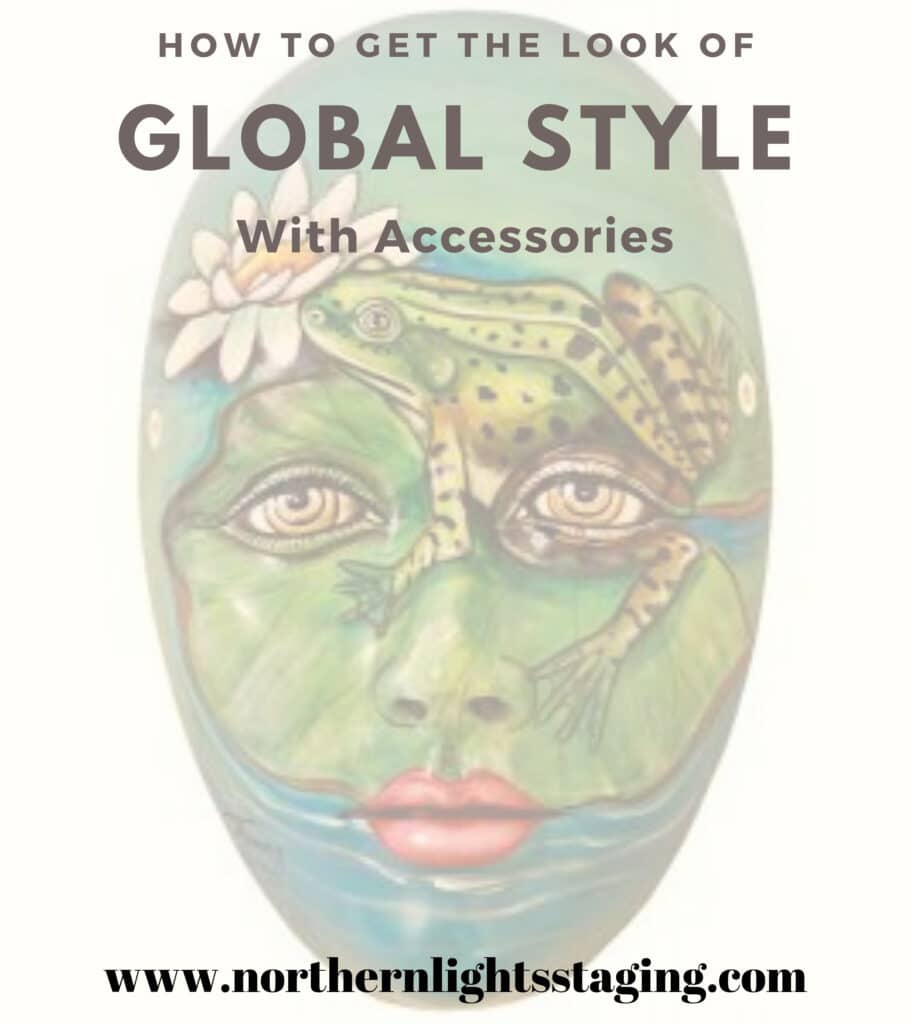 I found these gorgeous eco-friendly baskets made in Mexico from palm leaves, at The Citizenry.
I found the velvet cotton pillows at Bryar Wolfe, where you can get 5% off with code northernlightsstaging at checkout.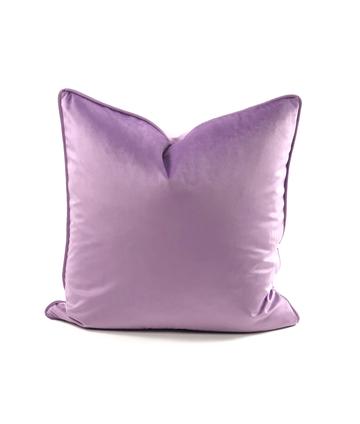 Eco-Friendly Furniture
The sofa uses natural latex cushions, wool stuffed pillows and hardwood frame from Medley Furniture which specializes in eco-friendly furniture.  Get a 5% discount on all their products with the code NLS5 at check out. They use sustainable materials such as certified hardwoods and bamboo, no harsh chemicals or fire retardants. Cushions are made of latex foam, pillows are stuffed with wool, cotton, hemp or down. The furniture is custom made for you within 6-8 weeks and they offer free returns. And they have some beautiful fabrics and colors! Who doesn't need a purple couch!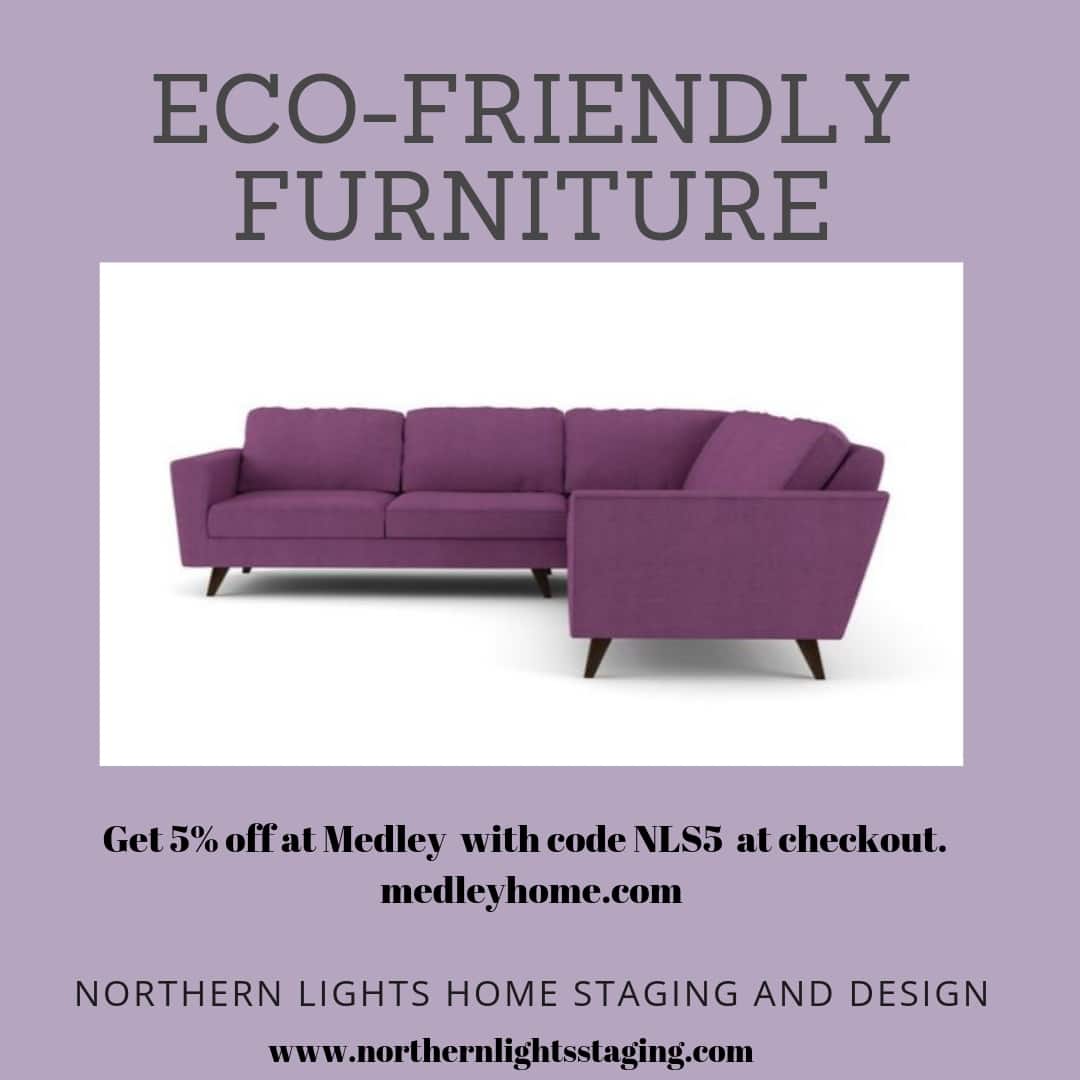 I love these copper tables, made in Mexico, from La Fuente. Copper is a great option for incorporating unique, authentic and eco-friendly furniture in your design. I found the coffee table, console table and side tables, all made in Mexico there, and loved the color and the petroglyph cut outs on the console table. I thought it related nicely back to the pre-historic elements of the Otami art.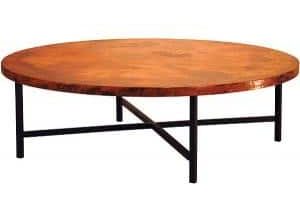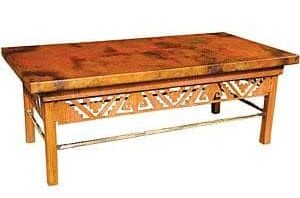 This picked this end table from Mexico because it was made from reclaimed wood and re-purposed hammered copper on the top and the drawer.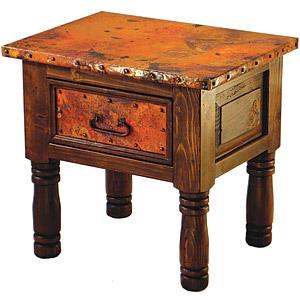 I loved this small floating hardwood and iron table made in Mexico from The Citizenry because it did not take up a lot of space and was perfect for the reading area I created near the bookshelves.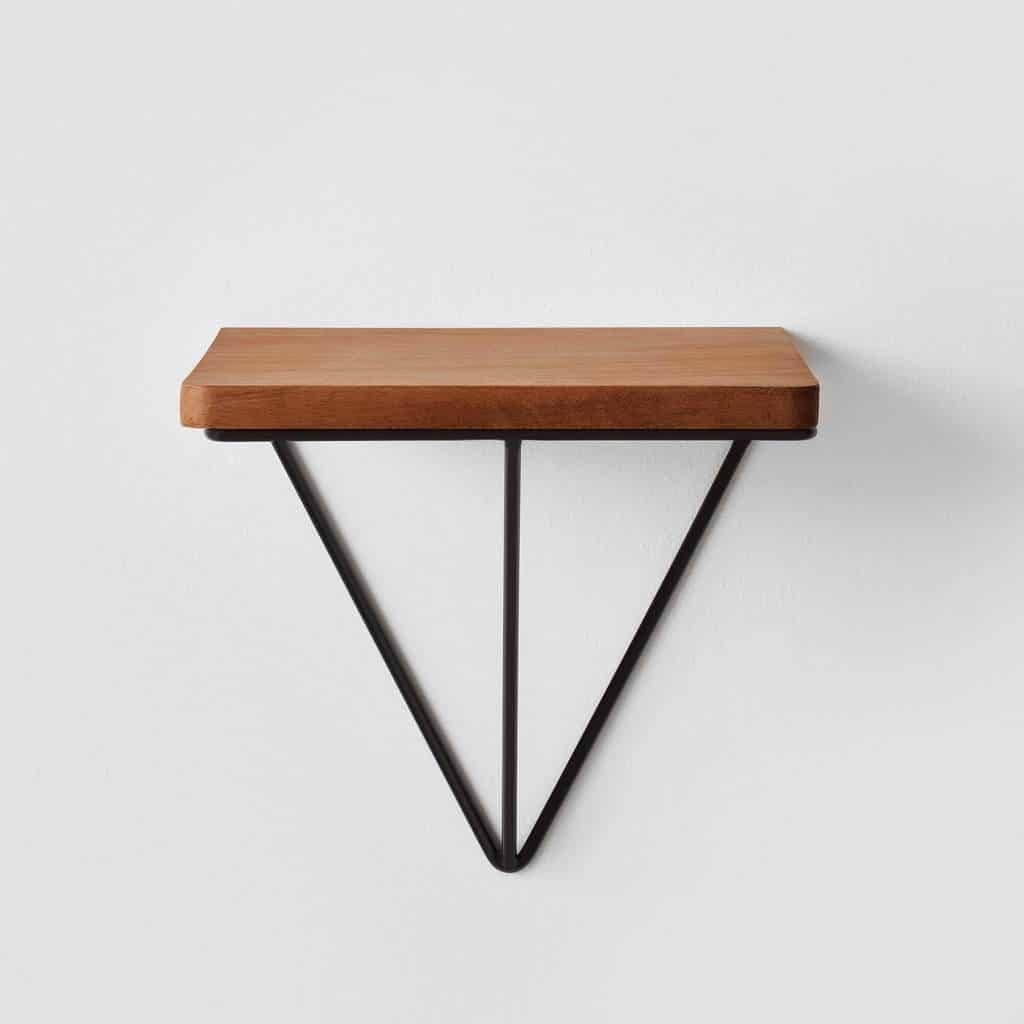 These beautiful leather chairs from The Citizenry are unique and made in Mexico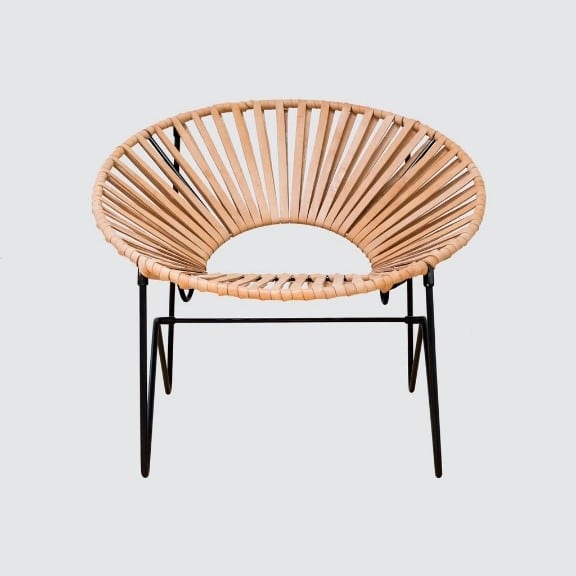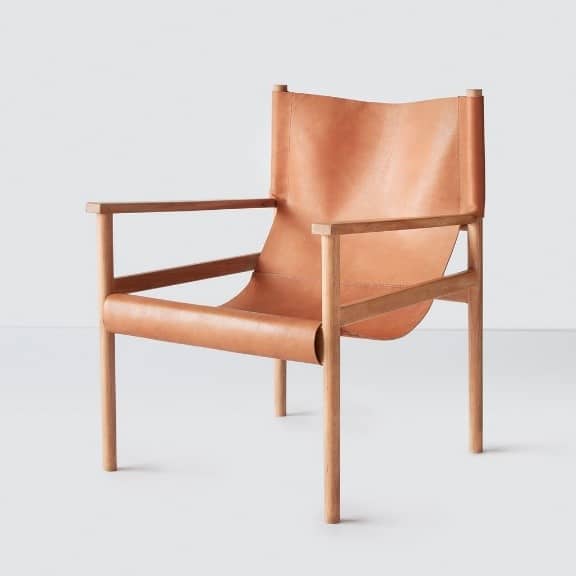 Eco-Friendly Rugs and Throws
The beautiful wool Moroccan Azrou rug is from Atlas weavers. I could not find an eco-friendly rug that fit the design from Mexico, but this one from Morocco is simple and has that folkloric look that worked nicely with the design.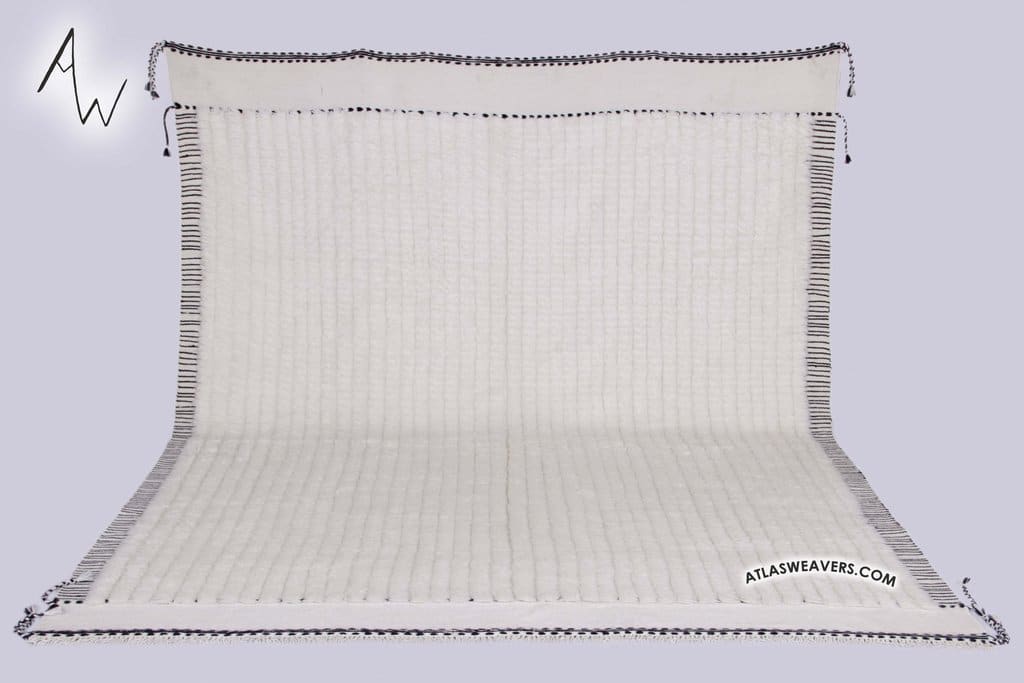 Atlas Weavers will give you a 20% discount on their beautiful authentic new or vintage rugs, made from wool or animal hides.  Use the code "northern lights" at check out on any non-sale item. To learn more about Moroccan rugs, see my blog article on the Magic of Moroccan Rugs.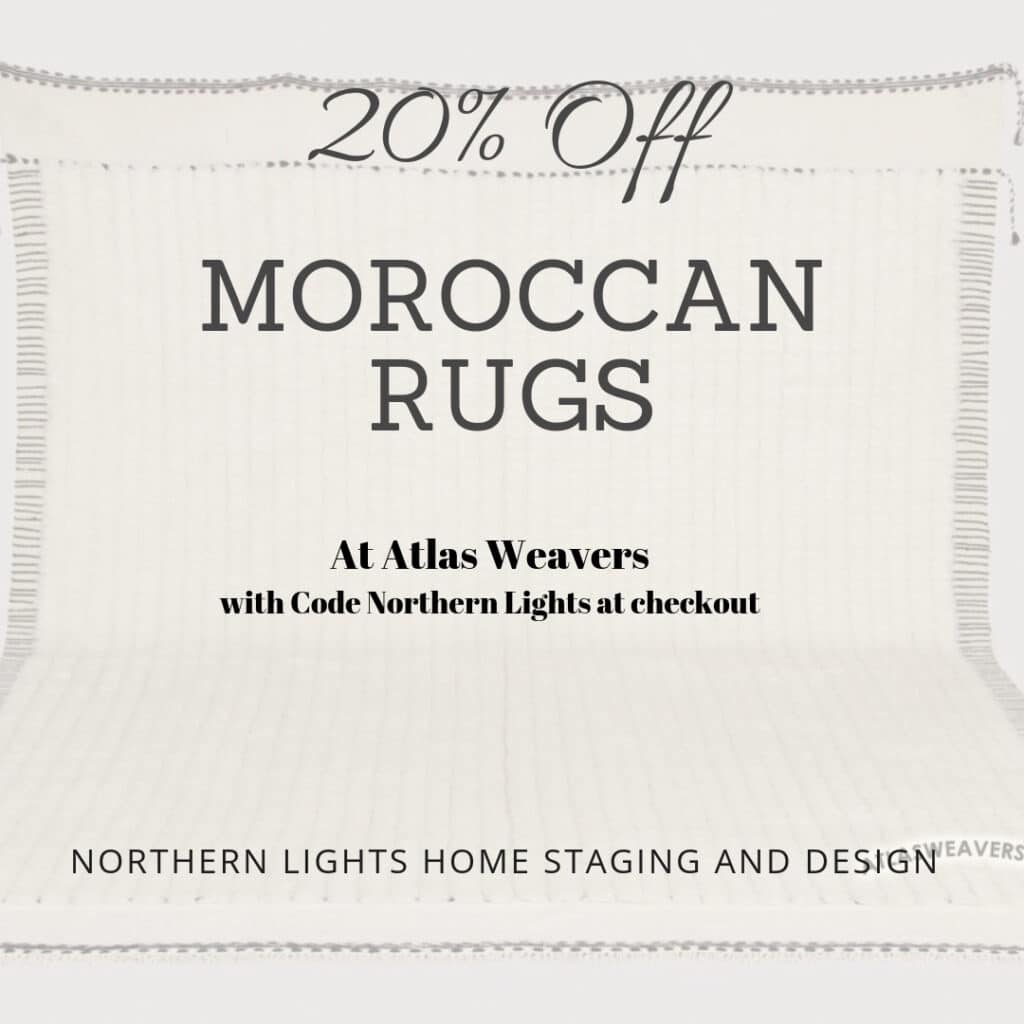 At Arhaus , I found the sheepskin rug  and throw to add a feeling of softness and create an atmosphere you just wanted to snuggle up and relax! Not made in Mexico, but eco-friendly!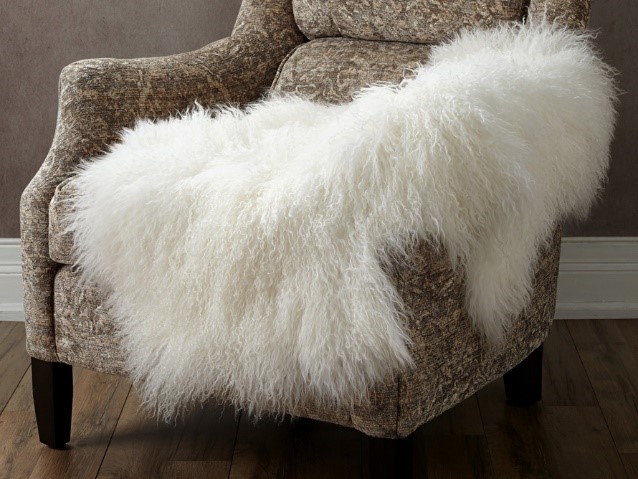 Eco-Friendly Lighting
I also found the iron and onyx chandelier, and the clay sconces, made in Mexico at La Fuente.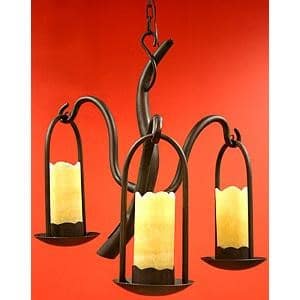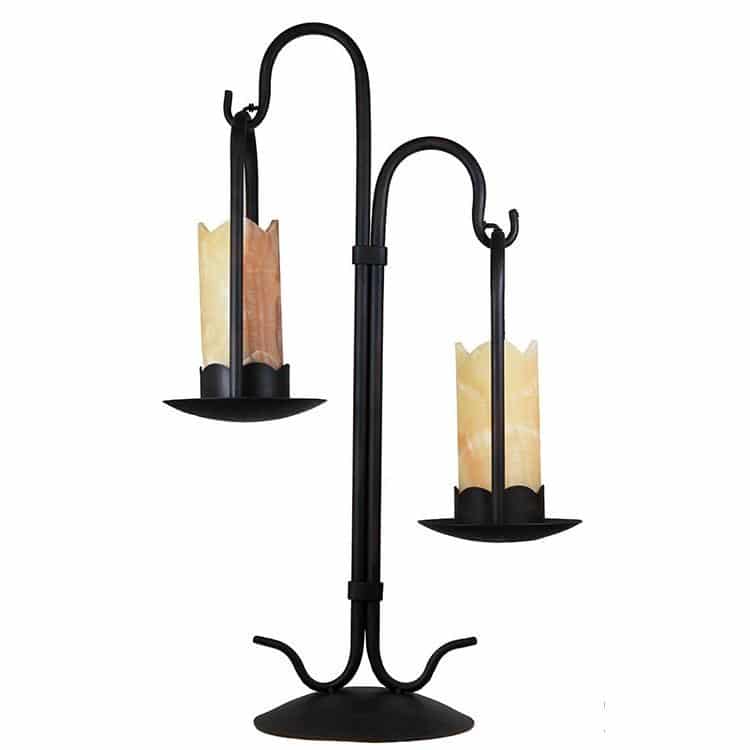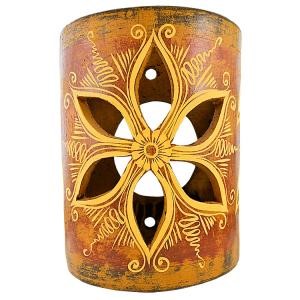 Plants are Great for Indoor Air Quality
A nice touch to add beauty to your room and to help filter your air is to use plants. I found these clay and marble pots and vases, made in Mexico at The Citizenry as well, where you can shop "by country".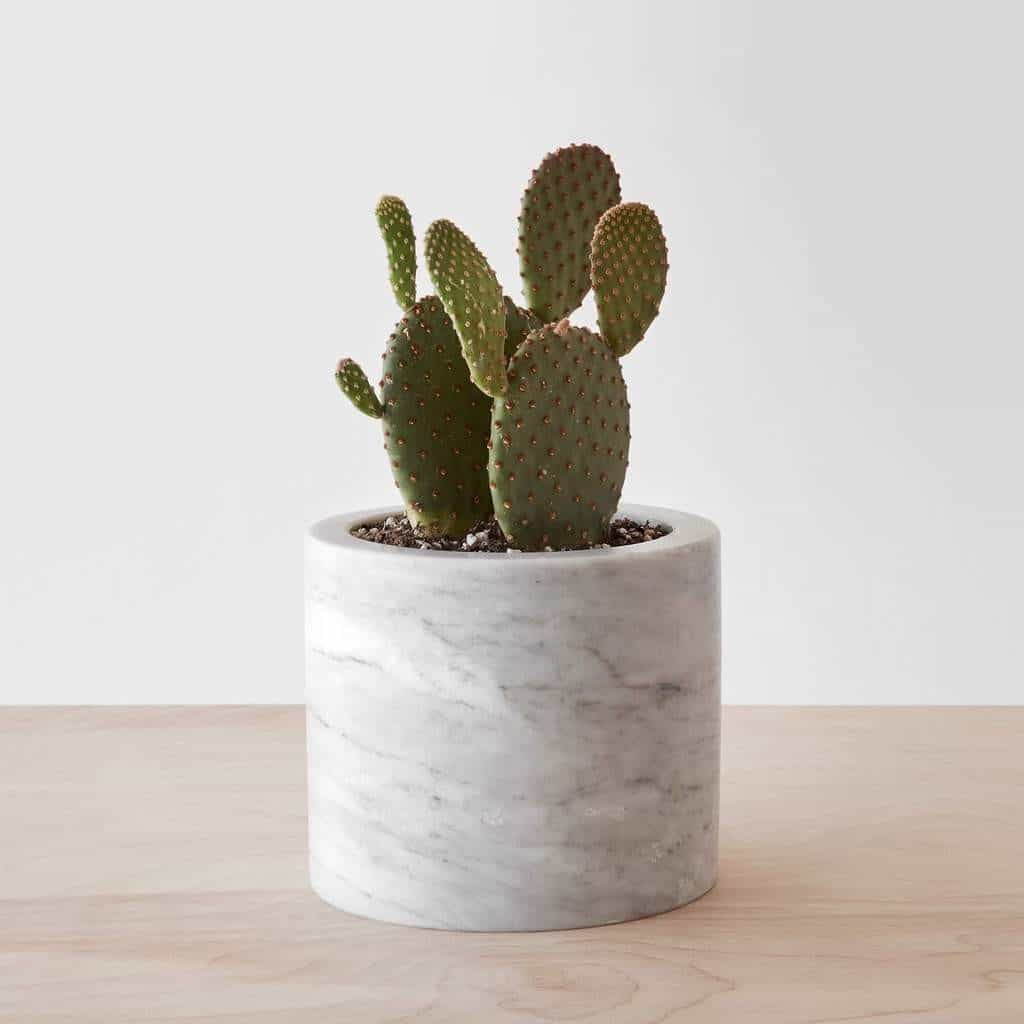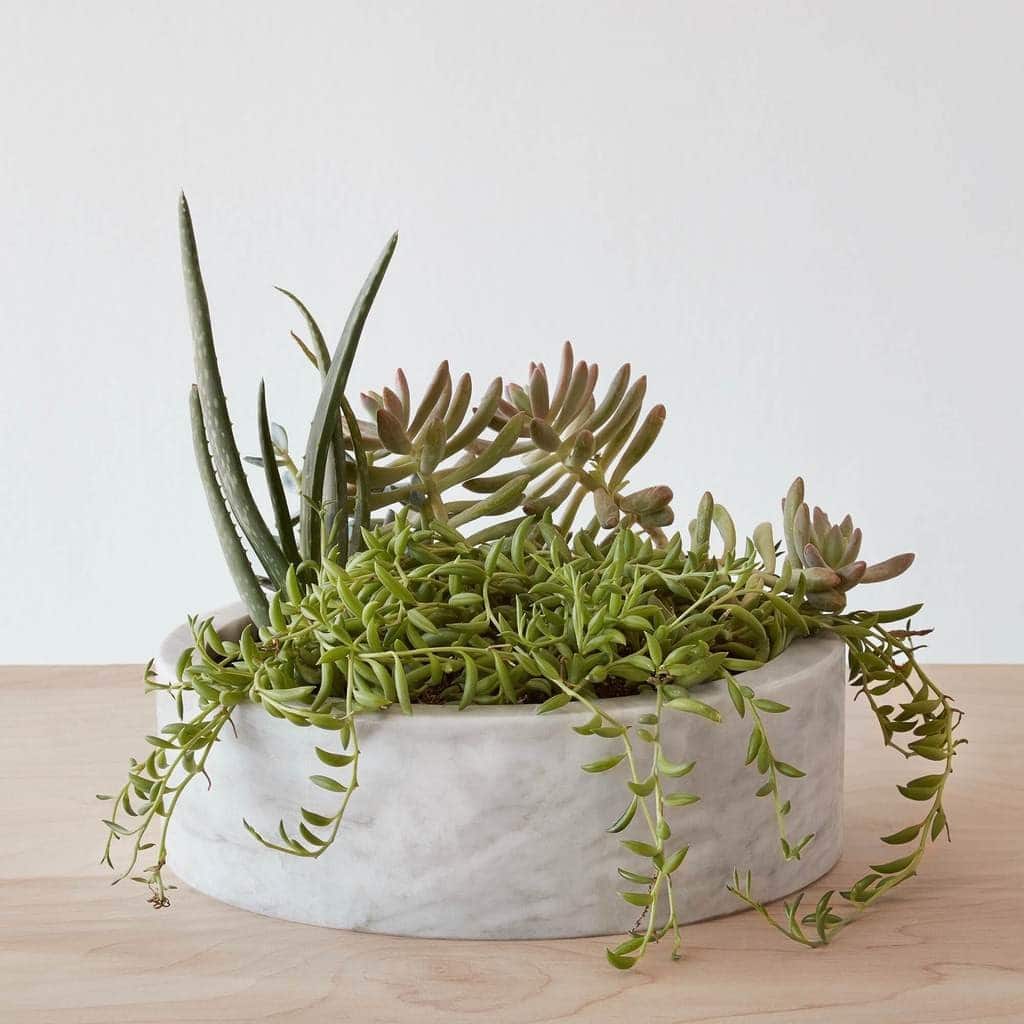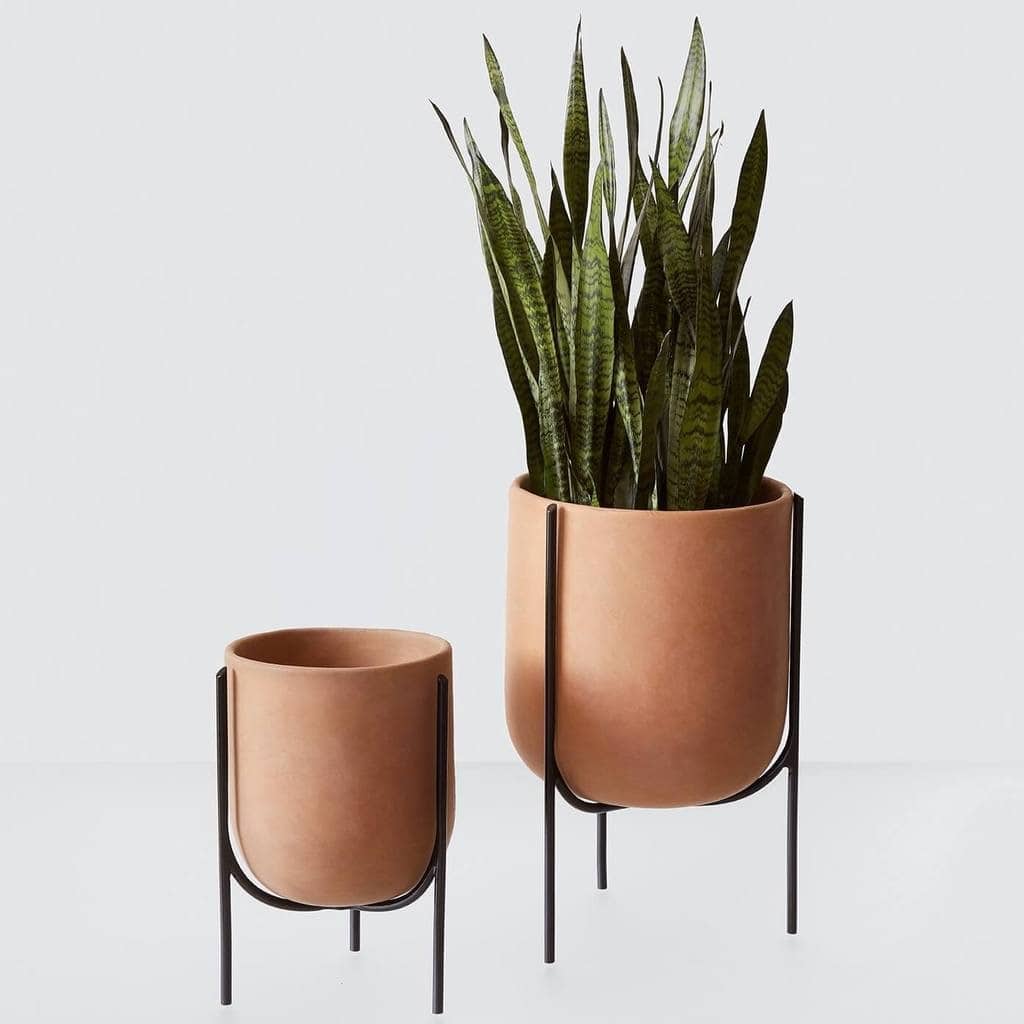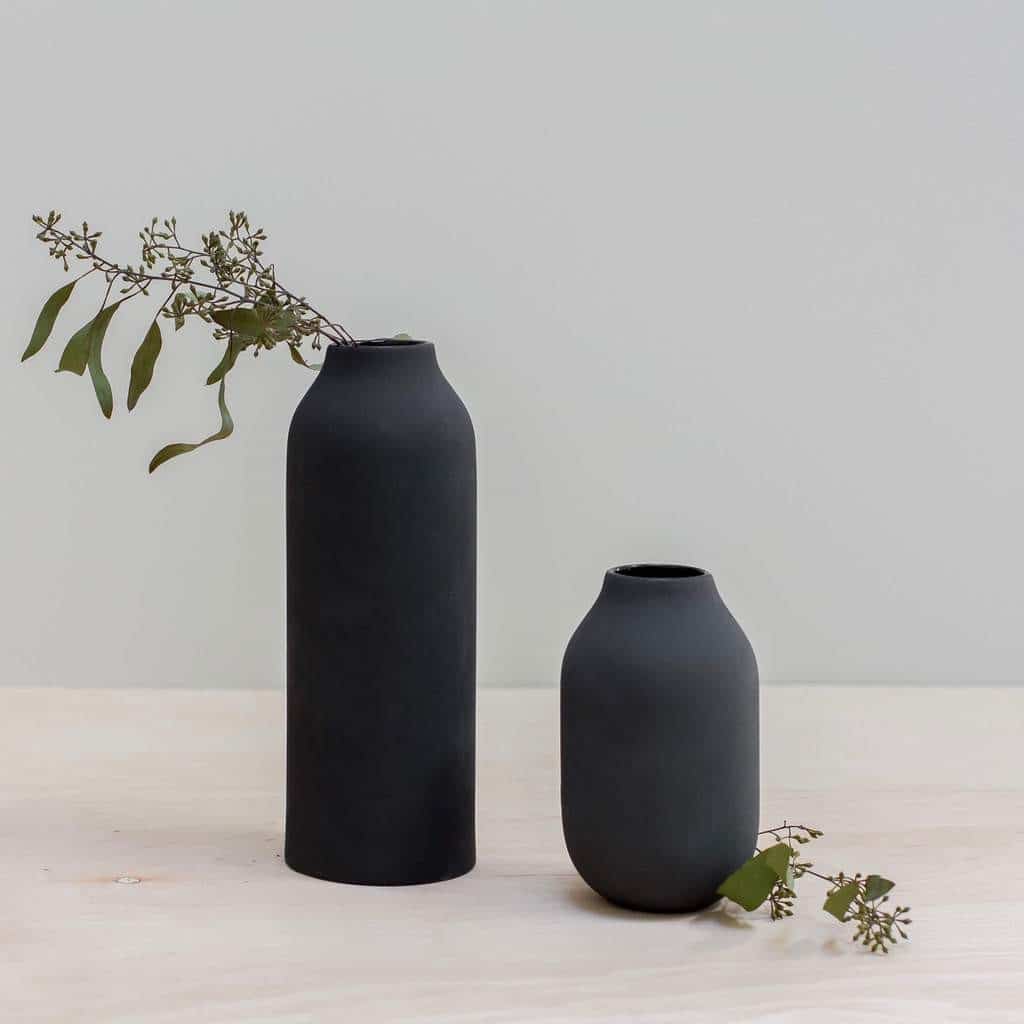 Are You Inspired to Create your own Mexican Oasis?
I love the way this design came out. It seems like a happy, magical space where you can sit back, relax, and tell stories about the wonders of your travels to exotic lands.
If you need help in creating an eco-friendly, global style room in your home, check out my Online and Edesign services. I would love to help you. Follow me on Pinterest for daily inspiration on global style and eco-friendly design.
Wondering what your Global Design Style is? Take the quiz and find out!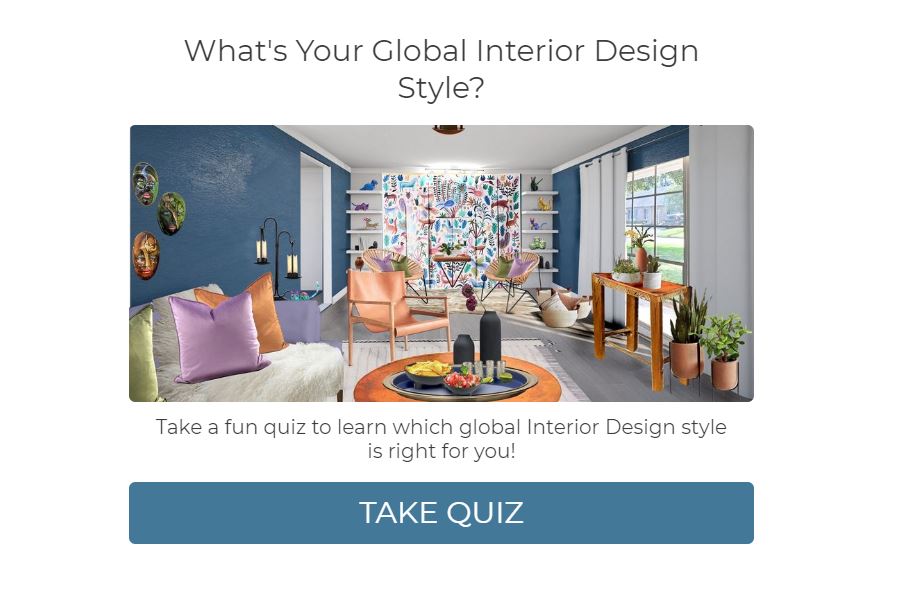 ---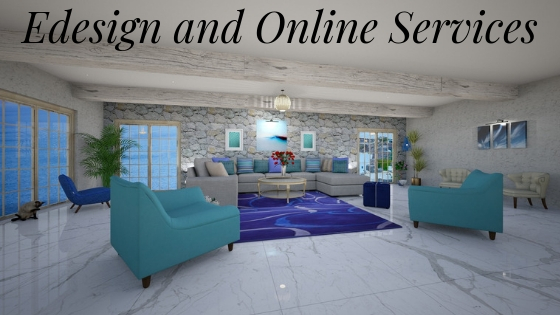 ---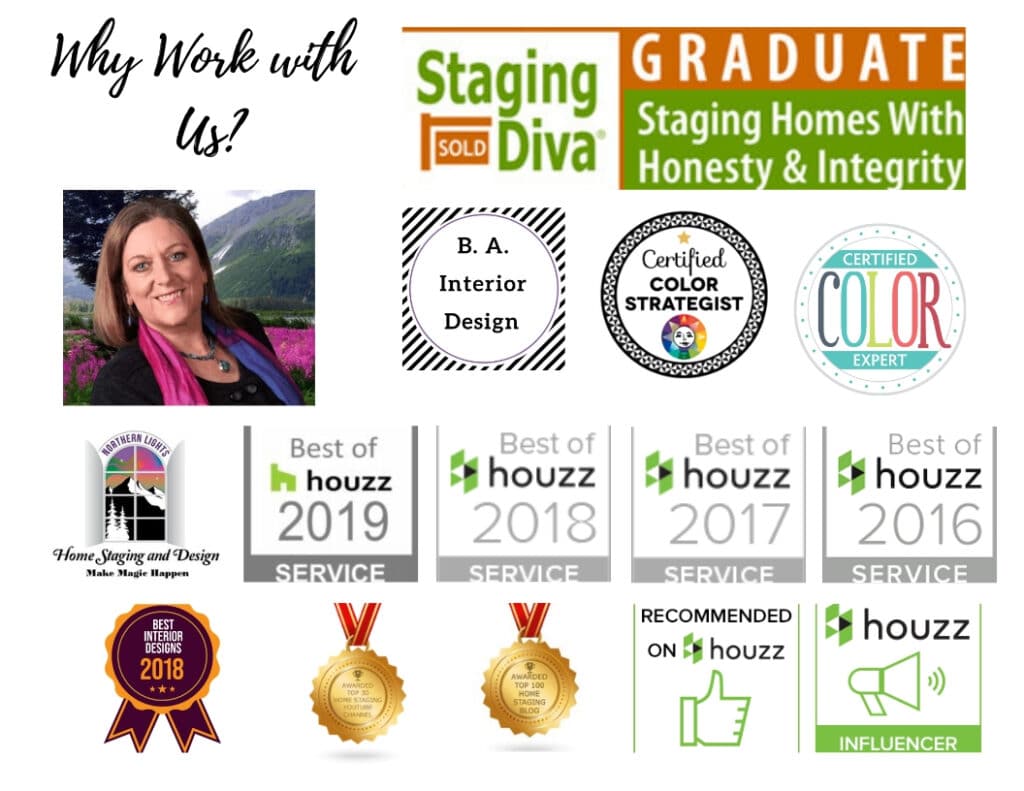 ---
Follow me on Pinterest.