Can home staging help me sell my listing faster and for more money?
Various reports publish statistics on the benefits and value of home staging. A 2017 report by the National Association of Realtors states that at least 50% of Realtors think staging increases the dollar amount buyers will offer to pay by between 1 and 10%. Also, homes that are staged first before listing spend 90% less time on the market. See the summary of some of the 2017 findings from the National Association of Realtors.
What should I tell a client that wants to list first and stage later if their home does not sell?
The same thing you tell a client who wants to "test" the market with an unrealistic listing price, to inevitably reduce the price later. The longer a home is on the market, the less desirable it is. Just like food, a listing becomes stale in a very short time. You can also add that the Real Estate Staging Association Home Staging National Statistics Report found that homes that were staged first before listing, rather than after listing, spent 90% less time on the market. See the article, the "Big Bang Theory of Home Staging".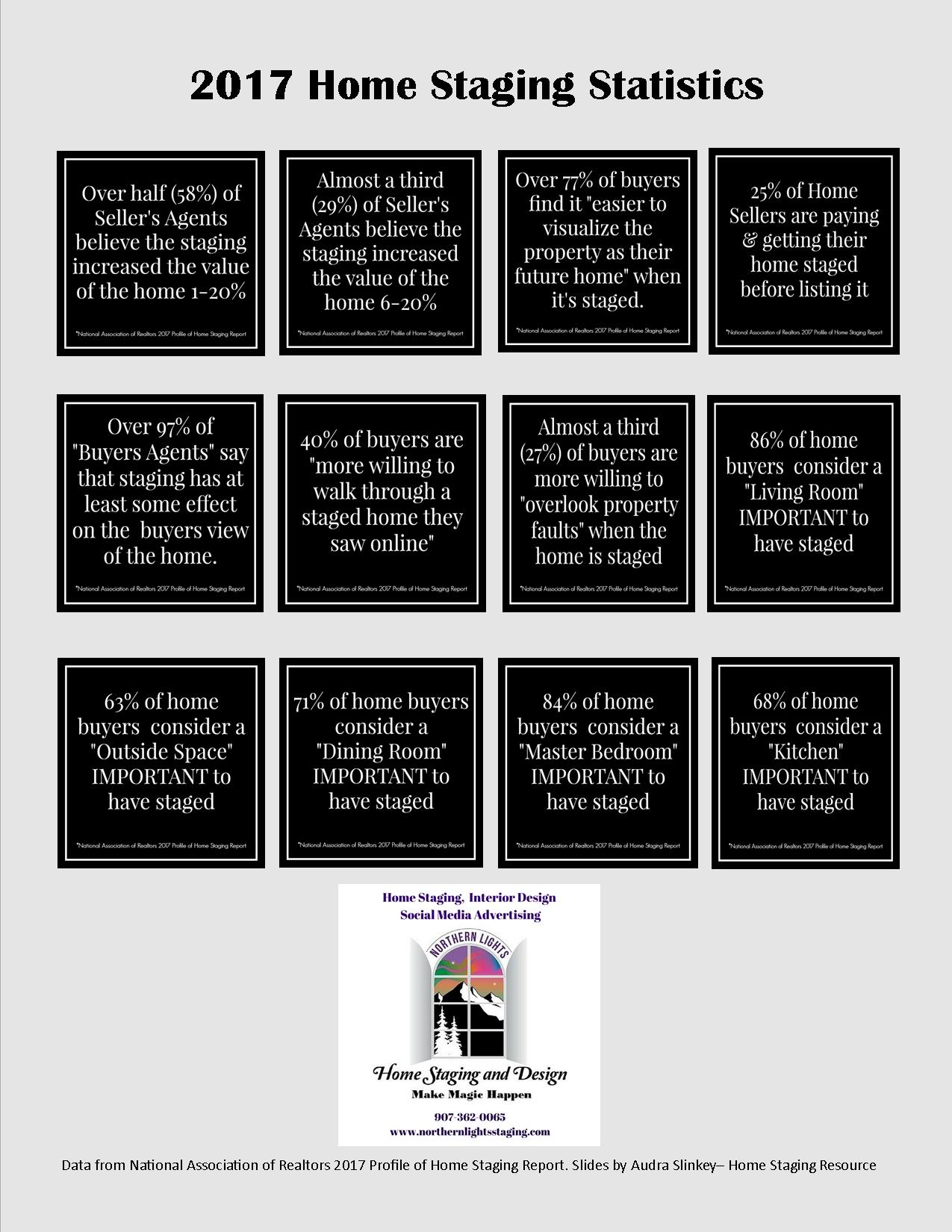 Why should I invest in home staging in a seller's market?
Home staging works in every type of market. Even in a seller's market, there will always be listings that do not sell quickly. Staged homes generate more interest on the web and in person, by creating move-in ready homes that feel fresh, spacious, and up-to-date. All these conditions lead to higher offers, potential bidding wars, and greater profits for you and your clients.
Can home staging get me more listings?
YES! Would you like to tip the scales in your favor when competing for a listing? Want to know what top producing real estate agents do? Offer your sellers an affordable home staging consultation. Position yourself as a forward thinking agent that:
Gives extra value.
Goes the extra mile.
Is a savvy marketer.
Is known for having the best listings.
What should I look for when selecting a home stager?
Even though there is no legal licensing or training requirement to become a home stager, do your homework and look for a professional with training, experience, and good reviews.
An accomplished stager will have both training and proven natural talent to get you great results. See the article on tips to hiring a great stager.
For more information on the value, time, cost  and process of home staging, get your free report,  FAQs for Realtors on Home Staging.
[btnsx id="3643″]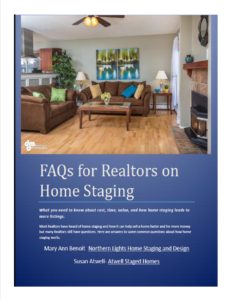 Resources
An Inconvenient Truth about Selling your Home.
Answers to questions commonly asked by real estate agents considering
Home Staging for their clients
Helpful Tips on Finding a Great Home Stager
Home Staging Consultation: Should Realtors Attend?
Home Staging Proof: Solid Science Proves Staged Homes Sell Faster.
National Association of Realtors 2015 Profile of Home Staging
National Association of Realtors 2017 Profile of Home Staging
Consumers Guide to Real Estate Staging
Six Tips to Maximize Your Home Staging Consultation Dollar
Summary of 2017 Home Staging Statistics
What is the Cheapest Way to Successfully Stage Your House? Get a Home Staging Consultation.
Why Hire a Professional Home Stager?
Call 907-362-0065 today
 info@northernlightsstaging.com