When it is time to sell our home, we all want to sell fast and for the highest price. One of the best ways to make that happen is to stage your home. Home staging uses decorating to highlight the home's best features and helps buyers visualize how they can use the space while making an emotional connection with them so they can see themselves living there happily.
When it comes to home staging, there are several ways to go about it. You can:
Get a consultation with a professional home stager and get advice on everything you need to know to successfully stage it yourself.
Hire a pro to do the staging for you or with you, either working with what you already have if you will be living there while on the market, or bringing in everything and staging a vacant house.
You can virtually stage the space to show buyers the "potential of the home" and "what it could look like" if it was furnished in a particular style.
You can also use " virtual design" to show how it could look if it were remodeled to have different paint colors, lighting, flooring and more.
What is Virtual Home Staging?
Virtual home staging is a computer rendering of what a vacant space might look like if it was staged with furniture and accessories.
Here are two examples of virtual staging where good quality photos of a vacant home were virtually staged to show the potential of a vacant property for sale. These examples could be used on the MLS for your listing if allowed in your state and should be clearly disclosed that they are virtual photos. A good way to do this is to show both the vacant photo and staged photo together so buyers know what to expect when they see the property in person. Notice in both cases, the condition of the walls and carpeting looked in very nice shape, so the staging was not covering up any obvious "problem areas".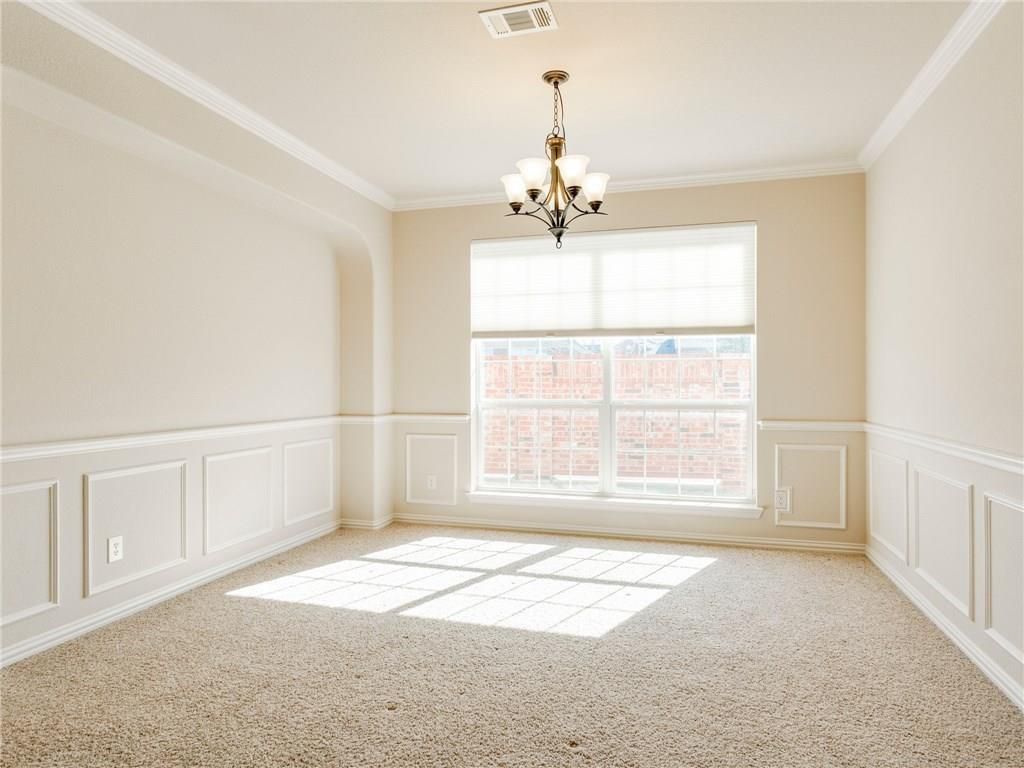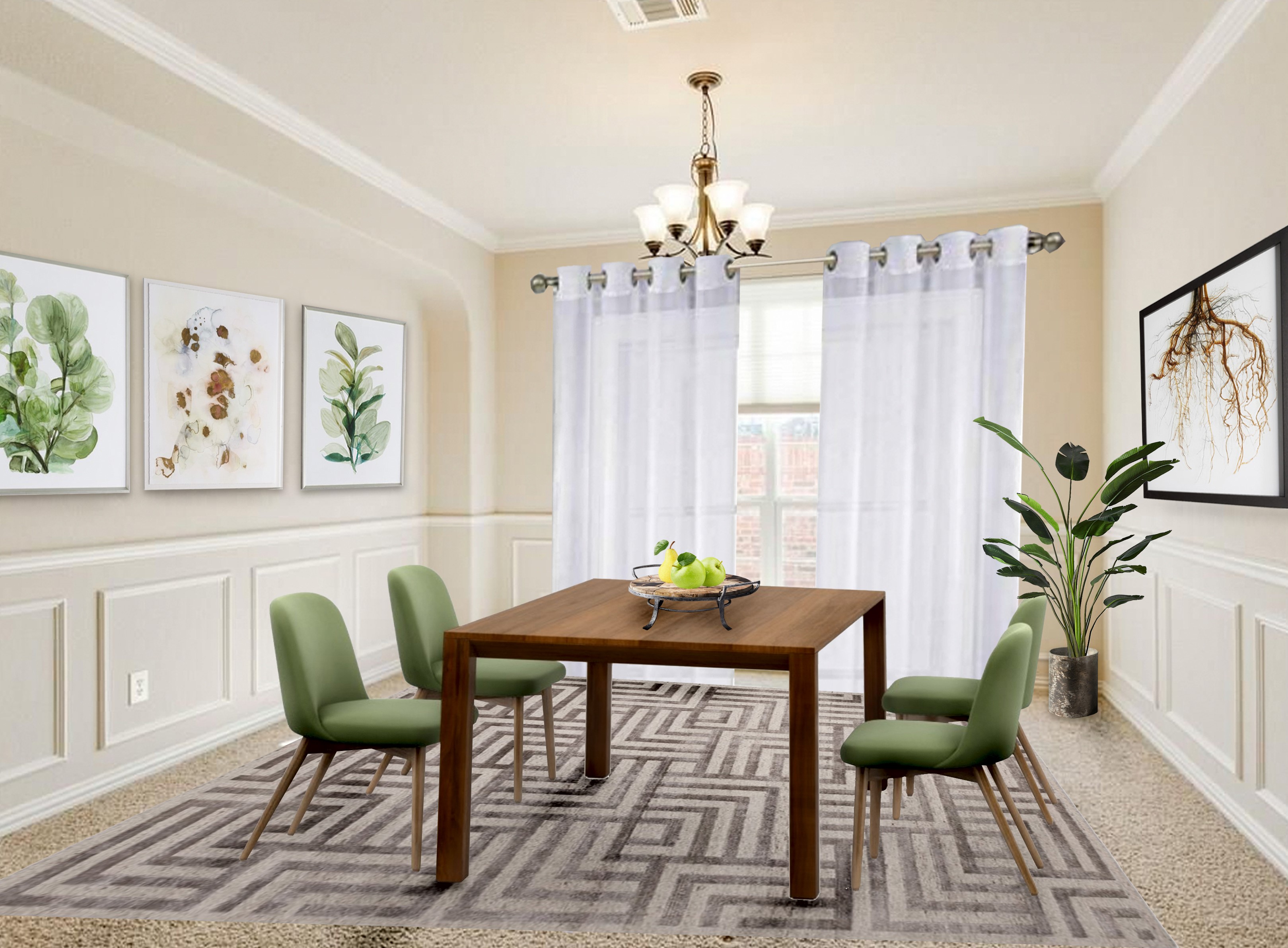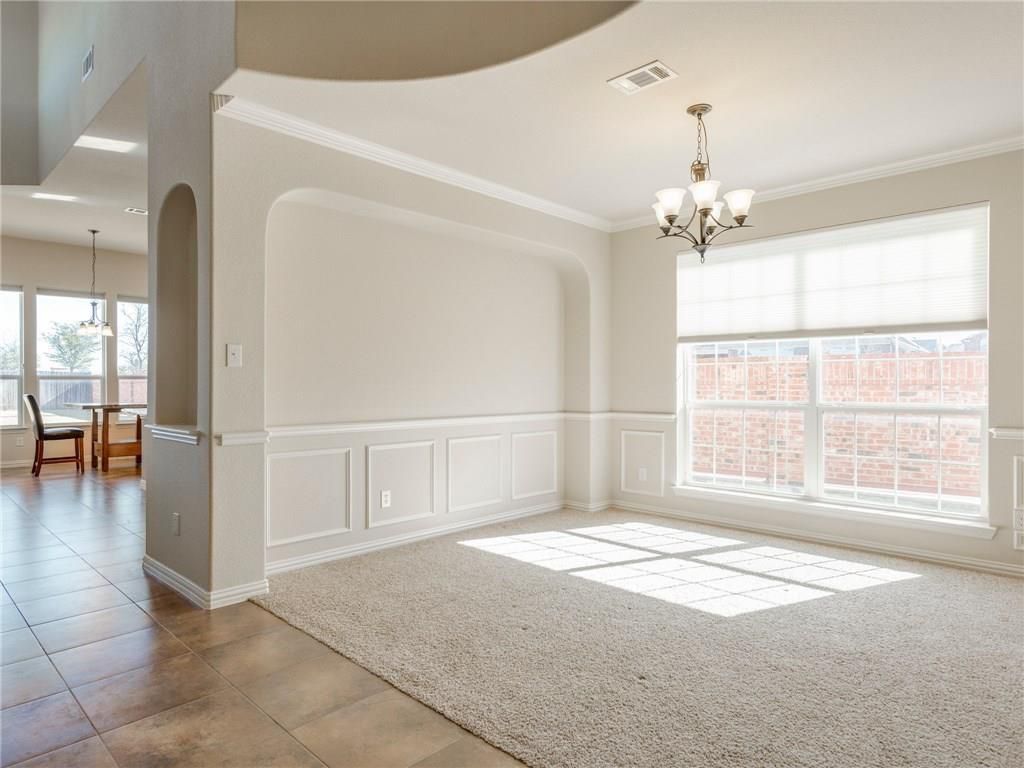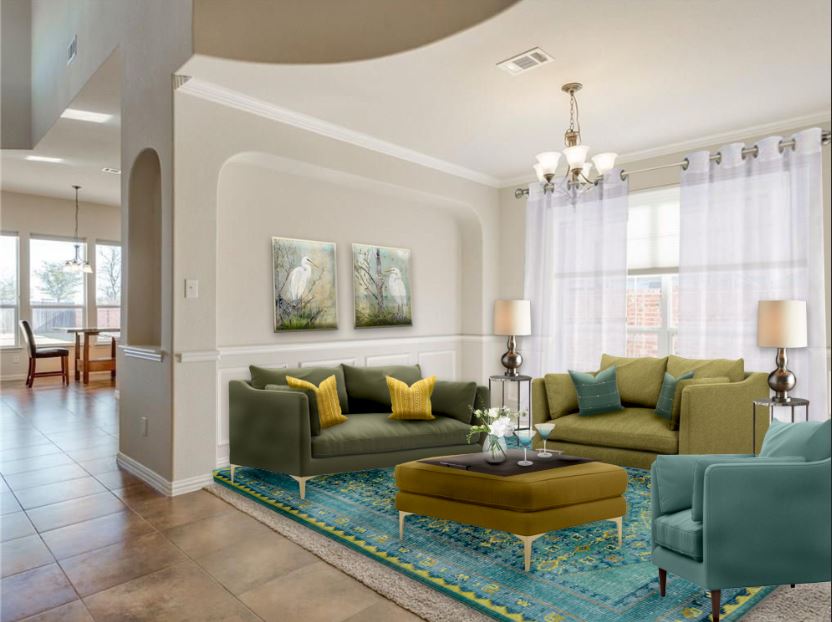 Virtual staging could even be used to advertise rental properties that the renter is expected to bring their own furniture to show them the potential of the space and give them a sense of scale and how furniture could fit in the space.
What is Virtual Design?
Sometimes a seller or realtor wants to show the potential of a space. Below is an example of one of the rooms above where the paint color was changed, the lighting updated and flooring was changed. The area rug was changed to work with the new paint color.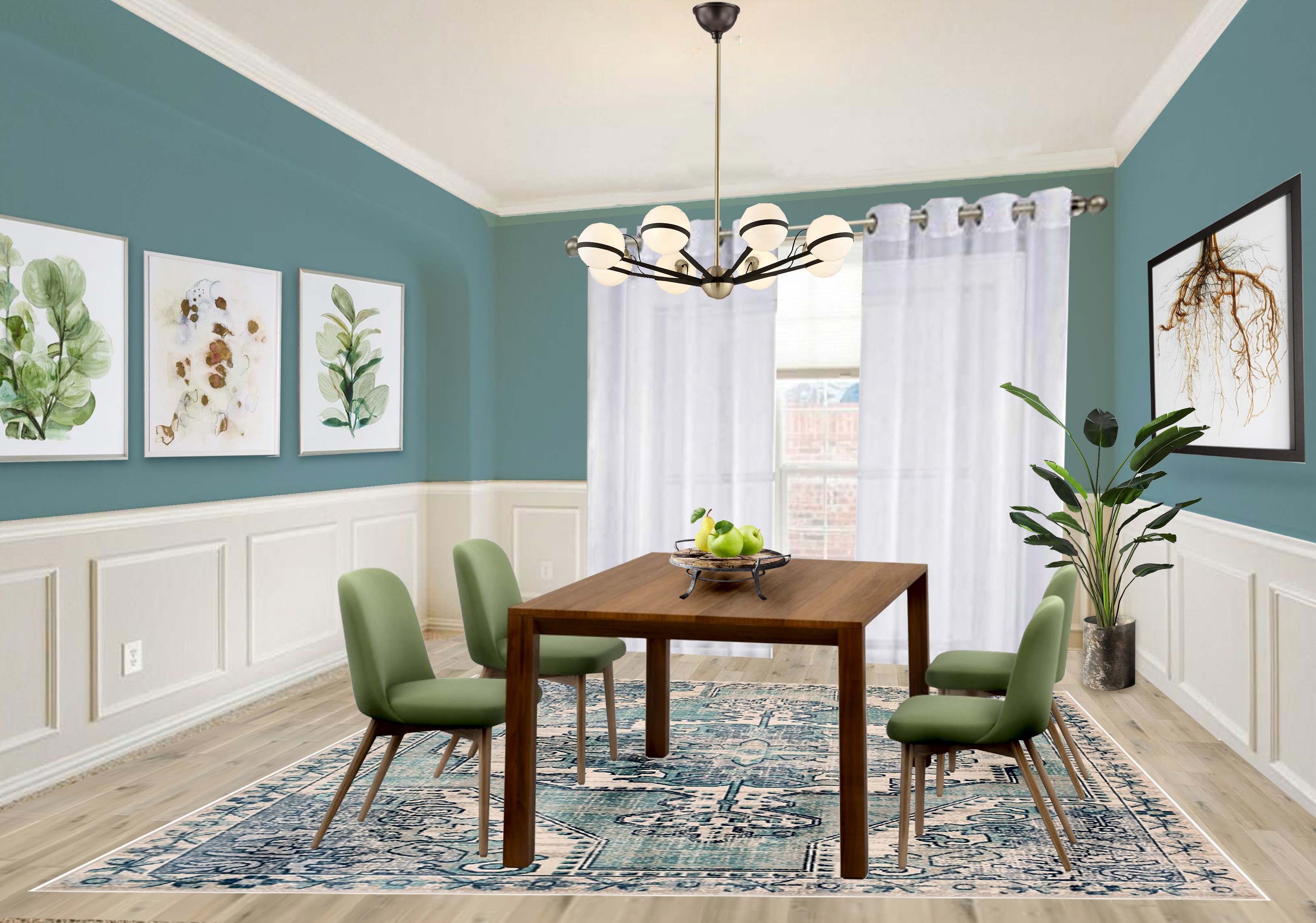 This type of rendering entails more work because in addition to adding things, you are also changing items such as color, lighting and flooring so would be more expensive. This type of rendering that shows cosmetic changes is more an example of "virtual design" than "virtual staging".
Virtual design can help if the property for sale will need work such as repainting, new flooring and lighting and the seller is willing to sell for a lower price and allow the buyer to do the work and make their own selections for those items. This would be a nice addition to materials you are showing buyers at an open house. It is not recommended for use on the MLS (Multiple Listing Service) because the cosmetic conditions of the home have been changed and you do not want to mislead buyers about the actual condition.
In addition, virtual staging or design should never show changes of things that cannot be changed (such as removing powerlines or highways from the view). Check to see what is allowed on the MLS in your state. Even if allowed, you may be opening the door to having buyers feeling 'misled" by the listing when they see it in person, especially if they do not read all the "fine print" on the listing.
Sometimes, you may not have good photographs to work with due to the lighting or angles they were taken at, or the photos are filled with furniture or other items that need to be removed. In those cases, a 3D render can be created from scratch from room measurements. This type of render takes longer so is more expensive. Because these do not use actual photos, I would consider this "virtual design", and it is critical to make it clear to buyers that this is a virtual rendering so they are not surprised.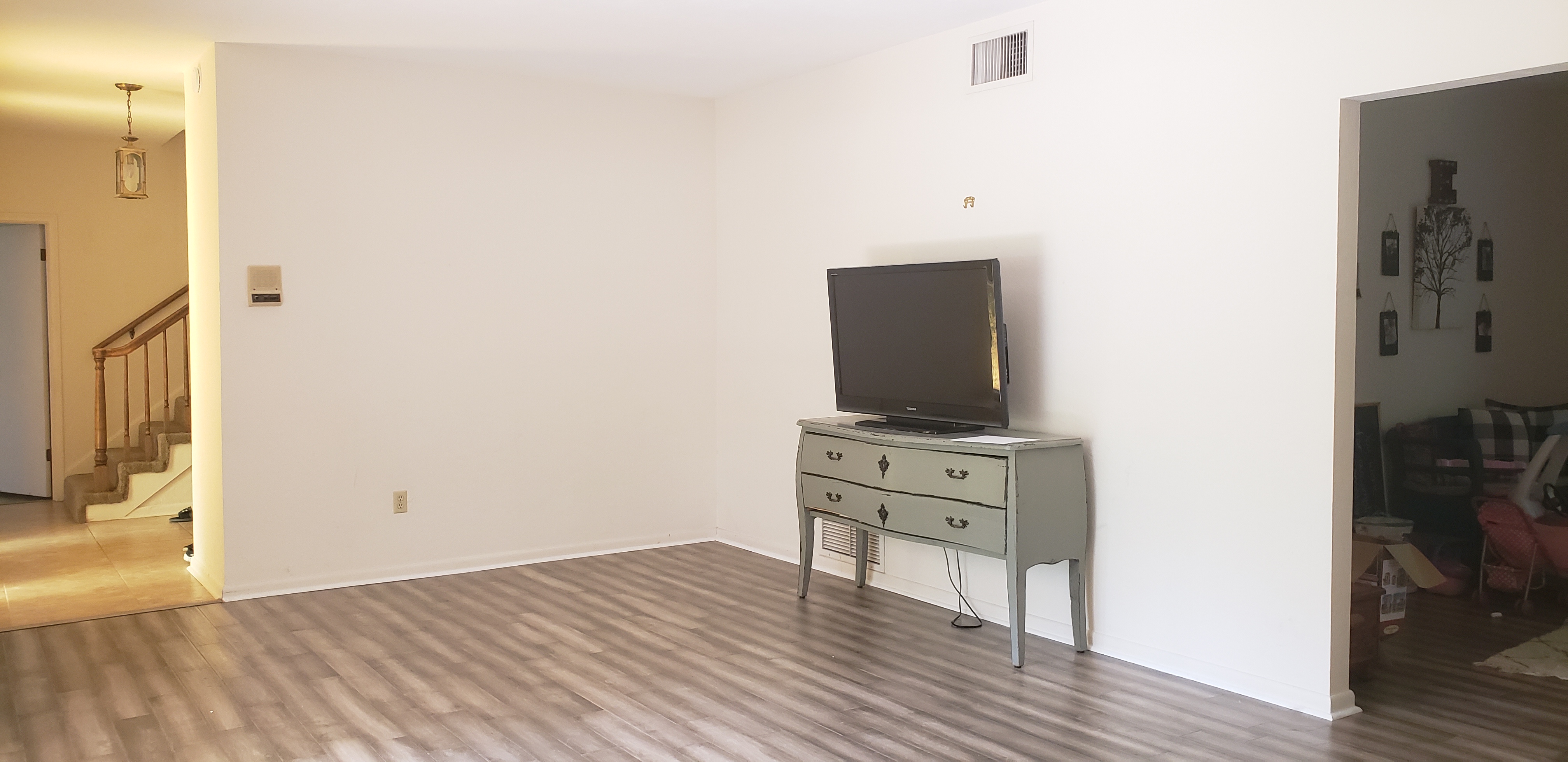 The Pros of Virtual Staging and Design
Virtual home staging usually costs less (often half the cost or less) than physical home staging because it takes less time and there are no rental fees for furniture and accessories.
If the seller cannot afford in person staging, virtual staging can still help buyers or renters visualize the possibilities of a vacant space.
Virtual home staging is better than no home staging, because it helps the buyer to visualize how big the space is, how furniture can fit in the rooms and the purpose of each room.
Some homes may need a lot of remodeling, updates or exterior or interior painting and the seller may not be able to afford to do it, or may choose to leave that to the buyer so they can do it their way and sell at a lower price point. Helping the buyers see the possibilities at an open house with "virtual design" is a great advantage as the majority of people can not visualize how the space could look with major or even minor changes.
Virtual staging can show higher quality furniture and accessories, or specific styles to attract the target buyer that might not be available for in person staging. This might be beneficial for high end properties.
Virtual staging could be used to advertise rental properties where the renter is expected to bring their own furniture.
Virtual design can be used in combination with regular home staging. For example, if you have a home that needs exterior painting due to the color or condition but cannot afford to do that before selling, you could show a render of the house with a new paint color and still physically stage the interior.
The Cons of Virtual Staging and Design
I always recommend in person staging over virtual staging so buyers can make an emotional connection and envision themselves living there. The emotional connection is what causes buyers to make an offer. Buyers will never make the same emotional connection with a computer or paper image of a space as they will when seeing a beautifully staged home in person.
When using virtually staged images on an MLS listing, it is critical to make sure it is allowed in your state, and make it clear to buyers that this is a representation of the space. Buyers may get angry or be very disappointed when they visit the home in person and it looks nothing like the advertised image. Some buyers buy online and do not get to see the home in person. Be sure you are not mis-representing the space to buyers that cannot visit it in person. Showing a photo of the real space next to the virtual space with a detailed description can help make that clear.
If the rendering is not done accurately and to scale, it may give a false impression of how big the space is and how furniture could really fit in the rooms. Be sure to have your renders done by professionals that will make it to scale.
Be Sure to Disclose
Home staging,  virtual staging and design are great tools to help you sell your property faster and for more, or help you rent a property and attract your ideal renter.
Be truthful with buyers on the condition of the house. Check with the MLS for your state to know what is allowed before listing. And remember that all buyers do not read all the details or fine print. Things to consider:
For realtors and home sellers, be clear and disclose that the photos you are showing are virtually staged and the property is actually vacant.
For those creating the virtual renders, be sure not to cover problem areas with staging items.
Be clear if the photos have made cosmetic changes and show the "design possibilities" rather than what the house actually looks like now.
One of the best ways to disclose are to show the actual photos side by side with the virtual photos. You do not want buyers to be surprised or angry when they see the actual property.
Photos should be realistic and not cropping out or changing things that cannot be changed, like power lines or other actual physical features surrounding the property.
Photos should represent the actual scale or size of the space in relation to the furniture and accessories added.
Need Help?
If you would like help selling your home faster and for more, I can help you with an in person home staging consultation or staging of a vacant or occupied home, an online home staging consultation for your home or vacation rental property and virtual home staging and virtual design.
Click on the pictures to learn more about my online services and give me a call for a quote for in person staging in my service area (south-central Alaska).
Virtual Staging and Remodeling Services
I always recommend in person staging over virtual staging so buyers can make an emotional connection and envision themselves living there. Sometimes though, a space may need a lot of remodeling or updates and the seller chooses to leave that to the buyer so they can do it their way. Or the seller can not afford in person staging. Virtual staging can help buyers see the possibilities of the remodeled space or visualize the possibilities in a vacant space.  Learn more about the Pros and Cons of Virtual Staging in my blog article. Drop in renders use your well lit great photo of the vacant space. 3D renders use measurements of your vacant space with a suitable photograph for guidance. I also offer your buyers 10% off an Interior Design consultation for their new home that you can give them as a gift. See examples and Learn More.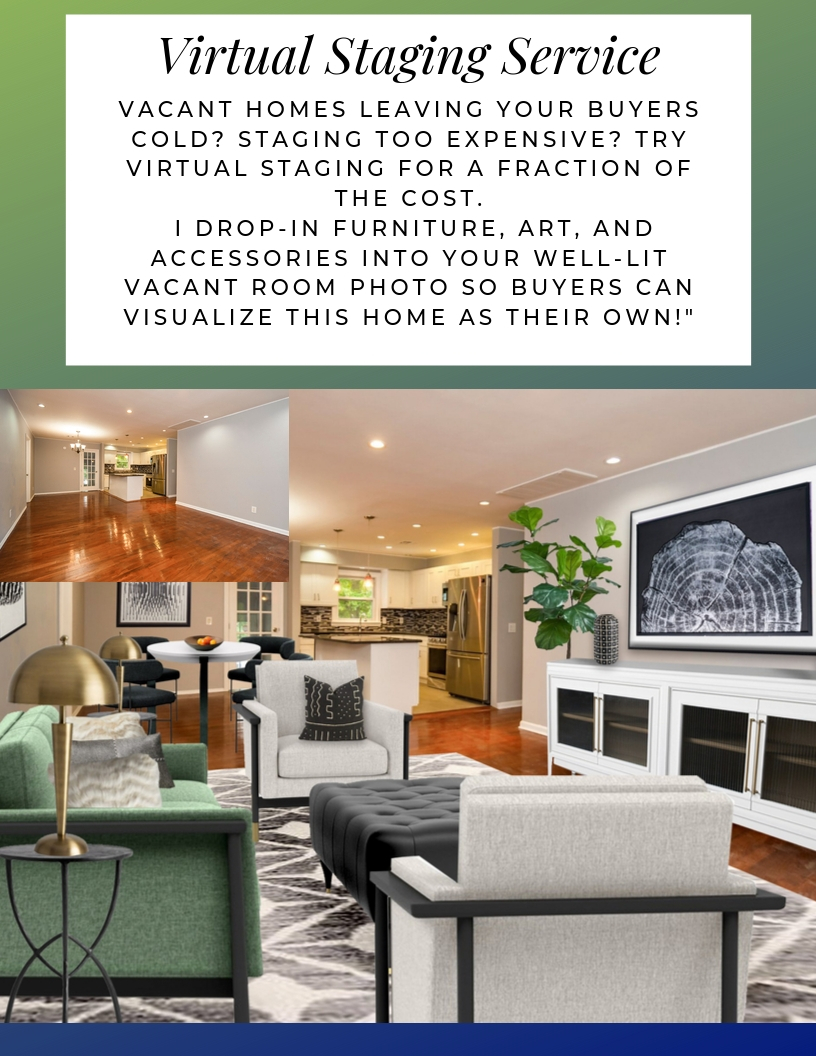 Drop In Render- $100 per room photo. 2 Photo Minimum
[btnsx id="6357″]

3D Render- $210 per room
[btnsx id="6358″]
Floor Plan Added to either Package above. $30.00 per room
[btnsx id="6376″]
By purchasing, you are agreeing to my Letter of Agreement and Terms of Service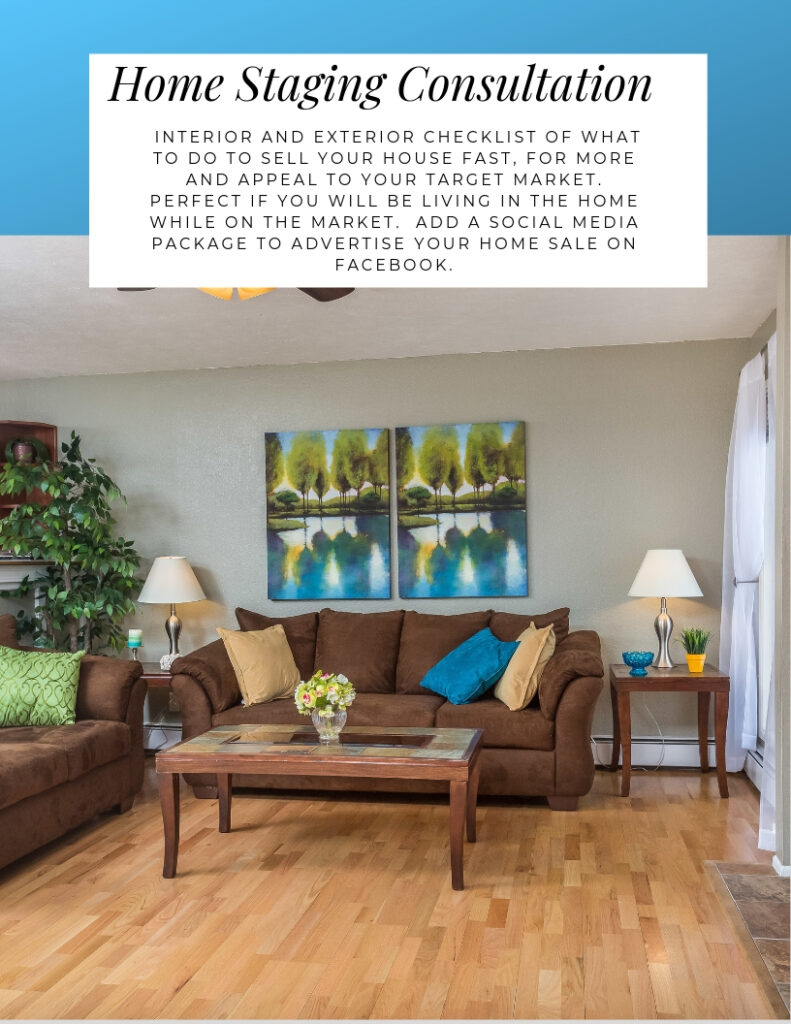 Learn More
Interested in learning more home staging and design tips? Get my monthly award winning blog articles and get a free report on Top Paint Colors for a Speedy and Profitable Home Sale or My Top Ten Interior Design Tips in appreciation.  Never miss a great idea!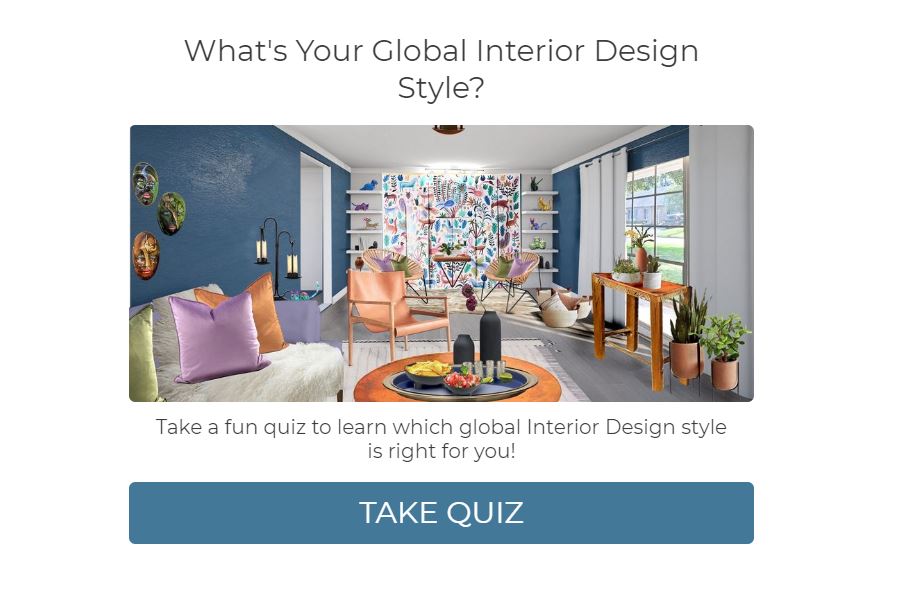 Call 907-362-0065 today
 info@northernlightsstaging.com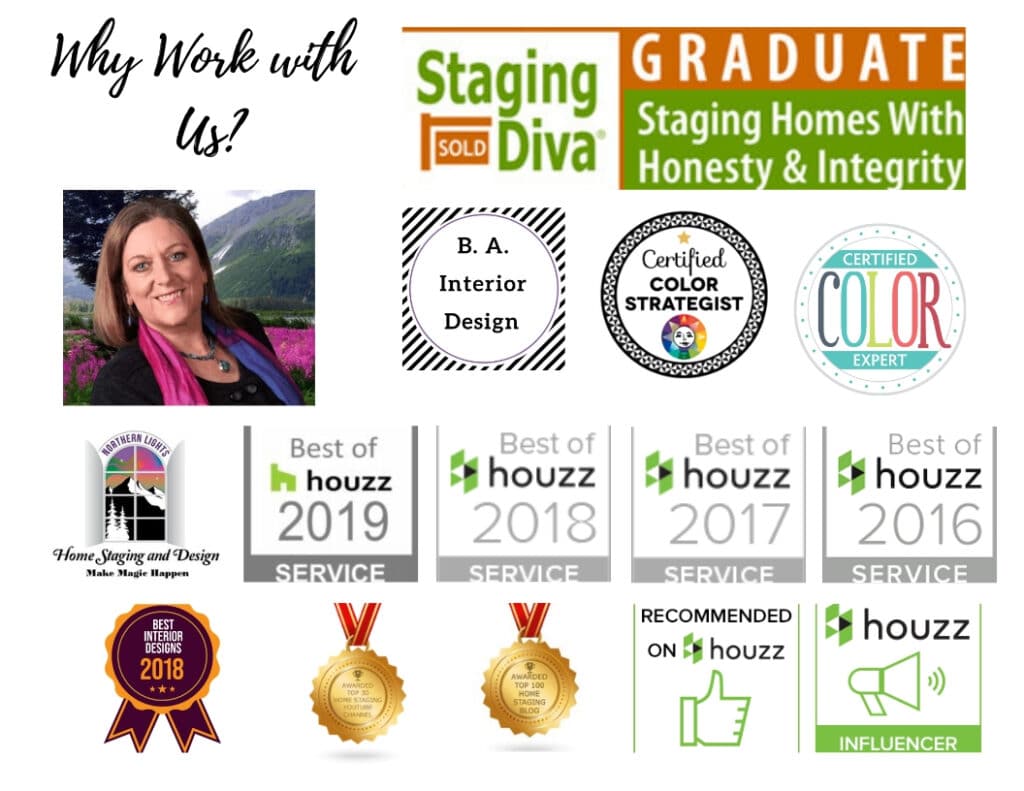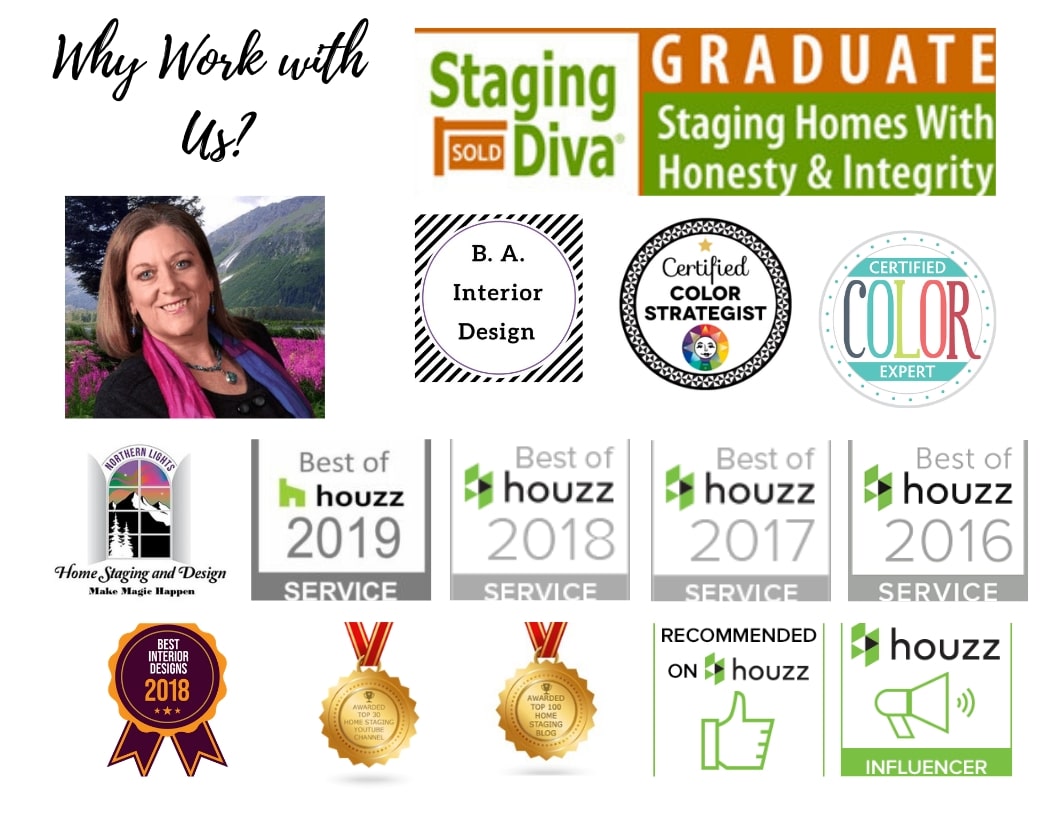 Prices subject to change without notice.
---