Are you a Perfect Space Seeker?
Do you want a beautiful, healthy home that looks and feels great without spending tons of time or money? Do you wish your home was a sanctuary and perfect space for you?
Your perfect space can support you in your journey to BE the person you need to be to live your perfect life.
The Perfect Space- Who Cares?
Most of us think our house or space is OK, but we wish it was better. If pressed, we would admit we really wished it felt like a sanctuary, a place that took our breath away with it's beauty, a place that brought us joy, peace, well-being. A place that was comfy, yet exciting. A place that supports our dreams and that we are proud of. 
Is it really that important?
YES.
You deserve to have your perfect space.
When your space is better, you are better.
When you are better, the world is better. 
How Does Your Perfect Space Make Your Life Better?
Our perfect space is an alignment of art, science and energy that supports who we truly are. Below I describe some ways that "energy" contributes to creating your perfect space, and to making your life better.
Our Perfect Space Supports our Growth
We all grow, change and evolve. Hopefully for the better! We are not the same person we were ten or five years ago. Our space needs to change to reflect that,  Our tastes and interests change, our families grow, everything changes. Why should our space stay the same? If it does, is it still supporting us to live our best life?
Our Perfect Space Supports our Peace and Well-Being
A sense of well being is one of the highest states of mind we can achieve. Our space can support that.  When we have too much clutter, or things that no longer serve us it can feel overwhelming and chaotic. Getting rid of things and re-organizing helps bring a feeling of peace and renewal.
Our Perfect Space Supports our Self Care
We all need space and time to nourish and care for our physical, mental and emotional needs. Our perfect space can provide that whether it is a quiet comfortable place to read and learn, a place to meditate, room to lift weights, dance or do Tai Chi, the perfect spa like bathroom, or whatever supports you.
Our Perfect Space Connects us to Nature
Wherever you live, whether in the city, suburbs or country, feeling connection to nature and life beyond ourselves is important. Biophilia, which translates to "love of life," describes our connection with nature as a biologically-driven need to interact with other  life such as animals and plants. Our perfect space can support that need through color, accessories, art and, sounds, smells and more. Learn more in my article, Feel Good with Biophilia, or The Colors of Summer- Bring the Outside In.
Our Perfect Space Connects us to our Environment
Our environment includes more than just the natural world outside our walls, and the parts we bring inside. We have a connection to the physical space and building, and the objects around us. The arrangement of things and how we interact with it can affect how we feel. Feng Shui is the study of time and space and considering it helps harmonize natures forces within your space and the surrounding environment. This can help improve your health, wealth and relationships.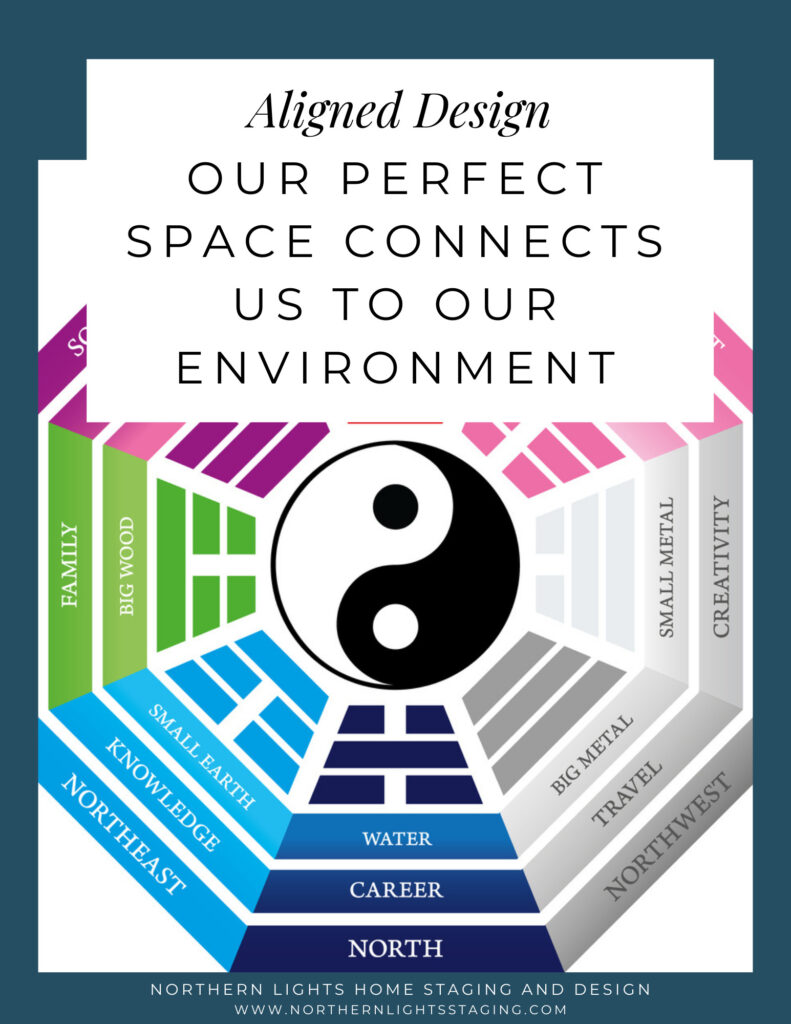 Our Perfect Space Supports Getting to Know Ourselves
Many of us do not know ourselves well, and maybe are scared to. When was the last time you took 4 hours of silence to be with yourself and allow the monkey chatter in your brain to turn off so you could allow meaningful information a chance to make it through? Taking time to get to know yourself is important. Our perfect space can support that by providing comfortable, quiet spaces for our personal growth.
Our Space Supports our Transformation
Are you on a journey to transform your life and BE the best you can be your best self, so you can DO the things that create the life you want to HAVE?
Transformative design can support that journey by providing space for learning, evolving and aligning your self with your higher purpose.
If you are interested in transforming yourself, I highly recommend Jim Fortin's Transformational Coaching Program, called TCP. It has been an ongoing journey and learning experience for me. You can read about my first round of this program in my article, Lose Weight, Quit Smoking, Get Healthy and Peaceful Without Pain.
Get on the Wait List for the next TCP Program.
My philosophy of great Interior Design, which I call Aligned Design, considers three key factors; art, science and energy. The intersection of the three is where the magic happens.
The "Energy" is all about connection and is what I described above in ways our perfect space can support us.
Connecting to yourself, your story, who you want to be and what you need in your space to support that journey (transformative design).  Connecting to the energy around you in and surrounding your home (Feng Shui) and to nature (biophilia). This connection creates another level of "feeling good" that is hard to put into words, but when you feel it in your space you will love that it is there.
The "Art",  is what most of us think of as  "Interior Design", and includes beautiful furnishings,  decor, lighting, finishes, color and architectural details, all artfully arranged to look beautiful and function perfectly with our lifestyle.
The "Science", is about using color science to take your color to the next level. Color has power and affects the way your design looks and how you feel. Science contributes knowledge and products for sustainable and eco-friendly designs that help you stay healthy and protect our planet.
It is important to consider all three together at the same time, as they all affect each other.
Your home is like your body, a system that works together. To be healthy, you need to consider all the parts as a whole. 
Start with an Aligned Design plan that considers the art, science and energy of your home together, and then implement as time and money allows.
Go from being a Perfect Space Seeker to Loving Your Home!
An Aligned Design consultation to create a holistic plan is a great first step to map out your journey to a perfect space.
Imagine what that would feel like.
Curious about your Interior Design style? Take the quiz and find out.