In a previous post,  I wrote on How to Pick the Perfect Exterior Paint Colors for your home and shared my process for picking my own exterior paint colors.   And like many home owners, even though I thought I was done, something came up and I changed my mind!
What happened? Well, I researched reviews of exterior paint and found that Sherwin Williams had better reviews on exterior paint than Benjamin Moore. I think both companies are great and I recommend colors from both to customers for my design and home staging projects. Since the reviews for exterior paint seemed better, I decided to use their products for this project instead.
And of course, each company has their own exterior paint colors and it was impossible to perfectly match my original selections. But, I think I have now found even better colors for my house!
I had previously narrowed my choices to a deep gray or a dark teal, both with off white trim and a yellow door. I had decided on the dark teal. I had considered my roof color, surroundings, neighborhood, landscaping etc. I had used the Benjamin Moore color visualizer on a photo of my own house to try on the ideas.
I found a new color to replace the teal called "Moscow Midnight", which is an even darker teal and almost a combination of the gray and teal I had been considering before. I selected an off white called "Pearly white" that Sherwin Williams recommends as a color that coordinates well with Moscow Midnight. I decided to change the front door color to "Forward Fuchsia", a bold color that perfectly matches the color of the rose hedge in front of my house (not shown in previous photos). When the roses are blooming in the summer, I think this will tie it all together and look fantastic.
One drawback was that I found the color visualizer on the Sherwin Williams site does not work as well as on the Benjamin Moore site. When adding the "Pearly white" over the dark stained decks of my own house photo, the color did not completely cover it and looked "white washed" and somewhat gray. To get a true idea of how the colors would look, I had to use some of their "sample scene" photos rather than my own, which you can see above.
And, I have to admit, I was swayed when I read their description of the section of colors that "Moscow Midnight" was described in.
" Nature is so powerful, so strong. Capturing its' essence is not easy- your work becomes a dance with light and the weather. It takes you to a place within yourself."
Considering I am also a wildlife biologist and a dancer when I am not home staging or designing….that sealed the deal for me!
The moral of this story is to research reviews before making your final exterior paint color selections and don't be afraid to change your mind! Now I am ready to test samples of my selected colors and prepare my house for future painting. Stay tuned!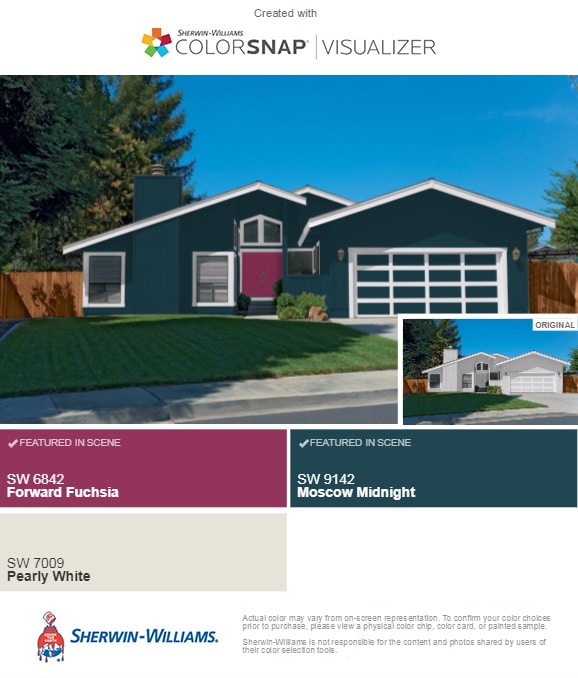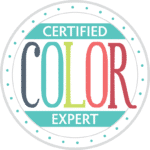 Call 907-362-0065 today
 info@northernlightsstaging.com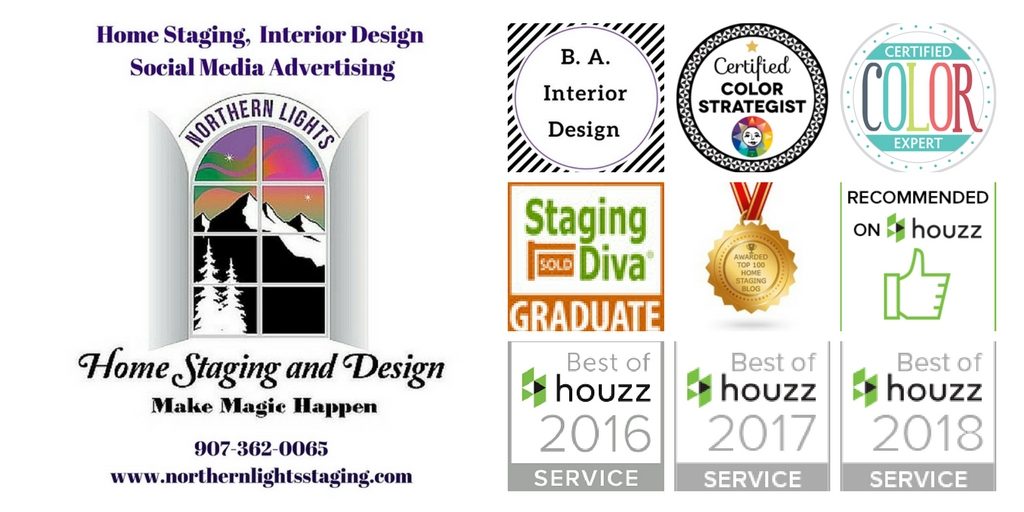 Share This: