Most people struggle with picking paint colors. Picking the perfect exterior paint colors can be even more stressful because the whole world can see your choices! And, if you make a paint color mistake, it can be expensive to fix. So, how do you pick the right colors?
 Consider is if you are painting because you are selling or you are staying and need to maintain your paint or want a new look. If you are selling, your paint choice may be quite different since you will want to appeal to buyers rather than your personal taste. If you are staying, it is important to pick colors you love and can live with for a long time.
What fixed finishes do you need to consider? Generally this is your roof. Unless you are planning to change that, you must make sure your paint color will go with the color you have, particularly if the roof line is prominent and easily visible.
What are the colors of other homes in the neighborhood? While you don't have to be the same as your neighbors, it is good to consider if your choice will fit in well with the neighborhood or stand out like a sore thumb.
What colors surround the house? Will your choices harmonize with your landscaping and environment around your house?
Do you want your colors to make a statement or blend in with the landscape?
When it was time to paint my own house,   I knew I planned to stay in my house for a long time. Here was my method for picking my paint colors. It started with determining what options I liked, and what limitations I needed to consider to narrow down some options.
Determine What you Like
I spent time with a friend driving around my town to look at house colors to get ideas for what I liked, and just as importantly, didn't like.
I notice numerous colors combinations I disliked for a variety of reasons which was a good lesson in what to avoid.
Many homes had colors that clashed with the roof color.
Many homes had trim or door colors that did not work well with the wall colors.
Many homes used "neutral"  wall, trim and door colors and were rather boring or unmemorable. If only they had added a pop of color on the front door! I learned that I wanted to make a statement with my house!
Many homes were rather garish….with colors that were so saturated that they looked too bright on sunny days.  I knew I would find that hard to live with over time and preferred deep, rich colors.
I found a few color combinations that I liked. One is a charcoal/blue house with white trim. One is a gray/green with white trim, and a light teal/gray with white trim.   I check out these houses in a variety of light conditions to see if I like them on bright sunny days as well as cloudy rainy days. Light always affects the way a color looks and it changes throughout the day and under different conditions.
Consider Your Limitations
I considered the color of my "fixed finishes", namely my roof color which a blue/ gray similar to Benjamin Moore's "November Skies".  The roof was hard to see, so this color would not play a big part in determining my color palette.  I also had stained wooden decks and railings and needed to decide if I should paint them or continue to stain them. I decide to paint them. If I had decided to stain them, I would have needed to consider this color as one of my "fixed finishes".
Try to Visualize How Your Choices will Look
I decide to try some of the color combinations I liked using the visualizer on the Benjamin Moore website. I decide to maintain the yellow door as it goes with my flowers and feels bright, cheery and welcoming.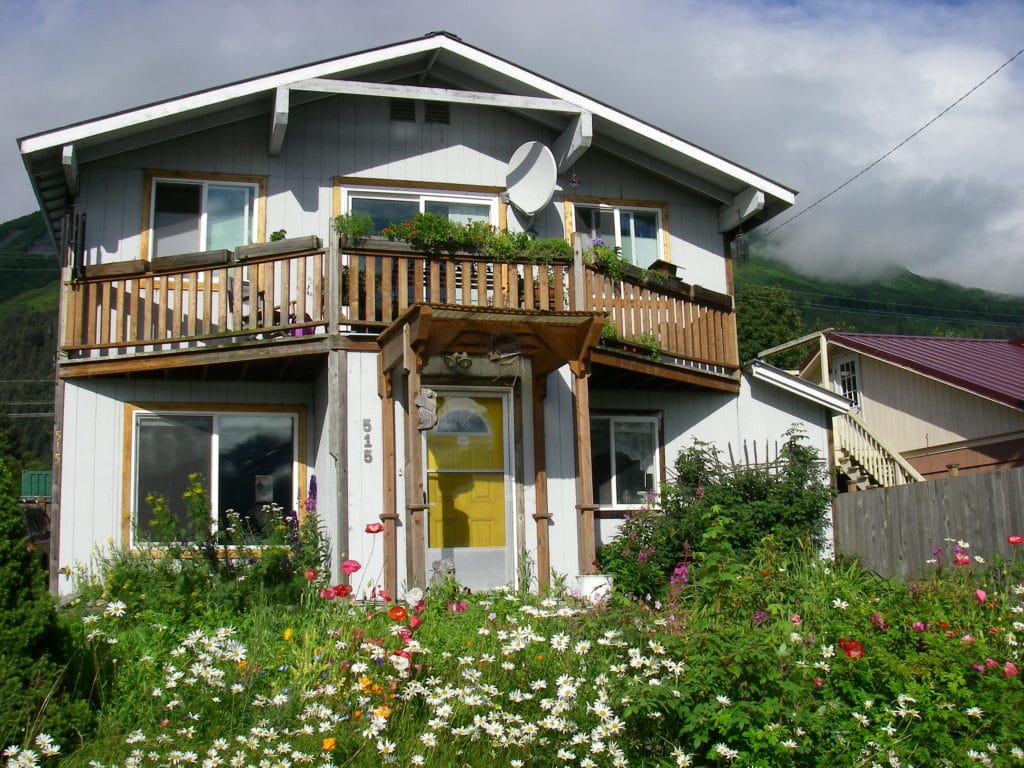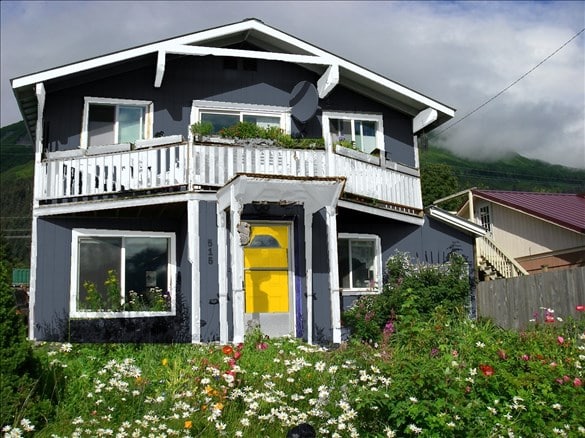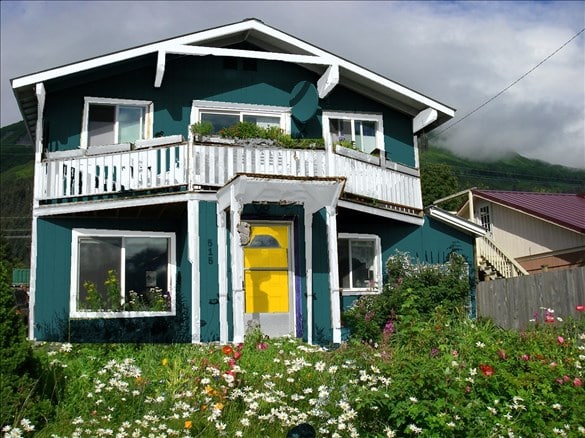 I take my time deciding which I like best. I put the question out on Facebook with pictures. The majority of people like the gray.
I decide my favorite is the teal. One comment on Facebook described it as unique but classy, which is what I am going for. If I had been trying to sell my house, I would have chosen the gray because it would likely appeal to more people. To learn more about selecting interior and exterior paint colors for a speedy and profitable home sale, see my blog article.
Test Your Colors to See How they Look in Different Light Conditions
My next steps were to try it out these colors on the back of the house and see if I really like these colors and they looked in various lighting conditions.  Learn what happened in How to Pick the Perfect Exterior Paint Colors Part 2!
If you are planning to sell your house instead of staying, get your free report on Top Paint Colors for a Speedy and Profitable Home Sale to help you decide your colors.
Call 907-362-0065 today
 info@northernlightsstaging.com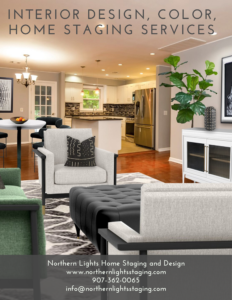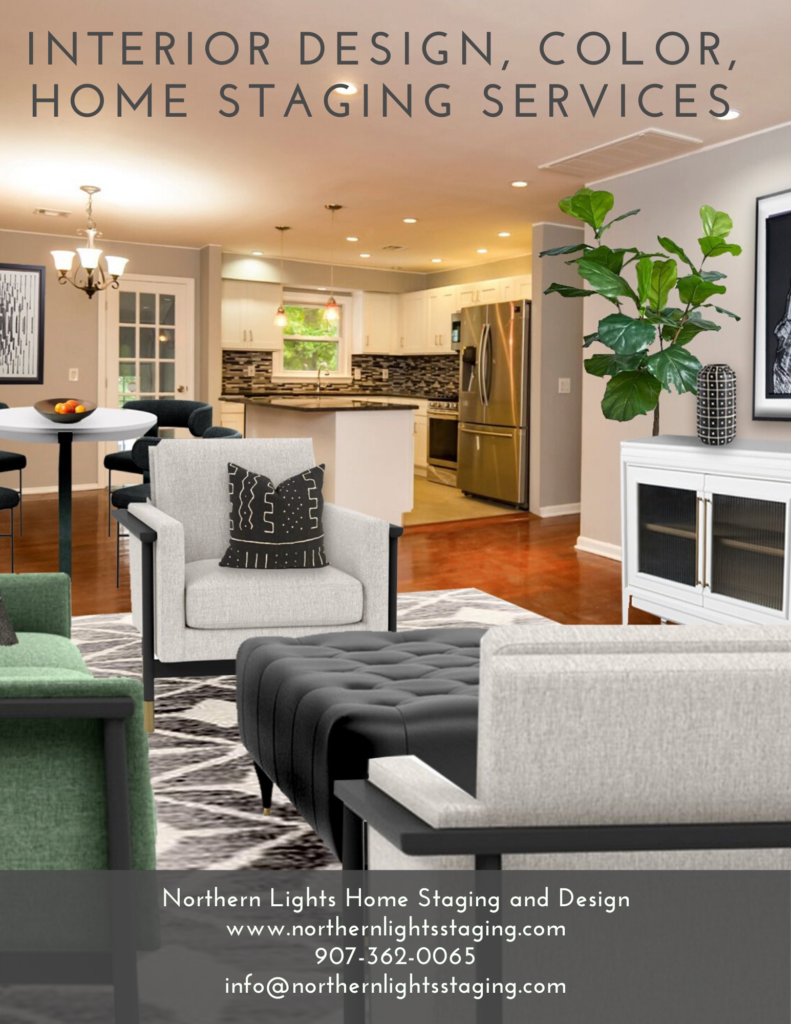 Terms of Service  |  Privacy Policy  |  Disclaimer
Prices subject to change without notice.