Some families own a second home that's rarely used, and others travel frequently enough that renting out their residence can become an income source. With numerous websites available that give you access to millions of vacationers and short-term renters, there's a high chance that you can find someone to rent your property while you're away. To attract visitors to your home and get the best return on investment, you should consider upgrading and sprucing up your place. Here are a few upgrades to include, as well as other considerations to make during the process.
Northern Lights Home Staging and Design offers award-winning staging and design for homes and vacation properties! Call 907-362-0065 or email info@northernlightsstaging.com
First things first: Can you even rent out your place? Some areas won't allow you to rent out your property, and those that do might only allow longer rentals, such as gated communities that require a six-month minimum lease for renters. Check on the rules about short-term vacation rentals in your area before you consider going this route.
Location is a big part of why renters choose to stay somewhere. If you're looking to buy a vacation property, focus on areas that are central or in proximity to the city's hottest tourist attractions and hippest neighborhoods. If you already own a home, highlight the best of what the neighborhood has to offer. Your listing should emphasize things to do nearby and walkability to restaurants and shops.
Figuring out how to price your property is tricky because you want to attract visitors who are looking to spend less than they would at a hotel, but you also want to profit from the arrangement. It's not just the mortgage that you need to recoup, but HOA fees as well. When your listing is still new, it's important to have an attractive price for renters who are unsure about a new property with no reviews. As you build up a solid reputation, you can price your property higher.
When renters search for homes to stay in during their vacation, they first look at the location, number of bedrooms, and price. Beyond that, there's more that can draw renters to your listing. Be sure to make your listing stand out by posting quality photos taken in good light and showcasing the best features of your place. Five-star reviews can also go a long way toward getting renters to trust you. The happier your first guests are, the more likely they'll leave good reviews so that your listing gains popularity and you can charge higher rates in the future.
Renters want the comforts of a home away from home. A nice fridge, dishwasher, laundry in the unit, A/C, heater, parking spots, and high-speed internet are attractive features that make guests enjoy their stay. If your place has a pool and/or hot tub, then you'll have an even easier time attracting guests.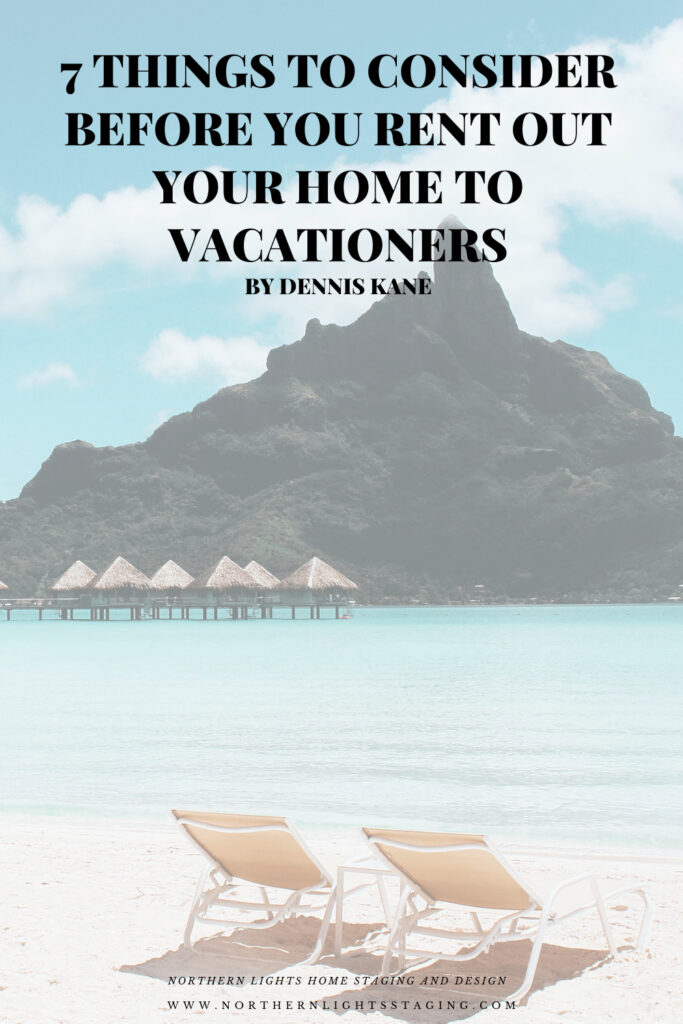 Unless you're renting out a rustic cabin in the mountains, you're probably better off with a clean, modern design inside your home. Potential upgrades include new wood flooring and panels, countertops made of granite, quartz or marble, upgraded lighting fixtures to replace old lamps, new doorknobs and faucet handles, and a fresh paint job. Great design and color are key to attracting your ideal guests and increasing your income and bookings. Know who your target market is, what they want and decorate to attract them. You can also opt to redecorate the home by settling on a theme or style and choosing design elements that complement that style. Enlisting the help of a professional designer or color consultant can make a big difference in getting the results you want.
An important part of gearing up to run a vacation rental is setting up the proper business structure. There are many different business structures, but the one that typically works best in the vacation rental industry is a limited liability corporation (LLC). An LLC is more flexible and protective than a traditional corporation, it can be used for property purchases, and any debts will belong to the business solely. If you opt to set up an LLC, a formation service can quickly and easily guide you through the step-by-step process to put your mind at ease.
If your home is sitting around unused for part of the year, why not make some income from it? The key is to own property that's comfortable for you while being inviting for guests. With the right upgrades — in addition to enlisting the help of a home stager like Northern Lights Home Staging and Design — your home will become a desirable rental property.
Written by guest blogger Dennis Kane of the WinterizeGuys. Dennis and his brother Ron are experts on what it takes to protect your home and family from winter weather and they created their website and new book to help keep you warm!
Need Help Desgigning Your Vacation Rental or Bed and Breakfast?
Why not try my online Vacation Rental Consultation. Find out everything you need to do to create a beautiful space that attracts your ideal customer, increases your income and bookings and gives you great photos for your online marketing.